If you're looking for a projector for less than a grand, one worth checking out is the GT1080HDRx. With a sharp picture, fast response time, and over 15,000 hours of light, it's an excellent entry projector that may be worth it. This Optoma GT1080HDRx review will dive into its features and help you determine if it's right for you (>>> Check on Amazon). By the end of this, you'll know the ins and outs of this projector, and just what it can do, along with important specs and other information to help you make the right decision.
Optoma GT1080HDRx Review of Main Specs:
| | Optoma GT1080HDRx |
| --- | --- |
| | |
| Resolution | 1920x1080 |
| Brightness (Lumens) | 3,800 ANSI |
| Contrast | 50,000:1 |
| Input Lag | 8.4ms |
| Throw Distance | 1.3' - 10.9' |
| Screen size | 36" - 307" |
| Speakers | 10.0 Watts Mono |
| Today's Best Price | BHPhotoVideo.com |
Ease of Installation
The projector has two HDMI ports. One of them is 2.0, meaning that if you want 4K UHD and HDR support, you must connect it there. It also includes a USB port. Everything is in the back in a neat little row, though some may wish there were ports in the front and sides.
This is a short-throw projector. You can set it up from 4 feet 4 inches and experience a 120″ image. Those living in small apartments can rejoice, knowing that you don't need anything complicated to have a sharp picture during installation.
You can also install Chromecast, Fire Stick, and similar devices to it. Again, installation is seamless, meaning you don't need to do anything complicated to set it up. We tried several devices, and we don't have much negative to say about them.
Pros
Crystal clear picture and contrasting colors
Easy to set up
It creates amazing picture even if you live in a small home, with a 50,000:1 contrast ratio
Cons
Built-in speakers are poor
4K picture will not look good if you don't put it in the HDMI 2.1 port
Picture Quality
This is not a 4K projector, but it does downsize 4K sources. Through its HDR port and its RYGCWB color wheel, it creates some colors that pop out and creates a stunning contrast. It uses a 50,000:1 contrast ratio, meaning you can make out all the little details. With 3,800 lumens, it's also one of the brighter projectors.
More lumens means you can have fantastic picture quality even in a bright room. You don't need it to be pitch black to experience picture quality that you may find impressive.
We were impressed by how it looked. Despite its lack of 4K, the picture is so mesmerizing that you will forget you're looking at a 1080p. While you may be hesitant to purchase a 1080p quality projector in 2023, this is not a wrong choice, and you can always upgrade in the future. So it's not a bad trade-off. Check our list of the best current 1080p projectors
Sound Quality
This projector includes a built-in 10-watt speaker. However, it's not the best. When you're watching movies with friends or gaming, you may not be able to hear the speaker unless you're huddled up next to it. Because of this, we recommend you purchase external speakers. While most projectors don't have the best speakers, many of them are at least passable. These will have you wanting more.
With external speakers, you don't need to buy home theater quality, but you should invest in nicer ones. If you invest around $100, you should have some sound to immerse you.
Gaming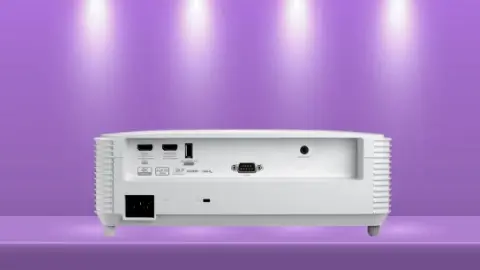 What if you're a gamer? Can this projector keep up with competitive play? It has a gaming mode, which gives you 8.4 ms ping. In other words, it's lightning-fast with its response times, meaning you can play some of the most competitive games without worrying about input lag. It also has a 120hz refresh rate. With it, you can host gaming tournaments where money is on the line or enjoy a casual gaming night with friends.
Once again, the projector also does an excellent job at downsizing 4K video games. As a result, you can play the latest PS5 and Xbox Series X titles without worrying about a loss in quality. >>> Check our top gaming projector picks
Optoma GT1080HDRx Review: The Verdict
This projector works well if you're on a lower budget and want a starter. While it's not the immersive 4K experience in more expensive projectors, it still has much going for it. If you live in a smaller home, you can set it up without worrying about the picture looking awkward.
Whether you want to watch a movie in your mini theater or you want to have a gaming night, this projector delivers. Just be sure you buy external speakers, and you should be ready (>>> Check the current price on Bhphotovideo).