As 4K resolution has become more available, the price of full HD projectors has steadily dropped—and that's great news for anyone putting together a home theater on a budget. The best 1080p projector matches higher-resolution models on features like installation ease and streaming support, giving users exceptional performance at an incredible value.
Not sure which full HD projector to buy? You're in the right place! We've picked out our favorite 1080p projectors on the market today and compared them side by side. Based on all the factors, the Epson EpiqVision Ultra LS300 is the best model for a home theater (>>> Check its pricing on ProjectorScreen.com). This doesn't mean it's the best choice for everyone, though. Let's take a closer look at where each comes out ahead.
Best 1080p Projector – Top picks in 2022
| | Epson LS300 | WEMAX Vogue Pro | Optoma EH335 | LG PF610P | ViewSonic PX703HDH | BenQ TH685i |
| --- | --- | --- | --- | --- | --- | --- |
| | | | | | | |
| Resolution | 1920x1080 | 1920x1080 | 1920x1080 | 1920x1080 | 1920x1080 | 1920x1080 |
| Brightness (Lumens) | 3,600 ANSI | 1,600 ANSI | 3,600 ANSI | 1,000 ANSI | 3,500 ANSI | 3,500 ANSI |
| Contrast Ratio | 1,500,000:1 | 400:1 | 20,000:1 | 150,000:1 | 12,000:1 | 10,000:1 |
| Input lag | 50ms | No data | 17ms | No data | No data | 8ms |
| Throw Distance | 0.1' - 1.3' | 47.9' - 95.9' | 3.3' - 32.2' | 5.2' - 10.4' | 3.2' - 24.6' | 3.2' - 24.6' |
| Screen size | 61" - 120" | 60" - 120" | 28" - 302" | 60" - 120" | 30" - 300" | 30" - 300" |
| Speakers | 5.0 Watts × 2 | 10.0 Watts × 2 | 10.0 Watts Mono | 3.0 Watts × 2 | 10.0 Watts Mono | 5.0 Watts Mono |
| Price | Check on Amazon | Check on Amazon | BHPhotoVideo.com | BHPhotoVideo.com | BHPhotoVideo.com | Check on Amazon |
Brightness
In a light controlled home theater space, brightness isn't much of an issue. For lights-on viewing, though, it's best to get a projector rated for at least 2,500 lumens. In a bright space with lots of windows, you should bump that up to the 3,000-4,000 lumens range.
The Epson EpiqVision Ultra LS300 and Optoma EH335 both have a brightness of 3,600 lumens. Either one has the power to produce a clear picture in any indoor light environment.
Brightest projector: Epson EpiqVision Ultra LS300, Optoma EH335
Throw Distance
How much space you'll need to get a big picture depends on the throw of the projector's lens. Standard throw projectors will need somewhere between 8 and 15 feet between the lens and screen to produce a 100" image. For smaller spaces, an ultra-short throw projector will be a better choice, producing the same size of image with mere inches of distance.
The Epson EpiqVision Ultra LS300 is the only short-throw projector on the list. You can set it up as little as 1 inch away from the screen or wall, and even a big 120" image will only need just over a foot. This isn't just good news for oddly-shaped or small rooms, but also gives it an easier overall installation, with no need for mounts or other hardware.
Shortest throw distance: Epson EpiqVision Ultra LS300
Gaming Performance
While specs like picture quality and brightness still matter to gamers, the more important concern is input lag. This measure how long it takes for user input to reach the screen. If it's too high, there will be a frustrating delay, especially when playing competitive online games.
The BenQ TH685i is designed with gamers in mind. Along with a super-low 8.3ms input lag, it has a high frame refresh rate to prevent blur, frame tearing, and other on-screen issues, so you can just sit back and play.
Best projector for gaming: BenQ TH685i
Built-in Streaming
In a modern streaming-based home theater, a built-in TV interface is a convenient feature, allowing you to control the projector and your content through a single remote. This is also helpful in multi-use spaces, saving the wired inputs for gaming consoles and other devices.
Three of the projectors reviewed here have built-in streaming and wireless capability: the Epson LS300, WEMAX Vogue Pro, and LG PF610P. Of the three, the webOS 5.0 interface of the LG PF610P is the most intuitive to navigate, and it also supports streaming through AirPlay 2, giving users more ways to watch their favorite content.
Best built-in streaming: LG PF601P
---
Epson EpiqVision Ultra LS300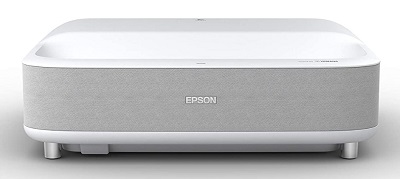 The Epson EpiqVision Ultra LS300 is a user-friendly home entertainment machine. It's ready to use right out of the box and has a fast, easy installation. This starts with its throw distance, which is short even by short-throw standards, producing a clear image from just an inch away and needing only 11" for a 100" screen. The only caveat here is that it doesn't features like keystone correction or screen rotation, so you will need the ability to place the projector head-on to the wall.
Connecting content sources is just as straightforward, with dual HDMI ports along with wireless connectivity that supports screen mirroring through Chromecast. And you may not need content sources if you mostly use streaming—the Android TV interface plays content from most streaming apps right on the projector.
Epson projectors use a 3LCD display that eliminates the flickering some viewers see from color wheels, for a wide color gamut everyone can enjoy. The high dynamic contrast and bright 3,600-lumen lamp combine with the full HD resolution for a sharp, clear picture in any light level. For sound, the Yamaha-designed 2.1 system has superior bass depth and mid-range clarity to what you'll get from most projector speakers, so you won't need to buy a sound system before you can enjoy it.
Pros
Wide color gamut with no rainbowing
Accepts 4K content
Ultra-short throw distance
Bright lamp works in any light level
Built-in wireless connectivity and screen mirroring
Android TV streaming with Google Assistant
Yamaha-designed sound system
Cons
No keystone correction
Input lag is too high for serious gamers
---
WEMAX Vogue Pro
The LED light source and DLP display used in the WEMAX Vogue Pro give it a very strong color performance. It produces a wider color range than most projectors, exceeding the Rec.709 color space, bringing more depth and realism to your shows and movies. On the down side, however, the light source only produces around 1,600 lumens and the native image contrast is a bit low. To get a sharp, detailed picture to match the color performance, you'll need to use it in a completely dark home theater space.
The compact and durable aluminum shell of the WEMAX Vogue Pro makes it nice and portable, great for RV trips or backyard movies. It helps that it has a very quick and easy set-up, with automatic focus and 4-point keystone correction. Along with these intelligent screen alignment features, its wireless connectivity means you can mirror content from a phone or laptop, with a built-in streaming interface that may mean you don't need external content sources at all.
The dual full-range speakers on the WEMAX Vogue Pro are supported by Dolby audio signal processing, and produce a full low-end with good mid-range clarity for dialogue. This gives the Vogue Pro true all-in-one performance, another reason it's great for those who want a portable projector.
Pros
Excellent color performance
Intelligent screen alignment and auto keystone correction
Powerful speakers backed by Dolby and DTS sound
Smart operating system for direct streaming or wireless casting
Compact design perfect for tabletop uses
Acceptable input lag for casual players
Cons
Requires a dark space for the best picture quality
Not a great choice for serious gamers
---
Optoma EH335

Here's another great option for shoppers on a budget. The Optoma EH335 is a compact and straightforward full HD projector, weighing just over 6 pounds. Combined with its bright 3,600-lumen lamp, this makes it a perfect choice for teachers, business leaders, and event planners, performing equally well for presentations and displays as it does for home theater use.
A low input lag is another strength of the Optoma EH335, registering as low as 17ms at 60Hz. This makes it a great choice for gamers, especially since it has a broad connectivity to connect more systems, including VGA and composite inputs along with 2 HDMI ports. While it doesn't have a streaming interface built in, this range of connection options means most won't miss it.
The Optoma EH335 has a standard throw lens, so it does require a larger space (around 11-12 feet for a 100" image). There also aren't a ton of options to adjust the picture, though it does at least have a vertical keystone correction. This is the only significant weakness of the EH335, and if space isn't a problem it's overall an excellent value at the cost.
Pros
Crisp, high-contrast images with vivid color
Bright lamp
Low input lag
Full 3D support
Compact and portable design
Wide variety of connection options
Cons
No built-in streaming or wireless
Long throw distance
---
LG PF610P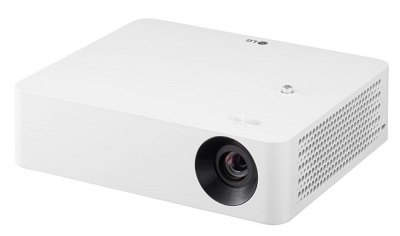 With an MSRP of under $1,000, the LG PF610P is an exceptional value for its performance. It produces a sharp and high-contrast full HD image, with a 4-channel LED light source for brilliant and realistic color. The long light source lifespan (up to 30,000 hours) makes it a good long-term value, too, as well as low-maintenance.
This is another top choice for those who need a portable projector. It weighs less than five pounds with a compact overall design that's easy to take with you on road trips or to the office for presentations. The only issue here is that it's a bit limited in terms of where you can use it. It uses a standard throw distance, needing about 9 feet for a 100-inch screen, and its lamp brightness is low at 1,000 ANSI lumens, so you'll want to have a completely dark space.
The 4-corner keystone correction on the LG PF601P does make it relatively flexible when it comes to the set-up. It also includes LG's webOS 5.0 for streaming content, and supports AirPlay 2 and Miracast for further wireless connectivity. It also has built-in speakers that are functional if not exceptional, matching the sound quality and output of a typical TV's speakers. For those who want more immersive sound, it's easy to connect external speakers using a mini jack or Bluetooth connection. For our more in-depth review of this projector click here.
Pros
High-contrast full HD image with good color
Long lamp lifespan
Lightweight with slim profile
Excellent value
Suitable for casual gaming
Flexible installation with 2D keystone correction
Cons
Low lamp brightness
Low speaker output and quality
---
ViewSonic PX703HDH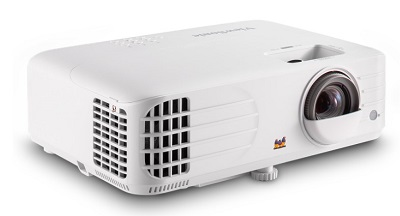 The ViewSonic PX703HDH is a versatile and affordable projector for a home theater. Along with full HD resolution, it uses a high image contrast and ViewSonic's SuperColor technology, resulting in an immersive and true-to-life image for all types of content, including 3D movies. It's just as great for gaming, with a low 16.4ms input lag that will satisfy even serious gamers.
The bright 3,500-lumen lamp of the ViewSonic PX703HDH maintains its high picture quality even in moderately-lit spaces. This makes it ideal for spaces like living rooms, where you can't always control the light level. You will need a fairly large space for it, around 8-10 feet for a 100" screen. On the plus side, the 1.3x zoom and 10% vertical lens shift give it good flexibility for a variety of set-ups.
The only thing you'll sacrifice for the affordable cost of the PX703HDH is versatility in connectivity. It doesn't have any built-in wireless connectivity or streaming capability, though it does have a USB port and dual HDMI ports if you want to add that feature with a dongle or streaming stick.
Pros
Bright lamp perfect for lights-on viewing
Strong image contrast and color
Lamp life up to 20,000 hours in SuperEco+ mode
Vertical keystone correction and lens shift
Low input lag for gamers
Full 3D support
Cons
Long throw distance
No wireless connectivity or streaming
---
BenQ TH685i

For those looking for the best full HD projector for gamers, the BenQ TH685i is one you'll want to keep in mind. Putting it in Enhanced Gaming Mode drops the input lag as low as 8.3ms, backed up by a 120Hz refresh rate that keeps the on-screen movement smooth.
The Ben TH685i is equally impressive for home theater applications. Colors are bright and details crisp and clear across the image, with HDR support to ensure its accuracy and quality. The TH685i also supports 4K and 3D content, though both will play at the native full HD resolution. While it provides an immersive viewing experience, you will need external speakers to make the sound match the picture—the speaker installed in the projector is weak and lacking in the low end.
Instead of having a built-in streaming interface, the BenQ TH685i comes with an Android TV dongle. This serves the same purpose, but does mean you'll sacrifice one of the 2 HDMI ports to use it. There's also the option to mirror content from another device, though even so the connectivity is limited compared to other projectors. For our more in-depth BenQ TH685i review, click here.
Pros
High refresh rate and low input lag
Accepts 4K input
Includes Android TV dongle
Powerful lamp suitable for bright spaces
Digital lens shift and automatic keystone correction
Screen mirroring through Airplay or Chromecast
Cons
Weak built-in speaker
Limited connectivity
---
So What's the Best 1080p Projector?
Any of these projectors can be a great option for the right home—it all comes down to how you'll use it. The high picture quality and short throw of the Epson EpiqVision Ultra LS300 make it the best overall performer. Buyers on a budget will appreciate the value of the ViewSonic PX703HDH. For gamers, the BenQ TH685i has the responsiveness you need, while the portability of the WEMAX Vogue Pro and LG PF601P makes them ideal for on-the-go uses like RV trips and presentations. We hope this comparison has helped you decide which one is your perfect fit!
REFERENCES AND FURTHER READING: