With the advent of 4K resolution, the affordability of full HD projectors has surged, opening the door for budget-conscious cinephiles looking to assemble their home theaters. Despite the resolution difference, the best 1080p projector can rival higher-resolution models in terms of features like setup simplicity, streaming compatibility, and, importantly, picture quality. The added bonus is an unbeatable price-performance ratio.
If you're in the market for a full HD home theater projector, you've landed in the right place. This article offers a detailed comparison of the best 1080p projectors available in 2023.
What Makes the Optoma GT1080HDRx Stand Out
We have scrutinized a range of 1080p home theater projectors and, based on various factors, have established that the Optoma GT1080HDRx is the optimal choice for home theaters. It blends a luminous lamp and short throw distance with low input lag and superior picture quality (>>> Check on Amazon) Nevertheless, this doesn't suggest it's the ultimate choice for everyone. It's time to delve into the unique strengths of each projector.
Top 1080p Projector Picks for 2023
This section showcases our top 1080p projector selections for 2023:
| | BenQ TH575 | Epson Home Cinema 2350 | ViewSonic X2 | BenQ TH690ST | BenQ TH685P | Optoma GT1080HDRx |
| --- | --- | --- | --- | --- | --- | --- |
| | | | | | | |
| Resolution | 1920x1080 | 1920x1080 4K w/pixel shifting | 1920x1080 | 1920x1080 | 1920x1080 | 1920x1080 |
| Brightness (Lumens) | 3,800 ANSI | 2,800 ANSI | 1,300 ANSI | 2,300 ANSI | 3,500 ANSI | 3,800 ANSI |
| Contrast Ratio | 15,000:1 | 35,000:1 | 300,000:1 | 500,000:1 | 10,000:1 | 50,000:1 |
| Input lag | 16.7ms | 18ms | 17ms | 8.3ms | 8.3ms | 8.4ms |
| Throw Distance | 3.5' - 32.5' | 6.2' - 48.7' | 1.8' - 15.0' | 1.8' - 10.0' | 3.2' - 24.6' | 1.3' - 10.9' |
| Screen size | 30" - 300" | 40" - 500" | 30" - 300" | 30" - 200" | 30" - 300" | 36" - 307" |
| Speakers | 10.0 Watts Mono | 10.0 Watts Mono | 6.0 Watts × 2 | 5.0 Watts × 2 | 5.0 Watts Mono | 10.0 Watts Mono |
| Price | BHPhotoVideo.com | BHPhotoVideo.com | BHPhotoVideo.com | BHPhotoVideo.com | BHPhotoVideo.com | BHPhotoVideo.com |
Unpacking the Role of Brightness in Picture Quality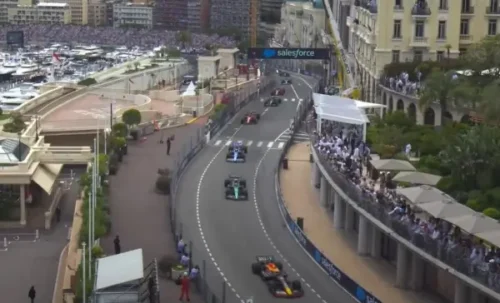 In a light-controlled home theater setting, brightness might not seem critical. However, for viewing with lights on, it's advisable to opt for a projector rated for a minimum of 2,500 lumens. In brighter spaces abundant with windows, you should aim for a range of 3,000-4,000 lumens to maintain image quality.
Both the Optoma GT1080HDRx and the BenQ TH575 shine bright with a brightness of 3,800 ANSI lumens, with the BenQ TH685P coming in a close runner-up at 3,500 ANSI lumens. These projectors promise to preserve image quality even in environments with diverse indoor light conditions.
Highlighting the Brightest Projector: Optoma GT1080HDRx, BenQ TH575
Understanding the Importance of Throw Distance
The available space for achieving a large picture is determined by the projector's lens throw. Traditional projectors require between 8 and 15 feet of distance from the lens to the screen to project a 100" image. For confined spaces, an ultra-short throw projector is recommended, delivering the same image size with just a few inches of distance.
The list includes three short-throw projectors: the ViewSonic X2, BenQ TH690ST, and Optoma GT1080HDRx. Among these, the GT1080HDRx flaunts the shortest throw, rendering a clear image with just 1'3" of distance.
Each of these projectors offers the advantage of creating a big screen experience in a smaller space, facilitating an easier and quicker setup than standard throw projectors.
Shortest Throw Distance King: Optoma GT1080HDRx
Assessing Gaming Performance on Home Theater Projectors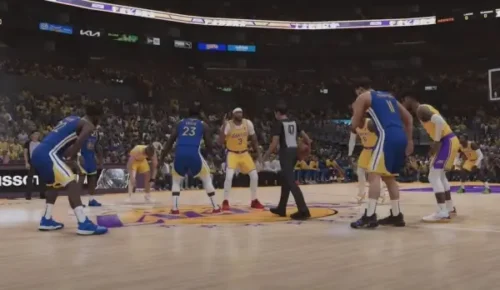 For gamers, factors like picture quality and brightness are important, but input lag often takes precedence. Input lag is the delay between the user's action and its display on the screen. A high input lag can be frustrating, especially when playing fast-paced online games.
All of these projectors are suitable for action-packed gaming and can deliver an input lag under 20ms. The Optoma GT1080HDRx, the BenQ TH690ST, and the BenQ TH685P outperform the rest, achieving a single-digit lag.
These three also incorporate a 120Hz frame refresh rate, ensuring swift, real-time action response. If you're seeking the top choice for gaming, the remarkable contrast ratio of the BenQ TH690ST slightly edges out its competition.
Best projector for gaming: BenQ TH690ST
Importance of Wireless Connectivity in Modern Home Theaters
A modern streaming-based home theater benefits from a built-in TV interface. This feature allows you to control the projector and your content with a single remote. Wireless capability simplifies the connection of external sound devices and allows for voice control or other home automation integration.
None of the projectors listed here possess an integrated streaming interface, but some offer wireless connectivity. The Epson 2350 provides Bluetooth streaming, while the ViewSonic X2 supports bi-directional Bluetooth and Wi-Fi screen mirroring.
The Epson 2350 also comes with an Android TV dongle, introducing streaming capabilities to the projector and offering the most wireless versatility for contemporary homes.
Best built-in streaming: Epson Home Cinema 2350
---
Best 1080p Projectors: Full Reviews
BenQ TH575 DLP Projector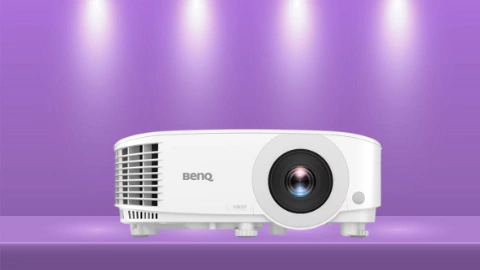 Pros
Colorful, high-contrast full HD display
Bright lamp will work in any indoor viewing area
Multiple picture modes
Responsive enough for gaming
Compact and portable design
Excellent value
Cons
Long throw distance
No built-in wireless connectivity
The BenQ TH575 is a versatile and affordable option for both home theater and professional uses. It weighs just over 5 pounds, with a compact housing that lets you take it on the go easily.
With its powerful 3,800-lumen lamp, you also don't need to worry about ambient light, letting you use it in even bright rooms without any picture issues. This makes it a great option for those who want to take their projector outside for backyard movies, educators who want a projector they can use at school or home, and anyone else who needs multi-space flexibility.
Now, you will need a fairly large room to get a big image from the BenQ TH575. It's a standard throw projector, needing around 11-12 feet to fill a 100-inch screen. The alignment options are also somewhat limited, though it does have a vertical keystone correction to ensure a square image.
The multiple picture modes of the BenQ TH575 lets users quickly adjust the image to match their content, with options for Cinema, Sports, Games, and 3D, as well as one specific for bright spaces.
All of these modes take advantage of the more than 1 billion colors it produces, along with a sharp image contrast with rich black levels and excellent detail across the image.
It's responsive, too, with a low enough input lag that you can play fast-paced first-person shooters and other games from modern systems without experiencing any frustrating delays or issues.
Full review: BenQ TH575
---
Epson Home Cinema 2350 Smart Gaming Projector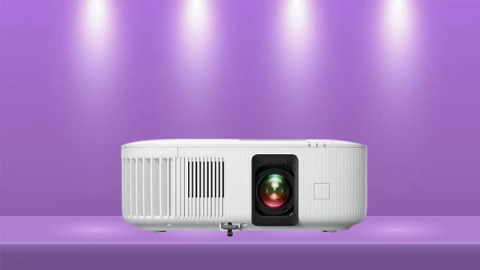 Pros
Pixel-shifted resolution sharper than Full HD
3LCD color with no rainbowing
Accepts 4K content
Suitable for gaming
Includes an Android TV dongle with Google Assistant
Supports Bluetooth streaming
Cons
Low brightness, especially in Eco mode
Long throw distance
The 4K PRO-UHD pixel shift engine used in the Epson Home Cinema 2350 gives it a picture quality advantage over the other options on this list.
While it can't quite hit full 4K resolutions, it displays roughly twice the pixels of a typical full HD display. Combined with the 3-chip LCD color and high dynamic image contrast, that means a stunningly immersive and realistic image at all screen sizes.
Those screen size options are wider than with your average projector, too. The Epson 2350 can project images up to 500 inches diagonally—provided you have the space for it. Its standard throw lens needs around 12 feet to fill a 100-inch screen, so it's not a great choice for small spaces.
The lamp brightness may also be an issue, particularly in eco mode, which drops the brightness down to around 1,900 lumens. That's fine in a completely dark space but will be prone to washout if there's much ambient light.
On the plus side, the 2350 is otherwise flexible to install, with extensive image correction options including a 60% lens shift and 2D keystone correction.
The included Android TV dongle is another handy feature for modern home theaters. Plugging this into one of the HDMI ports adds Android TV streaming and Google Assistant voice control. It also has integrated Bluetooth streaming for devices, giving users lots of ways to access their content wirelessly.
Full review: Epson Home Cinema 2350
---
ViewSonic X2 Short Throw Projector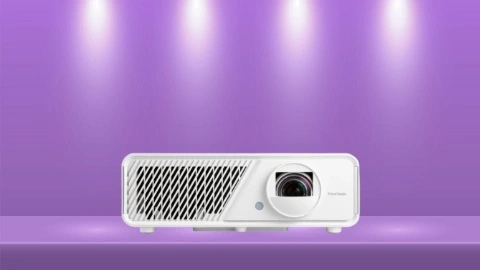 Pros
Excellent color and contrast
Short-throw lens with flexible installation features
Accepts 4K content
Good sound from built-in speakers
Low lag for gaming
Built-in wireless mirroring
Cons
Low lamp brightness
No built-in voice control or streaming
The ViewSonic X2 uses an LED light source instead of the lamp or laser found in most projectors. This gives it an impressively long lifespan of up to 30,000 hours along with realistic and nuanced color performance, covering 125% of the Rec.709 spectrum.
The downside of an LED light source is that it's not as powerful. It puts out 3,100 LED lumens, which is roughly equivalent to 1,300 ANSI lumens. That's enough in a dark space but will wash out quickly in any ambient light.
While brightness may be a concern, the ViewSonic X2 is very flexible when it comes to the size and shape of your space.
Its short-throw lens fills a 100-inch screen with around 5-6 feet of distance, roughly half the space of a standard throw projector. This is combined with options like a 1.2x zoom, 10% lens shift, and 2D keystone correction, making it easy to align in nearly any setup.
The connectivity of the ViewSonic X2 expands this flexibility. Along with the standard HDMI and USB inputs, it also has bi-directional Bluetooth built-in and can mirror content through Wi-Fi.
You can also use it for gaming with its 3X Fast Input setting, which drops the latency under 20ms for 1080p content. Add in the 360° audio from the Harman Kardon speakers and you have a fully equipped entertainment machine. Our more in-depth ViewSonic X2 review.
---
BenQ TH690ST Short Throw Gaming Projector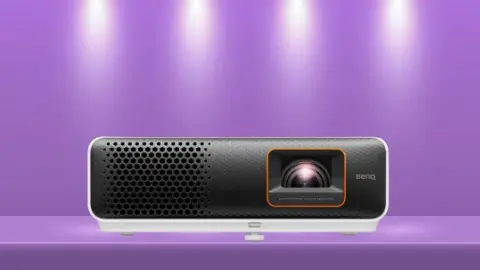 Pros
Excellent color and contrast
Single-digit input lag for gamers
Accepts 4K content
Short throw distance with flexible installation
Long lamp lifespan
Lightweight and compact
Cons
No wireless connectivity
Not suitable for bright spaces
Here's another option for those interested in an LED projector. The 4LED light source of the BenQ TH690ST is brighter than many similar projectors, so while it's still not a great choice for bright spaces it can be used in rooms with low to moderate ambient light.
You'll still benefit from the long lifespan and exceptional color of an LED projector, too.
Along with its wide color gamut, the BenQ TH690ST has a high native image contrast. This is good news for gamers as well as movie lovers, ensuring you see every detail even in darker areas of the screen.
It's one of the most responsive options on the list, too, with a single-digit input lag and 120Hz refresh rate so you won't miss a second of the action.
The short-throw lens of the BenQ TH690ST produces a clear image with less than 2 feet of distance. It also has 2D keystone correction and a 1.2x zoom to expand its flexibility across different spaces. The TH690ST gets high marks for portability, too, with a relatively compact housing and weight under 10 pounds.
Full review: BenQ TH690ST
---
BenQ TH685P 1080p Gaming Projector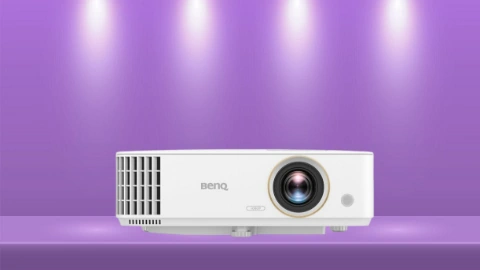 Pros
Bright lamp works in any indoor light level
Low latency for serious gamers
Accepts 4K and 3D content
Lightweight and portable
Great value for the money
Cons
Standard throw distance
No wireless connectivity or streaming
The BenQ TH685P is one of the best home theater projectors you can get for under $1,000. It can do full justice to any type of full HD content, including 3D content.
That also includes games thanks to its impressive 8.3ms input lag, responsive enough to satisfy even the most competitive players. It also will play 4K content, though it downscales it to a full HD resolution.
All content benefits from the strong image contrast and decently wide color gamut, which covers 95% of the Rec.709 spectrum.
The BenQ TH685P has one of the brightest lamps on the list, at 3,500 ANSI lumens, so the light level in your space isn't a concern. It's also a fairly portable projector, weighing just over 6 pounds and with a durable, road-worthy build.
This means you can use it in the office, the classroom, or outdoors, as well as in a home theater space. The only thing to bear in mind is that it does use a standard throw distance, meaning a larger room will be better for a big picture.
It's also relatively limited when it comes to alignment options, with just a 1.3x zoom and vertical keystone correction.
Now, you will need to have some other devices on-hand to use the BenQ TH685P. It has no wireless streaming or screen mirroring, for one thing, so you'll need to connect content sources to its USB or HDMI ports.
Its speaker is also weak, even compared to other projector speakers, so you'll want an external sound source for all but the most basic uses. Click here for our more in-depth review of the BenQ TH685P.
---
Optoma GT1080HDRx Short Throw Gaming Projector
Pros
Sharp, high-contrast picture
Bright lamp
Excellent choice for gaming
Short throw distance
Full 3D support
Compact and portable
Cons
Built-in speakers are weak
No wireless connectivity
Last but not least we have the Optoma GT1080HDRx, the 2022 update of the company's popular GT1080HDR model. It's the most flexible option on the list in terms of where you install it, combing a bright lamp with a short throw distance so you can use it in spaces of any size, without needing to turn the lights off.
Putting the Optoma GT1080HDRx in Enhanced Gaming Mode drops the input lag down to 8.4ms, with a 120Hz frame refresh rate to prevent image tears, freezing, and other on-screen image issues.
For movie buffs, the 24p mode puts films in their original format, or you can watch modern 3D games from any source. Whatever you're watching, the contrast and color are strong, and it supports the full Rec.709 color gamut.
It's also compatible with HDR, so you can count on whatever you're watching to be accurate and look its best.
All of this is packed into a surprisingly compact package that weighs 6.6 pounds and is less than 5 inches tall, exactly what you need for outdoor movies, road trips, or other on-the-go uses. That said, you will need to bring speakers and content sources with you.
It doesn't have any wireless connectivity, and the built-in speaker is functional but doesn't provide either the output or the sound quality most want in a home theater.
Full review: Optoma GT1080HDRx
---
Conclusion: Choosing the Best 1080p Projector for Your Home Theater
Each of these projectors can be a superb option for the right home—the decision ultimately rests on your specific requirements. The Optoma GT1080HDRx's bright lamp, short throw, and swift responsiveness make it a strong all-around performer (>>> Find on Bhphotovideo.com), but the other projectors have their strengths as well.
The affordable BenQ TH575 is ideal for budget-conscious buyers, whereas the Epson 2350 offers superior picture quality and a user-friendly streaming interface. The key to the perfect choice lies in understanding your home theater needs.
FAQs
Do I need to connect external speakers to these projectors?
While all of these projectors feature built-in speakers enabling standalone use, these speakers might not deliver the comprehensive detail and room-filling sound typically expected from home theater audio systems. Additionally, they max out at two channels, making it challenging to balance sound for modern content designed for 5-channel surround sound. In essence, they can be used independently, but most would prefer adding external speakers for an enhanced audio experience.
Can I play 4K content through a 1080p projector?
Typically, yes. Most modern full HD projectors support Ultra HD video signals; they'll simply downscale that content to the projector's display resolution. If you anticipate playing a significant amount of 4K content, the Epson 2350 is your best bet among the listed options. It uses pixel shifting to achieve a resolution closer to the 4K original, delivering better image quality.
REFERENCES AND FURTHER READING: