With an MSRP of around $600, the BenQ TH575 is certainly priced right for budget-conscious home theater owners. But what do you have to sacrifice for that affordable cost—and will it give you the performance you need from a projector? We'll answer those questions in this BenQ TH575 review (>>> Find on Amazon).
BenQ TH575 Review of Main Specs:
| | BenQ TH575 |
| --- | --- |
| | |
| Resolution | 1920x1080 |
| Brightness (Lumens) | 3,800 ANSI |
| Contrast | 15,000:1 |
| Input Lag | 16.7ms |
| Throw Distance | 3.5' - 32.5' |
| Screen size | 30" - 300" |
| Speakers | 10.0 Watts Mono |
| Today's Best Price | BHPhotoVideo.com |
Space Flexibility and Installation
The BenQ TH575 uses a traditional metal halide bulb as its light source. This is part of what makes it so affordable, and also gives it a relatively high brightness of around 3,800 lumens. That's plenty for the typical living room or home theater, and will even maintain a high-quality picture in rooms with large windows or bright overhead lights, so it offers good flexibility in that regard.
Unfortunately, the same can't be said of its throw distance. It has a standard throw lens, meaning you'll need around 10-12 feet to fill a 100-inch screen. The options for aligning and adjusting that image are also fairly limited, with a narrow 1.1x zoom and a vertical lens shift as its only options. That may not be an issue in a typical space, but if your room is small or has an odd layout, you may find it frustrating to install this projector. On the plus side, the vertical keystone correction is self-adjusting, taking some of the hassle out of getting the projector up and running.
Picture Quality
The DLP display of the BenQ TH575 produces a full HD image with a relatively high contrast ratio. For colors, it can produce about 1.07 billion hues, which gives it coverage for roughly 88% of the Rec.709 spectrum. In layman's terms, it's probably best to describe the TH575's picture quality as good enough, if not exceptional.
One thing to bear in mind is that the BenQ TH575 has no support for 4K signals, but it's among the best 1080p projectors. This could limit its usability in the future once that higher resolution becomes more of the standard. On the plus side, it does support 3D content, so it offers some versatility in that regard.
Pros
Strong color and contrast
Powerful lamp ideal for an indoor light level
Great choice for gaming
Supports 3D content
Excellent value
Cons
No support for 4K content
Long throw distance with limited alignment options
Gaming Performance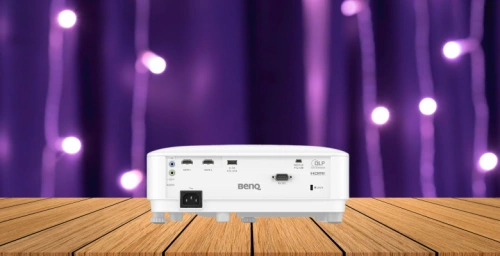 BenQ projectors are generally known as being gamer-friendly, and the TH575 is no exception. It has a measured input lag under 20ms, paired with a 60Hz frame refresh rate. While you can find projectors that are more responsive, it won't be by much, and that lag is low enough even competitive players of reflex-based games shouldn't notice any issues while they're playing.
Along with that, activating Game Mode also brings you BenQ's proprietary Black Detail Enhancement technology. This brings out more detail from darker areas of the screen, especially helpful for players of horror games, RPGs, first-person shooters, or other games where you need to spot hidden enemies and objects.
BenQ TH575 Review In Summary
For someone who wants to bring all their entertainment to the big screen, without blowing their entire year's entertainment budget, the BenQ TH575 is an excellent option. It performs equally well for movies or games and has the bright lamp to support lights-on use. You will sacrifice a bit of picture quality compared to more expensive projectors, however, and it lacks features like built-in streaming and voice control that modern users often look for in home theater equipment. The BenQ TH575 was also included to our list of "Top projectors in the under $600 price range". Still, if you're looking for a balance of performance and value, the BenQ TH575 delivers (>>> Check on Bhphotovideo.com). 
FAQs
What 3D formats does the BenQ TH575 support?
Currently, it supports frame sequential and frame packing formats, which are the most common formats used by Blu-ray players and PCs. As of late 2022 it doesn't support side-by-side or top/bottom formats, though support will be added in a future firmware update.
Does the BenQ TH575 have any wireless connectivity?
Unfortunately, no. You can add Wi-Fi connectivity by using one of the USB ports for an adapter, but out of the box your only options are the dual HDMI inputs.
Is the BenQ TH575 portable?
Yes. This projector weighs only 5.5 pounds and is less than 5 inches tall, giving it the compact, lightweight design you want if you'll be taking the projector on the road. Combined with its bright lamp, this makes it a great choice for backyard movie nights, tailgate parties, and other outdoor uses.