Welcome to our in-depth Epson EpiqVision Flex CO-FH02 review. This detailed analysis will delve into the features, functionality, and overall performance of this versatile projector. As we examine the Epson EpiqVision Flex CO-FH02, we aim to provide a comprehensive understanding of its capabilities and limitations, offering valuable insights for anyone considering investing in this device. From its stunning 1080p HD display to the challenges with Bluetooth connectivity, every aspect of this projector has been rigorously evaluated to provide you with a balanced perspective on this high-performing device. Let's begin.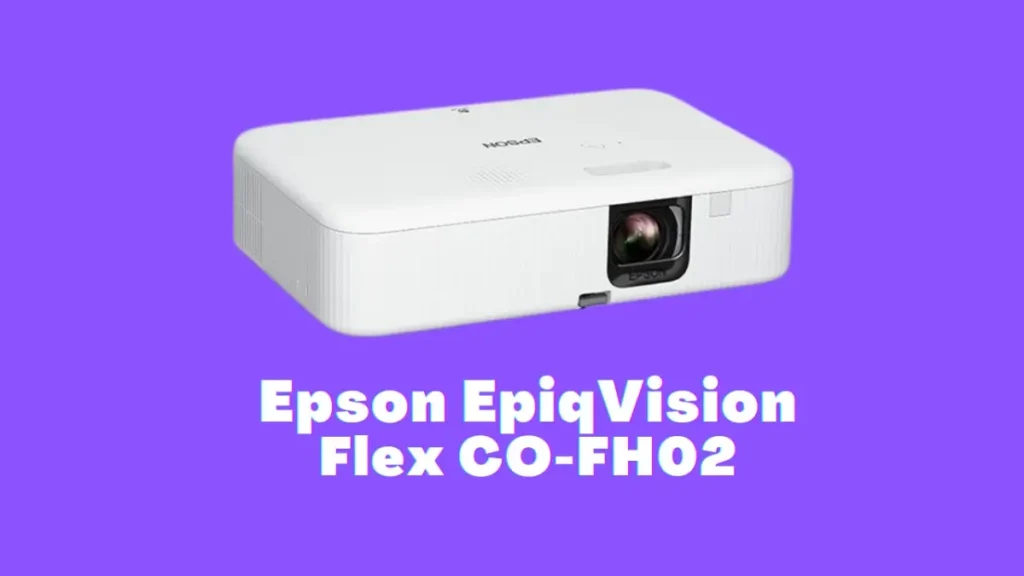 Epson EpiqVision Flex CO-FH02 Review of Specs:
| | Epson EpiqVision Flex CO-FH02 |
| --- | --- |
| | |
| Resolution | 1920x1080 |
| Brightness (Lumens) | 3000 ANSI |
| Color Processing | 8-bit |
| Lens | Fixed focal length, manual focus, no shift |
| Throw Ratio | 1.19:1 |
| Screen size | 34" - 390" |
| Speakers | 5 Watts |
| Today's Best Price | BHPhotoVideo.com |
Unpacking and Setting the Stage
On receiving the Epson EpiqVision Flex CO-FH02, we were greeted with the carefully packaged projector itself, along with the Android TV Streaming Media Player, a power cable, a mini-USB cable for Android TV power, a projector remote control with batteries, an HDMI cable, and a handy Quick Start Guide. Everything needed to get started was thoughtfully provided in the box, attesting to Epson's commitment to delivering a comprehensive customer experience right from the start. Check the Latest Price on Amazon Now!
First Impressions
The device's compact design, sleek aesthetics, and light weight immediately drew our attention. It seemed to embody the very essence of modern projection technology — minimalistic, unobtrusive, yet powerful. With a palpable sense of anticipation, we set out to put the Epson EpiqVision Flex CO-FH02 to the test, ready to explore every feature it offered.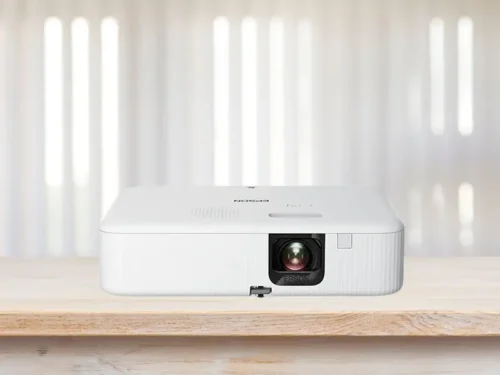 Pros
Stunning 1080p HD display with excellent color accuracy.
Compact, lightweight design for easy portability.
Adaptive color correction for clear, natural images.
3,000 lumens brightness for viewing in diverse light conditions.
Smart streaming capability with Android TV interface.
Cons
No mounting holes for ceiling setup, limiting placement options.
Manual reconnection required for Bluetooth devices upon startup.
Technical Specifications and Performance – A Deeper Dive
Epson's advanced 3-chip 3LCD technology lies at the heart of this impressive piece of equipment. This technology allows for a pixel number of 2,073,600 dots (1920 x 1080) x 3, contributing to the projector's exceptional image clarity and vibrant colors. This detail, coupled with the 3,000 lumens of color and white light output, ensures images that are not just sharp but also brilliantly lit.
In our testing, we found that this technology indeed lived up to its promise, providing images that were clear, crisp, and beautifully colored, whether we were projecting spreadsheets for a business presentation or streaming an action-packed movie. What further impressed us was that the projector managed to display 100% of the RGB color signal for every frame, allowing for outstanding color accuracy and eliminating the distracting "rainbowing" or "color brightness" issues often seen with other projection technologies.
Ease of Setup and Compatibility
One of the standout features of the Epson EpiqVision Flex CO-FH02 is its simplicity and ease of setup. The projector's versatility and wide range of compatibility options, accommodating PC, Mac, and various video formats, make it a highly adaptable device. It also comes with a 16:9 widescreen native resolution, with resize support for 16:10 and 4:3, giving it a versatility that we found quite appealing.
We tested it with multiple devices and found that the HDMI and USB ports provided easy connectivity, whether we wanted to connect a laptop, a gaming console, or a streaming device. Also, the various resize options allowed us to tailor the viewing experience to our preference, whether for a business presentation or an immersive movie night.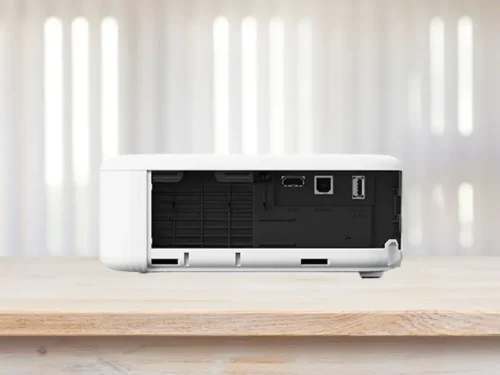 Streaming Capability and Audio Output
The integration of an Android TV interface and a simple-to-use remote makes this projector a smart device that can meet modern streaming demands. We loved having the built-in Google Assistant for voice searches and control, and access to our favorite streaming channels, including Netflix, Amazon Prime, Hulu, Disney+, HBO Max, YouTube, and more, was definitely a plus. In the world of on-demand streaming and cord-cutting, this feature can make the Epson EpiqVision Flex CO-FH02 a valuable addition to any home entertainment system or modern office setup.
During our review, we tested various genres of movies and TV shows and found the in-built bass reflex speaker to be quite satisfactory. While it may not match the quality of high-end audio equipment, it delivered clear sound that enhanced our viewing experience. For larger spaces or audio purists, the projector's compatibility with external sound systems can make a day-and-night difference.
Flexibility with Vertical and Horizontal Adjustments
One of the aspects that made us truly appreciate the Epson EpiqVision Flex CO-FH02 was the flexibility it offered in adjusting the picture both vertically and horizontally. With this feature, we found it easy to adjust the projected images to suit various environments and surfaces. The projector also allowed us to zoom in and out to crop the picture, adding another layer of flexibility to its usage.
However, a minor inconvenience we noted, like one of the customers, was that even when the picture was shrunk, the black light from the original size remained visible. While not a deal-breaker by any means, it was a detail that we noticed.
Light Conditions and Brightness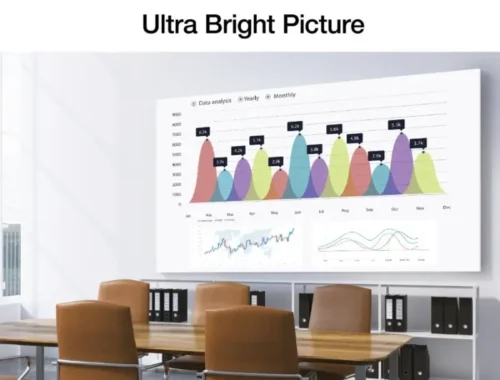 With a brightness output of 3,000 lumens, the Epson EpiqVision Flex CO-FH02 proved to be remarkably competent at delivering high-quality images in varying light conditions. This characteristic proved to be particularly beneficial when we used the projector in a well-lit room, as the image quality remained undeterred even with daylight filtering through the blinds.
This is a significant advantage for those looking to use the projector in diverse environments, from brightly lit conference rooms to darkened home theaters, thus ensuring an uninterrupted and consistent viewing experience.
Bluetooth Connectivity – Room for Improvement
During our review, we encountered some inconveniences related to Bluetooth connectivity. Specifically, we found that when a Bluetooth device was connected to the projector, it needed to be manually disconnected and reconnected each time the projector was turned back on. Although the process was relatively straightforward, the repetitive nature of this task felt slightly annoying, especially for a device of this quality and price point.
Portability and Mounting Options – A Mixed Bag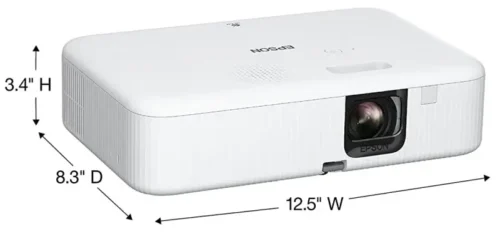 One aspect that we appreciated about the Epson EpiqVision Flex CO-FH02 was its compact and lightweight design, which made it easily portable. Its sleek design could fit comfortably in a backpack, making it a good option for mobile presentations or movie nights at friends' places.
However, we found a significant limitation when it came to mounting options. Unlike many projectors on the market, this device did not include any mounting holes for setting it up on a ceiling. This lack of feature may limit its application in home cinema setups or in classrooms where a ceiling mount would be a more secure and unobtrusive option.
Epson EpiqVision Flex CO-FH02 Review – The Verdict
After conducting a thorough Epson EpiqVision Flex CO-FH02 review, we conclude that this projector strikes an excellent balance between professional and entertainment applications. Its high color accuracy, bright output, and flexible adjustments make it a great choice for both business presentations and home theater experiences.
Despite minor issues, like the need for manual Bluetooth reconnection and the lack of ceiling mounting options, the overall performance and features of the Epson EpiqVision Flex CO-FH02 make it a highly attractive option for those seeking a portable, versatile, and high-performing projector. It is a device that truly embraces the mantra "Perfect for Business + Epic for Play," and is a worthy investment for any home or business environment. Check on BHPhotoVideo Now!
Related Guides: