When it comes to delivering impactful business presentations, having the right equipment can make all the difference. A high-quality projector can help you captivate your audience with vivid images and crystal-clear graphics. But with so many options available, it can be challenging to know which one to choose. In this article, we will provide a comprehensive guide to help you find the best projector for your business meetings.
Based on its overall stats, the Epson Pro EX9240  is the best business projector, with a bright lamp, easy set-up, and clear high-contrast display that can handle everything from sales reports to videos (>>> Check on Amazon). This doesn't mean it's the best choice for everyone, though. Let's take a look at the most important factors to see how these projectors stack up.
Best Business Projectors 2023 – Top Picks:
| | Epson Pro EX9240 | Optoma EH335 | Epson Pro EX7280 | Epson EX5280 | BenQ MS560 | ViewSonic LS550WH |
| --- | --- | --- | --- | --- | --- | --- |
| | | | | | | |
| Resolution | 1920x1080 | 1920x1080 | 1280x800 | 1024x768 | 800x600 | 1280x800 |
| Brightness (Lumens) | 4,000 ANSI | 3,600 ANSI | 4,000 ANSI | 3,800 ANSI | 4,000 ANSI | 2,000 ANSI |
| Contrast Ratio | 16,000:1 | 22,000:1 | 16,000:1 | 16,000:1 | 20,000:1 | 3,000,000:1 |
| Throw Distance | 4.7' - 28.8' | 3.3' - 32.2' | 1.30' - 1.56' | 3.6' - 29.6' | 4.3' - 39.2' | 1.0' - 10.4' |
| Screen size | 30" - 300" | 28" - 302" | 33" - 320" | 30" - 300" | 30" - 300" | 30" - 300" |
| Speakers | 16.0 Watts Mono | 10.0 Watts Mono | 2.0 Watts Mono | 2.0 Watts Mono | 10.0 Watts Mono | 2.0 Watts Mono |
| Price | Check on Amazon | BHPhotoVideo.com | Check on Amazon | Check on Amazon | Check on Amazon | Check on Amazon |
Resolution
While 4K is quickly becoming the standard for home theater projectors, that high of a resolution isn't necessary for most business uses. Even a lower VGA resolution can provide sufficient clarity for text, images, and other basic presentations.
If you plan to play videos with the projector, resolution is a more important consideration. A full HD (1080p) projector can be a good middle-ground, with enough on-screen detail for video content without the expense of full 4K.
Best resolution: Epson Pro EX9240, Optoma EH335
Portability
If you're buying a projector for permanent installation this isn't as much of a concern. For multi-room or traveling use, though, you'll save yourself a lot of hassle with a projector that's lightweight, durable, and has a slim profile.
The BenQ MS560 is the lightest, most compact business projector on the list. The Epson EX5280 is also designed with travel in mind, weighing less than 10 pounds and with an included soft-sided carrying bag for easier transportation. The ViewSonic LS550WH is similarly lightweight and edges the above models out in durability, with a sealed optical engine and rugged LED light source.
Most portable: ViewSonic LS550WH
Installation
Projectors in general are more difficult to install than TVs. The size of the screen changes depending on how far away the lens is, and this can make it tricky to correctly align the image. Features like automatic keystone correction can spare you this hassle, giving the projector a faster set-up time.
The ViewSonic LS550WH is arguably the most flexible projector on the list, with a short throw distance and the ability to be installed at any angle. For the easiest installation, the Epson Pro EX9240 uses a skew sensor that automatically squares the image. This is paired with a wide manual zoom and horizontal image slider that give it more flexibility for where you place the ceiling mount relative to the screen.
Easiest installation: Epson Pro EX9240
Connectivity
If you can't connect your devices, a projector won't be much use to you for your presentations. At the least, you'll get HDMI inputs on all of these projectors, along with USB ports for devices, and the BenQ MS560 adds options like VGA and RCA. Both the Epson Pro EX9240 and Optoma EH335 also have built-in wireless connectivity and support for screen mirroring straight for devices through Chromecast or Miracast.
The wired input options on the Optoma EH335 give it the edge over the Epson. In addition to the dual HDMI ports, it has VGA, Composite, MHL, audio, and networking connections, supporting a wider range of devices than most projectors on the market.
Best connectivity: Optoma EH335
---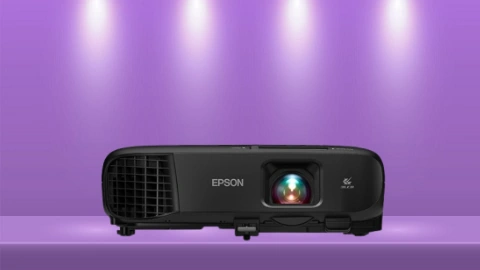 Pros
Bright lamp can be used in well-lit spaces
3LCD color is accurate with no rainbowing
Easy to adjust image and picture settings
Built-in skew sensor and correction
Supports screen sharing through Miracast
Cons
Relatively long throw distance
High fan noise
The fast, easy set-up of the Epson Pro EX9240 is its first advantage for business use. Its integrated skew sensor automatically adjusts to square the image geometry, with a horizontal slider and 1.6x zoom for fine-tuning the alignment.
The EX9240 is portable, too, weighing in at less than 10 pounds with a convenient carrying case included for transportation.
The Epson Pro EX9240 is flexible from a connectivity standpoint. For wired inputs, it has dual HDMI ports, USB, and RCA connections. Wireless networking is built in, too, and it supports screen mirroring through Miracast.
It's also relatively flexible in terms of where you use it, with a powerful lamp suitable for any light level. The only caveat here is that the throw distance is on the longer side, needing between 10 and 13 feet for a 100" screen.
The resolution of the Epson Pro EX9240 is full HD, with a 3LCD display that provides good color and contrast. This makes it an ideal dual-use option, performing just as well for movies and TV shows as it does for business meetings.
---
Optoma EH335 1080p Business Projector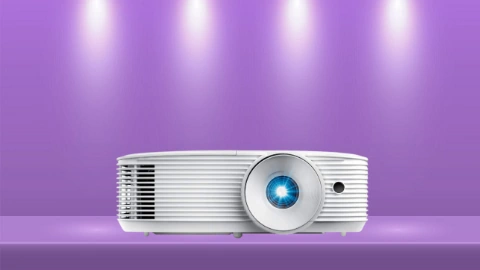 Pros
Bright lamp works in any indoor environment
HDMI-Link makes controlling devices easier
Full HD resolution with great image contrast
Portable and lightweight design
Supports Chromecast screen mirroring
Cons
Color wheel may trigger rainbowing
Can be tricky to install and align
The Optoma EH335 is a full HD business projector with a high image contrast, bringing sharp detail and great on-screen clarity to all of your business presentations. Its 6-segment color wheel produces a wide and vibrant color gamut, though it may also trigger image flickering for sensitive viewers—something to keep in mind especially if you plan to use it in large groups.
Since it's a standard-throw projector, you'll most likely need to ceiling mount the Optoma EH335. This can be a bit tricky during the initial installation, with just a vertical keystone correction and relatively narrow zoom for aligning the picture.
On the plus side, the robust connectivity of the EH335 lets it adapt to a variety of A/V systems and set-ups, with complete network control and a wide range of wired input options.
The design of the Optoma EH335 is ideally suited to business use. It's portable and low-maintenance and has a 3,600-lumen lamp—bright enough to maintain the quality and clarity of your presentation even in well-lit spaces. This makes it a great choice for permanent installation in conference rooms and classrooms, as well as more mobile uses. Click here for our more in-depth Optoma EH335 review.
---
Epson Pro EX7280 Advanced Business Projector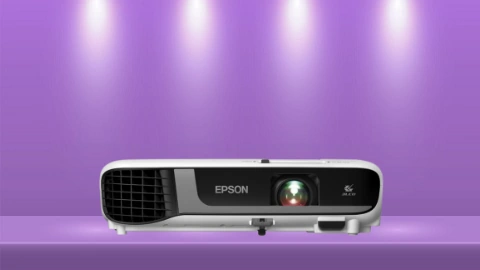 Pros
3LCD display excellent for text presentations
Powerful lamp for lights-on use
Simple set-up and installation
Automatic skew correction
Portable design (includes a carrying bag)
Cons
Weak sound
No built-in wireless connectivity
The Epson Pro EX7280 has similar strengths to other models from the Epson EX line. This includes a powerful 4,000-lumen lamp and robust image adjustment options that give it a fast and flexible installation. Features like automatic skew correction also make it a great choice for A/V beginners, taking much of the hassle and guess-work out of setting up the projector.
From an image standpoint, the Epson Pro EX7280 business projector is well-suited to both text and images, with good image clarity and a 3LCD design that provides a broad color gamut with no hotspots or other distractions. Its WXGA video resolution is low from a home theater standpoint, but it's sufficient for purposes like Zoom calls or training videos.
In smaller rooms, you can get away with using the 2-watt speaker built into the Epson Pro EX7280, at least for calls and other basic uses. The fan can get pretty loud, though, so most people will want to use external speakers for presentations with sound. You'll also need a dongle or other accessory if you want to share your screen or use wireless connections, something to keep in mind as you're planning your budget. Click here for our more in-depth Epson Pro EX7280 review.
---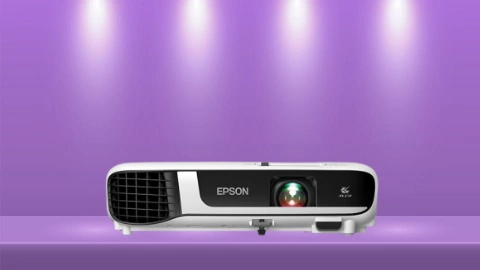 Pros
Displays crisp, legible text
3LCD display provides excellent color
Automatic skew adjustment
Bright lamp
Portable and easy to install
Cons
Lowest resolution on the list
Weak built-in sound
You can think of the Epson EX5280 as the entry-level version of the EX7280 above. Its overall design is similar, using 3LCD image technology and a 3,800-lumen lamp. In real-world terms, that means a consistently bright image in any light conditions, with vibrant colors and no flickering or hot spots.
It's even more portable than the other Epson business projectors, weighing just over 5 pounds with a slim profile.
The main sacrifice you'll make with the Epson EX5280 compared to its pricier cousins is its video resolution. It uses XGA resolution, which has a pixel density on par with what you'd get from most laptop screens. This is still plenty for sharp text and images, though, so for most business uses this isn't a deal breaker, especially for those who are shopping on a tight budget.
Installing the Epson EX5280 is very straightforward. It has the same automatic skew correction as other EX models, along with manual zoom and a horizontal slider, giving it good flexibility during the installation.
Input options include RCA, HDMI, and VGA, with 2 USB ports for wireless dongles or other devices, so it has the connection options most people need for professional applications.
---
BenQ MS560 Portable Projector for Business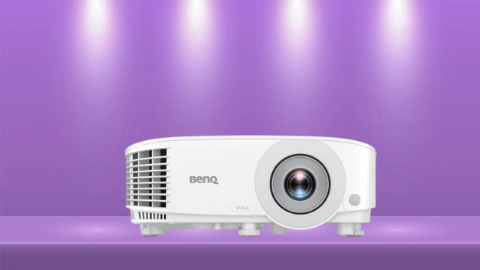 Pros
Clear picture in any ambient light level
Compact and portable
Accepts content up to full HD (1920X1200)
Low power use in Eco Mode
Good clarity and volume from built-in speaker
Variety of input options
Excellent value
Cons
Low video resolution
Limited screen alignment features
If you're on a tight budget, the BenQ MS560 is arguably the best presentation projector you can get for under $500. Its 4,000-lumen lamp gives you a sharp picture in any light level, so everyone in the room will be able to see your graphics and read on-screen text.
The MS560 also gets high marks for portability. It's compact and lightweight, at just over 5 pounds, and has a built-in speaker with enough volume for use in a typical classroom or conference room, so you won't need to bring an external sound source to use it.
The variety of inputs and outputs on the rear panel also makes it versatile across different equipment setups, with options like RCA, VGA, and S-Video you won't find on many business projectors.
Now, the big trade-off you'll make for the low price of the BenQ MS560 is video resolution. If you want something that can do justice to movie or game graphics, this probably isn't the right choice.
That said, it's still very clear for charts, graphs, and text, and its video quality is acceptable for things like training videos or conference calls. The other weakness of the MS560 ibusiness projector is that it can be tricky to set up in some spaces.
The throw distance is long, and the alignment features are limited to vertical keystone correction and a narrow 1.1x zoom. That said, in a large open space like a conference room, it has a straightforward and intuitive set-up process.
---
ViewSonic LS550WH Portable Business Projector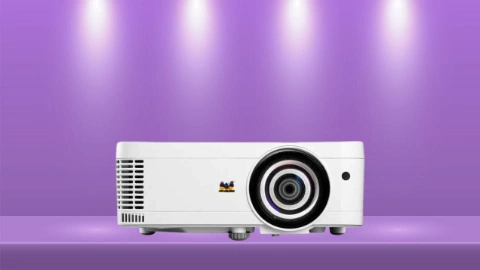 Pros
Accepts content up to 1080p
Short throw distance
Easy to set up at any angle
Lightweight and portable
Low energy use with automatic power off function
Maintenance-free with sealed optical engine
Cons
Not bright enough for well-lit spaces
Weak built-in speakers
The ViewSonic LS550WH is another top choice for those who need a portable projector. It uses an LED light source that's lighter and more efficient than lamps or lasers. Not only does this give it a compact and lightweight design, it's also more durable, with a longer usable lifespan and less chance of being damaged during transport.
The IP5X sealed optical engine adds an extra layer of protection against dirt and moisture.
The disadvantage of an LED light source is that they're not as powerful, and the 2,000 ANSI lumens put out by the ViewSonic LS550WH is on the low side for a presentation projector.
The good news is that it uses a short throw distance, which both makes it more flexible to set up and maximizes that brightness. While it will still struggle in a bright room, you won't need to turn all the lights off to get a clear picture. It can also be installed in any position, from straight up to straight down and any angle in between.
As far as the picture quality, the ViewSonic LS550WH has a high dynamic image contrast and a color gamut that exceeds the Rec.709 spectrum. That means crisp text and graphics that pop off the page, with realistic colors for photos and videos.
---
Best Projector for Business Presentations – The Verdict
The combination of features on the Epson Pro EX9240 makes it the overall best business projector, and it's reasonably priced to fit within most buyers' budgets (>>> Find it on Amazon).
On the other hand, if you never plan to use the projector for videos, a lower-resolution projector like the BenQ MS560 could give you a better value, while the short throw and 360° orientation of the ViewSonic LS550WH business projector give it lots of installation flexibility. We hope this buying guide has helped you figure out what you need from a business projector!