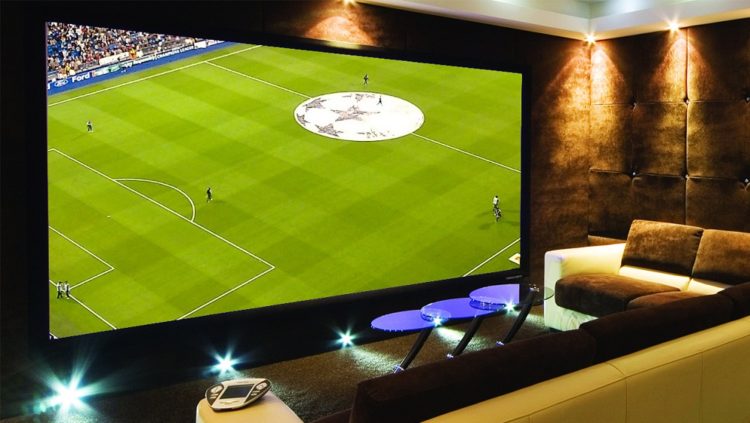 When you buy a traditional TV, you pay a premium for each inch of screen size you add. With a projector, you can get entertainment at any size for the same price. Granted, some projectors can get pretty costly, but you can also find some exceptional values out there.
If pressed, we'd say the Optoma HD146X is the best 1080p projector under 500 bucks. >>> Check the current price on Amazon That said, no projector at this price point will be perfect. There are a lot of great options out there, each of which has strengths the other options lack. Let's check out our top 5!
Top picks of best 1080p Projectors Under 500 dollars for 2021:
| | Optoma S334E | Optoma H184X | Optoma HD146X | Miroir HD Pro M289 | Philips Neopix Ultra |
| --- | --- | --- | --- | --- | --- |
| | | | | | |
| Measurements | 3.90" x 12.40" x 9.60" | 3.90" x 12.40" x 9.60" | 4.30" x 12.40" x 9.50" | 1.40" x 6.90" x 4.80" | 4.70" x 12.40" x 9.20 |
| Resolution | 800x600 (1080p input) | 1280x720 (1080p input) | 1920x1080 | 1920x1080 | 1920x1080 |
| Brightness (Lumens) | 3,800 ANSI | 3,600 ANSI | 3,600 ANSI | 400 ANSI | 300 ANSI |
| Contrast Ratio | 22,000:1 | 28,000:1 | 25,000:1 (500,000:1 with Dynamic Black) | 300:1 | 3,000:1 |
| Throw Distance | 4.0' - 39.4' | 3.1' - 43.23 | 3.3' - 32.2' | 1.7' - 8.7' | 2.2'– 8.9' |
| Image Size | 27" -304" | 28" - 300" | 28" - 301" | 20" - 100" | 25" - 120" |
| Built in Speakers | 10W | 10W | 3W | 2 x 2.0 Watts | 2 x 3.0 Watts |
| Price | Check on Amazon | Check on Amazon | Check on Amazon | Check on Amazon | Check on Amazon |
Table of Contents
Brightness
Measured in lumens, the brightness of a projector tells you how powerful the lamp is. Anything below about 1,500 lumens will have a tough time competing with ambient light in the room, and will only be suitable for use in completely dark areas. Projectors with a brightness between 1,500 and 3,000 lumens will function well in moderately-lit rooms, though they may still lose some of their color and image quality if there's a lot of natural light.
If you plan to use the projector outside, or if you have a lot of windows in your viewing area, you'll want a projector that can produce at least 3,000 lumens. While you can get away with less even in some lights-on viewing situations, brighter is better if you don't want to mess with dimming lights or blackout curtains.
Brightest projector: Optoma S334e
Picture Quality
A projector's screen resolution tells you how many pixels it displays on the screen at one time. Full HD definition has a resolution of 1,920 pixels by 1,080 pixels, about double what you'll get with the lower SVA resolution. A higher resolution means a picture that's sharper and more realistic with clearer details.
Screen resolution gets the most attention but it's not the only piece of the puzzle when it comes to picture quality. Just as important are the contrast ratio and color accuracy. Contrast ratio is a measure of the difference between the brightest and darkest areas of the screen. A higher contrast ratio is especially important for getting deep, rich black levels, and will also give you an overall sharper picture with more image depth.
When it comes to color, there are two factors to consider: the range of hues the projector can display and its method of creating them. Projectors with a  6-segment color wheel will have more subtle variation between hues than those with a smaller color gamut. For cinema-quality color, look for a projector that can recreate the entire Rec. 709 spectrum.
Best picture quality: Optoma HD146X
Throw Distance
Unlike TVs, projectors have a variable image size. The more distance there is between the projector and the screen, the larger the image will be. While all projectors need space to operate, some require more distance than others. The amount of distance you need to get a given screen size is known as the throw distance, and will vary from one model to the next.
If you have a large room you don't need to worry much about the throw distance. In smaller spaces, though, a shorter throw distance is key to maximizing the size of the image you can produce. A short throw distance can also help avoid washout of less powerful lamps since the light doesn't have to travel as far to reach the screen.
Projector with the shortest throw distance: Philips Neopix Ultra
Best 1080p Projectors under $500: Full Reviews
Optoma S334e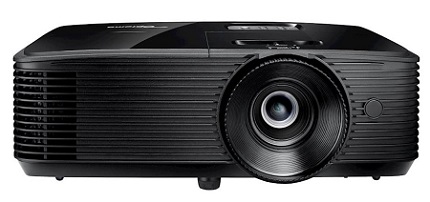 The lightweight and portable Optoma S334e is our top choice if you want a projector you can use both outdoors and inside. It's quick and easy to install and has a bright 3,800 lumen lamp, so you don't have to wait until full dark or turn out all the lights to enjoy your movie. Since you can produce an image anywhere from around 30" to over 300", it gives you a lot of versatility for different environments and group sizes.
Now one thing to note is that you'll need a lot of space to get a screen that size. The throw distance on the Optoma S334e is relatively long. You'll need about 15 feet for a 120" picture, so if you have a smaller space don't expect it to give you a giant image. While this long throw distance does limit its flexibility, the S334e is otherwise user-friendly as easy to set up and install.
What really impressed us about the Optoma S334e was the quality of the image. Even though it's on the lower side, it accepts full HD input and does it justice on the screen. It's as crisp, clear, and colorful as any flatscreen TV, with no loss of depth or focus at larger screen sizes. We especially recommend it for sports viewing since it can handle fast-paced sequences without choppiness or blurring. Click here for more detailed review of this projector.
Pros
Picture quality is high
Good color accuracy and contrast
Includes 1.1x zoom and vertical keystone correction
Bright lamp
Speaker is loud enough for basic TV watching
Cons
---
Optoma H184X

Like the S334e above, the Optoma H184X impressed us with its picture quality despite its low resolution. It supports the full Rec. 709 color gamut for accurate colors, while the bright lamp makes sure they stay vibrant in any light level. Along with that, you'll get full 3D support from all content sources, so it really is like having a movie theater in your home.
The Optoma H184X is another option that works as well outside as it does in a home theater. It can produce an image up to 300" on the diagonal and is bright enough you won't have to wait for full dark to use it. Features like zoom and keystone correction speed up the installation and alignment process.
Something else you might not expect from a projector under $500 is gaming performance. With the Optoma H184X you'll get a low enough input lag you can play even fast-paced games from modern consoles. That makes it a great choice for media rooms and other multi-use spaces. Learn more about the Optoma H184X
Pros
709 color gamut for accurate, true-to-life colors
Bright enough for lights-on viewing
Full 3D support
40° vertical keystone correction and 1.1x zoom
Wide range of input options (HDMI, VGA, composite)
Relatively low input lag
Cons
Some users report border around image
May produce the rainbow effect
---
Optoma HD146X

Another great option for gamers is the Optoma HD146X. Its enhanced gaming mode brings the input lag down to around 16ms, which is low even by high-end projector standards. The single-chip design also gives it a high response time on the frame-by-frame level, avoiding compression artifacts and other image issues that can impair your play.
Unlike the models above, the Optoma HD146X has a native resolution of 1080p. The picture is noticeably sharper, though this is partially thanks to the inclusion of Dynamic Black technology, which increases the contrast ratio and the overall image depth. Its fast response is great for watching movies and sports, too, since there's no blurring during motion sequences.
Just about the only place, we were disappointed with the Optoma HD146X was the on-board sound. The speaker is weak and tinny with very little bass and is particularly difficult to hear when the fan is on its highest setting. While you'll definitely want to use external speakers, the overall performance of the HD146X is high, especially considering the price.
Pros
Fast response time with a low input lag
True HD definition
6-segment color wheel with over 1 billion displayable colors
Dynamic Black contrast technology for better depth
Bright lamp for lights-on viewing
Full 3D support for both games and movies
Cons
Single-chip design may create rainbow effect
Poor sound quality
---
Miroir HD Pro M289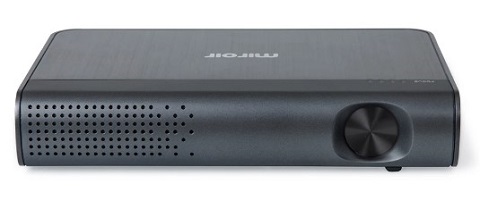 While most projectors run on outlet power, the Miroir HD Pro M289 is powered by a built-in lithium polymer battery. It will run for about 2 hours between charges. Since it's also the lightest and smallest projector on the list, that makes it a great option for work and classroom presentations, along with its high performance as a home theater projector.
The Miroir M289 is able to be so compact because it uses an LED light source. The flip side of this is it's not as bright as other lamp designs. You'll only get about 400 lumens from this projector. That does mean you'll need to control the light in your viewing area, since it will wash out easily from any ambient light.
While a lack of lamp power is a limitation, the M289 is otherwise flexible when it comes to the installation. The automatic keystone correction takes the hassle out of adjusting the image, and there's a manual zoom for fine-tuning. Its throw distance is on the shorter side, too, so it's a good choice for small spaces like dorm rooms.
Pros
Native full HD resolution
Compact, super-portable design
Battery operation lets you use it anywhere
Automatic vertical keystone correction
Can be used in smaller spaces
Cons
Needs a completely dark area
Contrast is on the low side
---
Philips Neopix Ultra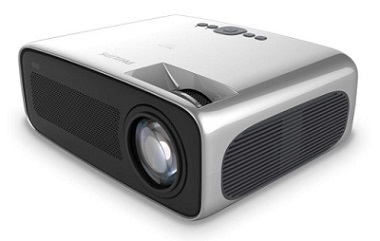 You don't have to sacrifice modern connectivity to get an affordable projector. The Philips Neopix Ultra has both Wi-Fi and Bluetooth built in, allowing you to mirror content from your phone or easily connect external speakers. It also has dual HDMI ports and a USB port, with a micro SD slot for adding on-board memory.
The Philips Neopix Ultra produces images up to 120" on the diagonal, which is plenty for indoor use. Getting it set up is easy thanks to the focus and keystone correction. It also has a fairly short throw distance, so you can get a big screen even in small rooms.
While it's a convenient and versatile option, the Philips Neopix isn't the best performer when it comes to picture quality. The lamp isn't very bright and it has a low contrast ratio, which can make the picture look washed-out and soft, especially if it's competing with other light sources. It can work in a dedicated home theater but isn't the best choice for living rooms or other spaces with lots of light.
Pros
Wi-Fi and Bluetooth connectivity
Mirror content directly from phones and tablets
Built in media player
Easy to install and set up
Works well even in small spaces
Cons
Low lamp brightness
Built-in speakers are weak
---
Our Verdict
In terms of overall performance, our favorite projector at this price point is the Optoma HD146X. >>> Check price on Amazon Not only does it have a high picture quality and flexible installation, its responsiveness and low lag time make it suitable for gaming. All-told, it's both the best picture quality and the most versatile projector you'll likely find for the price.
The truth is, though, all of these projectors have their strengths—and none of them will put a big dent in your bank account. If you take one thing away from this article, it should be that you have a lot more options than you probably realized. If concerns about the cost have been keeping you from setting up a home theater, one of these projectors could be your answer.
---
REFERENCES AND FURTHER READING