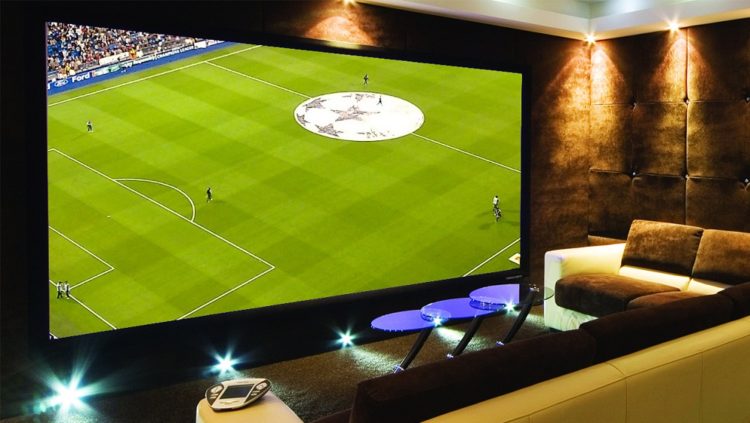 Televisions just keep getting bigger and bigger, but you'll pay a pretty penny to get a few more inches of screen size if you go the traditional TV route. A projector, on the other hand, can give you a variable screen size that goes a lot bigger than even the largest TVs you can find in the store—and you can get one for a lot less than you might expect. If you're looking for the best 1080p projector under 500 bucks, give the four options below a look. All of them will give you a great viewing experience for right around the $500 mark—and some of them cost even less than that. You might be surprised by all the features you can find on a projector without shelling out a whole tone of money.
Top picks of best 1080p Projectors Under 500 dollars:
| | Optoma HD243X | Optoma HD143X | BenQ MH535A | Optoma HD142X | ViewSonic PX700HD |
| --- | --- | --- | --- | --- | --- |
| | | | | | |
| Measurements | 4.25" x 12.50" x 9.75" | 4.27" x 12.44" x 9.20" | 3.89" x 13.08" x 9.50 | 3.70" x 11.70" x 9.00" | 5.31" x 13.07" x 10.28" |
| Resolution | 1920x1080 | 1920x1080 | 1920x1080 | 1920x1080 | 1920x1080 |
| Brightness (Lumens) | 3300 | 3000 | 3600 | 3000 | 3500 |
| Contrast Ratio | 24,000 : 1 | 23,000 : 1 | 15,000:1 | 23,000 : 1 | 12,000 : 1 |
| Throw Distance | 3.3' - 32.2' | 3.3' - 32.2' | 3.6' - 29.9' | 3.2' - 32.8' | 3.6' - 32.7 |
| Image Size | 28.05" - 301.59" | 28.05" - 301.12" | 30.22" - 300.49" | 27.20" - 305.13" | 30.04" - 300.15" |
| Built in Speakers | 10W | 10W | 2W | 10W | 2W |
| Price | Find Best Price | Find Best Price | Find Best Price | Find Best Price | Find Best Price |
[toc]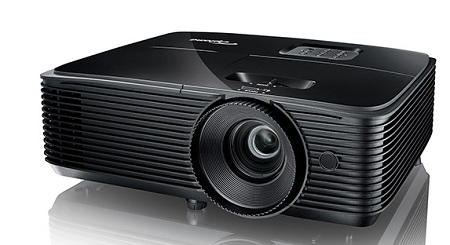 Let's start things off with this model from Optoma. Now, we'll be clear about this right upfront—you won't always find it available for less than $500, but even at its higher price points it's close enough to this benchmark that it should fit into similar budgets. Considering what all you get when you buy it, you'll almost certainly find the extra expense to be well worth it.
The HD243x is arguably the best projector for gamers you'll find in the price point. The 16ms lag time is on par with what you'll find in high-end gaming projectors. Playing won't feel any different than it does on a flatscreen TV. That's why we included this model among the best projectors for golf simulators: https://projectortop.com/best-projector-for-golf-simulator-users/
The Optoma HD243x is also great for watching movies and TV. The picture is bright, sharp, and clear, and you'll get that same realism and clarity when you watch 3D content. We were especially impressed by the vibrancy of the colors. They're realistic and true to life, with no hot spots or rainbow effect that we noticed. The picture stays sharp and clear no matter what size you set the screen, too.
Now we do have to say the lamp is unlikely to live up to its promised 12,000 hours if you're using it in-game mode. It's a durable projector, though, and the lamp will likely last for several years even if you don't use eco mode. Overall, this is our pick for the best gaming projector under $500.
Super low 16ms lag is great for gamers
Display is crisp and smooth, especially in game mode
Supports 3D from both Blu-ray and gaming consoles
High contrast ratio and color accuracy
Can give an image up to 301"
Built-in speaker isn't very good
---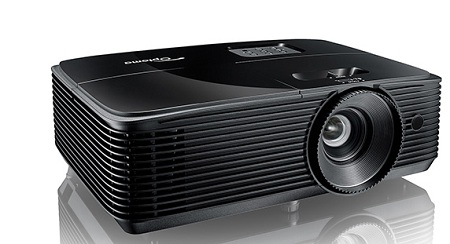 This projector gives you a 1080p screen resolution from a lamp with up to 3,000 lumens of brightness. It also still gives you the option of viewing real 3D content—something that's becoming more and more useful in a home theater context.
While the picture quality improved slightly form HD142x model, the changes to the build and design were more noticeable. It's a bulkier projector with a more substantial lens mechanism. We actually liked this about it—it feels more solid like it's built to last—but it can make things tricky from an installation standpoint, especially if you usually use a ceiling-mounted system.
The biggest change from both a screen and design standpoint is to the throw ratio and screen size. You can get a much larger screen with the HD143X—up to 300 inches if you have a large enough space. The throw ratio is also more flexible, so you have more options when it comes to the installation.
With all the improvements Optoma made between HD142X & HD143 models you'd probably expect the 143X to carry a bigger price tag. This is why we were especially impressed that you can still get this projector for less than $500. If you're looking to get the best bang for your buck, the Optoma 143X is a definite contender.
Up-to-date technology at an impressively low price
Same high resolution and brightness as the model above
Even longer lamp life (up to 12,000 hours)
Very quiet fan operation
Massive screen potential (up to 300")
Projector is slightly bulky
Zoom and picture adjustment options are fairly limited
Best $500 Amazon Projector In 2018 - Optoma HD143X Full Review
---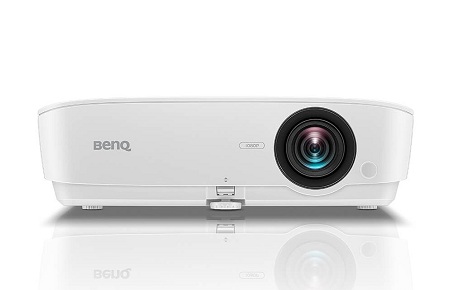 If you're looking for the brightest lamp you can get for less than $500, you'll want to look at the BenQ MH535A. Most of these 1080p projectors are focused on home theater applications, but there are a lot of other reasons you might want a projector. If you need a projector for school or business presentations, the BenQ MH535A Business Projector is an excellent value.
The high brightness of the BenQ MH535A is its best feature, in our books. It can compete with a surprising amount of ambient light. This means you won't have to kill the lights in the classroom or conference room to give your presentation, letting the audience take notes freely. It's also very portable and quick to set up—ideal if you won't be using it in the same place all the time.
There's no reason you can't use this as a home theater projector, too. The contrast ratio is a bit low compared to other models, but the picture is sharp and bright. If you want to play videos during your presentation, the play is smooth and responsive. The brightness, portability, and set-up flexibility also make it a great choice taking on the road, or other outdoor applications. Overall, the BenQ MH535A is a versatile projector and an excellent value.
Bright enough to use in well-lit rooms
Offers vertical keystone correction
Relatively short throw ratio makes it more flexible
Supports some 3D applications
Quick and easy set-up
Relatively low contrast ratio
---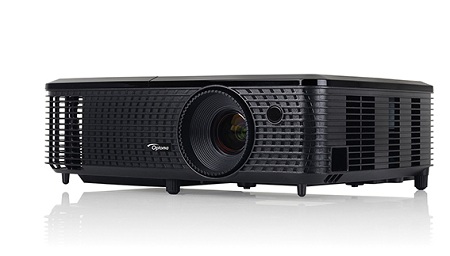 Here's another option from Optoma that hovers right around the $500 mark.
The picture is the most important thing about any TV, and on that front the Optoma HD142X definitely delivers. It gives you up to 3,000 lumens of bright, beautiful color, the entire way across the REC.709 spectrum, the current standard for HD television. This means you'll get accurate color representation for movies, games, and broadcast TV sent according to ColorSpace specifications. This great contrast also ensures the black sections of the screen will be truly black, adjusting the lamp for each frame automatically for sharp on-screen contrast.
Sharp HD image with vibrant, accurate colors
Automatic contrast adjustment
Capable of true 3D
Built-in 10-watt speaker for high audio quality
Extended lamp life (up to 8,000 hours)
Screen size up to 107" at a 12-foot distance
A bit pricier than other options on the list
Fan is relatively low-power and unit may overheat after extended use
The Optoma HD142X also gives you high-definition detail with an on-screen resolution of 1920X1080 pixels. This is ideal for watching movies on Blu-ray without any compression or alteration to the scale. Along with HD picture, it also has the capability to project 3D content from any source, whether it's a Blu-ray movie or a game played on your console. The fast, 144Hz refresh rate means you'll get smooth playback with no flickering.
The sound is one place that many projectors under-perform, but that's not the case with this unit. There's a 10-watt speaker built right in, giving you much clearer, louder audio than you'll get from most projectors. It won't out-perform a home theater, but the speakers are on par with what you'll get built into most TVs.
Everything about this projector is designed to fit easily into your media set-up. It has two HDMI ports for gaming systems, streaming sticks, and other media sources. It also has an MHL port that you can use to connect a tablet or smartphone. With a screen size between 65" and 107", you'll get the premium theater-level viewing experience you're looking for, and for a very affordable price considering the features.
---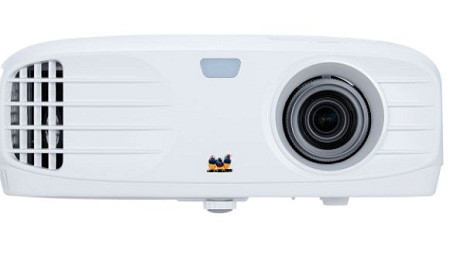 The ViewSonic PX700HD is from their much-touted PX line of projectors, and while it's the entry-level model for that line, you'll still benefit from the cutting edge technology utilized in these impressive projectors.
If you just looked at the feature list of the PX700HD, you'd probably expect it to cost twice as much. Both HDMI inputs are compatible with 3D Blu-rays. There is also a powered USB slot for easily connecting wi-fi dongles or other content sources like flash drives. No matter which input we used, there was absolutely no lag—it feels just like controlling a standard flat-screen, making it perfect for gamers.
In terms of the picture, it uses the same SuperColor system that gives you the bright, cinema-quality colors you want in a home theater. It also has different performance modes that let you quickly adjust the settings for different purposes. There's a Sports Mode for faster response and sharper detail, and an Eco Mode that reduces brightness, conserving energy and extending lamp life.
Just about the only people who might not be happy with the performance of the PX700HD are those with smaller spaces. It has a standard throw ratio, so while you can get a projected image up to 300 inches, you'll need a lot of distance between lens and screen to get it there. The zoom is limited, as well, at least compared to other models in the ViewSonic PX line. If you're not in a restricted space, this is an incredible projector for the price.
Lamp puts out the most lumens on the list
Lower input latency reduces lag, making it ideal for gamers
3D capable
Flexible inputs and compatibility
Different performance modes let you easily adjust the picture settings
Will need a lot of space to get a big screen
The Ultimate Budget Home Entertainment Projector !!!
---
Our pick: the best 1080p projector under $500
In terms of overall performance, our favorite projector at this price point is the Optoma HD243x. It's not only the highest resolution projector on the list but the low lag and various performance modes make it versatile for a wide range of different uses.  If you need the brightest projector, the BenQ MH535A jumps to the top of our list. It's a bit cheaper than the Optoma but it has a comparable picture and adjustment options.
In truth, though, all of the projectors on this list have their definite strengths—and none of them will put a big dent in your bank account. The big lesson here is that you have a lot more options than you probably realized when you're looking for a 1080p projector on a budget. If the high price of flat-screen TVs has been keeping you from setting up your home theater, switching to a projector just might be your answer.
REFERENCES AND FURTHER READING