While the price of 4K projectors has been steadily dropping, you'll still likely need to spend over $1,000 to get one—not a price that most consumers would consider "affordable". If you're willing to go with a lower resolution you can find a projector that's much more budget-friendly, such as the Optoma H184X.
Value is the main strength of this Optoma projector, which is one of the few high-quality home theater projectors you can find for less than $500 (>>> Check the current price on Amazon). Wondering how it performs? We'll break down its features in this review so you can decide if it's the right model for your home.
Optoma H184X Review of Features:
| | Optoma H184X |
| --- | --- |
| | |
| Measurements | 3.90" x 12.40" x 9.60" |
| Resolution | 1280x720 (1080p input) |
| Brightness (Lumens) | 3,600 ANSI |
| Contrast Ratio | 28,000:1 |
| Throw Distance | 3.1' - 43.23 |
| Image Size | 28" - 300" |
| Built in Speakers | 10W |
| Price | Check on Amazon |
Set Up and Installation
Optoma projectors are known for being user-friendly, and the H184X lives up to this reputation. It has the image adjustment options you'd expect from a quality projector, including a 40° keystone correction and a 1.1x zoom for fine-tuning the image size.
We also appreciate the flexibility of the Optoma H184X. It can produce an image size up to 300", making it a suitable option for either indoor or outdoor use. Keep in mind it's a standard throw projector so you'll need a lot of space to get a large image—up to 45 feet if you want a full 300" picture, and around 14 feet for a 120" screen.
While the throw distance can limit the use of the H184X in smaller spaces, it's a great option for larger shared spaces like living rooms. The lamp is bright enough for lights-on viewing and you don't have to wait until full dark if you're using it outside.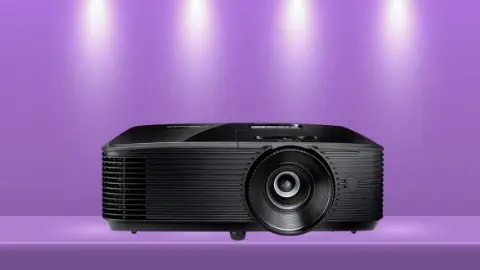 Pros
Wide color gamut for accurate hues
Works well both indoors and outdoors
Lamp is bright enough for lights-on viewing
Good range of input options
Full 3D support
Easy to install and align the picture
Excellent value
Cons
Resolution is on the low side
Long throw distance
Picture Quality
The Optoma H184X has a 720p resolution, which is similar in sharpness and on-screen pixels to a standard definition TV. It accepts 1080p content but will play it at a lower resolution than a projector with native HD. This is its main weakness from a picture perspective, as it won't give you the detailed realism of a 4K or even a full HD projector.
That said, the color accuracy and contrast ratio are higher than what you'll find on most projectors at this price point. The H184X supports the Rec. 709 color space, so you'll get accurate, vibrant colors for all of your content. We also appreciate the depth of the image and black levels. The bright lamp helps here, too, keeping the image colorful and fully-saturated even when there's ambient light.
We also appreciate that the Optoma H184X has full HD support from all content sources. A 120Hz refresh rate keeps 3D content smooth and prevents annoying flickering so you can get truly immersed in your movie.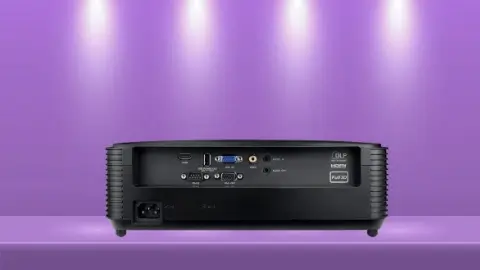 Durability
One concern you might have given the low cost of the H184X is whether it will stand up to frequent use. In that regard, we find the Optoma H184X far exceeds its price point. Its lamp lasts up to 15,000 hours, a similar lamp lifespan to what you'll get with their high-end projectors. That's enough to watch the projector 4 hours a day for 10 years.
From the lens to the fan to the housing itself, the build of the Optoma H184X is solid. This is one reason we like it as an indoor/outdoor projector. It's lightweight enough to carry from place to place easily while still being built to stand up to standard wear and tear without failure.
The Bottom Line
The Optoma H184X is an excellent option for anyone who's looking for a mix of performance and value (>>> Check the current price on Amazon). While its picture isn't as sharp as other Optoma projectors, the image quality is high enough for all but the most avid home theater enthusiasts. It's versatile, portable, and easy to set up and use, making it a great choice for families or anyone setting up a home theater on a budget.
REFERENCES AND FURTHER READING