When people talk about versatile projectors, they're usually talking about its gaming performance or installation flexibility. The Epson Pro EX10000 is versatile for a different reason. It can work well in a home theater, but is at its best in conference rooms, classrooms, and other professional contexts, making it a projector you can use equally at work as you do at home. In this Epson Pro EX10000 review, we'll take a closer look at its performance in both of these applications so you can see if it has the features you need. Let's dig in! (>>> Check on Amazon)
Epson Pro EX10000 Review of Main Specs:
| | Epson Pro EX10000 |
| --- | --- |
| | |
| Resolution | 1920x1080 |
| Brightness (Lumens) | 4,500 ANSI |
| Contrast Ratio | 100,000:1 |
| Included Lens | 1.6x manual zoom |
| Throw Distance | 6.3' - 48.3' |
| Screen size | 40" - 500" |
| Speakers | 16.0 Watts Mono |
| Price | Check on Amazon |
Installation
The Epson Pro EX10000 is made with larger spaces in mind. The plus side of this is it has a super bright lamp that's suitable for even well-lit spaces and it can give you a truly massive picture if you need it. (It's included among our top projector picks for outdoors here) On the other hand, its throw distance is long even for a standard-throw projector, so it's not ideal for smaller spaces.
Throw distance aside, the Epson EX10000 has a flexible set-up. It has both horizontal and vertical keystone correction, accommodating spaces where you can't align the projector perfectly to the screen. Manual focus and a 1.6x zoom give you the tools you need to fine-tune the image.
The connectivity of the Epson Pro EX10000 adds to this flexibility. It has wireless connectivity to support content mirroring through services like Miracast. For wired connections, you'll get 2 HDMI ports, RCA and VGA inputs for content, along with network connections and USB ports for peripherals. This is great news for those with complex home entertainment systems without being so overwhelming that it's hard to use.
Pros
Bright laser light source with long lifespan
3LCD technology for wide color gamut with no rainbowing
Supports screen mirroring through Miracast
Flexible installation with 2D keystone correction
Variety of wireless and wired input options
Plays 3D content in full HD
Cons
Long throw distance (9-15 feet for a 100" screen)
Speakers aren't great for home theater uses
Home Theater Performance
The laser light source on the Epson Pro EX10000 produces a full HD resolution for all content, including 3D movies. This is paired with a high dynamic contrast ratio, resulting in a picture that's sharp and detailed across the image at all screen sizes.
The color performance of the Epson Pro EX10000 is excellent for home theater uses, too. It uses a 3LCD chip system instead of a color wheel for a wide color gamut that's true to the source material, without causing annoying image issues like brightness hotspots or the rainbow effect.
Business and Presentation Performance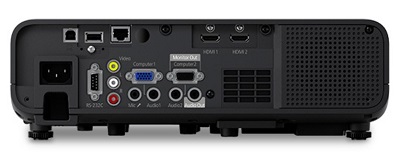 While the Epson Pro EX10000 is a fine choice for home theaters, it was made with business and commercial applications in mind and that's where it really shines. It's compact and weighs less than 10 pounds, so it's an easy model to take with you to the office. For permanent commercial installations, the long 20,000 lifespan of the light source and overall low-maintenance design are its most attractive qualities.
The built-in speakers on the Epson EX10000 are great for business uses, too. They excel in the mid-range and have great clarity, key for meetings and presentations. While they are a bit weak in the bass end, that's more of a concern for home theaters than professional uses.
In Summary: Epson Pro EX10000 Review
The main limitation of the Epson Pro EX10000 is that you'll need a lot of space to get the most out of it. Otherwise, it has everything most people look for in a projector for either the home or the office, with broad connectivity and a user-friendly setup and operation, as well as a vibrant, high-resolution picture that can handle Zoom meetings and text-based presentations with the same clarity it gives to movies and TV shows. Whatever the reason you're shopping for a projector, the Epson EX10000 could be the ideal model for you. (>>> Check the current price on Amazon)