Any projector will bring big-screen entertainment to your home, but not all of them will work in a wireless setup. Features like screen mirroring, integrated streaming interfaces, and voice control support simplify the installation and navigation of the projector, and make these models a better fit for modern homes and lifestyles.
Looking at overall performance, the Wemax Nova is the best wireless projector, with sharp 4K resolution, an ultra-short throw distance, and built-in streaming with voice control (>>> Check on Amazon). This doesn't mean it'll be the best option for every home, though. Let's look at the most important factors buyers should consider, and which projector is the winner in each category.
Best Wireless Projector in 2022:
| | XGIMI Horizon Pro | Epson Pro EX10000 | Wemax Nova | Epson Pro EX9240 | Epson EpiqVision Mini EF12 | XGIMI Horizon |
| --- | --- | --- | --- | --- | --- | --- |
| | | | | | | |
| Resolution | 3840x2160 | 1920x1080 | 3840x2160 | 1920x1080 | 1920x1080 | 1920x1080 |
| Brightness (lumens) | 2,200 ANSI | 4,500 ANSI | 2,100 ANSI | 4,000 ANSI | 1,000 ANSI | 2,200 ANSI |
| Contrast ratio | 500:1 | 100,000:1 | 3,000:1 | 16,000:1 | 200,000:1 | 550:1 |
| Input Lag | 35ms | 230ms | 40ms | 16ms | 120ms | 35ms |
| Throw Distance | 2.6' - 26.2' | 6.3' - 48.3' | 1.4' - 2.6' | 4.7' - 28.8' | 2.2' - 10.9' | 2.6' - 26.2' |
| Screen size | 30" - 300" | 40" - 500" | 80" - 154" | 30" - 300" | 30" - 150" | 30" - 300" |
| Price | Check on Amazon | Check on Amazon | Check on Amazon | Check on Amazon | BHPhotoVideo.com | Check on Amazon |
Brightness
Light is the enemy of a projected image. The more ambient light there is in your viewing area, the brighter the projector's lamp needs to be to compensate. In a completely dark space, you can get away with a brightness of around 1,000 lumens. For lights-on viewing, you'll want something at least in the 2,000-2,500 lumen range, and bright spaces call for a lumen rating of 3,000 or higher.
There are two projectors on this list that will work in pretty much any light conditions: the Epson Pro EX9240 and EX10000, both of which can put out at least 4,000 lumens. The EX10000 is the brightest of the two, with a 4,500-lumen lamp designed for use in conference rooms, classrooms, and other large spaces where light control may not be possible.
Brightest projector: Epson Pro EX10000
Throw Distance
Unlike TV screens, projectors offer a range of image sizes. The further the lens is from the screen or wall, the larger the image will be. How much space you'll need to produce a given image size is known as the throw distance, and varies depending on the light source technology utilized in the projector.
The Epson EF12, XGIMI Horizon, and XGIMI Horizon Pro all have a reasonably short throw distance, needing around 7-9 feet for a 100" screen. For the absolute shortest throw on the list, the Wemax Nova is your answer. It only needs about 2 feet for a 100" screen, saving you space and hassle during the installation process.
Shortest throw distance: Wemax Nova
Resolution and Image Quality
Most of the projectors on this list have a native resolution of Full HD (1080p). That's on par with the detail of most TVs, but doesn't quite give the realism and texture of the true 4K display used by the Wemax Nova and XGIMI Horizon Pro. Between the two, the Wemax Nova has a higher image contrast and better color production, giving it the overall best picture quality on the list.
Highest resolution and image quality: Wemax Nova
Input Lag
Input lag is mostly talked about in the context of gaming. This measures how much delay there is between the user's input and what shows up on the screen. Ideally, gamers want an input lag of 30ms or lower, though anything under 60ms can be considered acceptable for casual players.
A high input lag is a concern for home theater users, too. It can lead to sync issues between the video and audio signals, and can disrupt 3D formats that use frame interpolation to produce the effect. The lag threshold to prevent these types of issues is higher than for gamers, however, and you won't experience them from any projector with an input lag of 100ms or lower.
Lowest input lag: Epson Pro EX9240
---
XGIMI Horizon Pro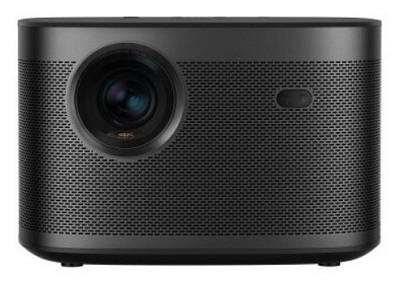 The XGIMI Horizon Pro is one of the best portable 3D projectors you'll find on the market. Its unique, compact shape fits easily in a backpack or suitcase and weighs just over 6 pounds, perfect for on the go entertainment. You can also use it without any extra accessories since it has powerful built-in speakers and an integrated Android streaming interface.
Along with portability, the Horizon Pro gets high marks for ease of use. Part of this is its automatic image adjustment. The optical sensor automatically adjusts the focus, screen alignment, and image geometry based on the projector's placement, and also optimizes the image based on the room's light level. That means anyone can get a fantastic picture with the Horizon Pro, no matter your level of A/V experience.
While the XGIMI Horizon Pro isn't a short-throw projector, it doesn't need too much space to operate, producing a 100" image with just under 9 feet of distance. The LED light source isn't exceptionally bright—you can leave a couple of lights on while you watch but it will be prone to washout in brighter spaces, especially since its image contrast is relatively low to start with. These limitations aside, it's a powerful and versatile projector, suitable for gaming, 3D movies, and all your other entertainment needs.
Pros
Sharp, detailed image with HDR10 and HLG suppor
Lightweight and portable
Automatic alignment, focus, and keystone correction
Good sound from built-in speakers
Android 10.0 streaming interface
Low enough input lag for 3D content and gaming
Cons
Lamp too dim for bright viewing areas
Image contrast is on the low side
---
Epson Pro EX10000
The Epson Pro EX10000 is versatile in a different way than many projectors. It's designed for classrooms, business presentations, and other large-group settings, with a bright 4,500-lumen light source that will produce a vibrant picture in any light level. The 3-chip LCD display produces accurate, bright colors, without the flickering or other issues some viewers experience with single-chip displays.
The EX10000 works equally well in a home theater as it does for professional uses. Its rear panel includes VGA and RCA inputs along with dual HDMI ports, and its wireless connectivity includes screen mirroring through Miracast. Its main weakness in a home theater context is its resolution. The EX10000 accepts 4K input but will play it in Full HD (1080p). This is still plenty crisp and detailed for text and images in a presentation format, but won't give the full detail and sharpness of a 4K display.
In terms of space and set-up, the Epson Pro EX10000 has a long throw distance and needs a large viewing area. As long as you have enough room, though, it's fairly easy to align the image, with 2D keystone correction and a 1.6x zoom for fine tuning. It also does have built in speakers with a respectable volume output, though most home theater users will still want an external sound system for a truly immersive audio experience.
Pros
Bright lamp works well in any light level
3LCD display for vibrant colors with no rainbowing
Wide range of wired and wireless connection options
Supports 4K content
Built-in speakers with good volume output
Low maintenance with long lamp lifespan
Cons
Maximum resolution of Full HD
Long throw distance
---
Wemax Nova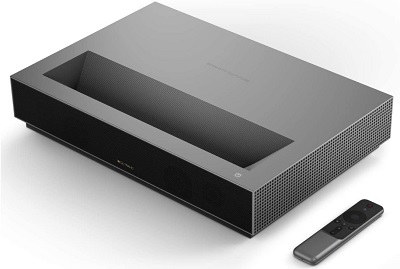 If you want to watch 3D movies in a smaller viewing area, the Wemax Nova is an excellent option. It can produce a 100" image with less than 2 feet between the lens and screen, and that gives it a very fast, easy setup along with saving space. This short throw, combined with the light-optimizing ALPD display, maximizes the brightness, and its less prone to washout than you'd expect from the lumen rating.
The Wemax Nova gets high marks for overall image quality, too. It has a native 4K resolution with a wide color gamut and sharp image contrast. For sound, it has 4-speaker system with 2 full-range drivers and 2 dedicated tweeters, for powerful, balanced sound throughout the frequency range.
While the Wemax Nova doesn't have a ton of home automation features, it's still a great fit for a smart home theater. Its Android TV interface supports voice control through Google Assistant, along with direct streaming from most popular services. It's smart on the set-up side, too, with an 8-point automatic keystone correction that ensures a square image even if you can't install it head-on to the screen.
Pros
True 4K resolution from ALPD 3.0 display
Ultra-short throw distance
Wide color gamut
Easy alignment with 8-point keystone correction
Smart streaming interface with Google voice control
4 built-in speakers for powerful, high-quality sound
Cons
One-chip display may trigger rainbowing
Lower lamp brightness than other options
---
Epson Pro EX9240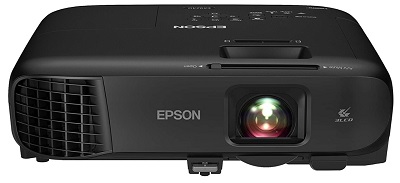 Here's another option from Epson that's a great choice for both home theater use and business or classroom presentations. The Epson Pro EX9240 has a bright 4,000-lumen lamp, built-in 16-watt speakers, and extensive wired and wireless connectivity, giving it flexibility for nearly every set-up and space.
The EX9240 is one of the few models on this list to use a traditional lamp-based light source, and this does come with some limitations. It doesn't last as long, for one thing, with a lifespan that's less than half that of a laser light source. This also gives it a relatively long throw distance, as much as 15 feet for a 100" screen.
On the plus side, the EX9240 has a very user-friendly installation. The integrated picture skew sensor gives it automatic keystone correction, for a square image any time without any hassle. Its low input lag makes it ideal for gamers of all levels, especially since it has the inputs for both PC and console gaming.
Pros
Full HD resolution with 3LCD color
Bright lamp works in any light environment
Automatic image adjustment with built-in skew sensor
Screen mirroring through Chromecast or Miracast
Robust connectivity, including VGA, RCA, and HDMI
Low enough input lag for serious gamers
Cons
Doesn't accept 4K content
Short lamp lifespan
Long throw distance
---
Epson EpiqVision Mini EF12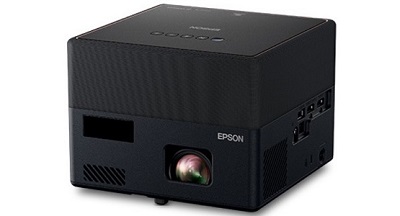 The Epson EpiqVision EF12 is another top contender if you want 3D entertainment on the go. It has a compact, cube-shaped design, weighing less than 5 pounds total, so it's easy to take with you on road trips and other travels. It can also be used without outside accessories, with an integrated Yamaha sound system and Android TV interface. Most impressive, its image is optimized for use without a screen, giving a sharp, clear image on any flat surface.
The Epson EF12 has a relatively short throw distance, producing a 100" image with around 7 feet between the lens and screen (or wall). It also has automatic focus and skew correction, so you don't need to be an A/V expert to get it up and running.
The main weakness of the Epson EF12 is its lamp brightness. At around 1,000 lumens, it requires a fully dark space to look its best. Gamers will also want to look elsewhere since its input lag is too high for even casual players.
Pros
Compact and portable design
Vibrant 3LCD color with Adaptive Color Correction
Accepts 4K content
Android streaming interface with Google voice control
Built-in Yamaha speaker system
Short throw distance
Cons
Low lamp brightness
Max native resolution of 1080p (no 4K)
High input lag
---
XGIMI Horizon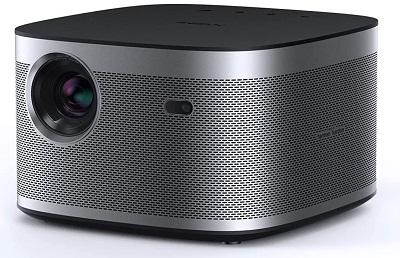 Last but not least, the XGIMI Horizon is an affordable alternative to the Horizon Pro above, offering similar strengths for a lower price. This includes automatic focus and skew correction for a smooth, fast set-up and a portable, lightweight design. It also has all-in-one capability thanks to the built-in Harman Kardon speakers and Android 10 streaming interface.
The main thing you sacrifice with the Horizon compared to the Horizon Pro is picture quality. It accepts 4K content but plays it at 1080p, and also has a relatively low image contrast. As a result, the image is noticeably less detailed than other projectors on this list.
On the plus side, the XGIMI Horizon offers great versatility for the price. While it does best in lower light levels, it doesn't require a completely dark space. Its throw distance is also reasonable, needing around 9 feet for a 100" image. Its input lag is low enough for casual gamers, too.
Pros
Lightweight and portable
Automatic focus and keystone correction
Harman Kardon speakers with Dolby Audio
Accepts 4K input
Android streaming interface
Cons
Low image contrast
Max image resolution of 1080p
---
So What's the Best Wireless Projector?
As is often the case, there's no one wireless projector that will be the best choice for every home. The Wemax Nova offers the best overall performance, with a reasonably bright lamp and ultra-short throw distance that gives it good space versatility, and a low enough input lag for casual gaming (>>> Find on Amazon). For brighter spaces, though, the Epson Pro EX10000 could be your best choice, while the portability of the XGIMI Horizon models lets you take your entertainment with you. We hope this comparison has helped you pick the best wireless projector for your home theater!
REFERENCES AND FURTHER READING: