With a portable projector, you can watch your favorite shows and movies on a big screen wherever you are. While the portable models of the past were notorious for having a low picture quality, there are several options on the market today that match the picture quality of full-sized projectors and have convenience features that makes them much easier to use.
Comparing the Xgimi Horizon vs. Epson EF12, you'll see both models have a compact, all-in-one design perfect for traveling. While the Epson produces a better picture in a dark space (>>> Check on Amazon), the Xgimi is a bit easier to set up and use and offers more versatility. Let's take a closer look at the main differences so you can decide which one best fits your needs.
Xgimi Horizon vs Epson EF12 Side by Side:
| | Xgimi Horizon | Epson EF12 |
| --- | --- | --- |
| | | |
| Resolution | 1920x1080 | 1920x1080 |
| Brightness (Lumens) | 2,200 ANSI | 1,000 ANSI |
| Contrast Ratio | No data | No data |
| Throw Distance | 2.6' - 26.2' | 2.2' - 10.9' |
| Screen size | 30" - 300" | 30" - 150" |
| Speakers | 8.0 Watts × 2 | 5.0 Watts × 2 |
| Today's Best Price | | BHPhotoVideo.com |
Picture Quality
The full HD image of the Xgimi Horizon has a good amount of detail, and it can match many TVs of a similar resolution when it comes to factors like the color space and contrast. However, the Epson EF12 has superior image technology that gives it a definite edge. This includes more advanced color processing, with a 3-chip LCD display that maintains consistent color brightness and Adaptive Color Correction to maximize the accuracy and vibrancy of hues. Combined with its higher dynamic contrast, this gives it a better overall image quality.
Better picture quality: Epson EF12
Brightness
The 1,000 lumens of the EF12's MicroLaser Array is sufficient to produce a fully-saturated image in a dark viewing area, but lacks the necessary power to compete with ambient light. While the Xgimi Horizon isn't exceptionally bright, its 2,600-lumen light source copes much better with external light sources. Along with this, it features automatic brightness adjustment that takes the guesswork out of matching the brightness to your viewing area.
Brighter projector: Xgimi Horizon
Ease of Setup and Use
The Epson EF12 has a short throw distance with automatic focus correction and an easy-to-use keystone correction feature, so it's relatively quick and easy to set up. The integrated Android streaming interface is intuitive to navigate, and includes Google voice search so you don't need to type to find your content.
Where the Xgimi Horizon takes a slight edge in this category is its broader array of automatic setup features. This includes automatic keystone correction and screen alignment along with auto focus, so you won't need to do any manual correction. It has a similar Android streaming interface, too, for smooth, seamless content navigation.
Easier to setup and use: Xgimi Horizon
Sound Quality
Both of these projectors have built-in speakers so you won't need to worry about bringing a speaker with you when you travel. The Harman Kardon speaker in the Xgimi Horizon has enough volume output you won't need to strain to hear dialogue, with a decent response in the low end for sound effects.
On the other hand, the stereo speakers in the Epson EF12 perform much better across the frequency range when it comes to sound quality, enough so it can be reasonably used as a standalone Bluetooth speaker for music. These Yamaha speakers are backed by Dolby Audio technology, producing a soundscape to match its image quality.
Better speakers: Epson EF12
---
Xgimi Horizon
The Xgimi Horizon packs a lot of features into a very compact and lightweight package. Its unique shape and low weight make it perfect for watching movies on the go, whether you're on a camping trip or just want to take it outside for backyard movies. It also has everything you'll need to watch built in. For sound, there's an 8-watt Harman Kardon speaker backed by DTS and Dolby Digital sound. Its Android 10.0 interface gives you access to all the apps on the Google Play store for direct content streaming, as long as you're in range of a Wi-Fi connection.
Setting up and using the Xgimi Horizon is also incredibly easy. It has a built-in optical sensor, allowing for automatic brightness adjustment to match your viewing area. The Intelligent Screen Adaption Technology also gives you automatic screen alignment, focus, and keystone correction, up to 40% both horizontal and vertical. The Horizon also has a reasonable throw distance, only needing around 9 feet for a 100" screen, so it can be used in a variety of spaces and setups.
From a picture quality standpoint, the Xgimi Horizon is acceptable, if not exceptional. It plays content in Full HD resolution, so while it accepts 4K content it won't necessarily look as good as it does on other projectors. The image contrast and color are on par with most full HD TVs when you're using it in a relatively dim space. Keep in mind, though, that the lamp only puts out about 2,200 lumens, so you'll want to wait until dark to use it outside and may need light control measures in your space for indoor use. For our more in-depth review of this projector click here.
Pros
Super lightweight and portable
Automatic focus, alignment, and brightness adjustments
Android TV streaming interface
Harman Kardon speakers with DTS sound
Wi-Fi and Bluetooth connectivity
Accepts 4K content
Cons
Lamp not suited to daytime outdoor use or bright spaces
Not the best contrast or resolution
---
Epson EF12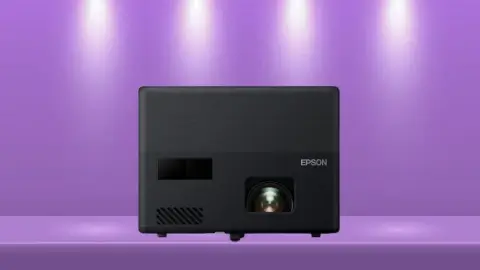 Another strong contender for its portability, the Epson EpiqVision Mini EF12 weighs less than 5 pounds and has a similar compact design to the Xgimi above. It also includes the built-in sound and Android streaming interface that makes it an all-in-one option for road trips and other travels.
The picture quality of the Epson EF12 is significantly better than what you'll get from most portable projectors. It uses a 3LCD display and MicroLaser Array light source for a sharp, full HD image with none of the rainbow effect that can be caused by single-chip displays. The Adaptive Color Correction further enhances the color performance scene by scene, and it supports the latest content formats to ensure the accuracy of your content. The only caveat here is you'll need a dark viewing area to get the full effect of this technology. At 1,000 lumens, the light source can't compete with even low levels of ambient light.
The short throw distance of the EF12 gives it good versatility when it comes to the size of your viewing area. It also has automatic focus correction and 2D digital keystone correction, so it's a quick process to align the picture to the screen. From a navigation standpoint, the inclusion of Google Assistant voice control is a nice touch, giving users a hands-free option for finding and playing their favorite content. Click here for our more in-depth Epson EF12 review.
Pros
High contrast full HD image with HLG and HDR10 support
3LCD display produces bright colors with no rainbowing
Good sound with Yamaha speaker
Android streaming interface with Google Assistant voice search
Accepts content up to 4K
Cons
Low lamp brightness
Fewer automatic setup and alignment features
---
Xgimi Horizon vs Epson EF12: The Verdict
Either of these projectors can be a great choice for road trips, backyard movies, and other situations where you want a portable option. Choosing between them comes down to what you're looking for and where you'll use them. In a dark space, the Epson EF12 produces a better picture (>>> Find on Bhphotovideo), and its higher sound quality is a point in its favor, too. The automatic alignment features and brighter lamp of the Xgimi Horizon make it a more versatile and convenient choice for many, however. We hope this comparison has helped you decide which one you should buy!
REFERENCES AND FURTHER READING: