The Epson EpiqVision Mini EF12 is a smart, portable, all-in-one entertainment machine. With Yamaha sound and an Android operating system built in, you don't need external speakers or content sources to enjoy some entertainment. It also weighs less than 5 pounds, with a rugged, road-worthy design perfect for RVers and campers.
What you're probably wondering, though, is whether the Epson MF12 is the right projector for you. Let's break down its features and performance to help you find a more informed answer to that question. (>>> Check price on Amazon)
Epson EpiqVision Mini EF12 Review of Main Specs:
| | Epson EpiqVision Mini EF12 |
| --- | --- |
| | |
| Resolution | 1920x1080 |
| Brightness (Lumens) | 1,000 |
| Contrast Ratio | 200,000:1 |
| Throw Distance | 2.2' - 10.9' |
| Input lag | No data |
| Screen size | 30" - 150" |
| Speakers | 5.0 Watts × 2 |
| Price | BHPhotoVideo.com |
Set-up and Installation
The Epson EpiqVision Mini EF12 has a throw ratio of roughly 1:1. In other words, the diagonal measure of the image is equal to the distance between the screen and lens. In practice, this gives you a 100" screen from about 7 feet away. That's longer than the ultra-short throw offered by other Epson EpiqVision models, but is better for small spaces than most standard throw projectors.
Aligning the image is a fairly quick process with this projector, too. It includes both digital and horizontal keystone correction, helpful if you can't place the projector head-on to the screen. We also appreciate how easy it is to set up the Android TV system and download content sources, which is intuitive for anyone familiar with content apps like YouTube and Netflix.
Picture Quality
The color and contrast on the Epson EpiqVision Mini EF12 is impressive. It uses a 3LCD chip design with a microlaser array for the light source. Together, they give a crisp, realistic image with vibrant, accurate colors. The adaptive color correction helps here, too, optimizing the color for each scene based on the type of content you're watching.
Pros
Sharp, full HD resolution
Great color accuracy and contrast
Supports wireless streaming and content casting
Easy to set up and use
Dual HDMI ports and USB port for content
Compact design is designed for portability
Shorter throw distance than most standard-throw projectors
Cons
Prone to washout from ambient light
Built-in sound is lacking in bass
Our only concern from a picture standpoint is the brightness. It's consistent across the image, with no hot spots, and that's something viewers will appreciate. On the other hand, the lamp isn't very powerful. This isn't a problem in completely dark spaces, but the picture is noticeably washed out once you introduce ambient light.
Sound
The Epson EF12 uses Yamaha sound with Dolby Audio support. Its two 5-watt speakers are housed in a custom-designed, 3D sound enclosure to maximize the volume output and sound quality. While it's lacking in the low end, especially for sound effects and music, it has nice crisp dialogue and enough volume to use without external speakers in most settings.
Connecting external speakers is an easy process, too. There's a standard 3.5mm audio out, along with wireless capability for connecting the projector to a larger home theater sound system.
Connectivity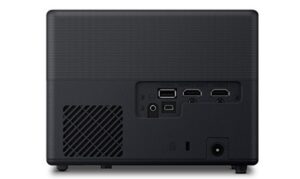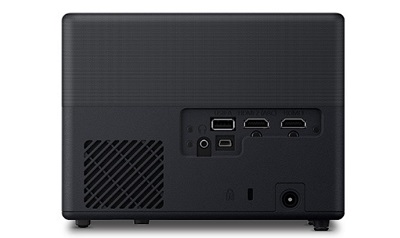 The Android TV system on the Epson EF12 lets you download content apps like Hulu or HBO GO without the need for a streaming stick. It also supports Chromecast, allowing you to mirror content from a phone or tablet wirelessly. Keep in mind you'll need to be in range of a 5Mbps or faster internet connection to take advantage of these features.
You'll still get a good range of wired inputs with the EF12, too. It has dual HDMI ports and a USB-A input for playing content from thumb drives and other storage devices. This versatile array of connection options is great news for travelers, who may not have access to Wi-Fi where they'll be using the projector.
The Final Word: Epson EpiqVision Mini EF12 Review
The Epson EpiqVision Mini EF12 has a lot of advantages. It's easy to use, super compact and portable and is capable of producing a high-quality picture. While it does have its limitations, we'd recommend for anyone who wants big-screen entertainment wherever they go.  (>>> Check current price on Bhphotovideo)
REFERENCES AND FURTHER READING: