The Epson EpiqVision Mini EF11 is both the smallest and the most affordable of Epson's EpiqVision line. It uses much of the same advanced picture technology you'll get from Epson's larger projectors, too, in a compact package that's built to go anywhere.
Overall, we found the EF11 to be an incredible value at the price. As you might expect, though, its small footprint does mean sacrificing a few of the advanced features of other EpiqVision models. If you're curious about how it performs, this Epson EpiqVision Mini EF11 Review is here to provide the answers. Let's take a closer look at its specifications so you can decide if it's the right choice for your home.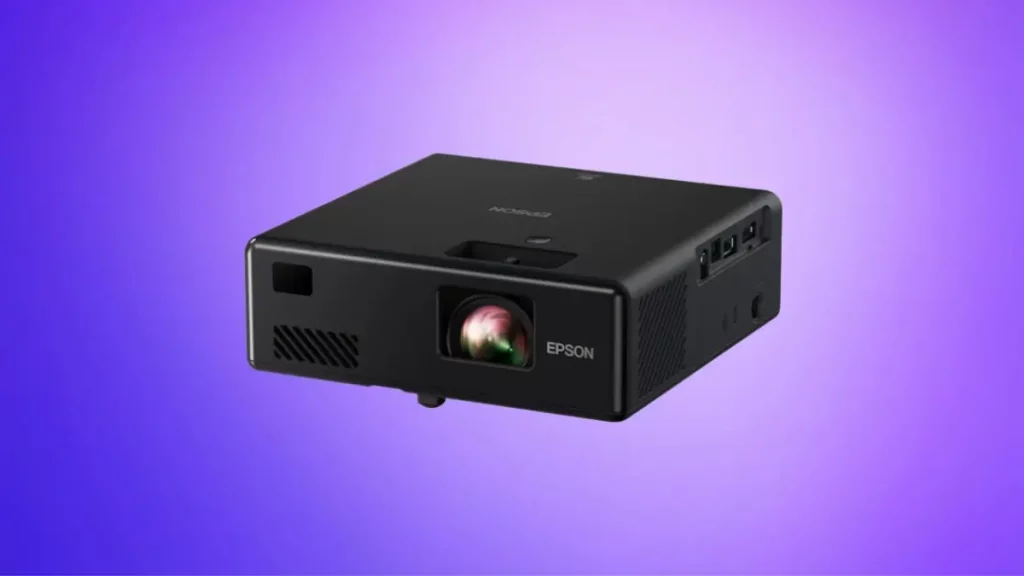 Epson EpiqVision Mini EF11 Review of Main Specs:
| | Epson EpiqVision Mini EF11 |
| --- | --- |
| | |
| Resolution | 1920x1080 |
| Brightness (Lumens) | 1,000 ANSI |
| Contrast Ratio | 200,000:1 |
| Throw Distance | 2.2' - 10.9' |
| Screen size | 30" – 150" |
| Speakers | 1.5 Watts × 2 |
| Price | BHPhotoVideo.com |
Design
Simplicity and portability are the main aims of the Epson EF11's design. It's remarkably compact, weighing around 8 pounds and small enough to take with you wherever you go. Along with that, it has a sleek, clean look that will fit right in with any modern home décor.
The Epson EpiqVision Mini EF11 is built to be an all-in-one entertainment machine. For one thing, it's got better sound than most projectors, with a dual-speaker system that includes a bass-reflex speaker. This won't necessarily give you audiophile-level sound quality, but it is loud and clear throughout the frequency range, enough so you don't necessarily need external speakers to enjoy the experience.
We also appreciate that the Epson EF11 is built to work well with a range of content streaming options. Its HDMI port is tailored to work with services like Roku, Apple TV, and Fire TV. The fact that it only has one input does limit its versatility slightly, but this limited connection panel is also why the EF11 is so remarkably compact. We'd call it a fair trade-off for anyone who needs a projector they can take on the road easily.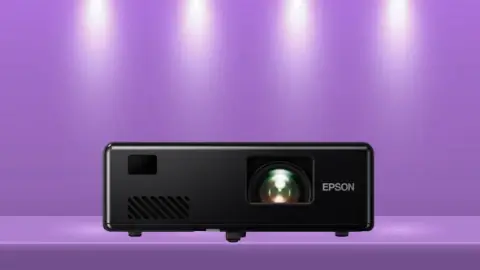 Pros
Excellent color accuracy with no rainbow effect
Ultra-compact and portable
Designed to work with popular streaming services
Built-in sound is better than most projectors
Automatic skew correction for quick, easy set-up
Cons
Limited connection options (1 HDMI port)
Low lamp brightness
Installation
Unlike other projectors in the EpiqVision line, the Epson EF11 uses a standard throw ratio. It's on the shorter side, though—you'll need around 7 feet of distance for a 100" screen, so it will still work well even in fairly small spaces.
One feature we love on the Epson EF11 is the automatic skew correction. When you set it up, the projector will analyze how the lens is oriented toward the wall, correcting the geometry to avoid warping. It also comes with both horizontal and vertical keystone correction for manual adjustments, as well as a manual focus correction, so the set-up process is fast and frustration-free.
Picture Quality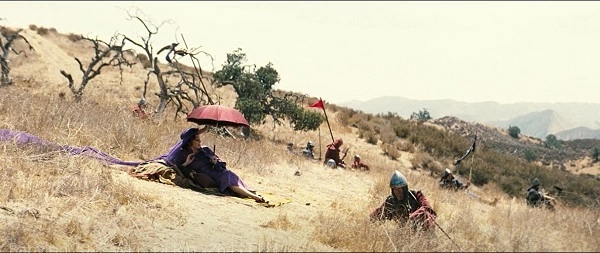 Like other EpiqVision projectors, the Epson EF11 has a multi-laser array backed by a 3LCD chip design. This gives it a wide color gamut that displays the full color signal from all content sources, without the brightness variances or rainbow effect that you'll experience with projectors using a color wheel. The adaptive color correction further optimizes the color on a frame by frame basis.
The EpiqVision Mini EF11 has a native resolution of 1080p, which is honestly what we expect from a projector in this price range. Paired with its high dynamic contrast ratio, this gives a sharp, detailed image across the frame.
Our only concern from a picture quality perspective is the lamp brightness. It's on the low side at 1,000 lumens. That's not ideal for lights-on viewing, and it is susceptible to picture wash-out even in moderately-lit spaces. You can alleviate this issue slightly by pairing the EF11 with one of Epson's ALR screens.
The Final Word: Epson EpiqVision Mini EF11 Review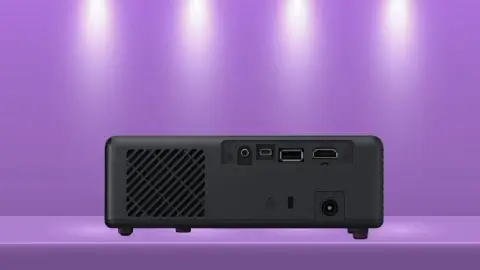 There are some limitations to what the Epson EpiqVision Mini EF11 can do. It's designed more for traveling than permanent installations, where the lack of input options can be an issue. The comparatively low brightness may also be a concern for some spaces.
Considering its price and size, though, we were still impressed by the overall picture quality and performance it offers. It's an ideal choice for backyard movie nights with its durable construction and fast set-up. We also see it as a great option for RV-ers and other travelers who want big screen entertainment from a small package.
The bottom line is that the EF11 outperforms most portable projectors on the market. We hope the feature breakdown here has helped you decide if it's the model for you  (>>> Check price on Amazon).
FAQ:
How far can the Epson EpiqVision mini EF11 throw?
The maximum throw distance of the EpiqVision Mini EF11 is 11 feet. From this distance, it can produce an image up to 150 inches in size.
What ports are on the Epson EF11?
The Epson EF11 features the following ports:
1 x HDMI port (for both video and audio)
1 x USB Type-B
1 x USB Type-A
1 x Headphone jack
REFERENCES AND FURTHER READING: