A portable projector gives you the option of taking big-screen entertainment with you wherever you go. Even if you're just staying at home, a compact and lightweight projector is easier to take outside or move from room to room, giving you more versatility than bulky projectors designed to stay put once they're installed.
If you're looking for the most portable projector, the lightweight Kodak Luna 450 is arguably the best choice on the market. Conversely, we'd say the BenQ TH685i is the best projector that happens to also be portable, with a high picture quality and excellent gaming performance along with a relatively compact housing. (>>> Find it on Amazon)
The truth is, there are a lot of factors that go into choosing the best portable projector for your needs. Let's look at the key considerations so you can decide which model is the right fit.
Best Portable Projector – Top Picks for 2021:
| | Epson EpiqVision Mini EF12 | Epson EpiqVision Mini EF11 | BenQ TH685i | Kodak Luma 450 | Epson Home Cinema 1080 | Epson Home Cinema 880 |
| --- | --- | --- | --- | --- | --- | --- |
| | | | | | | |
| Projector Size (HxWxD) | 5.30" x 6.90" x 6.90" | 2.60" x 6.90" x 6.90" | 4.00" x 12.00" x 9.00" | 1.26" x 4.90" x 4.90" | 4.80" x 15.60" x 12.20" | 3.20" x 11.90" x 9.30" |
| Weight | 4.7 lbs | 2.7 lbs | 6.2 lbs | 2.6 lbs | 12.0 lbs | 6.0 lbs |
| Resolution | 1920x1080 | 1920x1080 | 1920x1080 | 1920x1080 | 1920x1080 | 1920x1080 |
| Brightness (Lumens) | 1,000 | 1,000 | 3,500 | 200 | 1,200 | 3,300 |
| Contrast Ratio | 200,000:1 | 200,000:1 | 10,000:1 | 3,500:1 | 12,000:1 | 16,000:1 |
| Throw Distance | 2.2' - 10.9' | 2.2' - 10.9' | 3.2' - 24.6' | 7" – 12'6" | 8.4' - 14.7' | 2.2' - 34.0' |
| Screen size | 30" - 150" | 30" - 150" | 30" - 300" | up to 150" | 40" - 150" | 25" - 386" |
| Price | Check on Amazon | Check on Amazon | Check on Amazon | Check on Amazon | Check on Amazon | Check on Amazon |
Size
The smaller and lighter the projector, the easier it is to take with you on the road. None of the projectors on this list weigh more than 10 pounds, so they're all very portable in that regard. The Kodak Luna 450 is the lightest of the bunch at only 2.6 pounds, and its slim, compact housing will fit easily in any backpack or suitcase when you go on the road.
Smallest projector: Kodak Luna 450
Brightness
One concern with many projectors designed for travel is that they're not very bright, especially models that use battery power. This may not be an issue if you only plan to watch at night or in completely dark spaces. For daytime and lights-on viewing, though, you'll want a projector that can produce at least 3,000 lumens to avoid picture wash-out.
The BenQ TH685i, Epson Home Cinema 1080, and Epson Home Cinema 880 all exceed this standard. Of the three, the BenQ has both the most powerful lamp and the best image processing technology, with a DLP display and a broad color gamut that make the colors pop off the screen.
Brightest projector: BenQ TH685i
Throw Distance
The throw distance of a projector tells you how far from the screen it needs to be to produce a large image. Most standard-throw projectors will give you a 100" screen with between 8 and 10 feet of distance. A shorter throw distance won't just be better for small spaces but can be more convenient in any space, giving you more flexibility in where you place the projector.
The Kodak Luma 450 can be placed less than 1 foot from the screen and still produce a clear image. That image won't be very big, however—roughly 20" diagonally, with that little space. If you want a big image with the least distance possible, you'll be best-off going with one of the Epson EpiqVision Mini models. While neither can be considered a "short-throw" projector, their unique lamp design gives you a 100" screen from about 7 feet away.
Shortest throw distance: Epson EpiqVision Mini EF11 and EF12
Sound
When you're on the road, it's convenient to not have to bring external speakers. All of these projectors have some kind of sound built-in, though in many cases this is a single speaker with 5 watts of power or less. That's enough for basic TV watching but won't give you immersive sound.
The exception to this is the EpsonEpiqVision Mini EF12. Its custom speaker enclosure and use of Dolby Audio processing give it both better sound quality and more volume than other projectors on the list.
Best built-in sound: Epson EpiqVision Mini EF12
Streaming Capabilities
Similar to the sound, built-in streaming capabilities spares you the need to travel with thumb drives or streaming sticks. Three of these projectors come with Android operating systems for direct streaming. The systems on the Kodak Luma 450 and Epson EpiqVision Mini EF12 are relatively robust and easy to navigate. However, the BenQ TH685i offers more apps and a more intuitive layout, along with the option of wireless casting from devices.
Best streaming: BenQ TH685i
Best Portable Projector: Full Reviews
Epson EpiqVision Mini EF12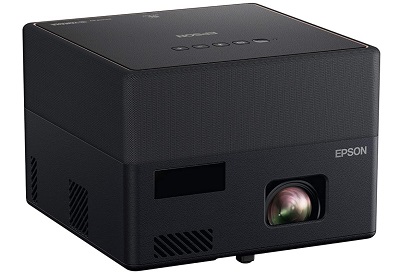 The Epson EpiqVision Mini EF12 is designed to be a portable, all-in-one entertainment package so you can enjoy shows and movies anywhere. The built-in Android TV system lets you download most popular streaming apps, sparing you the need for external content sources. You still have the option of connecting streaming sticks, gaming systems, and other devices, with 2 HDMI ports and a USB input.
The Epson EF12 has pretty good onboard sound, too, with a custom-designed Yamaha sound system and Dolby Audio support. The two 5-watt speakers are housed in a 3D enclosure that maximizes output, giving them a lot more oomph than you'd expect for the size and power. It's especially strong in the mid-range, producing crisp, clear dialogue.
For the picture, the Epson EF12 uses a MicroLaser array with 3-chip color processing. This is paired with Adaptive Color Correction, which automatically adjusts the image scene by scene for natural, realistic colors, and the image overall is crisp and detailed with good contrast. Our only issue from this perspective is the brightness. The lamp puts out about 1,000 lumens, enough for a clear picture in a dark space but too low to compete with ambient light. As long as you're able to control the light level, though, you'll get a cinema-quality picture from the EF12. Read our more detailed review of the Epson EF12.
Pros
Vibrant, accurate colors with no rainbowing or hot spots
Quick and easy to set up
Android TV interface supports direct streaming
Yamaha sound system is impressive for the size
Durable casing stands up well to travel
Supports 4K content
Cons
Low lamp brightness
Doesn't support content mirroring
---
Epson EpiqVision Mini EF11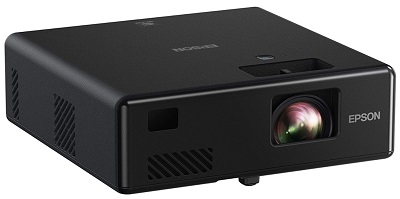 Another option from Epson's EpiqVision line, the EpiqVision Mini EF11 is a slightly streamlined version of the EF12 above. Its strengths and limitations are similar. On the plus side, it uses a high-quality multi-array laser with 3LCD chip technology and Adaptive Color Correction. In layman's terms, that means you'll get full HD detail with rich colors and sharp contrast. Its main weakness is that it's not very bright, so you'll only be able to enjoy that beautiful picture in a completely dark space.
Like its larger counterpart, the Epson EF11 has surprisingly great sound for its size. Its dual-speaker system includes a bass-reflex speaker that's dedicated to the lower frequencies. While its low end can't compare to what you'll get from a full subwoofer, it's far superior than the sound from most home theater projectors.
At less than 3 pounds, the Epson EpiqVision Mini EF11 is one of the most compact projectors you'll find. That said, it's not as self-contained as the EF12. You can't stream content directly to the EF11. Instead, it's designed to work well with a range of streaming sticks and services like Android TV, Apple TV, FireTV, and Roku. That limits its versatility a bit, especially considering you'll only get one HDMI port for your content. Click here for our more detailed review of the Epson EpiqVision Mini EF11.
Pros
Super-compact design
Adaptive Color Correction optimizes color automatically
Vibrant full HD picture with rich black levels
Built-in sound is strong enough you won't need external speakers
Easy to set up and use
Great value for the picture quality
Cons
Wired input options are limited (1 HDMI port)
Doesn't support direct streaming
Lamp isn't very powerful
---
BenQ TH685i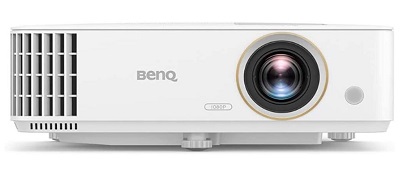 If you're looking for a portable gaming projector, the BenQ TH685i is the one you want. Its Enhanced Gaming Mode drops the input lag down to 8.3ms, low enough for even the most finicky and serious gamers. A high 120Hz refresh rate keeps the on-screen smooth so you can focus on your game.
The BenQ TH685i is great for home theater use, too. It has a native 1080p resolution with support for 4K content and a bright 3,500 lumen lamp that maintains the picture quality in any light level. The DLP display has a wide color gamut with 10-bit HDR processing, though it does use a color wheel, which may be a deal-breaker for those sensitive to the rainbow effect.
The Android TV interface on the BenQ TH685i lets you download a variety of streaming and content apps for watching movies and TV right from the projector. Most of the popular options are available with the notable exception of Netflix, which isn't supported by BenQ's system. It does support wireless casting, though, so you can still watch Netflix using another device. Smart home users will also appreciate that it supports voice control through Google Assistant. Click here for our more detailed review of the BenQ TH685i.
Pros
Bright lamp can be used in any light level
Android TV interface with 5,000+ available apps
Supports screen mirroring with Chromecast and Airplay
Voice control through Google Assistant
Great choice for gamers
Supports 4K input
Cons
Netflix isn't available in its app store
May cause the rainbow effect in sensitive viewers
---
Kodak Luma 450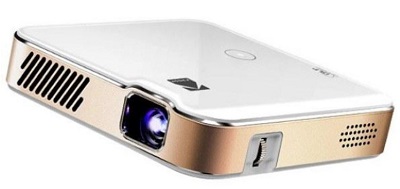 As road-worthy projectors go, the Kodak Luma 450 is one of the best. It's one of the few full HD projectors that can run on battery power, with a rechargeable 7,500 mAh battery built-in. That's enough power for about 3 hours of viewing per charge, plenty for a whole movie. The Kodak Luma 450 is easy to set up anywhere, too, with an included tripod stand ideal for camping, RVers, and other outdoor applications.
The Kodak Luma 450's main strength is convenience. It includes a smart Android operating system that lets you stream directly to the projector when you're in range of a Wi-Fi network. Its image adjustment features include instant image focus and automatic keystone correction, so it's as easy to set it up as it is to find content.
Unfortunately, the picture quality of the Kodak Luma 450 doesn't quite measure up to what you'll get from the other projectors on this list. The lamp isn't very powerful and the contrast is on the low side, so while it does have full HD resolution and a wide color gamut, the image you see isn't as vibrant or sharp. Still, for casual viewing when you're on the road, it gets the job done.
Pros
Native Full HD resolution with support for 4K input
Smart Android 7.1 operating system
Battery operation (3 hours per charge)
Comes with a tripod for easy set-up anywhere
Automatic keystone correction and instant focus
Low-maintenance with long lamp lifespan
Cons
Picture quality suffers due to low lamp brightness
Some users report issues with the Bluetooth connection
---
Epson Home Cinema 1080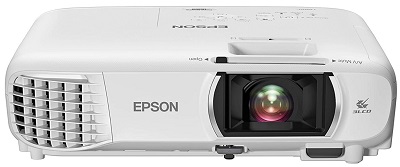 The Epson Home Cinema 1080 is our top choice for those who want a portable projector for use around the home. While it's not as well-suited to travel and camping as the options above, it's compact and rugged enough to move from room to room or take outside for backyard movie nights. It's a versatile projector, as well, with a bright lamp that can be used even in well-lit rooms and a variety of picture modes.
With the Epson 1080, all your content will look fantastic. Its fast processing prevents blurring when you're watching action scenes or live sports and it uses a 3LCD display for the color rather than a color wheel, preventing a lot of image issues.
Getting set up with the Epson Home Cinema 1080 is a fast and easy process, too. While it doesn't have an on-board navigation or streaming system, you can easily connect content sources through the two HDMI ports. The picture skew sensor is a helpful feature, automatically correcting the geometry to keep the image square. All-told, the Epson 1080 is a user-friendly way to bring cinema-quality big screen entertainment to any room of your home. Read our full review of the Epson Home Cinema 1080
Pros
Detailed full HD resolution with smooth frame-by-frame action
Brilliant colors free of distracting artifacts
Bright lamp is ideal for lights-on viewing
Quick set-up process with automatic skew adjustment
Backed by 2-year limited warranty
Cons
Needs a lot of space for a large picture
No onboard streaming capability
---
Epson Home Cinema 880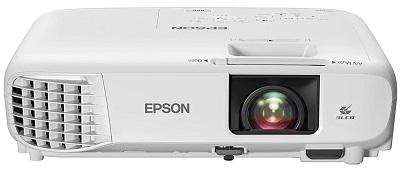 For budget-conscious buyers, the Epson Home Cinema 880 is one of the best values you'll find in a portable projector. It's one of the most affordable Full HD projectors you'll find on the market, and you don't have to sacrifice a great picture for the price. It uses much of the same picture technology Epson employs in their other models, including the 3LCD display technology and full HD resolution.
The plug-and-play operation of the Epson Home Cinema 880 means you'll be able to start watching not long after you take it out of the box. It has the same automatic keystone correction you'll find on the Epson 1080, giving it a good amount of placement flexibility and making it easier to align the image. Its main limitation from a set-up perspective is that it only has 1 HDMI port for content, something that can be especially annoying if you ceiling-mount the projector and can't easily access the HDMI port.
We have no quibbles with the picture quality of the Epson Home Cinema 880, especially considering the price. While it's not the brightest projector on the list it's lamp is powerful enough for lights-on viewing, with fast processing that keeps action sequence from blurring. Read our more detailed review of the Epson Home Cinema 880.
Pros
High dynamic contrast for rich black levels
Fast data processing prevents motion blur
Bright and realistic colors
Automatic picture skew adjustment
Excellent value
Cons
Limited connection options
Long throw distance
---
The Verdict
Choosing the best portable projector ultimately comes down to what you're looking for. All of the projectors reviewed above have their strengths, from the all-in-one capability of the Epson EF12 to the ultra-compact design of the Kodak Luma 450 or the gaming performance of the BenQ TH685i. We hope this review and comparison has helped you decide which one is the best fit for you!
REFERENCES AND FURTHER READING: