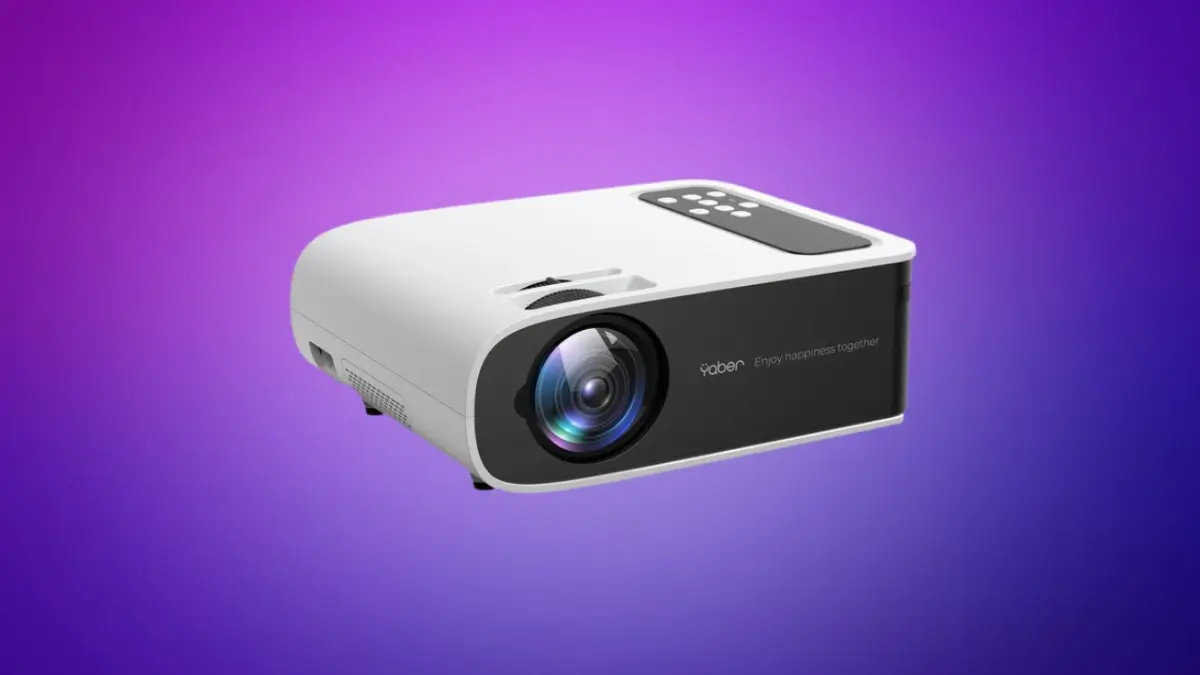 It used to be that projectors were bulky by necessity. The development of LED, LCD, and laser display technologies has changed this, though, and today you can find a variety of super-portable projectors that weigh less than 5 pounds and can be carried in a briefcase, backpack, or sometimes even your pocket.
If you're looking for the best mini projector for iPhone movie nights, you've come to the right place. Looking at all the factors, the YABER Pro Y9 is our top choice, with a full HD resolution and powerful lamp as well as extensive connectivity that includes wireless mirroring from iPhones (>>> Check it's pricing on Amazon). Check out the full details below to help you decide if it's the best mini projector for you.
Best Mini Projector for iPhone 2022- Top Picks:
| | Xiaomi MI Smart 2 | YABER Pro Y9 | WEMAX Go Advanced | WEMAX Go Mini | AAXA P8 | Yowhick 5G |
| --- | --- | --- | --- | --- | --- | --- |
| | | | | | | |
| Resolution | 1920x1080 | 1920x1080 | 1920x1080 | 960x640 | 960x540 | 1920x1080 |
| Brightness (Lumens) | 1,300 ANSI | 3,900 ANSI | 600 ANSI | 300 ANSI | 430 ANSI | 8,500 LUX |
| Throw Distance | 5.2' - 10.5' | 4.9' - 29.4' | 3.5' - 10.5' | 1.3' - 8.7' | 1.7' - 7.5' | 3.7' – 16.5' |
| Screen size | 60" - 120" | 50" - 300" | 40" - 120" | 15" - 100" | 19" - 86" | 33" – 200" |
| Speakers | 5.0 Watts × 2 | 5.0 Watts × 2 | 4.0 Watts Mono | 0.8 Watts Mono | 2.0 Watts Mono | 3.0 Watts Mono |
| Dimensions | 5.9" X 4.5" X 5.9" | 3.5" X 9" X 7.5" | 1" X 8.5" X 4.5" | 1" X 6" X 3.3" | 1.4" X 3.9" X 3.4" | 3" X 7.8" X 6" |
| Today's Best Price | Check on Amazon | Check on Amazon | Check on Amazon | Check on Amazon | BHPhotoVideo.com | Check on Amazon |
Brightness
As we said in the intro, many mini projectors use an LED or LCD light source. This makes them very lightweight but also limits their brightness. Many of these projectors have a lumen rating of 1,000 or lower, which will work fine in a completely dark space but won't be able to compete with even low levels of ambient light.
If you want to leave the lights on while you watch, there are two options you should consider: The YABER Pro Y9 and Yowhick 5G WiFi Bluetooth Projector. Of the two, the YABER Pro Y9 is a bit brighter, and the best choice for bright rooms or outdoor use.
Brightest projector: YABER Pro Y9
Resolution
A full HD (1080p) resolution is the modern standard for full-sized projectors, but that's not always the case for portable models. Again, this is a sacrifice of necessity, and typically projectors that weigh less than 2 pounds are going to have a lower definition.
That said, you can find portable projectors that produce the full detail of a 1080p display, including four on this list: The Xiaomi MI Smart 2, YABER Pro Y9, WEMAX Go Advanced, and Yowhick 5G WiFi Bluetooth Projector. Of those, both the WEMAX and the YABER can accept 4K content, though it will be downscaled to full HD.
Highest resolution: WEMAX Go Advanced, YABER Pro Y9
Portability
All of these projectors are designed to be compact and easy to move from place to place. There are two projectors here that weigh less than a pound: The WEMAX Go Mini and AAXA P8. Between the two, the Go Mini is better for on-the-go use thanks to its durable build and sliding lens cover.
Another top option for portability is the WEMAX Go Advanced. It's a bit larger than the Go Mini or AAXA P8 but still has a slim 1-inch profile and weighs less than 2 pounds. Best of all, it has a rechargeable battery with a run time of roughly 90 minutes per charge.
Most compact projector: AAXA P8
Most portable projector: WEMAX Go Advanced
Value
All of these models are very affordable, with a price of around $1,000 or lower. For those on a tight budget, the Yowhick 5G WiFi Bluetooth Projector is the best value. Not only does it have one of the lowest price tags on the list but it also comes with a 100-inch screen included, giving buyers the most bang for their buck.
Best value: Yowhick 5G WiFi Bluetooth Projector
---
Xiaomi MI Smart 2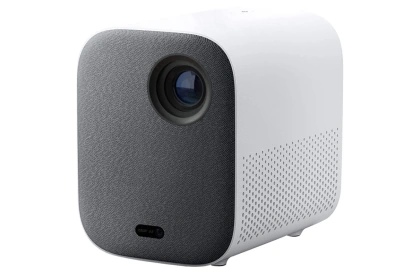 The Xiaomi MI Smart 2 is remarkably compact and lightweight for a projector. This is thanks in part to its LED light source, which is lighter and more efficient than other designs, giving the MI Smart 2 a lower power usage than other projectors, too. The down side is its low brightness of 1,300 lumens, which will need a completely dark space to produce a clear picture.
Aside from its brightness limitations, the Xiaomi MI Smart 2 has a straightforward and flexible installation. Its multi-angle automatic keystone correction ensures a square image even when you can't center the projector head-on to the screen. The 10-watt speakers built in to the MI Smart 2 are backed by Dolby Audio, with virtual surround sound decoding for an immersive listening experience.
As you might guess from the name, this is also a great choice for those who want a smart projector. Its integrated Android TV interface lets you stream content directly through the projector without the need for external content sources, and it also supports Google Assistant voice control right out of the box.
Pros
Full HD image with HDR10
Realistic and vibrant colors
Built-in Android TV interface with voice control
Automatic focus and keystone correction
Virtual surround sound with Dolby Audio
Cons
Needs a fully-dark space
No support for 4K content
---
YABER Pro Y9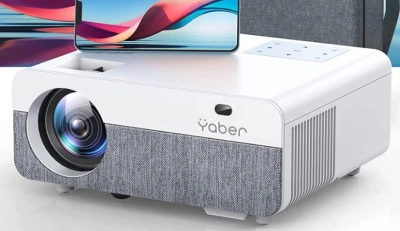 If you want an affordable way to get big-screen entertainment from your iPhone, the YABER Pro Y9 should be on your list. It's one of the best mini-projectors you'll find for under $500, with the same full HD resolution and sharp, colorful picture you'll find on models that cost twice as much or more.
The Pro Y9 is easy to set up, too. Its zoom and 4-point keystone correction give you the tools you need to align the image to the screen, even in more complicated layouts and spaces. Its extensive connectivity helps here, too, with 5G Wi-Fi to support screen mirroring from an iOS device and Bluetooth for connecting external speakers, along with HDMI, USB, and RCA ports on its rear panel.
All of this functionality is already impressive at the price, and especially so given the projector's compact size. It even comes with a custom backpack carrying case for safe, easy transportation. The built-in Hi-Fi speakers are helpful here, too, since you won't necessarily need to carry an external sound source to enjoy movies and shows on the go.
Pros
Full HD image with strong image contrast
Lamp is bright enough for lights on viewing
Good variety of wired and wireless connection options
Good sound from built-in speakers
Accepts 4K content
Excellent value
Cons
No voice control or automation features
Longer throw distance than other options
---
WEMAX Go Advanced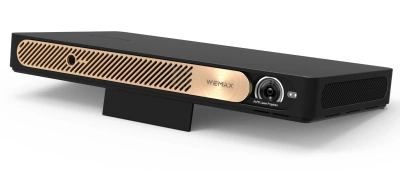 Another super-portable option that's ideal for use with an iPhone, the WEMAX Go Advanced weighs under 2 pounds and is right around an inch tall. It can also be run without an outlet thanks to the built-in battery, which can run for around 90 minutes on a charge. That makes it an ideal ultra-portable option for road trips, presentations, or anywhere else you want to take it.
The Go Advanced has a native full HD resolution and a DMD chipset that produces stunning on-screen colors. Its main weakness is that you'll need a completely dark space to enjoy them. The 600 lumens produced by the laser phosphor light source simply can't compete with ambient light.
Along with its portability, the smart features of the Go Advanced are the main point in its favor. This starts with its intelligent setup features, like automatic calibration, focus, and obstacle avoidance. It also has a built-in Smart OS and can download most popular streaming services through the Aptoid TV App, with wireless casting through AirPlay or Miracast that adds even more options for how you watch your favorite shows and movies.
Pros
Sharp full HD picture
Super-compact
Built in battery with 90-minute run time
Easy set up with automatic calibration features
Wireless streaming and screen mirroring
Supports 4K content
Cons
Low lamp brightness
Weak built-in speakers
---
WEMAX Go Mini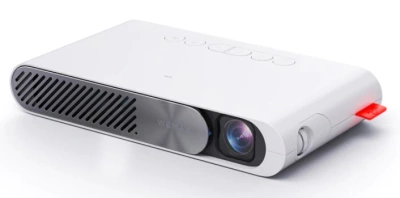 If you want something even smaller than the WEMAX Go Advanced, here's a projector small enough to fit in your pocket. The WEMAX Go Mini weighs less than a pound and isn't much bigger than your typical smart phone. The sliding cover over the lens protects it from damage during transportation so you can truly take it anywhere without a worry.
Now, the WEMAX Go Mini does make some sacrifices to achieve this impressive size at such an affordable price. Both its brightness and its resolution are the lowest on the list, so while it has a strong color performance (102% of Rec.709 spectrum) its picture quality overall is lacking compared to other options. You'll also likely want to use external speakers with it since the built-in speakers can be hard to hear even in a small, quiet space.
On the plus side, the Go Mini is easy to set up and use. Just slide the cover back to turn it on and the automatic keystone correction will square the image. There's also a manual focus control for fine tuning. While it lacks the smart OS of the Go Advanced, it does support wireless screen mirroring, with an HDMI port for connecting other content sources.
Pros
Pocket-sized design
Vibrant, lifelike color
Built-in Wi-Fi connectivity
Low-maintenance with long lamp lifespan
Easy set up with automatic keystone correction
Cons
Low resolution
Low lamp brightness
---
AAXA P8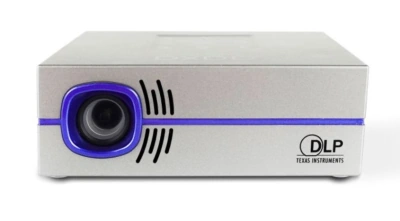 Here's another projector that puts big-screen entertainment power into the palm of your hand. The AAXA P8 uses a DLP display and LED light source to produce a picture up to 200 inches, and will play content that's full HD or lower. All of this from a projector that weighs just over half a pound and costs less than $300.
Now, that content will play at a WVGA resolution, and like the Go Mini above its low lamp brightness limits it to use in completely dark spaces. While its compact size adds versatility, it can be a challenge to set up correctly. It has vertical keystone correction but lacks the zoom and intelligent alignment options on other models.
One plus of the AAXA P8 is its connectivity, which is especially impressive given its small size. Along with the standard HDMI input, it has a memory card slot and a USB-C port for connecting an iPhone or tablet. It also has an integrated Android operating system for wireless screen mirroring from connected devices. Learn how to connect a phone to the projector using USB.
Pros
Super compact and portable
Android 10 operating system with screen mirroring
Efficient, low-energy operation
Good variety of inputs and connectivity
Light source lifespan up to 30,000 hours
Cons
Needs a completely dark space
Low video resolution
---
Yowhick 5G WiFi Bluetooth Projector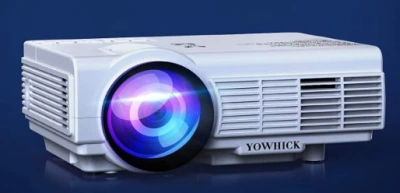 Finally, here's a great projector for those who want portable entertainment on a tight budget. The Yowhick 5G WiFi Bluetooth Projector is already a great value for the money, and you get even more bang for your buck thanks to the included 100-inch screen. That makes it one of the most affordable ways set up a home theater space from scratch.
The Yowhick Mini Video Projector has a native 1080p resolution with strong image contrast and colors. It's one of the brighter options on the list, too, capable of maintaining a saturated, clear picture in both indoor and outdoor settings. It's also relatively versatile within your space, with the option to install it on a table or ceiling mount and an easy to use manual focus adjustment and zoom.
We also appreciate that this Yowhick projector is compatible with modern wireless connections. It uses Bluetooth 5.0 and can connect to 5G or 2.4G Wi-Fi networks. This lets it support screen mirroring from both Android and iOS devices, so while it lacks a built-in streaming interface it does have some wireless content capability.
Pros
Full HD picture with high image contrast
Lamp is bright enough for indoor/outdoor use
Includes a 100" screen
Wireless connectivity through Bluetooth or WiFi
Flexible installation
Cons
No built-in streaming or smart features
Weak built-in speakers
---
So What's the Best Mini Projector for iPhone?
Considering all the factors, the YABER Pro Y9 is our top mini projector for iPhone users, combining a portable design with a bright lamp and high picture quality (>>> Find on Amazon). That said, the pocket-sized AAXA P8 and WEMAX Go Mini are convenient options for use on the go, while the Yowhick 5G WiFi Bluetooth Projector arguably offers the best value. We hope this review has helped you decide which one is the best for your needs!