It used to be that projectors were bulky by necessity. The development of LED, LCD, and laser display technologies has changed this, though, and today you can find a variety of super-portable projectors that weigh less than 5 pounds. In addition, you can be carried in a briefcase, backpack, or sometimes even your pocket. So if you're looking for the best mini projector for iPhone movie nights, you've come to the right place.
Looking at all the factors, the  YABER Pro Y8  is our top choice, with a full HD resolution, powerful lamp, and extensive connectivity that includes wireless mirroring from iPhones (>>> Check its pricing on Amazon). Check out the full details below to help you decide if it's the best mini projector.
Best Mini Projector for iPhone 2023- Top Picks:
| | Xiaomi MI Smart 2 | ViewSonic M2W | Nebula Anker Capsule 3 | YABER Pro V8 | BenQ GV11 | Miroir M76 |
| --- | --- | --- | --- | --- | --- | --- |
| | | | | | | |
| Resolution | 1920x1080 | 1280x800 | 1920x1080 | 1920x1080 | 854x480 | 640x360 |
| Brightness (Lumens) | 1,300 ANSI | 1,700 LED | 300 ANSI | 450 ANSI | 200 ANSI | 200 LED |
| Throw Distance | 5.2' - 10.5' | 2.0' - 12.7' | 2.2' - 10.5' | 3.6' - 20.3' | 2.8' - 9.5' | No data |
| Screen size | 60" - 120" | 24" - 150" | 25" - 120" | 35" - 200" | 30" - 100" | up to a 70" |
| Speakers | 5.0 Watts × 2 | 3.0 Watts × 2 | 8.0 Watts Mono | 5.0 Watts Mono | 5.0 Watts Mono | 1.0 Watts Mono |
| Dimensions (HxWxD) | 5.9" x 4.5" x 5.9" | 2.2" x 8.9" x 8.9" | 6.7" x 3.3" x 3.3" | No data | 6.0" x 4.5" x 5.5" | 0.7" x 4.3" x 4.3" |
| Today's Best Price | Check on Amazon | Check on Amazon | Check on Amazon | Check on Amazon | Check on Amazon | Check on Amazon |
Brightness
As we said in the intro, many mini projectors use an LED or LCD light source. This makes them very lightweight but also limits their brightness. In addition, many of these projectors have a lumen rating of 1,000 or lower, which will work fine in a completely dark space but won't be able to compete with even low levels of ambient light.
If you want to leave the lights on while you watch, there are two options you should consider: The ViewSonic M2W and Xiaomi MI Smart 2 Bluetooth Projector. The ViewSonic M2W is a bit brighter and the best choice for bright rooms or outdoor use.
Brightest projector: ViewSonic M2W
Resolution
A full HD (1080p) resolution is the modern standard for full-sized projectors, but that's not always true for portable models. But, again, this is a sacrifice of necessity, and typically projectors that weigh less than 2 pounds will have a lower definition.
That said, you can find portable projectors that produce the full detail of a 1080p display. One of the biggest examples is the Yaber Pro Y8, which accepts 4K resolution. However, it will be downscaled to 1080p.
Highest resolution: YABER Pro Y8
Portability
These projectors are designed to be compact and easy to move from place to place. The smallest one is the Nebula Anker Capsule 3, with its size fitting in the palm of your hand.
Most of these projectors are lightweight and use battery power, so you don't have to lug something around when you travel. However, it would be best to remember that there is some sacrifice, so always compare. Check our top portable projector picks.
Most portable projector: Nebula Anker Capsule 3
Value
All of these models are very affordable, with a price of around $1,000 or lower. However, the Miroir M75 is the best value for those on a tight budget. It has one of the lowest price tags on the list, being under $400, making it ideal for those on a tight budget.
Best value: Miroir M75
---
Xiaomi MI Smart 2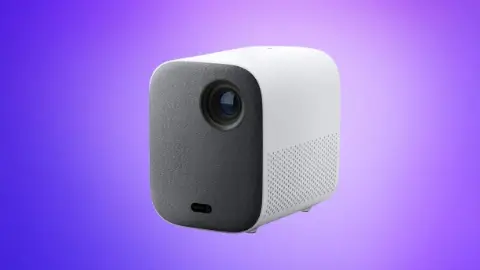 Pros
Full HD image with HDR10
Realistic and vibrant colors
Built-in Android TV interface with voice control
Automatic focus and keystone correction
Virtual surround sound with Dolby Audio
Cons
Needs a fully-dark space
No support for 4K content
The Xiaomi MI Smart 2 is remarkably compact and lightweight for a projector. This is thanks partly to its LED light source, which is lighter and more efficient than other designs, giving the MI Smart 2 a lower power usage than other projectors.
Its downside is its low brightness of 1,300 lumens, which will need a completely dark space to produce a clear picture.
Aside from its brightness limitations, the Xiaomi MI Smart 2 has a straightforward and flexible installation. Its multi-angle automatic keystone correction ensures a square image even when you can't center the projector head-on to the screen.
The 10-watt speakers built into the MI Smart 2 are backed by Dolby Audio, with virtual surround sound decoding for an immersive listening experience.
As you might guess from the name, this is also a great choice for those who want a smart projector.
Its integrated Android TV interface lets you stream content directly through the projector without needing external content sources. It also supports Google Assistant voice control right out of the box.
---
ViewSonic M2W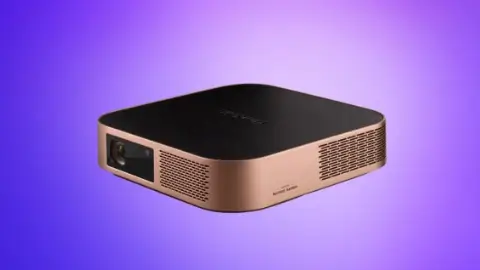 Pros
Lightweight
Decent picture
Decent built-in sound
It comes with several smart features
Cons
Focus only controllable via the remote
Power bank not included
The ViewSonic M2W is a super portable projector, but don't let that fool you. It has a sharp 1080p resolution, and 1,700 lumens deliver enough brightness in most room settings. In addition, its 1.2 throw ratio is enough to work in smaller rooms while delivering the big picture.
It also comes with several smart features, including live streaming. So while you need to purchase a dongle, you can add Netflix and Disney+, making it simpler to watch your favorite shows when you're on the go.
Our tests concluded that this is an amazing projector for its size, but it has a few drawbacks. You need to purchase the power bank separately if you don't want it to rely only on its battery.
Also, its autofocus could be better. We preferred shifting it via manual focus. However, manual focus is only doable via its remote. The projector has no controls, so you better hold on to that remote.
Besides these flaws, this projector is worth checking out.
---
Nebula Anker Capsule 3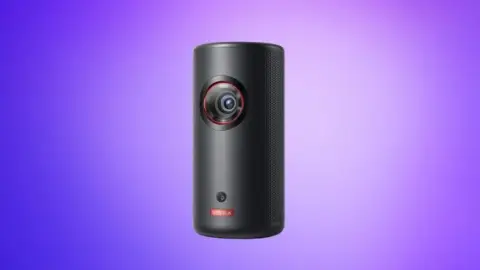 Pros
Ultra-portable
Decent picture quality and sound
Good battery life
Cons
It takes a bit to get the ideal picture
Now, this is a portable projector! It's only two pounds, and it fits in the palm of your hand. So whether you're traveling, camping, or don't want your projector to take up too much space, this delivers on all fronts.
Despite its size, it has a lot going for it. It has native 1080p with 4K capabilities. It does have only 300 lumens, so it's not suited for bright rooms, but as long as you fit within its limitations, it's quite good.
It also comes with a battery with a decent enough charge of up to 2.5 hours. So unless you're watching the Lord of the Rings extended editions, you should not worry much about it not having enough power.
Even the sound is halfway decent. Okay, an 8W speaker is probably not the ideal experience, but for its size, we'll take it.
It requires trial and error to get the image quality ideal, as this projector does not have the most advanced auto-focus technology. However, we understand some sacrifices have to be made for its size. Find our full review of the Nebula Anker Capsule 3.
---
YABER Pro V8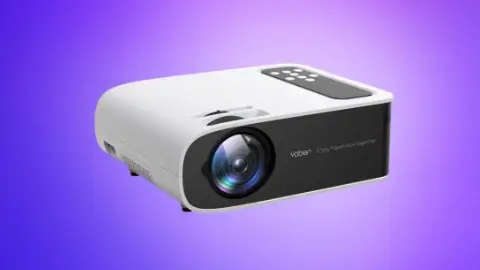 Pros
Great picture and brightness
4K Support
The latest WiFi and Bluetooth
Cons
The contrast ratio could be better
Next, we have the YABER Pro V8. A portable projector, it supports native 1080p with 4K support as well, so you can watch the latest movies. This projector uses a BASIC 2.0 chip, which delivers a great picture with reduced pixel loss. What we also like about this projector is that it has 450 lumens, which is good by portable standards. It also has a 15,000:1 contrast ratio. It is lacking in that regard, but some sacrifices must be made.
Our tests indicated that its Bluetooth and WiFi capabilities are also stellar. While some projectors have wonky Bluetooth or WiFi, this projector uses the latest technologies to give you the most consistent image processing and audio quality. If you want to mirror your image from your phone to your projector, it's simple for you to do.
It also comes with the ability to adjust its zoom with relative ease. When we tried it, we found that it worked well in smaller and larger rooms. Of course, being a mobile projector is not the most powerful thing in the world, but we approve of what it is. Find more projector options in a similar price range.
---
BenQ GV11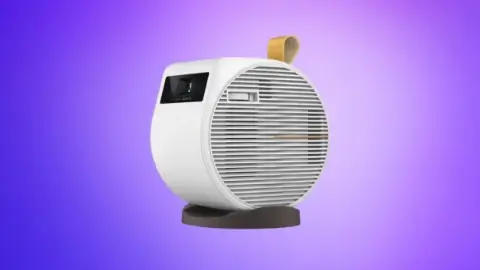 Pros
Portable
Easy to set up
Wireless streaming is good
Cons
Picture quality could be a lot better
Next, we have this portable ceiling projector. It almost looks like a fan, but despite its odd design, it's quite good if you know what to expect.
It's not the best picture quality in the world, only having a 480p resolution and 200 lumens. Therefore, we recommend using it to watch older movies unless you don't mind some sacrifices. However, despite those drawbacks, it's lightweight, and setting it up is simple. We found attaching it to the ceiling to be easy, and it's simple to angle, too.
Its wireless casting also works well. You can project your favorite movies; we did not notice any lag. However, if you're trying to stream via HDMI, it only goes up to 1.4, so you may notice some slowness depending on your use. That said, it's much easier to project it wirelessly.
---
Miroir M76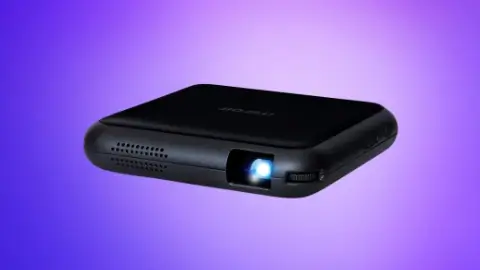 Pros
Portable
Easy to set up
Wireless streaming is good
Cons
Picture quality could be a lot better
Finally, we have the Miroir M76. This projector has a sleek design and is quite portable. In addition, it's affordable, too. However, its 480p resolution and 200 lumens are some drawbacks.
When we used it, we did enjoy what it could do. Its 5W speakers work well for outings. We don't expect crystal-clear sound from these projectors, anyway. What we did like is how easy it is to set up and use. If you're looking for something simple, this will work well enough. It also has wireless casting, and it works well for our tests.
---
So What's the Best Mini Projector for iPhone?
Considering all the factors, the YABER Pro Y8 is our top mini projector for iPhone users (>>> Find on Amazon), combining a portable design with a bright lamp and high picture quality.
That said, the pocket-sized  Nebula Anker Capsule 3 and Miroir M76 are convenient options for use on the go, while the BenQ GV11 Projector offers ceiling projection. We hope this review has helped you decide which is best for your needs!