Home theater technology has progressed amazingly in the past few decades. Projectors used to be bulky, and the idea of one that fits in your hand seemed like some out-there future technology. Now, you can carry a projector in your hands! That's right. The Nebula Anker Capsule is a mini projector weighing under two pounds. But is it any good? This Nebula Anker Capsule 3 review will help you decide if this is the perfect addition to your theater setup (>>> Check on Amazon).
Nebula Anker Capsule 3 Review of Features:
| | Nebula Anker Capsule 3 |
| --- | --- |
| | |
| Resolution | 1920x1080 |
| Brightness (Lumens) | 300 ANSI |
| Contrast | 500:1 |
| Throw Distance | 2.2' - 10.5' |
| Screen size | 25" - 120" |
| Speakers | 8.0 Watts Mono |
| Today's Best Price | Check on Amazon |
Portability
When it comes to a portable projector, you want something that you can bring with you anywhere. The Nebula Anker Capsule 3 meets this mark by weighing under two pounds. So you can put it in your backpack without much hindrance to your day. It is 3.27 x 3.27 x 6.57 inches, so it's not exactly something you can slide into your pocket, but for a trip, it's perfect. We like it a lot, and noticed it fits perfectly on the side of our bags when we go exploring. A great way to bring technology like this with you on the go. (You can check out the roundup review of the best portable projectors on Projectortop.com.)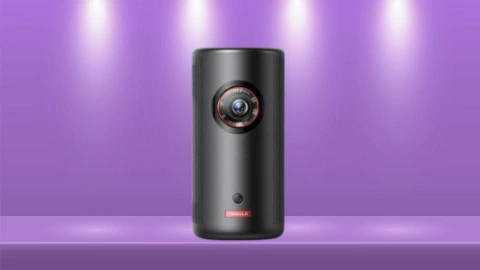 Pros
Under 2 lbs
Full 1080p picture quality
Bluetooth and screen mirroring are easy to use
Cons
The battery life could be a little better
Expensive
Battery Life
The Nebula Anker Capsule 3 uses a rechargeable battery with up to 2.5 hours of battery life, with a 52Wh built-in battery. Our tests indicated that the battery is about that amount. Sometimes, we only had two hours. You won't be able to watch Avatar on a single charge, but it has an AC adapter to keep it going if needed.
Brightness
A portable projector, sadly, does not have the same capabilities as a regular one when it comes to brightness. While normal projectors can have thousands of lumens, this has only 300.
However, don't let that put you down. When we tested it at night, the brightness worked. In addition, it looked gorgeous, making it ideal for a camping trip or a party once the lights go out. We were impressed that despite how limited this was, it really does the job well.
Video and Audio Quality
This is not going to be on par with a home theater projector. However, it still has a full 1080p, and it looks good. The colors look sharp, and the movies move at a smooth framerate.
The projector does have an 8W built-in speaker, and it sounds decent enough. However, it's not good enough if you have a group of friends all being noisy. However, if it's just you, it works well. Combine it with Bluetooth speakers for the best results.
Gaming
If you're a gamer, does the Nebula Anker Capsule 3 deliver? Surprisingly, the lag-free capabilities are decent. Our experiences indicated that you'd get about 22 ms of lag. Look elsewhere if you're playing competitive games where you need lightning-fast reflexes. However, casual games in front of a campfire? It's great for that!
Other Bells and Whistles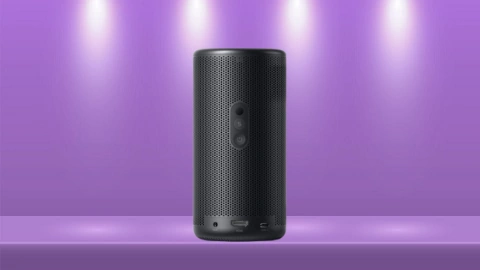 It does have an HDMI port. However, being a portable projector, it has plenty of wireless options. For example, it works with Google Assistant and Chromecast, making mirroring simple. You can also use the Nebula Connect app to play Netflix.
When we tested it, we were satisfied with its performance. You should have no problems connecting everything. We've chosen the Nebula Anker Capsule 3 among the best mini projectors for iPhones.
Nebula Anker Capsule 3 Review: The Verdict
Overall, this is a great little portable projector. Once again, you won't get an amazing picture quality experience with a projector weighing under two pounds. However, we were impressed with how technology has progressed to the point where this is possible.
It's no substitute for a full-sized home theater projector. However, this projector works well when traveling, going to a party, camping, or any other situation where bringing your full-sized projector wouldn't be feasible. (>>> Find its pricing on Amazon)