You don't have to spend a fortune to get a massive screen in your home theater. While the top of the line projectors can cost over a grand, you can also find perfectly acceptable models that are kinder on your budget. The best cheap projector under 100 dollars won't give you extra features like 3D or 4K resolution, they are the most affordable way to have a big screen under your own roof.
Most projectors in this price point will use an LED bulb for the image, and that's the case for all the options below. This style of lamp is smaller and more efficient, generating less heat and making the projectors more portable, as well as more affordable.
More recent LED bulbs can get almost as bright as laser or bulb-based projectors, too, though you may still need to make adjustments to your space—a small concession for the price, in our opinion.
The truth is, you may be surprised at just what you can get from a projector for less than a hundred bucks. While the HAPPRUN 9500L is the best performer overall, each of the models below has its strengths (>>> Check the current price on Amazon). Read on below for the full reviews, and some info on what to expect when you buy a cheap projector.
Best Cheap Projector under 100 in 2023 – Top Picks:
| | ClokoWe M8 | NISOO M10 | NICPOW RD850 | HAPPRUN 9500L | ELEPHAS W13 |
| --- | --- | --- | --- | --- | --- |
| | | | | | |
| Resolution | 1280x720 | 1280x720 | 1280x720 | 1920x1080 | 1920x1080 |
| Brightness (Lumens) | 7,000 lux | 3,500 ANSI | 3,100 ANSI | 3,950 ANSI | 3,100 ANSI |
| Contrast Ratio | 8,000:1 | 2,000:1 | 6,000:1 | 10,000:1 | 3,500:1 |
| Throw distance | 3'5" – 15'6" | 4'11" – 16'5" | 3'4" – 16' | 6'9" – 16'5" | 2'7" – 14'6" |
| Image size | 30" – 120" | 32" – 176" | 32" – 240" | 40" – 200" | 30" – 200" |
| Price | Check on Amazon | Check on Amazon | Check on Amazon | Check on Amazon | Check on Amazon |
Brightness
Determining the brightness for an LED projector can be tricky. Many manufacturers give the brightness in LED lumens to make the projector seem brighter than it is. Others give the brightness in lux, which is a different way of measuring light that doesn't directly translate to an ANSI lumen rating.
Of course, what matters isn't how the brightness is measured but how it looks on your screen. In practice, the 9500 LED lumens of the HAPPRUN is equivalent to roughly 4,000 ANSI lumens, giving it enough power to suit even fairly bright spaces.
Brightest projector: HAPPRUN 9500L
Portability
All of these projectors are relatively small and lightweight, one advantage of the LED technology they use. The two lightest options are the ELEPHAS W13 and ClokoWe M8, both of which weigh right around two pounds. Of the two, the ClokoWe is a bit lighter and smaller in every dimension, with design features like a recessed lens that make it road-ready.
Most portable projector: ClokoWe M8
Value
Four of the five projectors below are an even better value than they look at first glance, and come with a portable screen. The NISOO M10 and the NICPOW RD850 come with a 100-inch screen, the ideal size for use both indoors and outdoors.
With the HAPPRUN 9500L and ELEPHAS W13, you'll get a 200-inch screen, which is honestly bigger than most want indoors but perfect for outdoor movies. Seeing as how the NICPOW RD850 is also one of the most affordable projectors on the list, we'll give it the nod of the best overall value.
Best value: NICPOW RD850
Picture Quality
The overall quality of the picture you'll get from a cheap projector has improved significantly over the past few years, so while you still won't get Ultra HD from any of these, you won't have to sacrifice as much as you might expect.
Both the ELEPHAS W13 and HAPPRUN 9500L have a native resolution of 1080p. Where the HAPPRUN takes an edge is its high dynamic contrast, which combines with the powerful lamp to produce a stunningly crisp and realistic image for the price.
Best picture quality: HAPPRUN 9500L
---
ClokoWe M8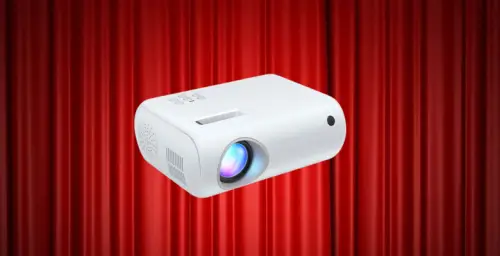 The ClokoWe M8 is a top option for those who want a cheap portable projector. It weighs less than two pounds, with a compact design that will fit easily into any backpack or tote bag.
The recessed lens prevents damage during transportation so you can carry it from place to place worry-free. Along with this, it has hi-fi stereo speakers built in, cutting down on the accessories you'll need to use it.
The ClokoWe M8 has a standard throw distance, needing around 13 feet to produce a 100-inch image. It's also relatively bright and capable of competing with some ambient light in your space. Try our throw distance calculator!
Its only issue from a set-up standpoint is that there's no keystone correction, so you'll need to align the projector perfectly straight and centered to the screen.
With both an HDMI and USB port, the ClokoWe M8 works with most modern content sources, including streaming sticks, gaming consoles, smartphones, and files stored on a USB drive.
It can play content up to 1080p, though its display resolution is 720p (XGA), so you will lose some detail compared to watching movies through a true full HD projector. On the plus side, its LED light source produces vibrant color and a uniform clarity from edge to edge.
Pros
Plays full HD content
Good color and sharpness
Compact and portable
Bright enough for use with some ambient light
Built-in speakers
Cons
---
NISOO M10
The NISOO M10 is a phenomenal value. For less than $100, you'll get both the projector and a 100-inch outdoor screen, basically everything you need for backyard movies.
Best of all, it's Wi-Fi enabled, letting you send content to the projector wirelessly. The only caveat here is that you can't mirror content from protected apps, including Netflix and Hulu—you can still watch content from those services, you'll just need to use its HDMI, USB, or VGA inputs.
The improved LED light source of the NISOO M10 is another strength. It lasts a long time, up to 55,000 hours without fading or losing pixels. It's also brighter than most, putting out 8,500 LED lumens (around 3,500 ANSI lumens).
That's powerful enough for any indoor environment, and means you won't have to wait for full dark to use it outdoors. The easy keystone and focus adjustment on the top let you get up and running quickly and add more flexibility for where you place the projector in relation to the screen.
As far as the picture quality, its XGA resolution is on par with what you'd expect in this price point, and it can accept full HD content.
Similarly, its 2,000:1 image contrast ratio is lower than what you'd get from high-end projectors, but high enough to produce a decent image for basic movie and TV watching.
One thing to bear in mind is that you likely will want to use an external speaker or soundbar with the M10. It has speakers built in but they don't put out much sound, especially not if you plan to use the projector outside.
Pros
Comes with a screen
Powerful lamp
Wi-Fi connectivity and screen mirroring
Flexible installation
Long lamp lifespan
Cons
Can't mirror content from many streaming apps
Weak output from built-in speakers
---
NICPOW RD850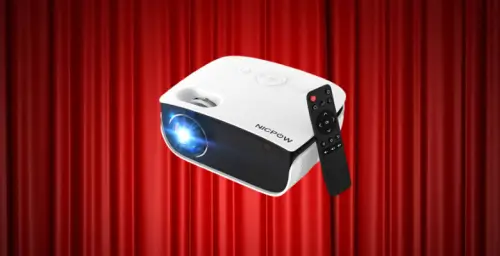 If you're looking to buy a whole home theater setup in one box, the NICPOW RD850 is a great choice.
It also comes with a 100-inch outdoor projector screen, and the projector itself can produce images up to 240 inches, truly living up to the promise of big-screen entertainment.
You may not need external speakers with it, either. Its dual 3-watt stereo speakers and SRS sound system have a superior output and sound quality to most budget projectors.
Like most options in this price range, the NICPOW RD850 has a 720p display resolution, with support for 1080p content. Its image contrast is higher than you'll get from most, though, and the colors are accurate and vibrant, providing a more immersive viewing experience.
This is backed by a long-lasting LED light source, with a lifespan up to 65,000 hours and a consistently powerful output that can be used in fairly well-lit spaces without a loss of picture quality.
Another strength of the NICPOW RD850 is how easy it is to set up and use. It can be mounted on a tripod, installed on the ceiling, or just set up on a table, with a +/-15° keystone correction to ensure a straight image.
As far as the connectivity, it has an HDMI, USB, and VGA input, so you can get content from desktops or drives as well as streaming sticks, phones, and game systems. If you're looking for the best projector for your phone, check this buyer's guide.
Pros
Strong image contrast and color
Good sound from built-in speakers
Bright and long-lasting light source
Flexible and easy to set up
Comes with a 100-inch screen
Cons
No Bluetooth or screen mirroring
---
HAPPRUN 9500L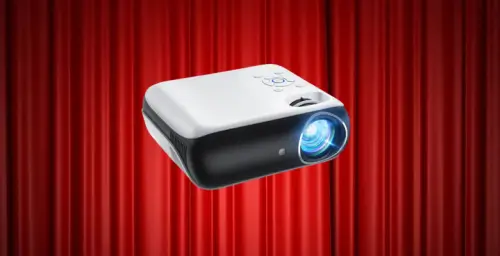 For the absolute best picture quality under $100, this projector from HAPPRUN is a strong contender. It has a Full HD display resolution, combined with a 10,000:1 dynamic contrast and rich colors.
Those are image stats you'd expect from projectors that cost hundreds more and especially impressive in this price range.
The HAPPRUN 9500L can produce an image up to 200 inches, and comes with a portable screen that can make use of that full capability.
Granted, you'll need a decent amount of space to fill it, upwards of 16 feet between the screen and lens, but the +/-15° keystone correction gives you good flexibility to align the image within that range.
It's an ideal choice for outdoor use, both because of its space limitations and its powerful lamp, the brightest on the list at nearly 4,000 ANSI lumens (9500 LED lumens).
The built-in speakers on the HAPPRUN 9500L are functional, but most will want to use an external sound source. On the plus side, you can connect speakers through 5.1 Bluetooth or through the 3.5mm audio jack. For video signals, it has an HDMI input and dual USB ports, supporting the full range of devices found in a typical home theater space.
Pros
Full HD resolution with strong image contrast
Bright lamp
Supports Bluetooth for audio
Includes a 200-inch screen
Flexible installation
Cons
No wireless connectivity for visual content
Some users report issues with dead pixels
---
ELEPHAS W13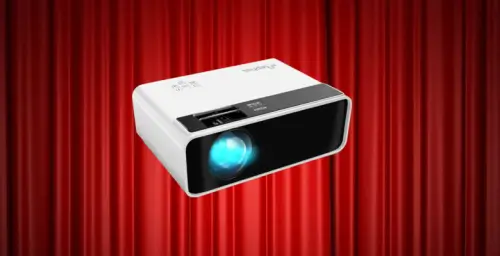 Here's another great option for those who want to balance affordability with image quality. The ELEPHAS W13 has a Full HD LCD display with 24-bit color and a light source bright enough to keep the picture sharp and detailed without needing to turn the lights off.
This is also one of the few projectors under $100 with built-in Wi-Fi connectivity to mirror or stream content from a phone or tablet. If you're out of Wi-Fi range, you can still use the HDMI, VGA, or dual USB ports, and it comes with an HDMI cable for connecting devices.
With built-in hi-fi stereo speakers and an included 200-inch screen, the W13 is another great option for projector beginners, giving you everything you need to watch right in the box. It's also an ideal choice for travelers, weighing just over 2 pounds and with a compact, rugged housing designed for use on the go.
Pros
1080p display with 24-bit color
Good light source brightness with 50,000 hour life span
Stands up to long-term use without overheating
Built-in Wi-Fi
Stereo speakers with decent output and quality
Super compact and portable
Cons
Can't mirror content from some apps
---
What to expect from $100 projectors
As we hinted at in the introduction, you will have to make a few concessions when you're looking for a projector in this price range.
The biggest question you'll have to answer is how bright you need the lamp to be. While none of these projectors need a completely dark space to function, they also won't be perfectly visible in sunlight.
The overall image quality is also going to be a bit weaker with these projectors than what you'd find on a higher-end model.
The contrast ratio is generally on the low side, under 10,000:1 in most cases. In practical terms, this means the blacks won't be as deep and the colors aren't going to be as vibrant.
The main factor in the image quality, though, is the native resolution. This is the resolution of the projector itself—in other words, how many pixels are represented in each dimension on the screen.
This is different than the supported resolution or maximum resolution, which is the highest content resolution the projector can accept and convert for display.
All of these projectors can support content up to 1080p resolution—pretty much any content short of 4K UltraHD (>>> Related Guide: Best 4K Projector Under 2000). Most of them will downscale this content to 720p, however, so the image will be less sharp than if you were to project it on a higher-end model.
Whether or not this is an issue for you really depends on what kind of content you want to view. The issue of resolution is one you'll especially want to think about if you plan to use the projector for modern gaming.
If you're just watching movies and TV shows, though, the lower resolution on these projectors likely won't prove an issue.
---
Choosing the best cheap projector under 100 bucks
Hopefully, by now you have a better idea of what's out there in the world of projectors for less than $100—and what you should expect when you buy one of these models.
One great thing about LED projectors is that they're not only cheaper up-front but also in the long-term. The extremely long lamp lifespan means you'll likely never have to replace it, good news for your budget considering how expensive replacement projector bulbs can be.
Within the category of cheap projectors, the right choice for your home really depends on your space and expected use. The HAPPRUN 9500L is our top overall performer, with the best image and brightest lamp (>>> Find on Amazon).
That said, the ELEPHAS W13 will also give you 1080p resolution but in a more portable package, and with Wi-Fi connectivity to boot.
With so many affordable projectors to choose from, you're bound to find something that's perfect for your needs on the list above. We hope this article has answered all your questions about cheap projectors!
REFERENCES AND FURTHER READING: