A portable projector is a great tool to have on hand for teachers, business leaders, and other professionals. It can be just as convenient in a home theater context, letting you take your entertainment on the go. In this Xgimi Horizon Pro 4K review, we'll check out one of the best portable projectors in the mid-range price range. With a decently bright lamp, extensive connectivity, and a user-friendly set-up, its versatility and performance make it an excellent value for the price. (>>> Check on Amazon)
Xgimi Horizon Pro 4K Review of Main Specs:
| | Xgimi Horizon Pro 4K |
| --- | --- |
| | |
| Resolution | 3840x2160 |
| Brightness (Lumens) | 2,200 ANSI |
| Input lag | 35ms |
| Throw Distance | 2.6' - 26.2' |
| Screen size | 30" - 300" |
| Speakers | 8.0 Watts × 2 |
| Price | ProjectorScreen.com |
Overall Design
The compact design of the Xgimi Horizon Pro is the first thing you'll notice when you see it. It's less than 6 inches tall, definitely small enough to fit in a backpack, and only weighs about 10 pounds. This makes it one of the most portable 4K projectors out there.
While it does still need a power source to operate, it's a perfect choice for backyard movie nights, classrooms, and other on-the-go uses.
The Horizon Pro uses an LED light source, which gives it a low maintenance requirement and a usable life of around 25,000 hours. The main complaint against LED projectors is low brightness, but the Horizon Pro performs better than most in this regard, puting out a respectable 2,200 ANSI lumens.
That's enough you can have a few lamps on while you're watching, though it's still going to look washed out in direct sunlight and bright spaces.
Set-up
You'll need around 8-9 feet of distance for a 100" image from the Xgimi Horizon Pro—it's not quite a short-throw projector, but short enough to accommodate most spaces and set-ups.
Adding to this flexibility is its array of mounting options It can be used for front or rear projection, and works just as well mounted as it does in tabletop or tripod set-ups.
Automatic focus and keystone correction further streamline the installation, and lets it make adjustments during use, too, keeping the picture clear and centered even if the projector gets bumped during the movie.
In terms of software and navigation, the Horizon Pro is plug-and-play right out of the box. Just connect it to your Wi-Fi network, install and log-in to your preferred streaming apps, and you'll be ready to start watching. The Android 10.0 interface is intuitively laid-out and easy to control, so it's as quick to set up from the software side as it is to align the image.
Pros
Ultra HD resolution with excellent color and contrast
Compact and lightweight
Wireless connectivity through Wi-Fi or Bluetooth
Automatic keystone correction
Good sound quality from built-in speakers
Android 10 streaming interface
Cons
Lamp brightness too low for well-lit spaces
No Netflix or voice control support
Picture Quality
The Horizon Pro uses true Ultra HD resolution, with 8.3 million on-screen pixels that give the picture an incredible amount of detail, texture, and realism. This detail is maintained even in fast-paced action sequences thanks to the use of frame interpolation, eliminating motion blur and fluttering.
The X-VUE 2.0 imaging engine in the Xgimi Horizon Pro gives it a color performance on par with the resolution. Support for HLG and HDR10 ensures the colors are true to the source signal and enhances the image contrast, for equal saturation and clarity in light and dark areas of the screen.
Streaming and Connectivity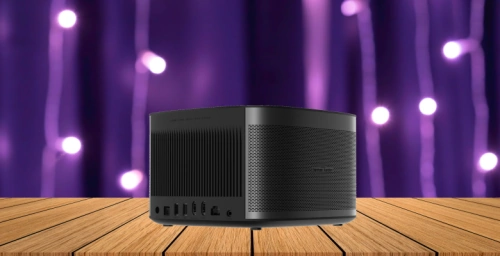 The Android streaming interface on the Xgimi Horizon Pro supports the majority of popular streaming apps, including Prime Video, Hulu, and Disney+. As with most Android-based interfaces, Netflix is the notable exception, and is not natively supported on the projector. That said, you can still watch Netflix wirelessly through another device using Chromecast, so there are workarounds.
One thing that sets the Horizon Pro apart from other portable projectors is that its wired connectivity is as robust as its wireless options. This includes dual HDMI ports with ARC support, along with LAN, USB, optical, and audio ports, so it has good versatility for a variety of content sources.
Sound
The speakers built in to the Horizon Pro are impressive given the projectors compact size. It features two 8-watt Harman Kardon speakers, with Dolby Audio and DTS support for the audio signal. In terms of volume output and overall sound quality, this puts it on par with most stand-alone Bluetooth speakers.
For an immersive home theater experience you'll still want external speakers and subwoofers, but it's certainly sufficient to be used as-is.
The Bottom Line: Xgimi Horizon Pro 4K Review
Any portable projector in this price range is going to have some limitations. In the case of the Xgimi Horizon Pro, it can't live up to the lamp brightness of larger 4K projectors, which can limit its use in brighter spaces.
As long as you're able to control the light level in your viewing area, however, it's hard to beat the Horizon Pro's combination of quality and convenience. (>>> Check the current price on ProjectorScreen.com)
REFERENCES AND FURTHER READING: