With its ultra-short throw distance and super resolution upscaling, the LG HU715Q is a powerful and versatile projector for home theater spaces. But is it the right option for your home? Let's look at the details in this LG HU715Q review so you can make that decision for yourself (>>> Check on Amazon).
LG HU715Q Review of Main Specs:
| | LG HU715Q |
| --- | --- |
| | |
| Resolution | 3840x2160 |
| Contrast | 2,000,000:1 |
| Brightness (Lumens) | 2,500 ANSI |
| Throw Distance | 1.3' - 1.9' |
| Screen size | 80" - 120" |
| Speakers | 20.0 Watts × 2 |
| Today's Best Price | BHPhotoVideo.com |
Space and Setup
With its ultra-short throw lens, the LG HU715Q can produce an image up to 120 inches with less than two feet between the lens and screen. This makes it easy to set up in any size or type of space, with no need for annoying ceiling mounts or other complicated installations.
That short throw also maximizes the brightness of the lamp. Its 2,500 lumens is the ideal brightness for moderately-lit rooms. You may still need heavy curtains if your viewing area has a lot of windows, but you won't need to turn the lights off to get a good picture. It's easy to adjust the brightness with the iris user modes, so if you do plan to use it in a completely dark home theater space you can dial back the lamp's power to match.
While the LG HU715Q doesn't have a ton of image alignment options, the short throw distance means most won't miss them. It does have both horizontal and vertical keystone correction for squaring the image geometry, allowing for off-center installations and giving the projector more flexibility for a variety of spaces. The Edge Adjustment feature has 4, 9, or 15-point digital warp correction, ensuring a flat, square image.
You'll get that same flexibility from the rear connection panel. It has 2 USB ports for peripherals and 3 HDMI ports for content (2 HDMI 2.0, and 1 HDMI 2.1), along with an optical audio output and network connection.
Picture Quality
The LG HU715Q uses a DLP display and laser phosphor light source to produce a sharp true 4K image with crisp image contrast and super-resolution upscaling. Its high dynamic contrast ratio also enhances the dark areas of the picture, with excellent detail and depth and a consistent brightness and color performance across the picture. Along with this, it offers adaptive contrast, with multiple level settings so you can fine-tune the image to match what you're watching.
When it comes to color reproduction, the HU715Q performs well, if not quite to what we'd call professional cinema quality. It covers around 85% of the DCI-P3 color spectrum. That's still more hues than the Rec.709 color gamut that's the standard for HDTV, and the colors are vibrant and consistently accurate across content types, so while it's not the widest color gamut on the market it's a step up from most televisions and full HD projectors.
Pros
True 4K resolution with Super Resolution upscaling
High image contrast
Ultra-short throw distance
Good lamp brightness for most indoor spaces
High sound quality and output
Wide range of wired and wireless connection options
Built-in streaming and voice control
Cons
Input lag is high for many gamers
Built-in Sound
The LG HU715Q is one of the few projectors whose sound quality matches its picture quality. It has stereo sound built in, with dual 20-watt speakers that have a good response across the frequency range. That translates to a clear mid-range for dialogue and solid low-end performance to do justice to sound effects and soundtracks, with a room-filling volume output. While you can use an external sound system if you'd prefer, most users will find they don't need one with the HU715Q.
Gaming Performance
The frame refresh rate of the LG HU715Q is a typical 60Hz at 4K, keeping the on-screen movement smooth and free of issues for all kinds of content. Unfortunately, its input lag is on the high side for most gamers, at around 54ms. That's within the acceptable range for casual play, especially if you prefer puzzle games or RPGs, but it's too high for serious players, and even casual players may find the delay frustrating for reflex-based games like first-person shooters.
Wireless and Streaming Capabilities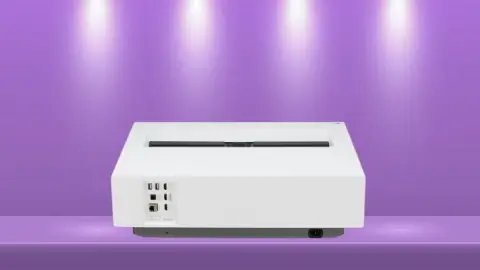 The ThinQ OS interface on the LG HU715Q supports voice recognition and direct content streaming. You can download apps right to the projector and skip the streaming stick if you'd prefer. Most popular streaming apps are supported, including Netflix as well as services like Disney+ and Prime Video.
The LG HU715Q can connect wirelessly through Bluetooth or Wi-Fi. Support for Miracast and AirPlay2 also means you can mirror content from a phone or tablet, expanding your wireless content options.
The Bottom Line: LG HU715Q Review
For movies and TV shows, the LG HU715Q has everything most users are looking for, including modern features like screen sharing and direct streaming (>>> Find on ProjectorScreen). Its input lag is on the high side, however, so if you plan to use your projector for gaming, you'll want to find a more responsive option.
REFERENCES AND FURTHER READING: