The LG CineBeam line of home theater projectors was designed to bring movie theater quality images to any viewing area. Comparing the LG HU715Q vs HU85LA, you'll see they both live up to this promise, pairing an ultra-short throw distance with modern features like integrated streaming and 4K resolution. Looking at all the factors, the LG HU715Q will be the better choice for most. Read on to see where it excels, and who might want to get the HU85LA instead. (>>> Check on Amazon)
LG HU715Q vs HU85LA Side by Side:
| | LG HU715Q | LG HU85LA |
| --- | --- | --- |
| | | |
| Resolution | 3840x2160 | 3840x2160 |
| Brightness (Lumens) | 2,500 ANSI | 2,700 ANSI |
| Contrast Ratio | 2,000,000:1 | 2,000,000:1 |
| Input Lag | 53.9ms | 55ms |
| Throw Distance | 1.3' - 1.9' | 1.3' - 1.7' |
| Screen size | 80" - 120" | 90" - 120" |
| Speakers | 20.0 Watts × 2 | 5.0 Watts × 2 |
| Today's Best Price | BHPhotoVideo.com | BHPhotoVideo.com |
Picture Quality
Both of these projectors produce a stunning picture, using a similar DLP display with XPR technology to generate the 8.3 million on-screen pixels of a true 4K display. Where the HU715Q takes the edge is its Super Resolution upscaling and Adaptive Contrast, providing even more detail and picture depth than you'll get with the HU85LA.
Higher picture quality: LG HU715Q
Throw Distance
This is another category where both these LG projectors are impressive. The LG HU715Q produces a 120" image with 1'11" between the lens and screen. The LG HU85LA shaves a few inches off of that, producing the same image size with 1'9" of distance.
Shorter throw distance: LG HU85LA
Built-in Sound
The speakers in the LG HU85LA are functional, but they won't do justice to movie sound effects and don't have the output to fill most viewing areas on their own. The more dual 20-watt speakers on the LG HU715Q are more powerful and sound better, while the Dolby Audio pass-through ensures you'll get that same high sound quality if you do use your own speakers.
Better sound: LG HU715Q
Brightness
The 2,500 lumens of the LG HU715Q is bright enough to produce a clear, vibrant image in most indoor spaces, especially considering its ultra-short throw. For brighter spaces, the more powerful 2,700-lumen lamp of the HU85LA will ensure a colorful and high-contrast picture without needing light control measures.
Brighter projector: LG HU85LA
Value
The MSRP of the LG HU85LA is significantly higher than the LG HU715Q. Now since the HU85LA is older, you may find some great deals that bring these prices closer, but the regular price from most retailers is going to be lower for the HU715Q. Considering it also exceeds the performance of its competition in some areas (and is close behind it in others), it's the better overall value.
Better value: LG HU715Q
---
LG HU715Q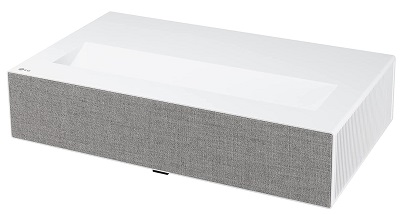 The DLP display and laser phosphor light source of the LG HU715Q produce a sharp and true-to-life Ultra HD picture. With its Super Resolution Upscaling, even lower-resolution content will look sharp. The TruMotion technology and 60Hz frame rate keep the on-screen action clear and smooth It also features adaptive contrast, multiple brightness modes, and multiple aspect ratio options, letting you customize your display to the needs of your space and content.
The LG HU715Q is flexible when it comes to the installation, too. Its ultra-short throw lens can produce an image up to 120" with less than 2 feet of distance. The Edge Adjustment digital keystone correction has 4- to 15-point warp and skew correction, ensuring you can get a square picture even if you can't align the projector perfectly to the screen.
The HU715Q is also a great choice if you're looking for all-in-one performance. Its dual 20-watt speakers really fill the viewing area with powerful sound, and you'll have the option of a 3.5mm connection with a Dolby Atmos pass-through or Bluetooth audio if you'd rather use external speakers. For content, it has an integrated ThinQ interface with voice recognition and support for popular streaming platforms like Netflix, Disney+, and Prime Video. Click here for our more in-depth LG HU715Q review.
Pros
Sharp, adaptive-contrast true 4K picture
Vibrant colors with HLG and HDR10 support
Ultra-short throw distance
Smart ThinQ OS with voice recognition and streaming capability
15-point digital keystone correction
Powerful built-in speakers
Cons
Lamp not suitable for bright viewing areas
---
LG HU85LA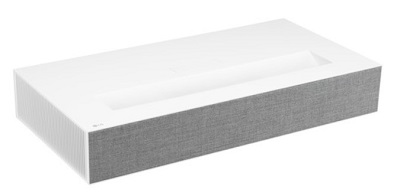 The LG HU85LA shares a lot of strengths with the HU715Q. This includes a sharp Ultra HD display with TruMotion technology to prevent blur in fast sequences. It's also a bit brighter, letting it maintain full color saturation and rich black levels even in brighter viewing areas. While it lacks the upscaling capability and adaptive contrast of the HU715Q, it's still a great choice if you're looking for a detailed, immersive picture.
This is also a great option if you need an ultra-short throw projector. It produces a 120" image from just over a foot and a half away, and has a similar Advanced Edge Adjustment digital keystone correction that makes it easy to square the image to your screen.
While the LG HU85LA has built-in speakers, most people will want to use a soundbar or other external sound source. On the plus side, it's easy to connect speakers through either Bluetooth or a mini jack. Content connection options include dual HDMI ports, USB playback, and wireless connectivity like screen sharing through Miracast or the LG TV Plus app. The ThinQ AI operating system includes a web browser, support for streaming apps, and voice control through either Google Assistant or Amazon Alexa.
Pros
Sharp UHD image with HDR10 support
Good lamp brightness for most indoor spaces
Supports voice control through Alexa or Google
Ultra-short throw distance
ThinQ interface with Magic Remote
Robust wired and wireless connectivity
Cons
Built-in speakers are weak
---
The Verdict: LG HU715Q vs HU85LA
Both the LG HU715Q and HU85LA do a lot of things well, with similar ThinQ operating systems and easy to install ultra-short throw lenses that make them convenient for modern home theaters. With the HU715Q, you'll get a higher picture and sound quality for a better value, and this makes it the better option for most. The truth is, though, you likely won't be disappointed, whichever model you go with. (>>> Find on ProjecorScreen.com)