The built-in speakers on most projectors are too weak to fill even indoor spaces, let alone compete with the ambient noise outdoors. This makes external sound a must-have, and not just any speaker will do the trick. The best speakers for outdoor projector users are powerful, easy to move and connect, and are built to withstand the elements.
All of the speakers on this list meet those requirements. Taking all the features together, the Monster Blaster 3.0 is the best overall option, with a water-resistant and portable design and immersive sound at both low and high volumes (>>> Check the current price on Amazon).
That said, there are other speakers that could be a better choice for you, depending on your space and needs. See the full side-by-side comparison below to learn more.
Best Speakers for Outdoor Projector Setups 2023:
| | JBL Xtreme 3 | Sony SRS XG500 | Harman Kardon Studio 6 | Monster Blaster 3.0 | JBL PartyBox 1000 | Ultimate Ears Hyperboom |
| --- | --- | --- | --- | --- | --- | --- |
| | | | | | | |
| Battery life | 15 hours | 30 hours | 8 hours | 12 hours | No data | 24 hours |
| Frequency range | 53.3Hz – 20kHz | 49.7Hz – 8.2kHz | 50Hz – 20kHz | 100Hz – 20kHz | 30Hz – 20 kHz | 45Hz – 20kHz |
| Connectivity | Bluetooth, 3.5mm Mini Jack | Bluetooth, 3.5mm Mini Jack, Mic/Guitar input (6.3mm), USB-A | Bluetooth | Bluetooth, 3.5mm Mini Jack, Mic input (3.5mm), NFC (Android only) | Bluetooth, 3.5mm Mini Jack, Mic (6.3mm), Guitar (6.3mm), USB, RCA | Bluetooth, 3.5mm Mini Jack, Optical in |
| Dimensions | 5.3" X 11.75" X 5.4" | 18.1" X 10" X 8.5" | 11.2" X 11.5" X 5" | 18.6" X 8.3" X 7.7" | 15.6" X 15.3" X 43.3" | 7.5" X 7.5" X 14.3" |
| Weight | 4.3lbs | 12.3lbs | 6.5lbs | 13lbs | 76.5lbs | 13lbs |
| Price | Check on Amazon | Check on Amazon | Check on Amazon | Check on Amazon | Check on Amazon | Check on Amazon |
Portability
If you'll be using the projector close to your home or vehicle, you don't necessarily need a super-compact speaker. On the other hand, portability is more important for backpackers, event planners, and others who need to fit the speaker into their other gear.
Two speakers on this list weigh in under 10 pounds: the Harman Kardon Onyx Studio 6 and the JBL Xtreme 3. Both are also fully-waterproof and durable enough for traveling. Between the two, the Xtreme 3 is both smaller and lighter, perfect for carrying in a backpack or briefcase.
Most portable: JBL Xtreme 3
Sound Quality
Just because you're outside doesn't mean you want distorted, weak sound. All of these speakers have multiple drivers and a superior sound to your typical cheap Bluetooth speaker.
The JBL PartyBox 1000 can get the loudest without losing sound quality, while the adaptive EQ of the Ultimate Ears Hyperboom provides a nicely balanced sound. For the best sound, though, the 7-driver array and dedicate subwoofer of the Monster Blaster 3.0 make it the winner.
Best sound quality: Monster Blaster 3.0
Connectivity
While Bluetooth is a handy option for playing music from phones and other devices, not all projectors support Bluetooth audio. Most of these speakers offer a 3.5mm audio input in addition to built-in Bluetooth connectivity.
The Ultimate Ears Hyperboom adds an optical input, and several of these speakers have options like guitar or mic inputs or USB connectivity for content stored on drives.
However, the JBL PartyBox 1000 has the most connection options, including RCA in and out for linking other speakers as well as Bluetooth, USB, and both 3.5mm and 6.3mm inputs.
Best connectivity: JBL PartyBox 1000
Battery Life
If you're just watching one movie in your backyard, a long battery life isn't necessarily a concern in a speaker. That said, it's still convenient for when you forget to recharge the speaker after the last use, and is especially important for those using projectors on-the-go.
The Sony SRS XG500 is the winner here with a 30-hour lifespan between charges, while the 24-hour capacity of the Ultimate Ears Hyperboom puts it in a close second.
Longest battery life: Sony SRS XG500
---
JBL Xtreme 3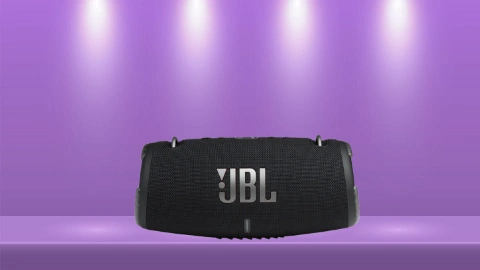 Pros
High sound quality with excellent dialogue clarity
Connects via Bluetooth to any enabled device
Waterproof and dustproof
Super-portable design
Full recharge in less than 3 hours
Cons
Not as loud as other portable speakers
The durability of the JBL Xtreme 3 makes it an ideal choice for outdoor use. Its waterproof and dustproof housing won't get damaged by the elements no matter where you take it. You can even use it on a sandy beach without a worry.
The Xtreme 3 also gets high marks for portability. It weighs less than 5 pounds and is compact enough to take along in your purse or backpack.
The included carrying strap makes it even easier to take on the go, and you don't need outlet access to use it thanks to its 15-hour battery. It also connects via either Bluetooth or a 3.5mm jack, so it's easy to connect to all styles of projector.
As far as the sound quality, the four-driver array inside the JBL Xtreme 3 produces rich stereo sound with impressive bass given the size of the speaker. The sound is nicely detailed with clear dialogue and realistic, immersive sound effects ideal for outdoor movies.
---
Sony SRS XG500 X-Series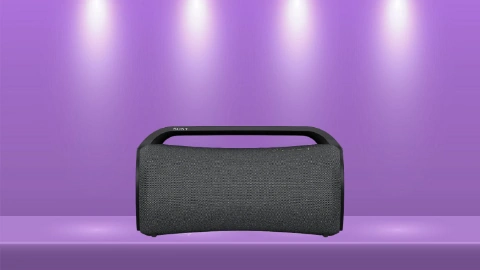 Pros
Powerful and immersive sound
Integrated handle for easy transportation
Graphic EQ adjustment in companion app
Long-lasting battery for extended use between charges
Dustproof and water-resistant
Quick recharge time
Cons
Not fully waterproof
Larger and heavier than other options
The Sony SRS XG500 can give you up to 30 hours of use on a single charge. You won't have to wait forever for it to recharge, either. A quick 10-minute charging session gives it enough juice for a typical movie.
With it's built-in handle and feet, the Sony SRS XG500 is easy to pick up and take along with you. That said, it is a bit larger and heavier than other options on the list, and while it resists water damage it's not completely waterproof.
The main strength of the Sony SRS XG500 is its sound output. It uses an X-Balanced speaker unit with dual tweeters and dual woofers, creating an immersive stereo soundscape to accompany your movies.
Its ClearAudio+ feature enhances the dialogue clarity, while you can put on the Mega Bass setting for even more low-end power. You can also push its volume higher without distortion than with most portable speakers, making it ideal for use in cities and other places you can't control the ambient noise.
---
Harman Kardon Onyx Studio 6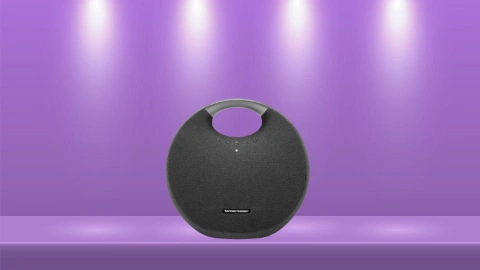 Pros
Extra bass power from 120mm woofer
Excellent volume output
Stylish IPX7 waterproof design
Can control volume and playback through your phone
Connects to 2 Bluetooth devices simultaneously
Cons
Shorter battery life with long recharging time
Only connects via Bluetooth
The modern Harman Kardon Onyx Studio 6 is a great option for backyard movie nights and RV travelers, letting you get powerful sound wherever you go.
Its 50-watt driver array includes a dedicated tweeter and woofer that produce a crisp, detailed mid-range and full bass that doesn't distort or get overly boomy, even at high volumes.
You can get a lot of sound from the Onyx Studio 6, too, though you'll want to use it plugged into a power source if it's at max volume.
The battery life overall is shorter than other portable speakers, and this drops even further during loud playback. You'll also need around 5 hours to fully recharge it, so it's not the most convenient choice for camping or other trips where you don't have easy access to an outlet.
As to portability, the Onyx Studio 6 is nicely lightweight and has a fully-waterproof design—you can throw it in a swimming pool and it'll keep on playing.
Its Bluetooth connectivity is robust, too, pairing with two devices simultaneously and allowing you to control playback through a connected device.
The only potential issue is that Bluetooth is your only connection option, so it's not the best choice for use with older projectors that lack wireless capability.
---
Monster Blaster 3.0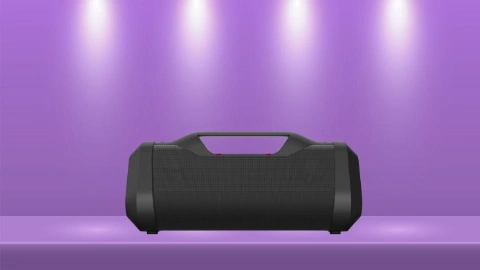 Pros
Balanced sound with Indoor and Outdoor modes
Integrated 60-watt subwoofer for phenomenal bass
Portable with built-in handle
Stable and durable water-resistant housing
Also functions as a USB power station
Control panel includes a battery life indicator
Cons
Heavier and larger than other options
The Monster Blaster 3.0 is a great choice if you want to use the same speaker indoors that you use outside. It has the most advanced driver array on the list, with 7 total including 4 15-watt full-range drivers and a 60-watt subwoofer.
That means sound and output on par with a typical stand-alone soundbar, so you don't need to sacrifice audio quality for portability.
Now whether the Monster Blaster 3.0 is portable enough for you depends on your needs. At 13 pounds and with a built-in handle, it's easy to carry by hand from place to place. That said, it is bulkier than other portable speakers.
It's also not fully waterproof, though it is IPX5 water resistant and is designed for all-weather use. As an added bonus, it has a USB-A power out port so you can use it to recharge your phone or tablet while you're listening.
What we especially appreciate about the Monster Blaster 3.0 is its versatility and usability. The control panel is straightforward, with LED indicators for the volume level, battery life, and listening mode. It also has 4 options for connecting to devices so you can use it with projectors that lack wireless capability.
---
JBL PartyBox 1000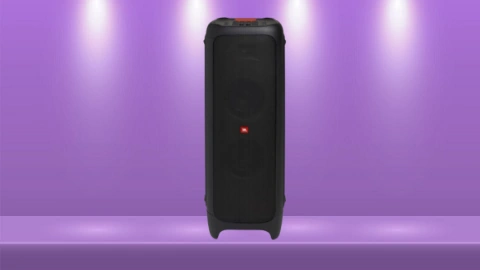 Pros
Loud output can fill any space
Excellent sound quality
High build quality and durability
Lots of fun features for entertaining
Includes Air Gesture Wristband for control
Wide variety of connection options
Cons
High price
Not very portable
The JBL PartyBox 1000 is, like the name says, a party in a box. Along with playing music and movie audio, it has a lighting effect panel for instant light shows, along with mic and guitar inputs and a DJ launchpad for recording and looping drums, keyboards, and other live music.
As fun as these features are, they're not things you'll use in a typical home theater context. They also make the PartyBox 1000 significantly larger and more expensive than the other options on this list. In fact, it's a bit of a stretch to call it "portable".
At over 75 pounds and nearly 4 feet tall, you'll likely want two people to move it even short distances like the home to the backyard. It also needs outlet power to work with no integrated battery.
For outdoor movies around the home, however, the JBL PartyBox 1000 can be a great choice, especially if it's going in a space where you also entertain and throw parties.
With 1,100 watts of output power, it can fill even large spaces with balanced sound that's crisp and detailed from low rumbling sound effects to high treble frequencies.
---
Ultimate Ears Hyperboom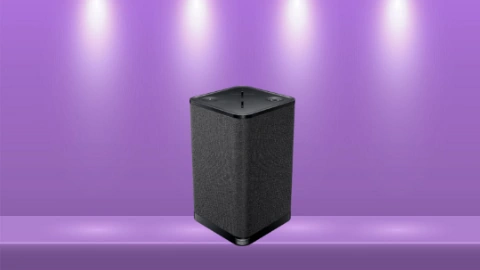 Pros
Loud, clear, and balanced output
Adaptive EQ optimizes sound to listening environment
Connects to multiple devices at once
Can recharge devices while you're using it
One-touch controls on speaker or app
Long per-charge battery life
Cons
Larger and heavier than other options
Not fully waterproof
Here's another top option for both indoor and outdoor home theater use. The Ultimate Ears Hyperboom can connect to and switch between 4 devices simultaneously.
It's easy to switch inputs or adjust other controls either right on the speaker or using the connected app on your phone.
The IPX4 water-resistant housing prevents moisture damage during outdoor use, while the battery life of up to 24 hours means you can have a movie marathon without stopping to plug it in.
The Ultimate Ears Hyperboom weighs 13 pounds and stands just over a foot tall. This makes it great for road trips and RVs as well as backyard use, especially since it can recharge your phone while in use.
Maybe the most impressive feature of the Ultimate Ears Hyperboom, though, is its adaptive EQ. Its built-in microphone lets it adjust the output based on your space, making it easy to switch from indoor to outdoor use without sacrificing sound quality or manually adjusting settings.
---
So What's the Best Speaker for Outdoor Projector Use?
Taking all the factors together, the Monster Blaster 3.0 is the best speaker for an outdoor projector (>>> Find the price on Amazon). It all comes down to where and how you plan to use it, though.
The fully-waterproof, super-portable Harman Kardon Onyx Studio 6 or JBL Xtreme 3 are ideal for travelers, while the Ultimate Ears Hyperboom is a top choice for indoor/outdoor use. We hope this review has helped you find your next perfect speaker!
REFERENCES AND FURTHER READING: