BenQ is a leading name in consumer projection technology, and their LK936ST is set to be their most versatile model yet. Its low lag, high brightness, and usability are a very appealing combination for gamers, teachers, and business leaders, as well as home theater owners. In this BenQ LK936ST review, well give you a run down of its key features, strengths, and short-comings, so you can decide if it's worth the investment for your home or workplace (>>> Check on ProjectorScreen).
BenQ LK936ST Review of Main Specs:
| | BenQ LK936ST |
| --- | --- |
| | |
| Resolution | 3840x2160 |
| Brightness (Lumens) | 5,100 ANSI |
| Contrast Ratio | 3,000,000:1 |
| Input Lag | 34ms |
| Throw Distance | 2.0' - 17.7' |
| Screen size | 30" - 300" |
| Speakers | 10.0 Watts Mono |
| Price | BHPhotoVideo.com |
Room Requirements
The BenQ LK936ST is a remarkably versatile projector when it comes to where you can use it. This starts with its impressive 5,100-lumen lamp brightness, which is powerful enough to maintain a saturated, high-contrast image in any light level.
You'll get just as much flexibility in the size of your space. The short throw ratio of the LK936ST produces a 100" image from as little as 6 feet away, and it can be used in both front- and rear-projecting applications. This combination of brightness and throw ratio gives it a huge range of potential uses, from classroom and business presentations to outdoor movies to golf simulators and other gaming applications.
Installation
The short throw distance of the BenQ LK936ST already gives it an easier installation than many projectors. This is paired with a variety of helpful image adjustment and alignment options, including both horizontal and vertical lens shift as well as a 3D Keystone and Corner Fit correction. It also supports full 360° rotation and has a Portrait Projection mode, useful for business and display applications.
One unique adjustment feature of the LK936ST is its Digital Shrink and Shift function. This allows you to shrink the image up to 75% without distortion or shift it side-to-side, helpful for fine-tuning the alignment for different types of content without needing to move the projector or change your lens settings.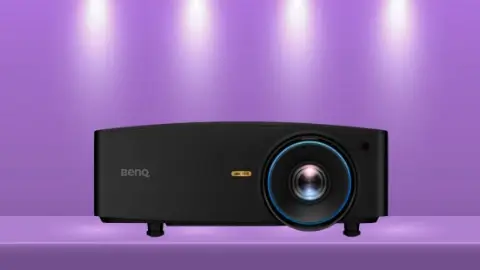 Pros
Ultra-bright lamp works in any light environment
Short throw distance
Robust image alignment features
Fast enough input lag for serious gamers
Low maintenance with long lamp lifespan
Easy Home Automation integration
Cons
No built-in streaming or voice control
Integrated speaker isn't great
Picture Quality
The LK936ST has a true 4K resolution, with 8.3 million on-screen pixels. The image is produced by a DLP chipset and a high-brightness laser light source that maintains its picture quality even during 24/7 use. It also uses anti-glare and anti-shadow technology, maintaining a realistic, detailed picture in both rear- and forward-installed setups.
For color, the BenQ LK936ST uses dual synchronized 4-segment color wheels. This gives it a color gamut that covers about 92% of the Rec.709 spectrum, and hues are vibrant and realistic overall with excellent saturation.
Gaming Performance
For gamers, the responsiveness of the BenQ LK936ST is a big point in its favor. It has a measured input lag of 16ms in 4K, on par with the lag time of top-of-the-line gaming projectors, and fast enough to be unnoticeable even when you're playing reflex-based FPS and sports games.
Speaking of par, one of the advertised uses of the LK936ST is as a golf simulator projector, and it excels in this application. Along with the responsiveness already mentioned, it has a unique Golf Mode for the display, which enhances color saturation for green and blue hues, optimizing the picture for a golf simulator.
Smart Features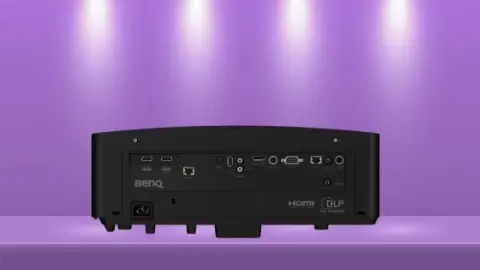 If you already have a home automation system, the BenQ LK936ST is easy to integrate into it. Its HDBaseT connectivity supports control from a range of devices and networks, while the array of supported commands let you work the projector into custom automation routines.
While it works well with other smart home technology, the LK936ST doesn't have the built-in smart features you'll find on many modern projectors. There's no integrated interface for streaming or support for voice control systems directly through the projector, nor does it support wireless casting out of the box, so you'll need an external content source to use it in a home theater.
The Conclusion: BenQ LK936ST Review
There are other projectors that can serve dual purpose for home theater use and presentations, but none that excel in both uses to the same degree as the BenQ LK936ST. If you need 4K resolution, low lag, a short throw, and a super-bright lamp, the LK936ST will be worth the investment; if you can do without any one of those things, you can find other BenQ projectors that perform similarly for about half the price. For those who need a projector that can work in any space, and seamlessly transition from games to movies to presentations, the BenQ LK936ST delivers. (>>> Check the current price on ProjectorScreen)