Do you want to upgrade your home theater to a big-screen 4K display—without the high price tag that comes with most 4K projectors? The Epson Home Cinema line has you covered, using innovative visual technology to produce a stunning picture at a price that won't break your budget.
Comparing the Epson 3200 vs 3800, they look nearly identical on first inspection, and that can make it tricky to decide which one is best for your home (>>> Check on Amazon). Let's dig deeper into the differences between these projectors to help you pick the perfect one for you.
Epson 3200 vs 3800 Side by Side:
| | Epson 3200 | Epson 3800 |
| --- | --- | --- |
| | | |
| Resolution | 1920x1080 4K w/pixel shifting | 1920x1080 4K w/pixel shifting |
| Brightness (Lumens) | 2,900 ANSI | 3,000 ANSI |
| Contrast Ratio | 40,000:1 | 100,000:1 |
| Input Lag | 16.7ms | 21ms |
| Throw Distance | 6.2' - 28.8' | 6.2' - 28.8' |
| Screen size | 40" - 300" | 40" - 300" |
| Speakers | No | 10.0 Watts × 2 |
| Today's Best Price | | |
Picture Quality
The Epson 3200 and 3800 are evenly matched on their resolution and color performance. While neither is a true 4K projector, both use pixel-shifting to generate about double the on-screen pixels of a typical full HD display, and both support 4K content. For color, their 3LCD displays and support for HDR and HLG source information give them high accuracy and a wide color gamut, faithfully reproducing the original content.
Where the Epson 3800 takes a slight edge is its image contrast. It's more than double the contrast of the 3200, giving it better picture depth and sharper details, especially in shadows and darker areas of the screen. Combined with its slightly brighter lamp, this means a more realistic and immersive image in any indoor viewing environment.
Better picture quality: Epson 3800
Gaming Performance
Casual gamers will be able to play without frustration on either the 3200 or 3800. They use similar digital video processing to give them a smooth display with no image hitches or glitches, and the measured input lag for both is below the 30ms threshold commonly cited for reflex-based gaming.
That said, for online or competitive gamers, the Epson 3200 is slightly more responsive. Its input lag is as low as 16.7ms, compared to the 23-29ms of the Epson 3800.
Better gaming performance: Epson 3200
Built-in Sound
There are no speakers built in to the Epson 3200. This won't be an issue if you already have a surround sound system or soundbar you plan to use. For those who don't, the Epson 3800 will be both more convenient and a better value. Its 20-watt stereo speakers have a volume output and sound quality on par with most high-end flatscreen televisions, so you won't need an external speaker to enjoy your movie nights.
Better built-in sound: Epson 3800
---
Epson 3200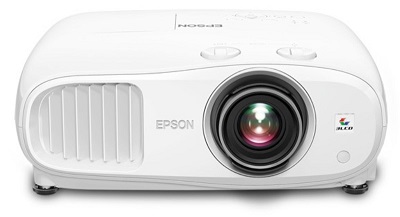 The picture quality of the Epson 3200 is a cut above what you'd expect from a typical full HD projector. The 3-chip LCD display improves the color accuracy while eliminating issues like brightness hotspots and rainbowing, with support for the latest visual technology to ensure you see content the way it was intended. The pixel-shifting engine doubles the on-screen pixels compared to 1080p displays, and it can play the latest video formats, including 4K content and 3D movies.
The responsiveness of the Epson 3200 is as impressive as its visual performance. It has a measured input lag as low as 16.7ms, paired with a 60Hz frame refresh rate, preventing delays or image issues that can impede your play. This means you can use it even for online multiplayer and fast-paced first-person shooters without losing your competitive edge.
Now you will need a larger space for the Epson 3200, around 10-12 feet for a 100" screen depending on your zoom settings. This limitation aside, it's otherwise very flexible and easy to set up. It includes both 2D keystone correction and 2D lens shift (+/-24% horizontal and +/-60% vertical), so you can align the image perfectly with your screen without much hassle. The 2,900-lumen lamp is also powerful enough for most indoor viewing environments, letting you watch with the lights on without sacrificing picture quality. For our more in-depth Epson 3200 review, click here.
Pros
Sharp, pixel-shifted display exceeds full HD resolution
Vibrant 3LCD color with HLG and HDR10 support
Flexible installation with lens shift and keystone correction
Low input lag suitable for all styles of gamer
Accepts 4K input
Full HD 3D capability
Cons
---
Epson 3800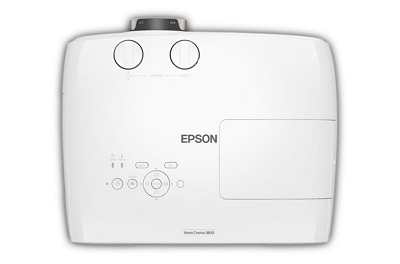 From a set-up standpoint, the Epson 3800 is nearly identical to the 3200 above, with a similar throw distance, lamp brightness, and alignment features like keystone correction and lens shift. It has the added benefit of built-in speakers, a stereo set powered by a total of 20 watts. That saves a step in the set-up process and means those who don't own external speakers won't have to worry about the expense and hassle of buying one.
The display technology of the Epson 3800 is also similar, using a pixel-shifting engine to exceed full HD resolution and a vibrant, accurate 3LCD display for the color. Its image contrast is especially impressive, giving you sharp details and rich black levels for a more immersive viewing experience than you'll get from most projectors in the price range. The display is also very smooth and excels in fast-paced sequences thanks to the real-time 12-bit video processing, which eliminates issues like color banding or compression artifacts for both video content and games.
As far as responsiveness, the Epson 3800 has a measured input lag as low as 23ms, fast enough most players won't notice a delay. Its dual HDMI inputs support content up to 4K resolutions at a 60Hz frame rate, perfect for console gamers on the latest generation platforms.
Pros
High color accuracy and saturation
Bright enough for most indoor light environments
Excellent image contrast with rich black levels
Can play 3D and 4K content
Smooth on-screen response with real-time video processing
Good sound quality from built-in speakers
Cons
Slightly higher input lag
---
The Bottom Line: Epson 3200 vs 3800
As we said in the intro, the Epson 3200 and 3800 are very similar, and neither one comes out as the clear winner across the board. With the Epson 3800, you'll get a slightly higher image quality and the extra feature of built-in sound (>>> Find on Bhphotovideo). On the other hand, the more responsive Epson 3200 is a better choice for playing fast-paced games, especially in online multiplayer contexts. Either way, you'll get a flexible 4K-capable projector at an impressive value.
Editors' Recommendations: