In the ever-competitive world of modern projectors, Epson continues to carve its niche, offering innovations that challenge industry standards. A frequent debate among enthusiasts and professionals alike is the face-off between the Epson 2350 vs 3200. Through our comprehensive comparison, we'll navigate the technical specifications, highlight features, and reflect on real-world customer experiences of both projectors.
Although the Epson 3200 offers a slightly sharper image, our rigorous testing and analysis favor the Home Cinema 2350. Its contemporary design, advanced smart features, improved internal speakers, and a more attractive price point make it our recommended choice. By the conclusion of this comparison, you'll understand why the 2350 is our pick.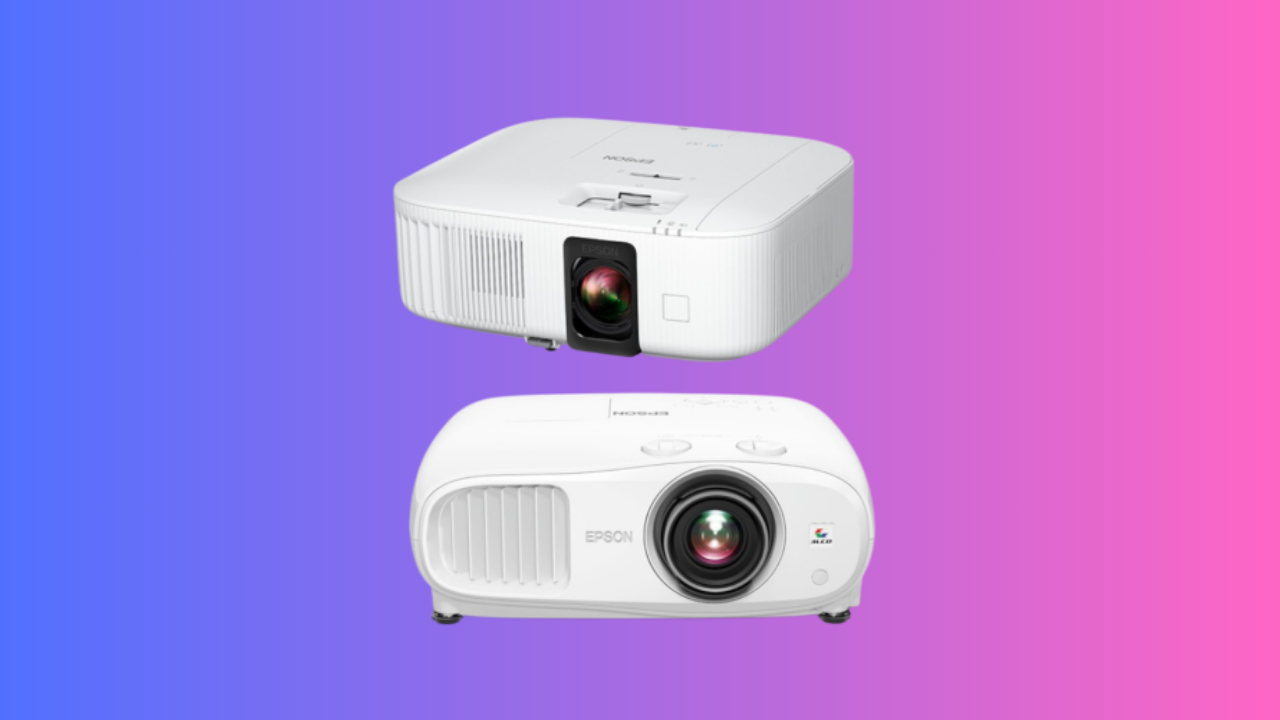 In This Comparison:
Epson 2350 vs. 3200 Specs at a Glance:
Epson Home Cinema 2350
Epson Home Cinema 3200
Brightness
2,800 ANSI
2,900 ANSI
Resolution
1920x1080
4K w/pixel shifting
1920x1080
4K w/pixel shifting
Connection Panel
Audio Out: Mini Jack
HDMI x 2
USB
Audio Out: Mini Jack
HDMI (HDCP 2.2) x 2
USB x 2
Wireless Networking

Lamp Life
4,500 hours / 7,500 hours (Eco)
3,500 hours / 5,000 hours (Eco)
Throw distance
8'-15'
6.2' - 28.8'
Projector Size (HxWxD)
4.80" x 13.10" x 10.90"
6.50" x 16.10" x 13.00"
Weight
9.0 lbs
14.6 lbs
Price

Check on Amazon





BHPhotoVideo.com

Check on Amazon





BHPhotoVideo.com
BRIEF OVERVIEWS:
Epson Home Cinema 2350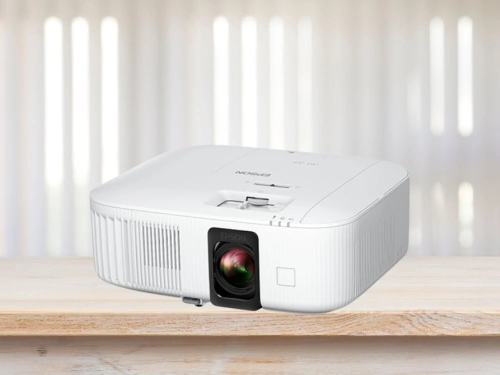 The Epson Home Cinema 2350 stands out as a modern multimedia projector. With a lumens rating of 2,800 and a contrast ratio of 30,000:1, it guarantees clear and vivid visuals even in varied light conditions. The native resolution of 1920 x 1080 (Full HD) further accentuates the image clarity. Built-in smart features make streaming a breeze. Moreover, diverse connectivity options like HDMI and USB are incorporated. The design, a blend of aesthetics and utility, and its affordability mark Epson's prowess in delivering top-notch technology. Check our in-depth Epson 2350 review.
Pros
Bright display ideal for diverse lighting conditions.
Intuitive integrated smart features for ease of use.
Modern design complements contemporary homes.
Competitive price offers great value for money.
Multiple connectivity options for versatility.
Cons
Native resolution not as high as premium models.
Epson Home Cinema 3200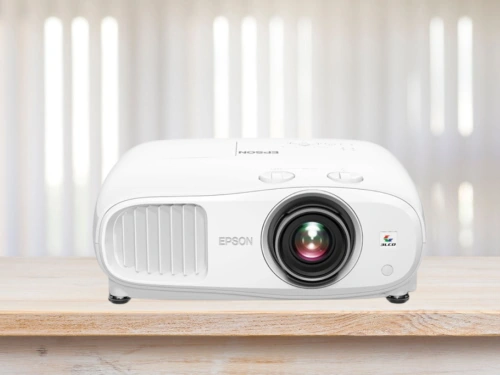 The Epson 3200, a flagship from an earlier generation, maintains its stature with impeccable imaging. Delivering a brightness of 2,900 lumens and a remarkable contrast ratio of 40,000:1, the visuals are both bright and deeply defined. Its 1080p resolution with 4K pixel shifting brings every detail to life. While it misses out on the newer smart features, the projector compensates with a rich connection panel, housing multiple HDMI and USB ports. Age notwithstanding, the 3200 remains a robust testament to Epson's dedication to visual grandeur. Check our in-depth Epson 3200 review.
Pros
Pixel-shifting technology approaches 4K clarity.
Robust connection panel for various devices.
Reliable performance with a proven track record.
Suitable for both dark and bright environments.
Versatile setup options for different spaces.
Cons
Lacks up-to-date smart functionalities.
No internal speakers.
IN-DEPTH COMPARISON

Design & Build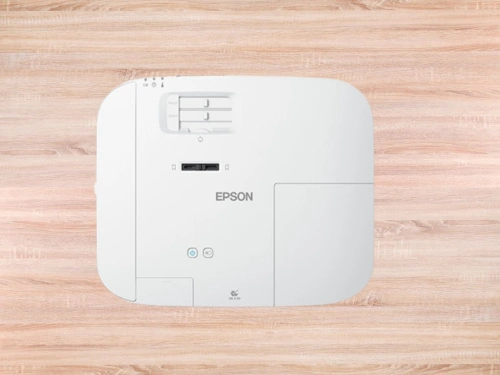 The Epson 2350 and 3200, at a glance, are emblematic of Epson's commitment to sleek, user-friendly designs. The 2350 boasts a compact form factor with measurements of 4.80″ in height, 13.10″ in width, and 10.90″ in depth. Weighing in at a relatively light 9.0 lbs, this projector offers flexibility in placement, be it a ceiling mount, tabletop, or a portable stand. Its streamlined appearance exudes modernity and ensures that it can seamlessly blend into most environments without being overly obtrusive.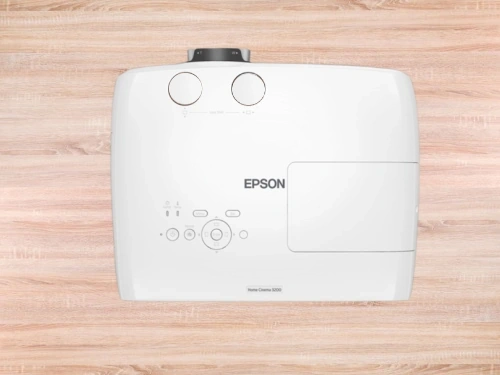 On the other hand, the Epson 3200 carries a more substantial presence. With dimensions of 6.50″ x 16.10″ x 13.00″ (HxWxD), it's notably larger than the 2350. Furthermore, its weight of 14.6 lbs suggests a more solid build, designed for stability. While the added weight and size may reduce its portability, it underscores the 3200's robustness, making it a sturdy option for permanent installations. The design, while undeniably professional, requires users to consider the space they have available and the mounting or placement options suitable for this model.
Better Design: Epson 2350
Installation & Connectivity – Our Experience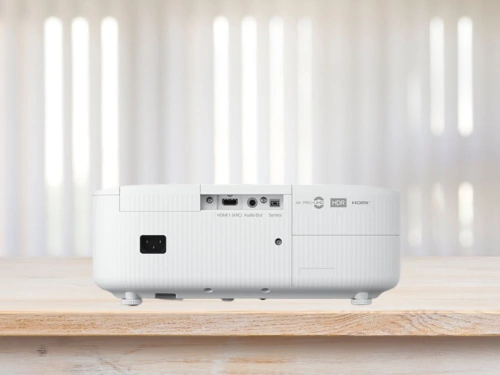 Setting up both the Epson 2350 and 3200 in our testing environment, we appreciated Epson's intuitive design approach. Starting with the 2350, we noticed its adaptability firsthand. During our tests, we had to frequently adjust our setup due to varying room sizes, and the projector's vertical lens shift of +/-60% was a lifesaver. It allowed us to quickly realign the projected image without physically moving the device. Using its throw distance, we managed to project sharp images ranging from intimate 40″ setups to impressive 500″ displays, catering to both cozy movie nights and larger group presentations.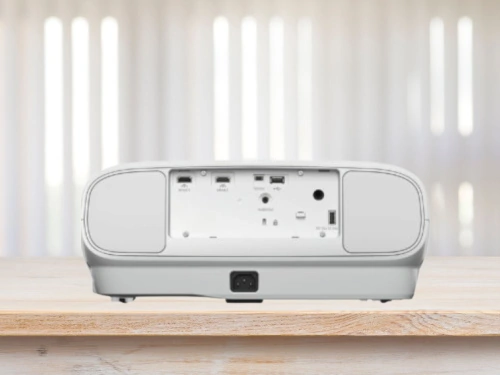 As for connectivity, plugging into the 2350 was a breeze. The dual HDMI ports comfortably handled our Blu-ray player and laptop. Its built-in Android OS surprised us with its responsiveness and rich app library, turning our movie nights into streaming marathons. Its lens shift capabilities, both horizontal and vertical, offered even greater alignment flexibility. In a sunlit room, using its wireless networking, we streamed a 4K video directly without any discernible lag or quality drop. The dual USB slots also came in handy when we wanted to quickly showcase a slideshow from a thumb drive.
Winner: Epson 2350
Image Quality

In our testing environment, we evaluated the Epson Home Cinema 2350 and 3200 projectors for both brightness and contrast, particularly focusing on their movie-watching capabilities in varying light conditions. With the Epson 2350's 2,800 ANSI Lumens, films in a dimly-lit room appeared vibrant and engaging. The 35,000:1 dynamic contrast further enhanced the depth of scenes, bringing out nuanced details in darker sequences. However, when we shifted to a more luminous setting, while the colors held their own, we did notice a slight loss in sharpness.

The Epson Home Cinema 3200, on the other hand, slightly edged out its counterpart with its 2,900 ANSI Lumens. In a darker room, the visual output was breathtaking. The 40,000:1 contrast ratio delivered exceptionally deep blacks and radiant whites, creating an immersive cinematic experience. In a well-lit room, this model managed to keep its visuals crisper than the 2350, showcasing a well-balanced blend of colors, brightness, and contrast. Our tests underscored the prowess of both projectors, with the 3200 having a slight advantage in contrast performance.
Better Image Quality: Epson 3200
Gaming Experience

To truly gauge the prowess of the Epson 2350 and 3200 in gaming, we put both devices to the test with some of the latest game titles. The 2350, with its advertised "under 20 ms" input lag, genuinely lived up to the hype. Fast-paced action games played seamlessly, and the 120 Hz refresh rate made transitions and movements buttery smooth. The inclusion of the 4K PRO-UHD technology brought out intricate game details, immersing us deeper into the gaming worlds.

On the Epson 3200, our experience was just as exhilarating, if not more. The 4K PRO-UHD projection, combined with Full 10-bit HDR, rendered stunning visuals. From vast landscapes to minute in-game textures, the vibrancy and clarity were second to none. The smoothness from its 60 fps capability at 4K HDR, especially when tested with games known for their HDR issues, was a standout. Our gaming sessions were fluid, and every frame was a testament to the 3200's superior gaming adaptability.
Better for Gaming: Epson 2350
Smart Features
When it comes to smart capabilities, the Epson 2350 stands out with its integration of Android OS, offering a range of streaming apps straight out of the box. During our testing, we found the ease of accessing platforms like Netflix, Hulu, and HBO Max to be convenient, transforming our projection setup into a comprehensive entertainment hub. The inclusion of Google Assistant further enriched our hands-free experience, allowing voice commands to navigate content. However, a noteworthy drawback was the dual-remote system, which initially felt cumbersome especially when toggling between the Android TV stick and other HDMI inputs. Find our round-up review of the Best Smart Projectors
On the other side of the spectrum, the Epson 3200 doesn't immediately strike one as a 'smart' projector, especially when compared to the app-ready 2350. Despite not having a built-in OS, its prowess lies in the expansive connection panel. With dual HDMI (HDCP 2.2) ports and two USB slots, it offers versatile connectivity. This, coupled with its support for the 18 Gbps HDMI 2.0 specification, allowed us to smoothly integrate external streaming devices.
More Advanced Smart Features: Epson 2350
Sound Quality
While evaluating the Epson 2350, we were immediately struck by its integrated internal speaker boasting 10.0 Watts Mono power. This ensured that even in the absence of an external sound system, the projector delivered a decent auditory experience suitable for casual viewings or impromptu movie nights. Its output was clear and, while not rivalling dedicated sound systems, it held its own in terms of clarity and volume.
The Epson 3200, on the other hand, presented a different scenario. Without built-in speakers, it requires an external audio solution for any sound.
Winner: Epson 2350
Verdict
After our comprehensive evaluation of both projectors, it's evident that the Epson 3200 offers a marginally superior image quality. However, delving deeper into their features and the overall user experience, the Epson 2350 emerges as the more compelling choice. Given that the Epson 3200 is a model that's three years older, certain aspects of it do feel somewhat outdated, particularly when juxtaposed with the more modern Epson 2350.
The absence of smart features and integrated speakers in the 3200, staples in the modern home cinema experience, is noteworthy. These, coupled with the more competitive pricing of the 2350, position it as a better value proposition for consumers. (Check the Latest Price on Amazon Now!) Therefore, for those seeking a blend of performance, contemporary features, and cost-effectiveness, the Epson 2350 stands out as the preferred pick.
Related Comparisons: