Epson Home Cinema projectors bring users Ultra HD definition at an excellent value. Comparing the Epson 3200 vs. 4010, the 3200 is a better choice for gamers, while the 4010 has a better overall image quality (>>> Check on Amazon). These models have a lot in common, too—both are user-friendly and can be the perfect centerpiece for a modern home theater. Let's take a closer look!
Epson 3200 vs 4010 Side by Side:
| | Epson 3200 | Epson 4010 |
| --- | --- | --- |
| | | |
| Resolution | 1920x1080 4K w/pixel shifting | 1920x1080 4K w/pixel shifting |
| Brightness (Lumens) | 2,900 ANSI | 2,400 ANSI |
| Contrast Ratio | 40,000:1 | 200,000:1 |
| Input Lag | 16.7ms | 28ms |
| Throw Distance | 6.2' - 28.8' | 6.2' - 29.4' |
| Screen size | 40" - 300" | 30" - 300" |
| Speakers | No | No |
| Price | BHPhotoVideo.com | BHPhotoVideo.com |
Brightness
You don't need the lights completely off to use either of these projectors. The 2,400-lumen lamp of the Epson 4010 is bright enough to compete with low to moderate ambient light, with a lens designed to reduce light leakage and maximize the image brightness. Having said that, the brighter 2,900-lumen lamp of the Epson 3200 will be better for bright environments, maintaining the image quality in almost any indoor light conditions.
Brighter lamp: Epson 3200
Color and Contrast
The LCD display in the Epson 3200 is backed by HDR processing, producing a colorful image that's faithful to its source. It also eliminates issues like color brightness that can be caused by some projectors, and has an overall smooth and detailed picture.
The Epson 4010 improves on the performance of the 3200. It produces the full DCI-P3 color gamut, producing about 50% more hues than typical projectors. Along with that, its Dynamic Iris technology gives it an impressively high image contrast, bringing more depth and realism to the picture than you'll get from the Epson 3200.
Better color and contrast: Epson 4010
Gaming Performance
Both of these projectors have a measured input lag under the 30ms threshold that's the standard for gamers. However, the Epson 4010 is at the upper end of this range, with an average input lag of around 28ms.
The Epson 3200 has an input lag as low as 16.7ms, and doesn't get above 30ms no matter what settings or set-up you're using. This is paired with smooth 12-bit video processing and a 60Hz frame rate, preventing display issues that could impair your play.
Better gaming performance: Epson 3200
---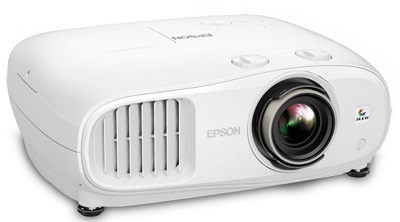 The Epson Home Cinema 3200 uses a technology known as pixel-shifting, doubling the on-screen pixels of the traditional 1080p display. This means you can use it to watch 4K content, even if it doesn't quite match the resolution of a true 4K projector. For color, its 3LCD display produces the full Rec. 709 spectrum, with support for technology like HLG and HDR10 that improve the realism and ensure it's faithful to the source material.
One great thing about the Epson 3200 is how easy it is to install. Since it's a standard throw projector, you will need a good-sized room for a big screen (about 10-12 feet, for a 100" image). It has a lot of flexibility within that space, though, with a wide 1.62x zoom and both horizontal and vertical keystone correction and lens shift. Find out how it performs against the Home Cinema 2350.
The Epson 3200 is equally flexible from a use standpoint. Its low input lag means it can be used for gaming, even online multi-player and reflex-based games on the latest platforms. Its dual HDMI inputs and wireless networking capability make it a convenient choice for media rooms and other multi-purpose spaces, with a bright enough lamp you won't need to turn the lights out to use it.
Pros
Sharp, vibrant display with no rainbowing
Low input lag is great for gamers
High frame rate and processing speed
Flexible image alignment features
Bright lamp works in most indoor light levels
Cons
No lens memory
Contrast isn't as sharp
---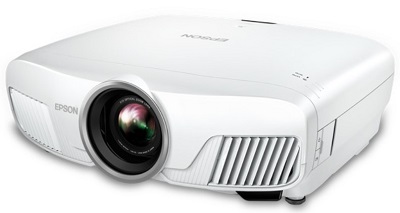 The Epson 4010 shares a lot of strengths with the 3200 above. Both use pixel-shifting technology with a 3LCD display. They're also similar in terms of their set-up ease. While the Epson 4010 lacks a horizontal keystone correction, it makes up for this with a motorized 3-axis lens, and you'll still get wide lens shift and zoom functions. One convenient feature on the 4010 is its lens memory presets, with 10 slots for saving the lens settings. This is especially helpful if you plan to use your projector in multiple rooms or take it with you on road trips.
The most significant change on the Epson 4010 is its lens. Its Epson Precision Lens uses a 15-element all-glass design that enhances the focus and clarity of the image. The 4010 also utilizes Dynamic Iris technology that enhances the black levels and has a broader color gamut. Combined, these produce a picture that looks sharper and more realistic, for a truly immersive home theater experience.
The Epson 4010 is relatively versatile, with a low enough input lag most gamers won't notice a delay and a similar connection panel to the 3200. It's not quite as bright, however, so it may not be as suitable for living rooms and other common areas where it's hard to control the light level.
Pros
Precision lens array for superior clarity
Wide color gamut with HDR 10-bit processing
Dynamic Iris improves image contrast
Easy set-up with motorized 3-axis lens
10 lens memory presets
Cons
No horizontal keystone correction
Not as responsive for gamers
---
What's the Verdict?
The Epson 3200 and 4010 sell at similar price points, and for many users either one will be an excellent choice. For gamers or those with bright viewing areas, the Epson 3200 is the better choice. From a straight picture quality standpoint, though, the Epson 4010 edges out its competition (>>> Check on ProjectorScreen). We hope this helps you choose the right one for your home!