Epson's Home Cinema line of projectors are built to provide everyday users with a combination of convenience, picture quality, and value. The Epson Home Cinema 2250 is an exceptional buy for the price, with color accuracy and contrast depth on par with what you'll get from projectors at twice the cost.
If you're looking for an affordable, reliable projector for your home theater, this Epson Home Cinema 2250 review will run through the key features so you can see if it's a good fit. While it does have its limitations, its durability and ease of use definitely make it worth consideration. (>>> Check current price on Amazon)
Epson Home Cinema 2250 Review of Main Specs:
| | Epson Home Cinema 2250 |
| --- | --- |
| | |
| Resolution | 1920x1080 |
| Brightness (Lumens) | 2,700 |
| Contrast Ratio | 70,000:1 |
| Throw Distance | 4.7' - 29.0' |
| Screen size | 30" - 300" |
| Speakers | 10.0 Watts Mono |
| Price | BHPhotoVideo.com |
Installation
The Epson Home Cinema 2250 is designed to be usable right out of the box. You don't need to spend time calibrating the image or installing updates. Just connect your content sources, put the projector where you want it, and you'll be able to start watching.
One thing to note is that the throw distance of the Epson Home Cinema 2250 is relatively long. A 100" screen will need somewhere between 8 and 15 feet, depending on how you set the zoom. This could be an issue for smaller rooms, and does make it better-suited to ceiling-mounted installation than table-top set-ups.
As long as you have the space for it, though, the Epson 2250 has a good amount of installation flexibility. This includes a manual 1.6x zoom, 15% vertical lens shift, and both horizontal and digital keystone correction.
Picture Quality
The full HD picture of the Epson Home Cinema 2250 is sharp and detailed, with an impressive dynamic contrast ratio for rich black levels and great picture depth. The resolution is on par with what you'd expect from most flatscreen TVs and home theater projectors, and maintains it clarity at all screen sizes. It gives this same sharp resolution to all content, as well, including 4K input.
The Epson 2250's color performance just might be its most impressive feature. It uses 3LCD chips rather than a color wheel. This gives it a broader color gamut, covering 100% of the color signal for each frame, as well as eliminating common image issues like color brightness or the rainbow effect.
You can also get this same vibrant, sharp picture in nearly every light level. The 2,700 lumens put out by the Epson 2250's lamp are enough to cut through the indoor light level in most living rooms and media centers, sparing you the need to impose light control measures. While you may still want to install black-out curtains on any windows for daytime viewing, you don't need a completely dark room to use it.
Pros
Wide color gamut with 3LCD chip technology
Built-in Android TV interface
Supports voice search through Google Assistant
Accepts 4K input
Flexible set-up options
Cons
Long throw distance
Voice control options are limited
Smart Features
The Epson 2250 comes with an Android TV interface for downloading content apps and streaming movies and shows right to the projector. It supports all the most popular streaming apps, including YouTube, Hulu, and HBO go.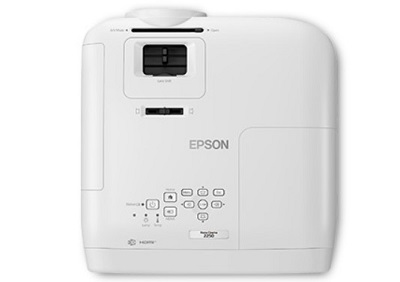 You'll also get some voice control support with the Epson 2250, although it is admittedly not as robust as on other projectors. It's only compatible with Google Assistant, first of all, not Alexa or other voice control systems. The capability is also limited to voice searches, so you can't use voice commands to change the volume or control playback. While this does prevent it from being fully integrated into smart home theaters, it's a helpful navigation addition to the included remote.
The Bottom Line: Epson Home Cinema 2250 Review
The Epson Home Cinema 2250 is designed to work in traditional home theater spaces—in other words, fairly large rooms with moderate to low ambient light. It will work great in many living rooms and media centers, as well, but it's not the best choice for smaller apartments, dorm rooms, and other places the long throw will be an issue.
Those looking for a high-end projector will also miss features like 4K resolution and full voice control capabilities. That said, those aren't things you should expect in the under-$1,000 price range. Compared to projectors at a similar cost, the Epson 2250 is one of the best all-around options in terms of both picture quality and usability. We hope this review has helped you decide if it's the right choice for you! (>>> Check current price on Bhphotovideo)
REFERENCES AND FURTHER READING: