Epson's home theater projectors are designed for use in everyday scenarios. They're an ideal choice for those who want big screen entertainment without the hassle and expense of setting up a dedicated home theater space. Comparing the Epson Home Cinema 2200 vs 2250, their specifications initially look very similar. It's true that the differences between them are subtle. While both perform well, though, in our opinion the Epson 2250 is the better projector by a slim margin, based on both the picture it puts out and its usability (>>> Check its pricing on Amazon).
If you're deciding which of these projectors to buy, check out the review below to see their features side-by-side. Neither one is a bad choice! It all comes down to what's the best fit for your needs.
Epson Home Cinema 2200 vs 2250 Side by Side:
| | Epson Home Cinema 2200 | Epson Home Cinema 2250 |
| --- | --- | --- |
| | | |
| Resolution | 1920 x 1080 | 1920x1080 |
| Brightness (Lumens) | 2,700 | 2,700 |
| Contrast Ratio | 35,000:1 | 70,000:1 |
| Zoom | 1.2x manual | 1.6x manual |
| Throw Distance | 3.2' - 29.4' | 4.7' - 29.0' |
| Screen size | 30" - 332" | 30" - 300" |
| Speakers: | 10.0 Watts Mono | 10.0 Watts Mono |
| Price | BHPhotoVideo.com | BHPhotoVideo.com |
Picture Quality
Both the Epson 2200 and the Epson 2250 have full HD resolution with accurate, vibrant colors. By the numbers, they look very similar in this regard, with the same lumen rating and picture technology. Both will also let you watch 3D content in full HD.
Where the Epson 2250 takes a slight edge is in its use of dynamic iris technology. Because of this, it has better on-screen contrast and deeper black levels. It's also better able to avoid washout when used in a room with ambient light.
Better picture quality: Epson 2250
Set-up Ease
The Epson 2200 is designed to be easy to install without the need for a professional. It has the basic alignment features you'll need for either tabletop or ceiling-mounted installations, including a 1.2x manual zoom and both vertical and horizontal keystone correction.
The Epson 2250 expands on these features. Its zoom is wider (1.6x) and it also includes a 15% lens shift. While its throw distance is slightly longer, it's not enough to make a functional difference in most rooms.
Easier set-up: Epson 2250
Content Streaming and Navigation
This is where these projectors are the most similar. Whether you go with the Epson 2200 or the 2250, you'll get an Android operating system for navigating the menus. Both also have wireless connectivity that lets them stream content from apps like Netflix and Hulu right to the projector.
While the smart features on these Epson projectors are limited, they do both come with support for Google Assistant voice searching. The included remote is also well-made and easy to use for both, giving you multiple options for how to control your projector.
Better Streaming: Tie
---
Epson Home Cinema 2200 vs 2500: Full Reviews
Epson Home Cinema 2200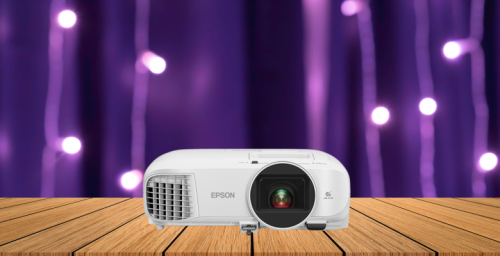 The image quality of the Epson 2200 is impressive for the price point. This starts with the 3LCD chip technology, which ensures accurate, vibrant colors with consistent brightness across all hues. It handles movement well, too, using both frame interpolation and image enhancement to ensure smooth on-screen action.
We also appreciate the user-friendly design of the Epson Home Cinema 2200. It does use a standard throw distance, which may mean using a ceiling mount for installation in some spaces. Aligning the picture is a fairly quick process, however, and once it's set up it's easy to navigate. You can scroll the menus on the included Android TV system with the included remote, or use voice search commands through Google Assistant. It also supports streaming content from many apps right to the projector, sparing you the need to use a streaming stick or other devices.
While the native resolution of the Epson 2200 is Full HD, it does accept 4K input. This means it won't become outdated as content shifts to that newer format. You'll also get the same sharp HD resolution for 3D content, so it's a great way to watch all your favorite shows and movies. Click here for our more detailed review of the Epson Home Cinema 2200
Pros
3LCD chip gives accurate colors with no distracting issues
Built-in Android TV interface with streaming capabilities
Voice search through Google Assistant
Supports 3D content in full HD
Ample image alignment features for easy set-up
Cons
Black levels aren't as deep as on the 2250
4K content only plays in 1080p
---
Epson Home Cinema 2250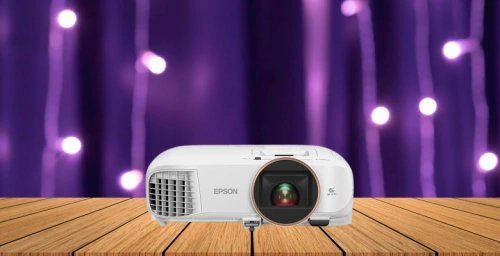 The main addition of note on the Epson 2250 compared to the 2200 is its use of dynamic iris technology. This doubles the dynamic contrast ratio for deeper black levels and a sharper, more realistic overall picture. It also maximizes the brightness put out by the lamp, so while it has the same lumen rating as the projector above the picture will look brighter in practice. This is especially helpful if your viewing space has a lot of ambient light or you prefer to use the projector with the lights on.
The throw distance of the Epson 2250 does tend on the high side, even compared to other standard throw projectors. You'll need anywhere from 10-15 feet for a 100" screen, which can be a concern for those with small spaces. It does come with more robust alignment features to compensate. This includes a 15% lens shift along with both vertical and horizontal keystone and a 1.6x manual zoom. If you have the space for it, getting set up won't be much of a hassle.
You'll also get Android's TV system with the Epson 2250, along with the streaming capabilities and Google Assistant support that come with it. It also can be used for gaming, with a low enough input latency for casual players, if not the kind of specs hard-core gamers will be looking for. This versatility and user-friendly design make it a great multi-use option for living rooms and media rooms, as well as home theaters. Click here for our full Epson Home Cinema 2250 Review.
Pros
Dynamic iris maximizes the image brightness
Picture looks brighter, even with ambient light
High contrast ratio with deep, rich black levels
10-bit color processing with 3LCD chip technology
More alignment features, including lens shift
Android TV interface with Google Assistant voice support
Cons
Longer throw distance than Epson 2200
Lamp lifespan is on the shorter side
---
What's the Bottom Line?
Deciding between the Epson 2200 and 2250 ultimately comes down to whether you want to pay a bit more to get a slightly better picture. Once they're set up, they offer a very similar user experience and have similar stats when it comes to durability and maintenance requirements.
If you want the best possible picture quality, the Epson 2250 is your choice (>>> Check the current price on Bhphotovideo). The Epson 2200 arguably offers a better value, however, and it's up to you to decide if that boost in contrast is worth the extra expense.
REFERENCES AND FURTHER READING: