The Epson Home Cinema line of projectors is designed to bring big-picture entertainment into the everyday home. With their emphasis on usability, versatility, and value, they're an excellent fit for most home entertainment systems (and budgets). Comparing the Epson 2250 vs 2150, the main difference is the level of technology involved. The Epson 2150 is the older model and is lacking some features you'll find on the Epson 2250, making the 2250 a better choice for most buyers (>>> Find on Amazon).
That's not to say the Epson 2150 is a bad projector by any means. It has a similar picture quality and user-friendly installation, with a wider range of input ports that could make it a more convenient choice for some set-ups. Before we get into the full reviews, let's take a closer look at the key differences in more detail.
Epson 2250 vs 2150 Side by Side:
| | Epson 2250 | Epson 2150 |
| --- | --- | --- |
| | | |
| Resolution | 1920x1080 | 1920x1080 |
| Brightness (Lumens) | 2,700 ANSI | 2,500 ANSI |
| Contrast Ratio | 70,000:1 | 60,000:1 |
| Input Lag | No data | 28ms |
| Throw Distance | 4.7' - 29.0' | 4.7' - 29.0' |
| Screen size | 30" - 300" | 30" - 300" |
| Speakers | 10.0 Watts Mono | 10.0 Watts Mono |
| Price | BHPhotoVideo.com | Check on Amazon |
4K Support
The Epson 2150 and 2250 are both Full HD projectors, with a native resolution of 1920X1080. While neither projector can produce a 4K resolution, the Epson 2250 can accept content with a 4K resolution and downscale it to play in full HD. Since the trend in video signals is always shifting toward higher resolutions, this gives the 2250 an advantage in the long-term as it won't be at risk of becoming outdated for many years.
Better 4K support: Epson 2250
Brightness
The 2,500 lumens produced by the lamp on the Epson 2150 is bright enough to use in low light conditions. You'll still need to use light-control measures in rooms with lots of windows and natural light but you don't need a completely dark space to enjoy it. The Epson 2250 is slightly brighter, at 2,700 lumens. It can still be prone to wash-out in well-lit rooms but will maintain its picture quality better than the 2150 in rooms with ambient light.
Brighter projector: Epson 2250
Wired Connectivity
You'll get one HDMI input on the Epson 2250. It also has a USB input, but this is for peripherals and devices, not for viewing content. The input panel on the Epson 2150 is more robust, with dual HDMI ports and a VGA network connection. This makes it a more convenient option for users who want to connect multiple content sources at once without the need for a receiver or other accessories.
Better wired connectivity: Epson 2150
Wireless Streaming
The Epson 2150 has some wireless streaming support. It can be used with Miracast for screen mirroring from compatible Android and Windows devices, with MHL support for even more streaming options. For streaming directly to the projector, though, the Epson 2250 is the better choice. It has a full Android TV interface built in so you can download streaming apps and watch content without external devices. You'll also get wireless control options thanks to the Google Assistant voice control support.
Better wireless streaming: Epson 2250
---
Epson 2250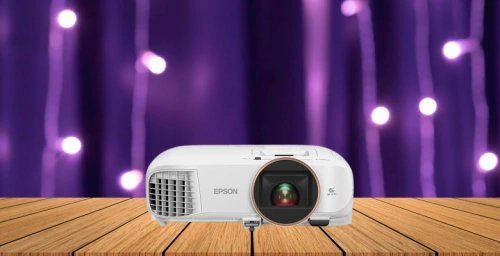 The Epson Home Cinema 2250 is one of the best home theater projectors you'll find in the under $1,000 range, making it an excellent value for the money. It produces a sharp full HD picture with 3LCD chip color, displaying the full color signal of your content without any distracting image issues. You can use it to watch everything from blockbuster movies to live sports knowing you'll get every detail no matter how fast the action moves.
Another strength of the Epson 2250 is that it's compact and portable with a fast set-up. It weighs less than 10 pounds and has a rugged enough build you won't feel nervous moving it around your home. There are also good image alignment options, including a 15% vertical lens shift along with vertical and horizontal keystone correction. This means it's a good choice if you want the option of taking the projector outside for backyard movie nights.
The Epson 2250 has some smart features, too. Its Android TV interface supports direct streaming through popular apps like YouTube and Netflix, so you might not need to use outside content sources. You'll also get built-in voice control through Google Assistant. In terms of its versatility, the Game Mode on the Epson 2250 drops the input lag down to 28ms, low enough to support reflex-based gaming on the latest generation consoles. It's an excellent all-around option for those who want an affordable projector that can do it all. Click here for our more in-depth review of the Epson 2250 
Pros
Accepts 4K input from all content sources
Smooth on-screen action with frame interpolation
3LCD color technology
Built-in Android TV interface with Google Assistant
Vertical lens shift and 1.6x zoom for easy set-up
Low enough input lag for gaming
Cons
4K content plays in full HD (no 4K resolution)
Only has 1 HDMI input
---
Epson 2150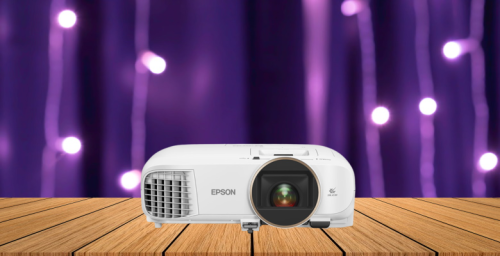 The Epson Home Cinema 2150 is the previous generation of the 2250 model and shares may of its strengths. It has an easy, fast set-up right out of the box and a similarly compact and lightweight build. It also has a Game Mode with a low 28ms input lag, so it matches the 2250 for versatility in living rooms, media rooms, and other mixed-use spaces.
From a picture quality standpoint, the Epson 2150 is acceptable if not exceptional. Its 3LCD chip technology produces vibrant, accurate colors, with a good dynamic contrast ratio for rich black levels and good detail in dark screen areas. The on-screen resolution is full HD, same as the 2250, but it doesn't accept 4K input, which could lead it to becoming outdated more quickly as that format becomes the standard.
While the Epson 2150 doesn't have a built-in streaming interface like the 2250, it does have wireless connectivity. You can mirror content from Android or Windows devices using Miracast and it supports MHL mirroring for compatible devices, as well. The flip side of this is that its wired input options are more robust, with USB and VGA inputs along with dual HDMI ports. This can make it an even better option for those who use a lot of content sources, or want the option of connecting a game system and streaming stick at the same time.
Pros
3LCD color technology
Smooth on-screen action with Frame Interpolation
Dual HDMI ports with MHL support for streaming
Supports wireless screen mirroring through Miracast
Low input lag in Game Mode
Good range of image adjustment options
Cons
No Android TV interface or voice control
Doesn't support 4K content
---
What's the Bottom Line?
It's a bit surprising that the Epson 2250 is typically the cheaper of these two projectors considering it's a more recent model (>>> Check on Bhphotovideo). For many, this makes it the clear better choice, especially since it has more modern technology like voice control and support for 4K input. Click here for a newer model review – Epson Home Cinema 2350.
Both the Epson 2250 and 2150 are reliable, compact, and versatile enough to use beyond a dedicated home theater. Those with older home entertainment set-ups that rely on wired inputs will appreciate the added connectivity of the 2150, so both are still viable options for the right kind of buyer. We hope this review has helped you decide which one is perfect for your home!
REFERENCES AND FURTHER READING: