Epson's Home Cinema line of home theater projectors brings users advanced image technology in a convenient and affordable package. When you're browsing the models in their catalogue, it can be tricky to tell exactly what the difference is between them and which one will meet your needs the best.
Comparing the Epson 880 vs. 2250, the 2250 is the superior model in most respects, with a high picture quality, a relatively easy set-up, and direct streaming capabilities (>>> Find on Amazon). That's not to say the 880 is a bad projector by any means, and it's a particularly good option if you're on a tight budget. Let's take a closer look at the main differences between these two models before we get into the full reviews.
Epson 880 vs 2250 Side by Side:
| | Epson 880 | Epson 2250 |
| --- | --- | --- |
| | | |
| Resolution | 1920x1080 | 1920x1080 |
| Brightness (Lumens) | 3,300 ANSI | 2,700 ANSI |
| Contrast Ratio | 16,000:1 | 70,000:1 |
| Included Lens | Fixed focal length | 1.6x manual zoom |
| Throw Distance | 2.2' - 34.0' | 4.7' - 29.0' |
| Screen size | 25" - 386" | 30" - 300" |
| Speakers | 2.0 Watts Mono | 10.0 Watts Mono |
| Price | BHPhotoVideo.com | BHPhotoVideo.com |
Installation Ease
Both the Epson 880 and 2250 are ready to go right out of the box. They also have a similar throw distance, requiring around 9-11 feet of distance for a 100" screen.
The main difference comes down to the alignment and image adjustment options. You'll get a good array of manual controls from the Epson 2250, including a 15% lens shift, a 1.6x zoom, and both horizontal and vertical keystone correction. The Epson 880 goes a step further by automating the keystone correction through a skew detecting sensor. This takes some of the guesswork and frustration out of aligning the image and is particularly helpful for projector beginners.
Easier installation: Epson 880
Picture Quality
The Epson 880 is a solid full HD projector. Its advanced 3LCD system displays accurate and bright colors and has decent black levels, producing a sharp, detailed image that exceeds most HD TVs in both screen size and image quality.
The high dynamic contrast of the Epson 2250 gives it richer blacks and better overall texture and depth. Along with that, it includes visual technology like Image Enhancement and Frame Interpolation. This further enhances the image realism and ensures fast-paced action sequences play smoothly, with no blur or choppiness.
Better picture quality: Epson 2250
Brightness
With the Epson 2250 you'll get a 2,700-lumen lamp. That's bright enough to compete with low to moderate light levels, though you'll still need to employ light control measures if your viewing area has lots of windows or bright lights. The Epson 880 is brighter at 3,300 lumens, making it a better choice for use in well-lit areas.
Brighter projector: Epson 880
Smart Features
The only way to wirelessly view content on the Epson 880 is by mirroring from another device using Miracast. It's mostly intended for use in a traditional wired home entertainment set-up.
The Epson 2250 has a built-in Android TV interface. Along with giving you the option to stream content directly through the projector through apps like YouTube and Hulu, this adds Google Assistant voice search capability, making it the smarter projector overall.
Better smart features: Epson 2250
Epson 880 vs. 2250: Full Reviews
Epson 880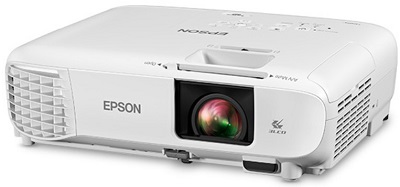 The Epson 880 is one of the best values in home theater projectors you'll find. Its Full HD resolution and 3LCD technology produce a detailed a vibrant image with accurate colors and no annoying image issues like color brightness or the rainbow effect. The powerful lamp puts out about 3,300 lumens, plenty for use in even relatively bright rooms, keeping the picture quality high no matter where you're using it.
We also appreciate how user-friendly the Epson 880 is. It has plug-and-play operation so it's ready to go right out of the box. Maybe its most impressive feature is the skew sensor, which detects warp and automatically adjusts the keystone to compensate. Manual focus and zoom controls let you further fine-tune the image alignment. To adjust the color, you can select one of the four pre-set modes or tweak the settings yourself with the included remote.
Now you will need a decent amount of space to use the Epson 880—around 9 feet for a 100" screen. You'll also want to use external speakers with it. It technically has a built-in speaker but it's lacking in both bass depth and mid-range clarity and has an output on par with laptop speakers. These issues are relatively minor in our estimation, especially considering the price. Click here for our more in-depth review of the Epson 880.
Pros
Wide, accurate color gamut with no rainbowing
Bright enough for lights on viewing
Picture skew sensor automatically corrects keystone
Four color modes to further optimize the picture
Mirror content through Miracast
3D ready (full HD resolution for 3D)
Cons
No built-in streaming
Weak built-in sound
---
Epson 2250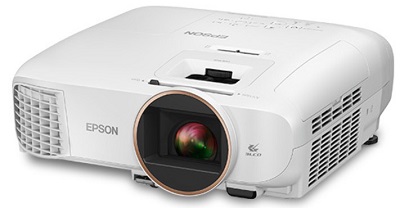 An improved picture quality is the first change you'll notice with the Epson 2250. It has the same full HD resolution and 3LCD color technology as the Epson 880 but with a significantly higher dynamic contrast for richer black levels and better picture depth. Along with that, its Frame Interpolation system fills in between the frames for smoother on-screen movement with no choppiness or blurring.
The Epson 2250 is a bit smarter than the 880, too. Its built-in Android TV interface is easy to navigate using either the included remote or Google Assistant voice control and supports direct streaming from most popular apps. Since its speakers are a smidge better, as well, this gives it the potential to be an all-in-one projector, giving it more portability and versatility.
One surprising omission from the 2250 is that it doesn't have the automatic keystone correction you'll find on the Epson 880. This can make the set-up process take longer, especially for first-time projector owners. Having said that, it has all the manual image alignment options you'll need, including a 15% lens shift along with 2D keystone correction, a 1.6x zoom, and manual focus. Click here for our more in-depth Epson 2250 review.
Pros
Crips, high-contrast image
Frame Interpolation keeps on-screen action smooth
Android TV interface supports direct streaming
Supports voice searches through Google Assistant
2-way keystone correction and vertical lens shift
Accepts 4K input
Cons
Not suitable for well-lit rooms
No automatic keystone correction
---
What's the Verdict?
Looking just at the stats, the Epson 2250 will be the better projector for most, with a noticeably higher picture quality and the option of direct streaming and voice searches (>>> Check on Bhphotovideo). Having said that, though, the brighter lamp and easier set-up of the Epson 880 could make it the better option for some, especially since it's also the more budget-friendly option. Whichever way you go, you'll get immersive big screen entertainment and a convenient, user-friendly design.