The sheer number of 4K projectors on the market can make choosing the right one for your home feel like an overwhelming prospect. Comparing the Epson 3800 vs BenQ TK850, their stats look very similar. Both have a bright 3,000 lumen lamp and a wide color gamut, as well as similar throw distances and image set-up features. They also sell at a similar price-point—comfortably in the mid-range and a great value for your money.
Both the Epson 3800 and the BenQ TK850 are high-quality projectors. Neither one is definitively better than the other. Instead, each is a good choice for a different kind of user. If you're looking for the absolute best picture quality, you'll want to get the BenQ TK850. (>>> Find The Current Price on Amazon) Let's break down where they differ so you can get an idea of what we mean.
Epson 3800 vs BenQ TK850 side by side:
| | Epson 3800 | BenQ TK850 |
| --- | --- | --- |
| | | |
| Resolution | 1920x1080 4K w/pixel shifting | 4K ultra HD |
| Brightness (Lumens) | 3,000 | 3,000 |
| Contrast Ratio | 100,000:1 | 30,000:1 |
| Zoom | 1.62x manual | 1.3x manual |
| Throw Distance | 6.2' - 28.8' | 3.2' - 24.6' |
| Input lag | 16-28ms | ~80ms |
| Screen size | 40" – 300" | 30"-300" |
| Speakers | 2 x 10 Watts | 2 x 5.0 Watts |
| Price | BHPhotoVideo.com | BHPhotoVideo.com |
Resolution
Ultra HD resolution is the current gold standard, and both these projectors are advertised as offering it. While it's true they both have a sharper picture than you'll get from full HD, though, they're not necessarily equal in this regard.
The BenQ TK850 has a true 4K resolution, with over 8 million on-screen pixels—roughly 4 times what you'll get from standard HD. The Epson 3800 uses a process known as pixel-shifting. It's about twice as detailed as full HD, but only half as many pixels as you'll get with true 4K.
Sharper resolution: BenQ TK850
Gaming Performance
The primary factor of interest to gamers is the input latency, or the delay between your input on the controller and what you see on the screen. Anything below about 60ms is fast enough for casual gaming. Professional or serious gamers will want to look for an input lag of 30ms or less.
The Epson 3800 delivers on this front. The input lag is an impressive 28ms even when you're gaming in 4K and drops even lower if you turn off the pixel shifting. Its high video processing rate is a benefit here, as well, preventing on-screen compression artifacts that can affect your playing. This makes it much better for gaming than the BenQ TK850, which registers a latency over 80ms no matter how you adjust the picture.
Better for gaming: Epson 3800
Sound
If you're looking for true theater sound or surround sound, you'll need to connect external speakers to both of these projectors. For casual TV watching, though, the crispness of the dialogue is more important than a big bass or massive volume.
Both of these projectors have decent sound in that context. We found the 10w stereo speakers on the Epson 3800 slightly better in this regard, however. They put out more volume and have a better audio quality than the speakers on the TK850 (or most projector speakers, for that matter).
Better on-board sound: Epson 3800
Epson 3800 vs BenQ TK850: Full Reviews
Epson 3800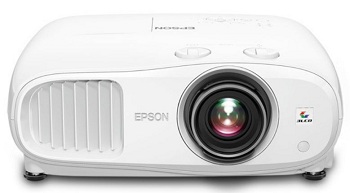 The Epson 3800 performs well for both home theater use and gaming. This starts with its 3-chip design and efficient video processing. Colors are accurate and vibrant, with a wider color gamut than you'll get from most projectors. You also won't have to worry about annoying image issues like blocking or the rainbow effect.
For gamers, the Epson 3800 checks all the boxes. Its input lag is low, even when you're gaming in 4K, so you don't have to sacrifice image quality for smooth action. The impressive 12-bit processing helps here, too, reducing screen blur and other issues that could impact your play.
Now this is a hefty projector, at about 20 pounds. This isn't much of an issue if you're installing it permanently in one room but it does make it less portable. On the flip side of that, it's more flexible when it comes to placement. It has a manual optical zoom and both horizontal and vertical lens shift, as well as 30° vertical keystone correction. There's a wide range of input options, as well. For most users, getting set up is a breeze, even if you can't center the projector exactly on the screen when you install it.
Pros
Supports 4K gaming with low input lag
3LCD chip design produces vibrant colors with no rainbow effect
High contrast ratio for better black levels
Smooth frame transitions with real-time video processing
Wide range of input options supports content from more sources
Robust image adjustment options
Cons
Pixel shifting doesn't give the same detail as true 4K
Bulkier unit could be more difficult to install
Full review: Epson 3800
---
BenQ TK850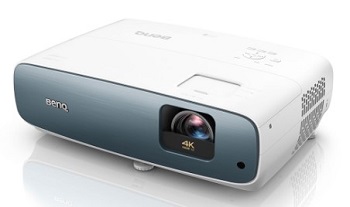 With the BenQ TK850 you'll get a true 4K resolution—about twice the on-screen pixels of the Epson 3800 above. The lens array and visual technology employed here are all-around more sophisticated. That translates to a sharper and brighter picture, even though the lamp puts out the same amount of lumens. The BenQ TK850 is included among the best 4K projectors under 2000 dollars.
For watching movies and sports, you'd be hard-pressed to find a better projector. Dedicated viewing modes help with this, as does the automatic tone mapping and HDR-PRO support. Since it's relatively compact and can produce a massive image, this is the best choice if you want a projector you can take outside for backyard movie nights. It's also ideal for viewing parties since its bright lamp accommodates lights-on viewing.
The main short-falling of the BenQ TK850 is its gaming performance. It has a gaming mode but it's functionally useless, only lowering the input lag to about 81ms. The delay is definitely noticeable, especially in fast-paced racing games or first-person shooters. Casual players of RPGs and puzzle games can make it work, but it's definitely not what we'd call a gaming projector.
Pros
True 4K resolution
Dedicated Sport and CinemaMaster modes
10-element lens array optimizes sharpness and color
Dynamic Iris technology improves contrast and brightness
Includes 1.3x zoom and lens shift for easier installation
Factory-calibrated color exceeds Rec. 709 spectrum
Compact, lightweight build
Cons
High input lag is unsuitable for gaming
On-board speakers aren't as good
>>> Check our full review of the BenQ TK850
What's the Verdict?
Both of these projectors are user-friendly, have a high picture quality, and give you a lot of performance for your money. How you plan to use the projector will be the most important part of choosing the right model.
If you're looking for the absolute best picture quality, you'll want to get the BenQ TK850. (>>> Find on Bhphotovideo) Its true 4K resolution, advanced lens, and exceptional color are great for movies, sports, TV, or anything else you want to watch. Those buying a projector for a media room or other gaming application will instead find the Epson 3800 a better fit. Its low lag and high processing speed let you focus on the game.
Either one of these projectors will be a great big-screen upgrade for your home. Use the feature breakdown here to decide which one is the best choice for you!
REFERENCES AND FURTHER READING: