BenQ and Epson are two big players in the home cinema world, providing mid-range projectors that deliver a high-quality picture. Of course, you can't go wrong with either of them, but if you have to choose between one, we can help. This BenQ TK850i vs Epson 3800 comparison will help you decide which is better for your situation.
BenQ TK850i Vs Epson 3800 Side by Side:
| | BenQ TK850i | Epson 3800 |
| --- | --- | --- |
| | | |
| Resolution | 3840x2160 | 3840x2160 |
| Contrast | 30,000:1 | 100,000:1 |
| Brightness (Lumens) | 3,000 ANSI | 3,000 ANSI |
| Input lag | No data | 20.6ms |
| Throw Distance | 3.2' - 24.6' | 6.2' - 28.8' |
| Screen size | 30" - 300" | 40" - 300" |
| Speakers | 5.0 Watts × 2 | 10.0 Watts × 2 |
| Today's Best Price | BHPhotoVideo.com | ProjectorScreen.com |
BenQ TK850i Overview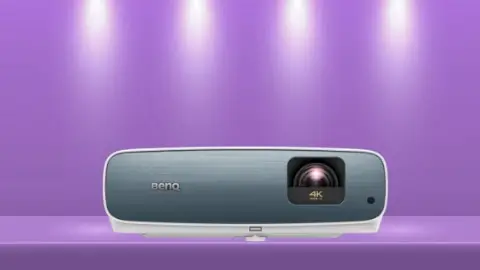 Pros
Gorgeous 4K picture
3,000 lumens of brightness
Eye-popping detail
Easy to install
Modes for sports lovers
Cons
1.3x zoom lens is limited
The TK850 is a 4K UHD projector with 8.3 million pixels. HDR-PRO technology delivers beautiful colors, detailed images, and sharp contrast. With 3,000 lumens, it looks impressive even in a bright room. Many like this one because of the power it has, showcasing quality picture.
This projector is marketed towards sports lovers, able to broadcast live TV with a dedicated mode for sports. This mode lets you feel like you're in the arena as you cheer your team on.
>>> Check our more in-depth review of the BenQ TK850i
---
Epson 3800 Overview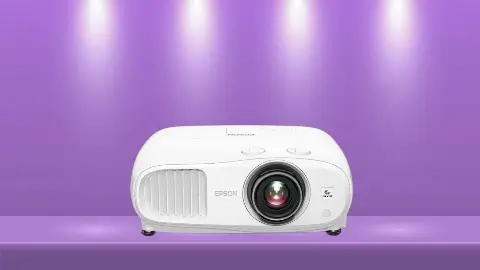 Pros
True to-life picture quality
Creates a lag-free experience
Simple to connect any speaker to it
Eye-popping 3D movie mode
No compression artifacts
Cons
No Frame Interpolation in 4K mode
The 3800 is a 4K PRO-UHD projector. Its 3-chip design means you will see a full RGB color signal without any color issues, and its 10-bit HDR means you'll see fully reproduced HDR-quality video. It also comes with 12-bit analog-to-digital processing, so you avoid any compression artifacts. With 3,000 lumens and a 100,000:1 contrast ratio, it easily creates a bright, sharp picture.
The 3800 also comes with Bluetooth, meaning it's easy to connect audio speakers. With its HDMI 2.1 support, you can connect your devices to it without lag. It even includes active 3D support, turning your home into a 3D movie theater.
---
Which Has the Better Video Quality?
Both have stellar 4K video quality, but you may notice that one has a sharper contrast ratio when you look deeper. The 3800 has a 100,000:1 contrast ratio, nearly triple that of the TK850i. Again, you can tell the difference, with the colors appearing much sharper.
In addition, the 3800 has more technology under its hood that gives you brighter colors, better resolution, and more precise picture. In addition, it has a much better zoom and throw ratio. The TK850 has a zoom ratio of 1.3x, and the 3800 has a ratio of 1.6. The throw ratio of the TK850 is 1.47, and the 3800 has a throw ratio of 2.15.
This means that you can set up the 3800 in various rooms, and it can look great. Meanwhile, certain rooms may hinder the TK850i.
Some reviewers also have accused the TK850i of having false 4K picture quality. While we can't speak for those, the 3800 appears to have a sharper picture.
With that said, the TK850i does indeed look better for sports. You can tell that the projector was optimized for sports colors and movement. However, if you want to watch it for more than sports, the 3800 is the better deal.
Which Has Better Features?
Both lack smartphone features, but the answer can depend on what you're looking for. The TK850i connects to apps that let you watch live TV, again covering its marketing as a sports projector. However, the 3800 supports Bluetooth. Also, it's much easier to connect it to speakers than to the TK850i, where you must connect via a cord. With this one, it depends on what you need.
Which Has the Better Price?
Both are mid-range home projectors, meaning they cost an amount that can be a lot for some, but they are nowhere near the most expensive. The TK850i does cost less than the Epson 3800. However the price is not that much of a difference, and it can depend on where you buy it and what discounts are happening. Ultimately, the better price can depend on your budget.
---
BenQ TK850i vs Epson 3800: The Verdict
Both projectors provide a stellar picture, but the Epson 3800 has its beat (>>> Find on ProjectorScreen). Its picture is overall sharper, with much better technologies to bring the theater to your home. While the BenQ TK850i is still incredible, it's lacking in some departments. It's mostly preferred if you want to watch sports, but with the Epson 3800, you have an overall better deal.
Of course, there are many other projectors in the market. Maybe neither of these two is ideal for you. Luckily, we have other projector reviews and comparisons that can help you pack that special experience for your home.
Related Comparisons:
BenQ TK860i vs. TK850i Comparison