In the realm of home cinema, the decision on which projector to choose can have a significant impact on your viewing experience. Today, we will be examining two powerhouses in this space, BenQ TK860i vs TK850i. With both projectors offering remarkable capabilities and advanced features, choosing between them is no easy task. However, after extensive evaluation, it becomes clear that the TK860i emerges as the superior pick. It's more feature-packed, more flexible, and ultimately provides an exceptional home cinema experience that truly stands out. Discover the Best Price on Amazon Today!
BenQ TK860i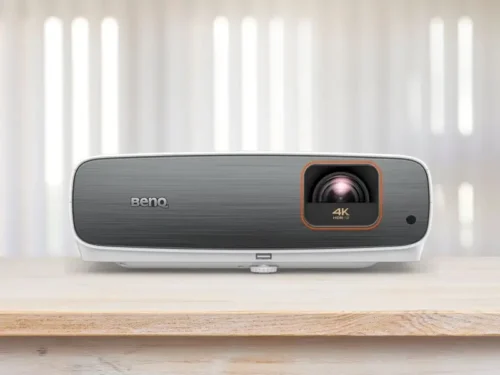 The BenQ TK860i stands as an exceptional choice for a home theater projector, offering a vivid and immersive viewing experience that rivals the quality of a physical theater. The projector's superior brightness capabilities deliver vibrant and crisp images, making it ideal for various viewing conditions, including rooms with ambient light. The enhanced color accuracy contributes to the overall experience, providing life-like imagery that truly pops. Another noteworthy feature is the range of image adjustment options, giving you more control over how your content is displayed. Furthermore, its advanced smart features, including Google Assistant and Alexa compatibility, contribute to its convenience, making the overall user experience seamless and interactive. While its size and price point might pose as cons for some users, its impressive performance and high-quality output make it a worthy investment. Check our more in-depth BenQ TK860i review.
Pros
Superior brightness for vibrant, crisp images.
Enhanced color accuracy improves viewing experience.
Greater flexibility in image adjustment options.
More powerful built-in speakers for quality sound.
Advanced Smart Features for convenient control.
Cons
Slightly larger, may require more installation space.
Higher price point compared to the TK850i.
---
BenQ TK850i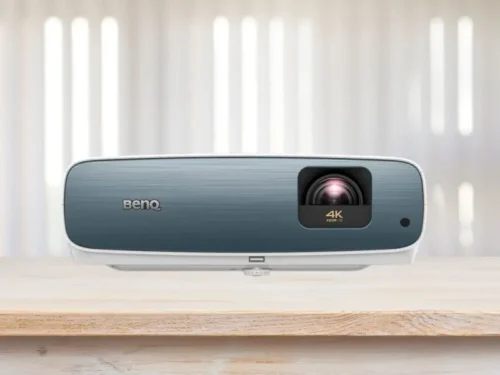 The BenQ TK850i serves as a compelling alternative for those seeking a solid home theater projector at a more affordable price point. It sports a compact size which allows for easier placement and installation in various settings. While it may not offer the same level of brightness as the TK860i, its reliable brightness performance can still provide quality viewing in most environments. Its solid color performance further enhances its viewing quality, delivering a satisfyingly clear and vibrant display for its class. The user-friendly interface and control system make the navigation and operation of the projector straightforward and hassle-free. Despite a few limitations such as lower brightness and less flexibility with image adjustments, the TK850i offers a solid balance of price and performance, making it an excellent choice for budget-conscious consumers. Find our full review of the BenQ TK850i.
Pros
Compact size allows for easier placement.
Affordable without compromising key features.
Reliable brightness for most environments.
Solid color performance for its class.
Easy-to-navigate interface and controls.
Cons
Lower brightness may affect image quality.
Less flexible in terms of image adjustments.
---
BenQ TK860i vs TK850i: Specs
BenQ TK860i
BenQ TK850i
Where to Buy?

Check on Amazon





BHPhotoVideo.com

Check on Amazon

Brightness (ANSI lumens)
3300
3000
Native Resolution
4K UHD (3840×2160)
4K UHD (3840×2160)
Native Aspect Ratio
[16:9]
[16:9]
Contrast Ratio (FOFO)
50,000:1
30,000:1
Display Color
30-bit (1.07 billion colors)
30-bit (1.07 billion colors)
Light Source
Lamp
Lamp
Light Source Life (Normal, ECO, SmartEco)
4000 hrs, 10000 hrs, 15000 hrs
4000 hrs, 10000 hrs, 15000 hrs
Throw Ratio
1.13~1.47
1.13~1.47
Zoom Ratio
1.3x
1.3x
Lens
F/# = 1.9 - 2.47, f = 12 - 15.6 mm
F/# = 1.9 - 2.47, f = 12 - 15.6 mm
Projection Offset (Full-Height)
100%
100%
Keystone Adjustment
2D, Vertical ± 30 degrees, Horizontal ± 30 degrees
1D, Vertical ± 30 degrees
Lens Shift Vertical
10%
10%
Rec. 709 Coverage
98%
98%
Input Lag
17.9ms (1080P 60Hz), 17.9ms (4K 60Hz), 21ms (1080p120Hz), 8.7ms (1080P 240Hz)
83.34ms (1080p@60Hz), 83.34ms (4K@60Hz)
Resolution Support
VGA (640 x 480) to 4K UHD (3840 x 2160)
VGA (640 x 480) to 4K UHD (3840 x 2160)
HDMI in
3 ports (2.0b/HDCP2.2)
3 ports (2.0b/HDCP2.2, 2.0/HDCP2.2, 2.0b/HDCP2.2)
USB Type A
2 ports (3.0/Power Supply1.5A, 2.0/Power Supply2.5A)
3 ports (3.0/Power Supply1.5A, 3.0/Power Supply1.0A/Reader, 2.0/Power Supply2.5A)
HDMI Audio Return
Yes, eARC, Dolby Atmos
Yes, ARC, 2 channel
Operating Temperature
0~40℃
0~40℃
Power Supply
AC 100 to 240 V, 50/60 Hz
AC 100 to 240 V, 50/60 Hz
Typical Power Consumption (110V)
330W
330W
Stand-by Power Consumption
<0.5W
<0.5W
Acoustic Noise (Typ./Eco.)(dB)
30/28
30/28
Android TV dongle
QS02
QS01
Dimensions (WxHxD) (inch)
14.96 x 4.99 x 10.35
14.96 x 4.99 x 10.35
Net Weight (lb)
9.25
9.25
Projection System
DLP
DLP
Today's Best Price

Check on Amazon





BHPhotoVideo.com

Check on Amazon



BenQ TK860i vs TK850i: Features Comparison
Brightness
One of the key things to consider when selecting a projector is the brightness, measured in ANSI lumens. The BenQ TK860i is rated at 3300 lumens, which makes it a better choice for rooms with ambient light. In contrast, the BenQ TK850i is slightly dimmer with a rating of 3000 lumens, though it still performs decently in various lighting conditions.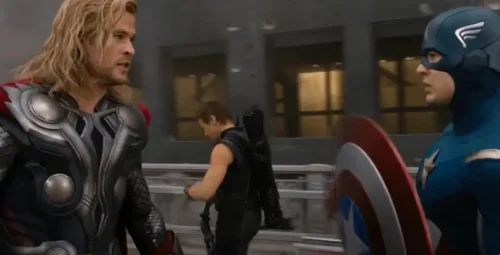 Native Resolution
Both the TK860i and TK850i projectors feature 4K UHD (3840×2160) native resolution, offering stunning image quality and crisp, defined details that create an immersive viewing experience. Whether watching a film or playing a game, the level of detail presented by both projectors is truly commendable. The true 4K UHD resolution certainly sets them apart in the projector market. Check out our roundup guide for the best 4K projectors.
Contrast Ratio and Display Color
The TK860i projector comes with a 50,000:1 contrast ratio, enabling it to provide a higher level of detail in dark scenes by offering deeper blacks. In comparison, the TK850i offers a lower contrast ratio at 30,000:1, which while decent, does not match the depth of black levels and shadow detail provided by the TK860i.
The display color of both projectors is 30-bit, supporting over 1.07 billion colors. This translates to a more vibrant and true-to-life color representation, enhancing your viewing experience.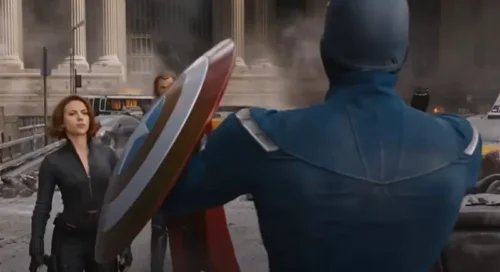 Optical Features
The optical features of both the TK860i and TK850i are largely identical, with a zoom ratio of 1.3x and a throw ratio of 1.13~1.47. Both projectors provide 100% projection offset, and their lens shift capabilities are also equal at +10% vertically. However, the TK860i offers 2D keystone adjustment, including auto vertical and manual horizontal adjustment, whereas the TK850i only has 1D (auto vertical) keystone adjustment. This extra flexibility in the TK860i can come in handy when setting up your projector in challenging spaces.
Picture Modes
When it comes to the picture modes, both projectors offer various presets. Both models cover the Rec. 709 color gamut to 98%, ensuring accurate color reproduction. However, the TK860i includes modes specifically for HDR Game and HDR10 that aren't available on the TK850i, which could potentially sway gamers towards this model. Both models feature 3D support, which is a big plus for 3D content enthusiasts.
Input Lag and Compatibility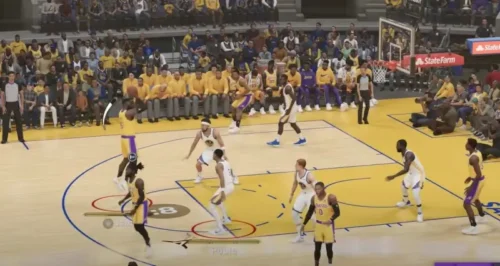 In the realm of gaming, input lag is a critical factor. The TK860i outperforms the TK850i in this respect, boasting a significantly lower input lag across all resolutions. The lower the input lag, the more responsive the gaming experience, making the TK860i a more appealing choice for serious gamers.
Audio Capabilities
Both projectors come with a pair of 5W chamber speakers that provide a decent audio output for an enjoyable movie experience. While both models have HDMI audio output, the TK860i supports eARC and Dolby Atmos, offering a more immersive sound experience, especially if you're a fan of Atmos-encoded content.
Android TV and Connectivity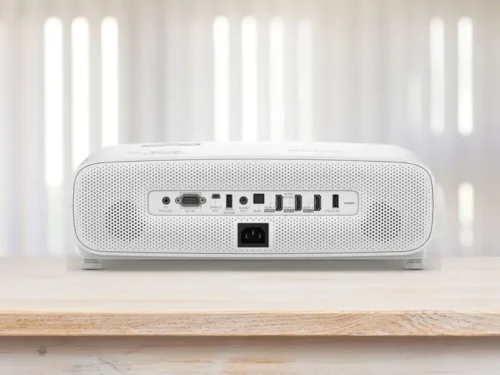 Both the TK860i and TK850i are equipped with a built-in Android TV dongle. However, the TK860i comes with a QS02 version, while the TK850i uses the QS01. As both projectors are loaded with the Android TV platform, they offer a wide range of apps, though it's worth noting that Netflix is not natively available on the TK850i according to some customer reviews.
In terms of connectivity, both projectors offer similar options, including multiple HDMI inputs, USB Type A ports, a Mini B service port, and an RS232 in (DB-9pin).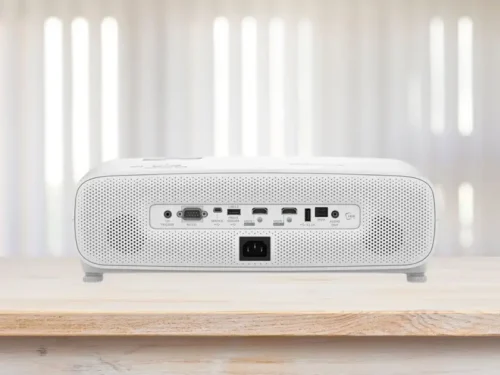 Noise Level
Projector noise can sometimes be a distraction, especially during quiet scenes in movies. Both the TK860i and the TK850i have an acoustic noise level of 30/28 dB. Some users have commented on the noticeable fan noise, suggesting that there might be room for improvement in this area for both models.
Customer Reviews
Customer feedback can provide valuable insights into a product's real-world performance. Based on customer reviews, both projectors are praised for their image quality, but some users have criticized the fan noise and difficulties in adjusting the projectors. Moreover, the lack of Netflix on the included Google Stick for the TK850i was also a point of dissatisfaction for some users.
Conclusion
In conclusion, both the BenQ TK860i and the TK850i are solid performers in the 4K projector market. They both offer stunning 4K resolution, good brightness, and a host of features that enhance the viewing experience. However, the TK860i has a few advantages over the TK850i, including a higher contrast ratio, lower input lag, and advanced audio return capabilities, making it the more versatile option of the two. Shop Now and Save Big on Amazon!