Welcome to our comprehensive and objective BenQ TK860i review. As part of our commitment to providing an unbiased perspective, we've rigorously tested this projector, spending a significant amount of time carefully examining every feature and gauging its real-world performance. The TK860i, boasting impressive specifications and user-friendly features, positions itself as an appealing choice for film enthusiasts, gamers, and professionals seeking high-quality visuals for presentations. However, we recognize that the value of a device extends beyond its specifications, reaching into how these translate into the user experience. Consequently, our review doesn't merely focus on raw data, but also delves into its practical application, offering personal insights, and comparative assessments against industry benchmarks. Join us as we delve deeper into our examination of the TK860i, determining if it indeed delivers on its promise of unparalleled viewing experiences. See Amazon's Exclusive Offer Here!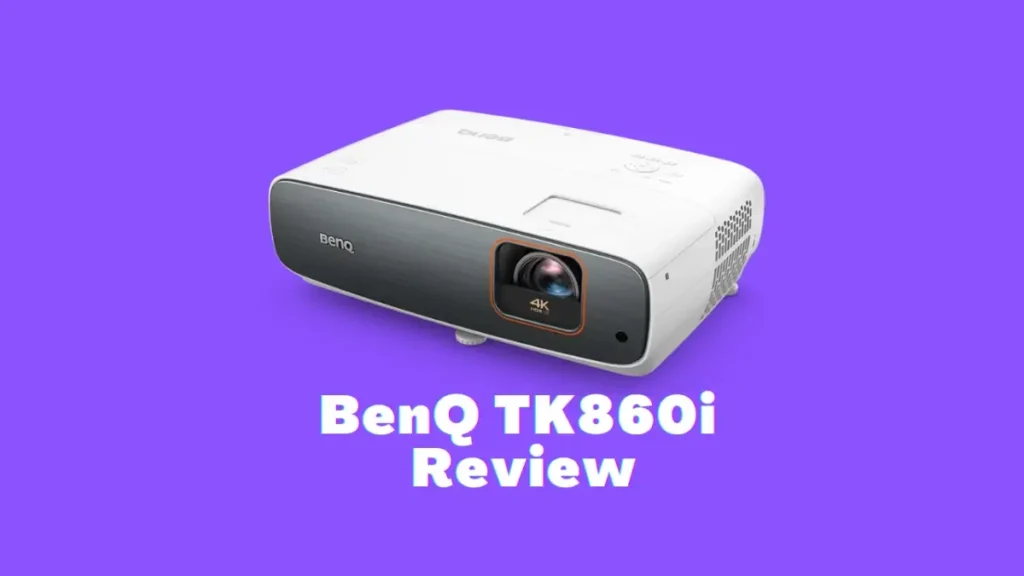 BenQ TK860i Review of Specs:
| | BenQ TK860i |
| --- | --- |
| | |
| Resolution | 3840x2160 |
| Contrast | 50,000:1 |
| Brightness (Lumens) | 3,300 ANSI |
| Color Processing | 10-bit |
| Lens | 1.3x manual zoom, manual focus |
| Throw Ratio | 1.13~1.47:1 |
| Input Lag | 8.7 - 17.9ms |
| Screen size | 30" - 300" |
| Speakers | 5 Watts x 2 |
| Today's Best Price | BHPhotoVideo.com |
Design and Build
Weighing just over 9 pounds, the TK860i carries a sleek yet compact design, which is practical for placement in various environments, whether it be a compact apartment or a spacious living room. The dimensions (14.96 x 4.99 x 10.35 inches) allow it to blend seamlessly with any decor. The projector's sturdy build reflects BenQ's focus on durability and longevity.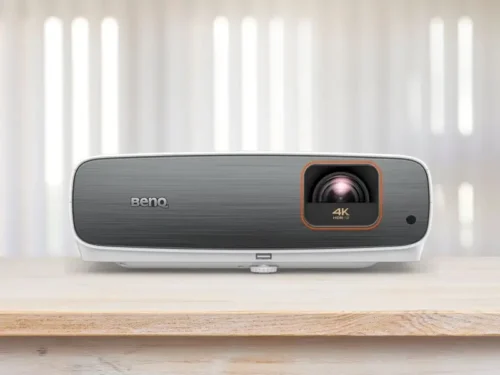 Pros
Native 4K UHD resolution provides stunning image clarity.
Low input lag enhances gaming experience.
Android TV integration allows seamless streaming.
Multiple HDMI ports offer versatile connectivity.
In-built treVolo speakers deliver robust sound.
Cons
Higher pricing compared to some competitors.
Contrast ratio is slightly lower for 2023 standards.
Display Capabilities
Display performance is an area where the BenQ TK860i seeks to perform well. With its native 4K UHD resolution (3840×2160), the TK860i offers high-definition clarity. The 8.3 million pixels of the TK860i are designed to enhance image detail, striving to deliver sharp and crisply defined visuals, a feature that is now commonly found in many contemporary projectors.
While the BenQ TK860i features a contrast ratio of 50,000:1, which ensures rich blacks and vibrant whites, it's worth noting that this is on the lower side for a premium projector in 2023. However, the device compensates by displaying over a billion colors and offering a brightness of 3300 ANSI lumens. As a result, this projector still delivers a compelling, immersive viewing experience, performing impressively even in well-lit rooms.
HDR Performance
One of the standout features of the TK860i is its advanced HDR-Pro technology. This proprietary feature incorporates a local contrast enhancer and tone mapping that optimizes the brightness of various segments of the image. The result? Perfectly detailed shadows and highlights in both dark and bright scenes.
The enhanced tone mapping offers increased contrast, preserving the finer details in darker areas of projected images, thereby enriching the 4K image depth. Plus, with the projector's support for 24P playback of high-definition sources at 24 fps without judder in HDR mode, motion is rendered smoothly and naturally.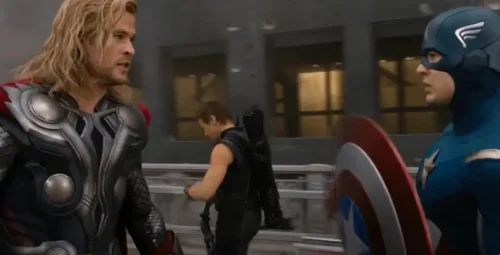 Android TV Entertainment
The TK860i is not just a projector; it's a complete entertainment system. Preloaded with Android TV and Netflix, it gives you access to all your favorite shows and movies in up to 4K HDR right out of the box. This function greatly simplifies the process of setting up a movie night at home, providing endless content with a single click. It's worth noting that the projector even accepts voice search commands, which significantly enhances the user experience.
Universal Connectivity
The BenQ TK860i offers universal connectivity, supporting HDMI 2.0b (HDCP 2.2), SPDIF, and eARC for 7.1 channel and Dolby Atmos audio pass-through. This wide array of connectivity options ensures compatibility with various devices, from gaming consoles to streaming devices, providing versatility in content selection.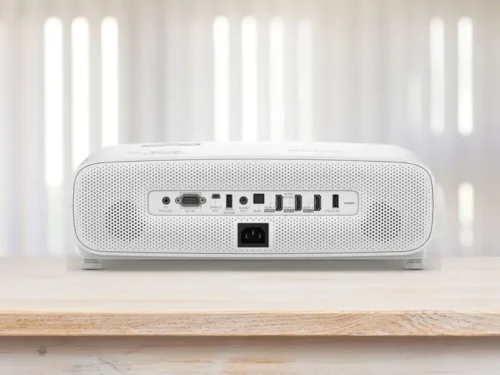 Audio Performance
BenQ has equipped the TK860i with a pair of treVolo 5-watt chambered speakers. Utilizing principles from both acoustic and psychoacoustic sciences, these speakers are designed to produce deep bass and soaring highs. This contributes to a more immersive overall viewing experience and potentially removes the need for external audio equipment in smaller spaces.
However, upon thorough testing, our evaluation of the audio performance would be more towards the average side. While the audio performance is indeed decent for casual viewing or gaming, and certainly a plus in compact spaces, it may not fully satisfy audiophiles or those seeking a true cinematic sound experience. In these cases, external audio equipment would still be recommended to complement the stunning visuals that the TK860i provides.
Installation Flexibility
The BenQ TK860i showcases impressive installation flexibility. The projector's vertical lens shift offers a 10% physical movement range, and combined with a 2D keystone feature, it ensures an un-distorted image projection even in limited spaces. It also comes with a 1.3x zoom lens, which offers more versatility during installation, allowing you to adjust the size of the projection to fit your screen perfectly.
Gaming
In the gaming world, the input lag of a projector can significantly impact the gaming experience. The BenQ TK860i puts up a respectable performance in this regard with an input lag of 17.9ms for 1080P and 4K at 60Hz, and a reduced 8.7ms at 1080P 240Hz. This provides a smooth and responsive gaming experience. However, it's important to note that in comparison to other gaming-specific projectors available in 2023, these numbers are quite average. There are several other options on the market offering input lags just over 4ms. Nevertheless, the TK860i does well in balancing gaming performance with its outstanding movie and TV show projection capabilities.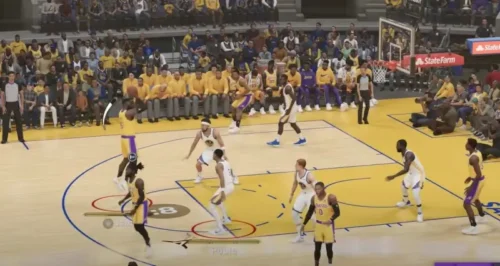 Environment Considerations and Noise Levels
With an operating temperature of 0 to 40℃, the TK860i can withstand varied climates and conditions. The power consumption of 330W in typical usage and less than 0.5W in standby mode is also appreciable, reflecting BenQ's commitment to energy efficiency. Noise-wise, at a typical/eco level of 30/28 dB, the TK860i is fairly quiet, ensuring that your viewing or gaming sessions aren't disturbed by the whirring of fans.
Conclusion
The BenQ TK860i certainly proves to be a commendable piece of technology. It offers an intriguing mix of fairly robust display capabilities, smooth connectivity, and user-friendly features. Whether your intent is a cozy movie night or a gripping gaming session, this projector has the potential to deliver a compelling experience with its bright 4K visuals and reasonable input lag.
However, it's worth noting that while the TK860i presents good specifications, they may not necessarily be considered 'great' when compared to other high-end projectors on the market in 2023. Factors such as an average contrast ratio and input lag, as well as satisfactory audio performance, might somewhat limit its appeal to those seeking the absolute best in projector technology. Check on BHPhotoVideo.com
Adding to this is the projector's pricing, which leans towards the higher side, particularly when considering its overall feature set. This is likely due to its status as a fresh model, and while the integrated Android TV entertainment and advanced HDR technology are attractive offerings, potential buyers should weigh these benefits against their budget constraints.
Check out how the BenQ TK860i compares against other projectors: