The speakers on most projectors are relatively weak and don't have the best sound quality, especially when it comes to the lower end of the sonic spectrum. A soundbar is a compact means of adding an external sound source. You can find quality soundbars for projector  at every price point, too, so it's an affordable way to meet your sound needs.
Based on output and sound quality, the SAMSUNG HW-Q990B/ZA is the best soundbar for a projector (>>> Find the current price on Amazon). That doesn't mean it will be the right choice for every home, though.
Whether you're looking for a soundbar for a smart home entertainment system or need powerful sound on a budget, you'll find something to meet your needs on the list below.
Best Soundbars for Projector – Top Picks for 2023:
| | Polk Audio Signa S4 | Bose Smart Soundbar 600 | Bose Smart Soundbar 900 | SAMSUNG HW-Q990B/ZA | Samsung Q700A |
| --- | --- | --- | --- | --- | --- |
| | | | | | |
| Power | No data | No data | 600W(103 dB) | No data | 160W |
| Subwoofer | | | | | |
| Connectivity | Bluetooth, HDMI | Bluetooth, HDMI | HDMI, Bluetooth | Bluetooth, HDMI, Wi-Fi | Bluetooth, Wi-Fi, HDMI |
| Dimensions | 41.2" x 2.4" x 3.7" | 27.5" x 2.25" x 4" | 50 x 20 x 17 | 48.5" x 2.7" x 5.4" | 4.5" x 38.6" x 2.4" |
| Price | BHPhotoVideo.com | BHPhotoVideo.com | BHPhotoVideo.com | Check on Amazon | BHPhotoVideo.com |
Power
The main reason most people buy external soundbars for their projectors is they need more volume. If you get a wimpy speaker, you won't get the big sound boost you're looking for. All of the soundbars on this list can reach at least 90 decibels, which isn't quite rock concert loud but is plenty to fill most rooms.
For the loudest soundbar, the  SAMSUNG HW-Q990B/ZA  is the only soundbar on the list capable of producing over 100 decibels. (Not sure if this is true now, but can't find decibels)
Most powerful soundbar: SAMSUNG HW-Q990B/ZA
Overall Sound Quality
Bass is the main thing lacking from the built-in speakers on projectors. They just don't have the heft to produce deep, rumbling sound effects. Many soundbars have the same problem, making an external subwoofer a necessity if you want truly immersive sound.
Balance is important too, though. If there's too much bass or the sound is too "dark" it can be hard to hear dialogue and other details. The best soundbars for home theaters have dialogue enhancement features and content-specific settings that maintain this balance between clarity and power.
Best overall sound: SAMSUNG HW-Q990B/ZA
Surround Sound
Soundbars are cheaper than speaker systems but they have an inherent flaw: they produce sound from a single source. That prevents them from emulating a sense of space and movement.
Modern soundbar manufacturers use technology to overcome this issue with varying degrees of success. The Dolby Atmos support on the Bose Smart Soundbar 600does a good job replicating the surround sound experience, and the Polk Audio Signa S4  is fairly immersive, as well.
For the best surround sound emulation, the Acoustic Beam technology employed by the Samsung HW-Q700A gives it a similarly immersive soundscape to a 3.1.2 system, effectively mimicking the movement and depth of a full speaker system.
Best surround sound: Samsung Q700A
Smart Features
If you have (or want) a smart home theater, getting a soundbar with voice control features built right in will be very handy. Amazon Alexa voice control is the most common system, and is supported on the Polk Audio Signa S4 , Samsung , and Bose Smart Soundbars. The Bose  soundbars both also support Google Assistant, giving them more versatility for different smart home set-ups.
Best smart features: Bose Smart Soundbar 600, Bose Smart Soundbar 900
---
Polk Audio Signa S4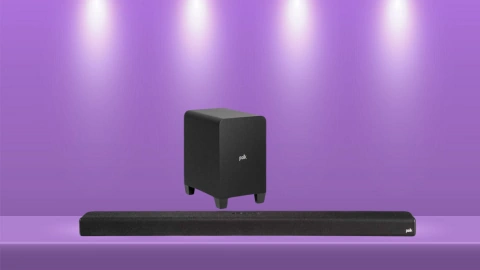 The Polk Audio Signa S4 is a slim soundbar that works excellently for homes that want True 3D Surround Sound with a 7-driver array. When you first turn on the Signa S4, you'll be greeted with rich, immersive sound that will transport you into any movie or song.
What makes the Signa S4 special is that it's simple to customize voice and bass levels to perfection. No longer does the dialogue or the bass get lost in the fray. Instead, you hear it crystal-clear, and it's so easy to adjust it according to your needs.
We also love how easy it is to set up. It only requires one cable to connect, and connecting it with a Bluetooth device takes seconds. It'll be out of the box and playing your favorite music all in five minutes.
Pros
Ultra slim and easy to set up
It's simple to adjust the voice and bass levels to your liking
Bluetooth lets you stream from your favorite devices
True 3D sound immerses you like never before
Cons
Auto shut-off feature that you can't disable is irritating
---
Bose Smart Soundbar 600
Bose is a popular name in audio technology, and for a good reason. Their mid-range Smart Soundbar 600 delivers Dolby Atomos immersion for a competitive price. With two transducers and five speakers overall, your sound is further enhanced. Through its smart technology, it creates a rich, multi-channel experience that will get anyone invested.
Bose has several smart features that make connectivity a cinch. It comes with Wi-Fi, Bluetooth, and built-in compatibility for major streaming services such as Chromecast, Spotify Connect, and Apple AirPlay 2. Also, you can use Amazon Alexa, Google Assistant, or Bose's own app to change the music with ease.
Connecting it to your TV is simple thanks to its HDMI, optical audio cables, and through its guided app setup. You should have no time between taking it out of the box and letting it play your favorite tunes. Overall, it's another hit from Bose, and one worth checking out if you're on a mid-range budget.
Pros
Rich sound coming from a smaller-sized soundbar
Its smart features make changing your favorite music or movies much easier
Includes all the cables you need for a quick setup, with a guided app to make things even easier
It has immersive sound and plenty of features for an affordable price
Cons
Occasional connection issues
---
Bose Smart Soundbar 900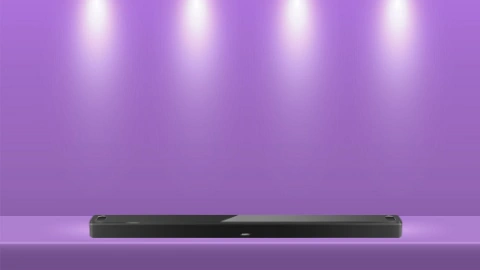 The Bose 900 is the ideal soundbar for use in smart home entertainment systems. It comes with Alexa and Google Assistant voice control built-in, with a noise-rejecting microphone that will hear your commands even when you crank the volume.
In addition, it supports wireless streaming through services like AirPlay 2 and Spotify Connect, and can be grouped with other Bose speakers via Wi-Fi to create multi-room music setups.
The sound quality of the Bose Smart Soundbar 900 is ideal for a home theater. Its ADAPTiQ calibration optimizes the sound for your space, with Dolby Atmos and TrueSpace technology for immersive 3D sound without the need for a complex surround sound set-up.
While there's no external subwoofer included with the Bose 900, the 7 full-range speakers inside the soundbar give it a full, powerful bass response.
We also love how user-friendly the Bose 900 is. Set-up is a breeze through the Bose Music app, which guides users through the process of calibrating the sound and connecting devices.
It's also easy to expand your sound system since it works seamlessly and wirelessly with other Bose speakers, giving you great versatility for any size home entertainment system.
Pros
TrueSpace processing simulates surround sound
ADAPTiQ calibrates sound to your space
Wireless streaming through AirPlay, Chromecast, and Spotify Connect
Easy set-up through Bose Music app
Built-in voice control through Google or Alexa
Syncs wirelessly with other Bose speakers and headphones
Cons
External subwoofer must be purchased separately
---
SAMSUNG HW-Q990B/ZA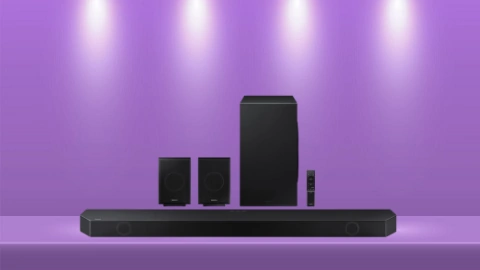 This Samsung soundbar is an excellent addition to any home on a higher budget. With its Wireless Dolby Atmos 11.1.4ch sound, it fills every corner of your room with incredible music or movie audio. Connect speakers to it, and everything will be in perfect sync.
Getting that perfect sound is simple thanks to its Spacefit Sound+ technology. It automatically adjusts the audio according to your room's specifications. There is no trial and error. In addition, it has built-in Alexa, meaning that you can change what you're listening to with the power of your voice.
This sound is adaptive according to what you're listening to, focusing more on the voice clarity or the sound effects depending on what you're doing.
No matter who you are, setting it up and getting that perfect sound has never been easier. It comes with all the cords you need, including simple setup instructions to get it running. Overall, Samsung makes another hit soundbar you won't want to miss.
Pros
Powerful sound for any room size, with syncronized connections with compatible speakers
Built-in Alexa is responsive and makes it simple to change your music. In addition, you can use your phone to do so.
Adjusts according to the situation, making it great for listening to bass-heavy music, gaming competitively, or listening to a dialogue-heavy movie
A true home theater experience for an upper-mid-range price.
Cons
May not perfom the best if your TV or speakers aren't Samsung
---
Samsung Q700A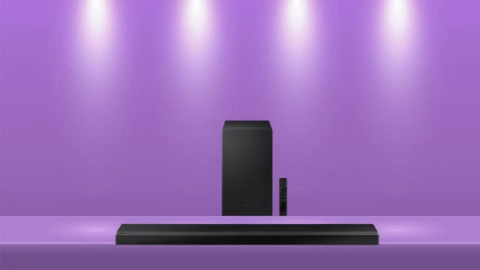 If you're looking for theater-quality sound at an affordable price, the Samsung Q700A is a great option. It matches the specs of soundbars that cost twice as much.
This includes its connectivity and smart features, with Alexa voice control capability and support for technology like Apple AirPlay and the SmartThings app.
The Samsung Q700A uses the company's Q-Symphony synchronization technology. This tracks the audio signal scene-by-scene, optimizing the sound for clarity and balance.
Its SpaceFit Sound technology does the same for your room, calibrating the soundbar output to fill your space and prevent hotspots and dead zones.
You can emulate a 3.1.2 surround sound system with just the Q700A soundbar and included subwoofer. The 8 speakers between them use Acoustic Beam technology with up-firing channels for fully immersive sound.
It's a great soundbar for all types of content, too, with a Game Pro Mode that ensures audio will sync with on-screen action and minimizes crosstalk and other distractions.
Pros
Immersive theater-quality sound through Dolby Atmos and DTS:X
Automatic sound calibration with SpaceFit
1.2 channel surround sound capability
Hands-free control through Alexa
Compatible with SmartThings app
Excellent value
Cons
Less powerful output than other models
---
Best Soundbar for Projector – The Verdict
The biggest question you need to answer when you're shopping for a soundbar is what kind of audio you want to use it for. If you'll mostly be watching TV shows and movies, the clarity of the spoken word is arguably more important than the bass response or maximum volume. Many soundbars offer speech-specific settings that are great for this kind of content.
While the SAMSUNG HW-Q990B/ZA  (>>> Find on Bhphotovideo) is the top pick from a sound quality standpoint, you'll find any of these models can be a solid choice in a home theater.
The great thing about soundbars is that they offer quality sound in a compact package—often at a better value than other speaker styles. Consider your space and your budget along with the sound quality and you'll be guaranteed to find something that satisfies all of your sonic needs.
REFERENCES AND FURTHER READING