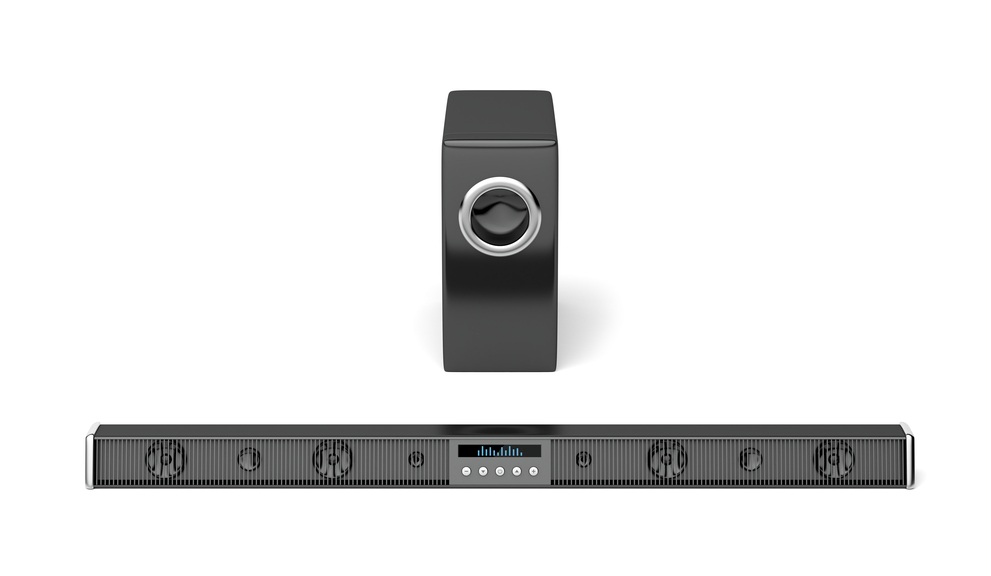 The speakers on most projectors are relatively weak and don't have the best sound quality, especially when it comes to the lower end of the sonic spectrum. A soundbar is a compact means of adding an external sound source. You can find quality options at every price point, too, so it's an affordable way to meet your sound needs.
We've picked out our top 5 soundbars for projectors and reviewed them below so you can consider their strengths for yourself. If pure sound quality is your main consideration, the Sonos Beam is our top choice. (>>> Find the current price on Amazon) Let's take a quick look at the most important features to see how it stacks up against the other projectors on the list.
Best Soundbar for Projector – Top Picks for 2021:
| | Sonos Beam | Sony HT-S350 | Yamaha YAS-209BL | Samsung HW-R450 Soundbar | Samsung HW-Q6CR/ZA |
| --- | --- | --- | --- | --- | --- |
| | | | | | |
| Power | 100 dB | 320W (95.5 dB) | 200W (90 dB) | 200W (93.1 dB) | 360W (96.4 dB) |
| Subwoofer | | | | | |
| Connectivity | Bluetooth, HDMI | Bluetooth, HDMI | HDMI, Wi-Fi, Bluetooth | Bluetooth | Bluetooth |
| Dimensions | 25.6 x 2.7 x 3.9 | 41 X 20.4 X 9.8 | 2.4 X 4.3 X 36.6 | 2.8 X 35.7 X 2.1 | 45.3 X 18.8 X 11.8 |
| Price | Check on Amazon | Check on Amazon | Check on Amazon | Check on Amazon | Check on Amazon |
Table of Contents:
Power
The main reason most people buy external soundbars for their projectors is they need more volume. If you get a wimpy speaker, you won't get the big sound boost you're looking for. All of the soundbars on this list can reach at least 90 decibels, which isn't quite rock concert loud but is plenty to fill most rooms. For the loudest soundbar, the Sonos Beam edges out the competition, with a max volume of around 100 decibels.
Most powerful soundbar: Sonos Beam
Overall Sound Quality
Bass is the main thing lacking from the built-in speakers on projectors. They just don't have the heft to produce deep, rumbling sound effects. Many soundbars have the same problem, making an external subwoofer a necessity if you want truly immersive sound.
Balance is important too, though. If there's too much bass or the sound is too "dark" it can be hard to hear dialogue and other details. The best soundbars for home theaters have dialogue enhancement features and content-specific settings that maintain this balance between clarity and power.
Best overall sound: Sonos Beam
 Surround Sound
Soundbars are cheaper than speaker systems but they have an inherent flaw: they produce sound from a single source. That prevents them from emulating a sense of space and movement.
Modern soundbar manufacturers use technology to overcome this issue with varying degrees of success. The Sony HT-S350 acts as 2 speakers to give a range of motion, while the Yamaha YAS-209BL uses 3D surround circuitry. To our ears, though, the panoramic sound picture on the Samsung HW-Q6CR is the most effective at reproducing the surround sound experience.
Best surround sound: Samsung HW-Q6CR
Smart Features
If you have (or want) a smart home theater, getting a soundbar with voice control features built right in will be very handy. Both the Sonos Beam and the Yamaha YAS-209BL are enabled for Alexa voice control. While both are very easy to connect into a smart system, the Yamaha offers more connection and control options, making it the smarter of the two by a hair.
Best smart features: Yamaha YAS-209BL
Full Reviews
Sonos Beam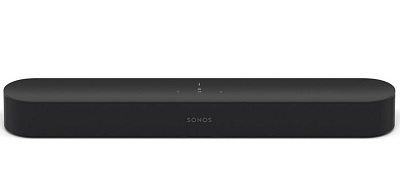 Sonos is one of the leading names in sonic technology, and with their Beam soundbar, you'll get one of the most advanced options currently available. Not only is the sound quality top-notch it's also enabled for Alexa voice control automatically, making it the perfect option for anyone with a smart home system.
As you might guess from the inclusion of Alexa, the Sonos Beam is a wireless speaker. Since most projectors don't come with built-in wifi, this does mean you'll need to purchase a wireless dongle for your projector before you can use it. On the flip side, a wireless speaker is a super convenient option once you have it set up, especially if you use a ceiling mount for your projector.
Convenience is definitely the strongest selling point of the Sonos Beam. It's ultra-compact, fitting easily on a bookshelf of coffee table, and it can be wall-mounted as well. You'll also easily be able to integrate other speakers from the Sonos line if you want to set up a surround sound or multi-room music system. It's also very easy to set up and control—just download the Sonos app and plug in the Beam, and you're pretty much ready to go.
The Sonos Beam also delivers when it comes to sound quality. In our opinion, it's the best-sounding soundbar on the list. It uses powerful woofers for the low end, and also gives users options like speech enhancement to improve dialogue clarity. If you're looking for the most advanced soundbar you can get your hands on, this is a definite contender.
Pros
Best sound quality on the list
Includes Alexa voice control service
Can connect wirelessly with speakers in other rooms
Compact design great for homes with limited space
Automatically updates over wifi
Easy, intuitive set-up and controls
Cons
Most expensive option on the list
Only offers wireless connection
---
Sony HT-S350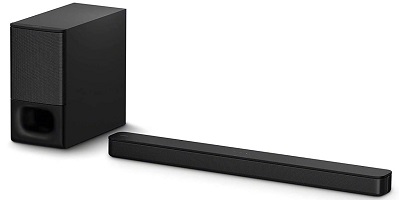 The Sony HT-S350 is a powerful unit, with a 320-watt output. You'll be amazed by how loud it can get, especially once you see how compact it is. It's not just loud, either. It uses technology that isolates dialogue away from the background noise.
Another thing we appreciate about the Sony HT-S350 is the 2.1 surround sound. While it's front channel only—meaning not as fully immersive as a full surround speaker system—you'll get a much deeper sense of movement than most soundbars can offer. It's also easy to adjust the sound to the kind of content you're watching. The seven preset sound modes include options for video games, sports, cinema, and more, and you can tweak them from there if you need to. The list of the best projectors for sports can be found here.
Installing the Sony HT-S350 is easy, too. Mount it on the wall or put it on your entertainment center. It's unobtrusive wherever you put it. You have the option of HDMI or Bluetooth for the connection, giving it even more installation flexibility.
Pros
Voice Enhancement features makes dialogue more clear
Stream content through Bluetooth
Emulates surround sound experience
Multiple sound modes for quickly optimizing your settings
Easy to set up
Cons
Doesn't sound as good when playing music
No option to turn off surround sound
---
Yamaha Audio YAS-209BL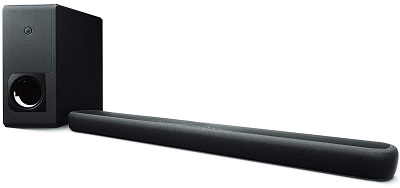 If you have an Alexa-based smart home theater, the Yamaha YAS-209BL will fit right in. It comes with Alexa voice control built-in. Since it connects through Wi-Fi, Bluetooth, or wired connections, it's easy to install it no matter what kind of equipment you're using. The subwoofer connects automatically, too, so you don't have to worry about that during installation.
The sound on the Yamaha YAS-209BL comes close to mimicking the immersive experience of surround sound. It uses DTS virtual 3D surround sound technology for more lifelike sound effects that give you the feel of movement. The dialogue clarity is on point, too, so it's great for everything from sports to action movies to music videos.
Non-Alexa users are out of luck when it comes to controlling the Yamaha YAS-209BL. The controller app for your phone is easy to use and has robust options and sound modes to optimize your content. That gives the YAS-209BL high marks for both convenience and quality.
Pros
Built in Alexa voice control
Enhanced clarity for dialogue
Immersive, powerful sound
Plays sound via Wi-Fi or Bluetooth
Easy to set up with wired or wireless connection
Wireless subwoofer pairs automatically
Controller app lets you use it through your phone
Cons
Not compatible with Google Assistant
---
Samsung HW-R450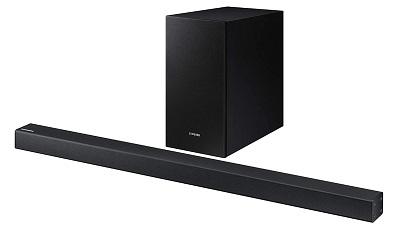 For an affordable option that's great in multi-use spaces like media rooms, the Samsung 2.1 Soundbar is our top pick for value. It comes with a wireless subwoofer that produces an excellent bass response for movies, games, and anything else you use your projector for. The Smart Sound technology used in this soundbar automatically optimizes the sound for what you're watching—no more need to mess with the settings manually.
The Game Mode on the Samsung HW-R450 is one reason it's great for media rooms. Using Game Mode boosts the sound effects in the game, making it easier for you to hear what you need to hear. The only unfortunate thing is that not all projector owners will have this as an option. It's guaranteed to work with Samsung products but not with other brands.
On the whole, though, this is a great soundbar even for non-Samsung owners. It uses Bluetooth to stream sound wirelessly from your projector or phone. Samsung also sells a wireless surround sound expansion that you can add for a more immersive experience, giving the HW-R450 a lot of versatility for different set-ups.
Pros
Game mode boosts game sound effects
Automatic sound adjustment with Smart Sound
Wireless subwoofer has good bass response
Bluetooth connectivity lets you stream sound from your phone
Option of adding wireless surround sound (sold separately)
Cons
Game mode won't work with all projectors
No wired connection option
---
Samsung Harman Kardon HW-Q6CR/ZA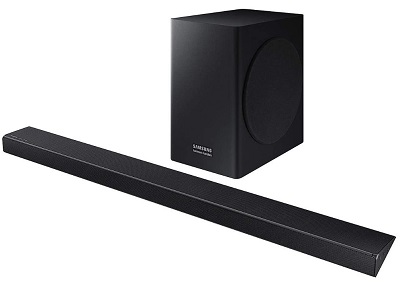 If you're looking for the most immersive sonic experience, the Samsung HW-Q6CR is the one you'll want to check out. It simulates a surround sound speaker system with a panoramic Q-level sonic picture. This syncs automatically to what's going on on-screen, giving you that realism you usually need surround sound to experience.
The Samsung HW-Q6CR is great for gamers, too. The dedicated Game Mode optimizes the sound to the specific needs of video games. Just like the panning, this happens automatically once it senses you're playing, making it an easy way to get the best sound for every use of your projector.
We also appreciate how easy the Samsung HW-Q6CR is to use. It's designed to go with Samsung TVs but you'll get the same plug-and-play operation on any brand. The option of Bluetooth or wired connection helps its flexibility, too. Once it's set up, you can adjust the sound through your projector, no need for extra remotes and hassle.
Pros
Panoramic sound syncs with on-screen action
Great clarity for dialogue
Automatic Game Mode
Option of wired or wireless connection
Easy set-up and sound adjustment
Wireless subwoofer cuts down on wires
Cons
On the larger side for a soundbar
---
Finding the best soundbar for your projector:
The biggest question you need to answer when you're shopping for a soundbar is what kind of audio you want to use it for. If you'll mostly be watching TV shows and movies, the clarity of the spoken word is arguably more important than the bass response or maximum volume. Many soundbars offer speech-specific settings that are great for this kind of content. If pure sound quality is your main consideration, the Sonos Beam is our top choice. (>>> Find the current price on Amazon)
The great thing about soundbars is that they offer quality sound in a compact package—often at a better value than other speaker styles. Consider your space and your budget along with the sound quality and you'll be guaranteed to find something that satisfies all of your sonic needs.
REFERENCES AND FURTHER READING