To have the ultimate home theater experience, you need a great projector. A powerful projector is a solution whether you want to watch immersive movies at the best resolution or play video games lag-free with the best screen.
Today, we're looking at two projectors, the Optoma UHD55 and the Epson 3800. These projectors are at the medium end, costing around $1,500-$1,600. Because of this, you want to choose wisely. So which is the better one? This Optoma UHD55 vs Epson 3800 deep dive will help you figure that out (>>> Check on Amazon).
Optoma UHD55 vs Epson 3800 Side by Side:
| | Optoma UHD55 | Epson 3800 |
| --- | --- | --- |
| | | |
| Resolution | 3840x2160 | 1920x1080 4K w/pixel shifting |
| Contrast | 1,200,000:1 | 100,000:1 |
| Brightness (Lumens) | 3,600 ANSI | 3,000 ANSI |
| Input lag | 4ms | 20.6ms |
| Throw Distance | 3.9' - 26.6' | 6.2' - 28.8' |
| Screen size | 34" - 302" | 40" - 300" |
| Speakers | 10.0 Watts Mono | 10.0 Watts × 2 |
| Today's Best Price | ProjectorScreen.com | ProjectorScreen.com |
Brightness
Both projectors provide a crisp picture, meaning they should satisfy anyone wanting a home theater. However, there is a clear winner regarding which has better brightness.
The Epson 3800 has 3,000 lumens. This number goes beyond the ideal range of 1,500-2,000, and you should still see the picture fine if you are in a bright room. When we tried this projector, it gave us a clear picture.
However, the Optoma UHD55 has 3,600 lumens. So we did notice a difference when we used this projector, and you may as well.
Winner: Optoma UHD55
Gaming Performance
Whether using a projector to play Mario Party with friends or hosting a Street Fighter tournament, you want a projector that can play video games lag-free and in the best resolution possible.
The Optoma UHD55 has a mode specifically for gaming, dubbed the Enhanced Gaming Mode. With it, you can choose between graphics or performance. The first mode gives you 4ms latency and a 240Hz frame refesh rate, giving you seamless gaming. However, it knocks the resolution down to 1080p. The second mode gets you 15ms latency at 4K UHD. If you're not much of a technical person, 15ms is still a fantastic performance, meaning you can experience 4K gaming without much worry. However, if you're competitive gaming and every millisecond matters, you should go with 4ms.
The Epson 3800 doesn't have a gaming mode, but it's pretty good. Its lag time averages between 20-27ms, making for a good gaming experience. We're not substantial competitive gamers, so we thought both had stellar performances. However, the Optoma UHD55 is the best choice for the truly competitive.
Winner: Optoma UHD55
Image Quality
How the picture looks can be the deciding factor for some. Both 4K projectors support several features for you to get the most out of your picture.
The Optoma UHD55 supports 97% DCI-P3 color gamut coverage with three color modes. In addition, you can pick HDR, SDR, and HLG. It uses Dynamic Black technology as well, which improves the contrast immensely. We were also impressed by its adjustable picture modes. While the interface can be finicky, adjusting images on the fly was straightforward once we figured it out. With that said, sometimes the remote can be unresponsive. I hope future updates fix some of the issues we had with it.
Meanwhile, the Epson Home Cinema 3800 has a 3-chip projector for complete RGB coverage. It also boasts more features, such as 18 GBPS HDMI 2.0. It also includes 10 memory positions, making your perfect picture easily customizable. We did have better luck with Epson's interface, meaning that selecting the ideal image is much easier.
While both have an incredible picture, the Epson 3800 had a slight edge. The colors popped out more, and it looked more realistic when using its 3D feature. However, this is not to knock down the Otpoma UHD55, which also has some fantastic assets.
Winner: Epson 3800
---
Optoma UHD55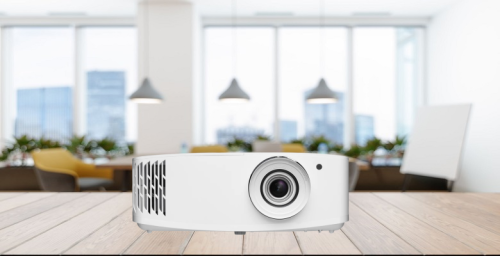 The Optoma UHD55 is a 4K UHD projector that brings the theater straight to your home. It boasts 8.3 million pixels, 3,600 lumens, and 97% DCI-P3 color gamut coverage. In addition, this projector has an Enhanced Gaming Mode, which can take the input lag to 4ms/15ms at 1080p/4K, 240 Hz.
Fine-tune your performance with 4 HDR modes, HDR10 and HLG compatibility, and smart features that make your experience customizable. It also includes 3D compatibility and a built-in media player.
Pros
Incredibly low latency mode for gamers
Some gorgeous pictures with 97% DCI-P3
It packs a powerful punch for the price tag
Cons
The interface is finicky, and it can take a while for you to get your ideal picture
Its streaming apps are a little lacking
Our more in-depth Optoma UHD55 review.
---
Epson 3800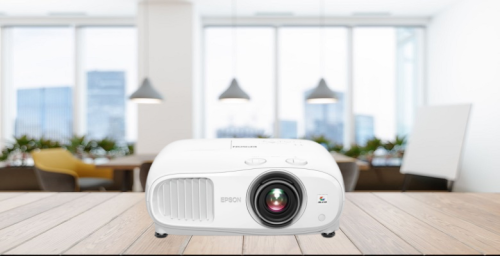 The Epson 3800 is a 4K home theater projector. It uses a 3LCD chip that showcases a 100% RGB color signal without any issues in brightness. Utilizing a full 10-bit HDR, 3,000 lumens, and a 100,000:1 contrast ratio can bring an incredible picture to your home.
In addition, this project has 3D support. With it, you can view your favorite 3D movies with no problem. If you're looking for an immersive experience, you can't go wrong with the 3800.
Pros
Incredible picture quality
A customized experience with 10 memory positions available
Various picture modes to choose from so you can get your ideal experience
Cons
While good for gaming, there is no ultra-low latency mode
Full review: Epson 3800
---
Optoma UHD55 vs Epson 3800: Which One's Better?
This one is more complicated, as both projectors have their pros and cons. If you're going to use it for gaming and prefer more lumens, the Optoma UHD55 is an excellent investment (>>> Find on ProjectorScreen). However, if you want better picture quality, a more customizable experience, and a better interface, then the Epson 3800 is the correct choice.
We're leaning more toward the Epson 3800, not just because of its interface but because it does have better reviews overall from critics and customers. However, the Optoma may be the optimal choice for you if you're looking for the best gaming experience.
Both manage to be great projectors with a lot going for them. They're great for someone looking to spend a little more on a mid-range projector. With Amazon making it so easy to try and return an item, we recommend trying both and keeping the one you prefer.
We hope this article was helpful. Choosing a projector can be tricky, but with this comparison article, we hope it was made more straightforward for you.