The Epson 3800 and Optoma UHD50X have a lot in common. Both are 4K projectors that sell for under $2,000. They also have the brightness and lag-free performance to work in media rooms, living rooms, and other spaces beyond home theaters. It's when you do a deeper comparison between the Epson 3800 vs Optoma UHD50X that you start to see one rise to the top.
Between these two projectors, we recommend the Optoma UHD50X (>>> Check how much it cost on Amazon). It outperforms the Epson 3800 across the board, and since you'll usually find it selling at a similar price to the Epson 3800, price doesn't factor much into the equation. Let's take a deeper look at the key factors in our decision before we move on to the full reviews.
Epson 3800 vs Optoma UHD50X Side by Side:
| | Epson 3800 | Optoma UHD50X |
| --- | --- | --- |
| | | |
| Resolution | 3840x2160 | 3840x2160 |
| Brightness (Lumens) | 3,000 ANSI | 3,400 ANSI |
| Contrast Ratio | 100,000:1 | 500,000:1 |
| Input Lag | 16ms | 16ms |
| Zoom | 1.62x manual | 1.3x manual |
| Throw Distance | 6.2' - 28.8' | 4.0' - 26.6' |
| Screen size | 40"-300" | 34" -302" |
| Internal Speakers | 2 x 10 Watts | 5.0 Watts Mono |
| Price | BHPhotoVideo.com | ProjectorScreen.com |
Installation
The Epson 3800 and Optoma UHD50X have a similar throw distance and range of screen sizes. You can get an image up to 300" from either, though you'll need a lot of space to do it. The Epson 3800 produces a 100" from about 12 feet away, while the Optoma UHD50X produces the same size image at 10 feet. It's not much of a difference, but if you don't have a large space the UHD50X will give you a slightly bigger screen.
The Optoma UHD50X also gives users more image adjustment options, which can be a big help during installation. The 40° keystone correction is a big help for ceiling mounting, while the zoom and vertical lens shift make it a bit more forgiving when it comes to the screen alignment.
Easier projector to install: Optoma UHD50X
Picture Quality
Both of these projectors will give you the 8.3 million pixels of a 4K resolution. The way they produce that level of detail is different, though. The Epson 3800 employs a technology called pixel shifting that starts with a Full HD picture and enhances the image from there. This produces a picture that's sharper than Full HD but not quite up to the detail and clarity of a true 4K resolution, like the one you get on the Optoma UHD50X.
It's a similar story when it comes to contrast and color. The Epson 3800 is good, but the Optoma UHD50X is just a little bit better. Its Dynamic Black technology enhances details in dark areas and it utilizes an 8-segment color wheel, maximizing its range of potential hues.
Projector with the Best Picture: Optoma UHD50X
Brightness
A brightness of around 3,000 lumens or more will give you a clear, vibrant picture even with a moderate amount of ambient light. The Epson 3800 and the Optoma UHD50X both meet that benchmark. With 3,400 lumens, the Optoma UHD50X is slightly brighter, and is the better option for daytime viewing in rooms with windows. If you are looking for a projector more suitable for outdoors – check this guide.
Brighter lamp: Optoma UHD50X
Gaming Performance
When it comes to lag time, both the Epson 3800 and the Optoma UHD50X perform quite well. You can get it as low as 16ms on both machines using their dedicated gaming modes, which is well within the acceptable range for even serious gaming.
There are two things that give the Optoma UHD50X the slight edge in this regard. First, it has a frame refresh rate of 240Hz, providing the smoothest on-screen action of any projector in the price point. It also has a higher contrast ratio, giving you the rich black levels and detail you want when you're gaming.
Best projector for gamers: Optoma UHD50X
---
Epson 3800 vs Optoma UHD50X: Full Reviews
Epson 3800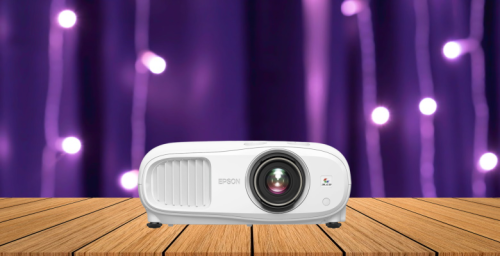 There's a lot to love about the Epson 3800. The combination of 4K resolution and the 3-chip design give you a vibrant, life-like picture that really comes alive, especially at larger screen sizes. Real-time video processing makes sure there's no banding or blocking, keeping the transitions smooth from frame to frame so you can get lost in what you're watching.
We're also a fan of the Epson 3800 for gamers. The input lag is low enough you won't have to worry about annoying delays. It has the same high image quality when you're gaming as it does for movies and TV, and that smooth frame to frame motion is arguably even more important when you're playing a graphic-intensive game.
It's also helpful that the Epson 3800 includes a Bluetooth connection as well as HDMI inputs. This gives you the option of wireless streaming for content or audio you're sending to Bluetooth speakers, something that's especially helpful if you're using a ceiling-mounted installation. More detailed Epson Home Cinema 3800 review can be found here.
Pros
Real-time 12-bit processing for smooth frame to frame transitions
3LCD chip technology for stunning full-spectrum color
No rainbow effect or compression artifacts
Low input lag in Enhanced Gaming Mode
Includes both Bluetooth and HDMI connections
Cons
Pixel-shifting for 4K isn't quite as clear as true 4K
Input lag is higher when gaming in 4K
---
Optoma UHD50X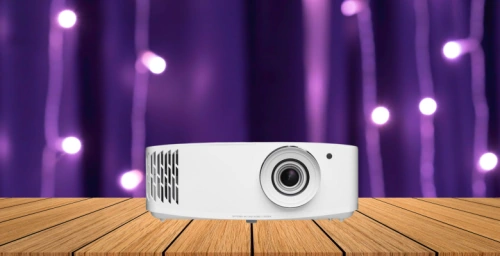 The Optoma UHD50X is a user-friendly and versatile 4K projector and represents fantastic value at the price. Let's start with its gaming performance, which might be its best feature. Along with an input lag as low as 16ms, the fast processing and frame rate eliminate blur and choppiness. You'll get the smoothest gaming experience you've ever had on a projector with the Optoma UHD50X.
Home theater owners will be equally impressed by the visual quality of this projector. It has a high contrast ratio, an 8-segment color wheel, and a bright 3,400 lumen lamp. This is on top of the native 4K resolution with UltraDetail technology. All-told, the picture is as sharp and immersive as what you'd expect in a movie theater.
The variety of image adjustment options you get on the Optoma UHD50X also make it a bit easier to install. You'll get both keystone correction and a lens shift, along with a 1.3x zoom for fine-tuning. Whether you're doing a tabletop or ceiling-mounted installation, you'll appreciate how the adjustment options speed up the process. Click here for a full Optoma UHD50X review.
Pros
True native 4K resolution
Compatible with both HDR10 and HLG color palates
Impressive deep black levels
High refresh rate and low lag time ideal for gamers
Bright lamp works well in well-lit spaces
Includes zoom, lens shift, and keystone correction
Cons
No Bluetooth connection option
---
What's the Verdict?
The Epson 3800 is by no means a bad projector. That said, though, the simple truth is the Optoma UHD50X outperforms it in every major metric and sells for a comparable price (>>> Find on ProjectorScreen). Whether you're buying a projector for a home theater or media room, the Optoma UHD50X has the versatility and performance you're looking for.
REFERENCES AND FURTHER READING: