BenQ's 4K home theater projectors give users incredible cinema-quality big picture entertainment in a user-friendly and easy to install package. If you're considering the BenQ TK850i vs. TK850, they might look identical on first examination.
The truth is, the differences between these projectors are slight, but they can make a big difference in how you use them. Based solely on performance, the BenQ TK850i is more versatile and the better option (>>> Check on Amazon). However, the lower price point of the BenQ TK850 makes it the better value, providing the same high-quality picture at a lower price. Let's take a closer look at these differences before we look at each model in detail.
BenQ TK850i vs TK850 Side by Side:
| | BenQ TK850i | BenQ TK850 |
| --- | --- | --- |
| | | |
| Resolution | 3840x2160 | 3840x2160 |
| Brightness (Lumens) | 3,000 ANSI | 3,000 ANSI |
| Contrast Ratio | 30,000:1 | 30,000:1 |
| Input Lag | No data | 83ms |
| Throw Distance | 3.2' - 24.6' | 3.2' - 24.6' |
| Screen size | 30" - 300" | 30" - 300" |
| Speakers | 5.0 Watts × 2 | 5.0 Watts × 2 |
| Price | | |
Connectivity
The rear panel of the BenQ TK850 is similar to what you'll see on most home theater projectors. Its main content inputs are the dual HDMI inputs, and it also has ports for external speakers, network inputs, and 3 USB ports for peripherals.
The BenQ TK850i has this same array of wired inputs, but also has the capability to connect wirelessly through a Wi-Fi connection right out of the box. This includes mirroring screens from both Android and Apple devices through AirPlay or Chromecast, no extra accessories needed.
Broader connectivity: BenQ TK850i
Streaming and Voice Control
This is the starkest difference between these two models. The BenQ TK850i comes with an Android TV interface, which has access to the thousands of apps in the Google Play store. This also instantly adds voice search capability through Google Assistant, giving you a hands-free way to find and play shows and movies. The TK850 lacks this feature—the only way to get content is through its dual HDMI ports.
Better streaming capability: BenQ TK850i
Gaming Performance
We'll say right off the bat that neither of these models is what you'd call a "gaming projector." Serious gamers look for an input lag of 30ms or lower, especially for reflex-based games like first-person shooters, and will likely find the delay of both these models frustrating to play on.
That being said, you can get the input lag of the BenQ TK850i down to around 63ms with the right picture and lamp settings—not pro-level responsiveness, but fast enough for most casual players and slower-paced games like turn-based RPGs.
Better gaming performance: BenQ TK850i
Value
The TK850 and TK850i are identical in many respects. Both produce a sharp, vibrant picture with great contrast and color, and the installation process is equally straightforward for both models, as well. For those who plan to use wired content sources anyway, rather than the built-in streaming option, you can save yourself a few hundred bucks and get a nearly identical viewing experience from the BenQ TK850.
Better value: BenQ TK850
---
The most impressive feature of the BenQ TK850i is its precision lens. It uses a 10-element all-glass array that maximizes the light penetration and clarity of the image, producing a bright, sharp picture at all image sizes and light levels. That light level is further optimized through the use of dynamic iris technology, which gives it a high on-screen contrast with rich black levels.
This high-quality lens is paired with a DLP display with 10-bit color processing and support for visual technology like HLG and HDR10. In layman's terms, that means it can produce a wide range of distinct hues for more subtlety and realism. The Enhanced Tone Mapping is a factor here, too, ensuring accurate and nuanced colors across the entire picture. This quality is maintained even during fast-paced action sequences thanks to the use of frame interpolation.
The BenQ TK850i is relatively flexible in terms of where you use it. Features like a 10% lens shift, vertical keystone correction, and 1.3x zoom make it fairly easy to fine-tune the picture without needing to move the projector, very helpful for aligning the image in ceiling-mounted installations. Having the option of direct streaming through the Android interface helps here, too, saving you the need to connect streaming sticks or other accessories before you start watching.
Pros
Android TV streaming interface included
Device casting through Chromecast or AirPlay
Bright enough for most indoor light levels
True 4K resolution with excellent color
Dynamic picture contrast with HDR10 support
Flexible installation lens shift and keystone correction
Cons
Higher cost
Input lag still too high for serious gamers
---
BenQ TK850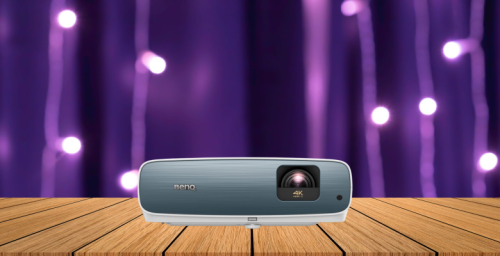 The BenQ TK850 shares a lot of strengths with the 850i above. This includes the precision all-glass lens array with dynamic iris contrast and a wide color gamut, calibrated at the factory to provide coverage of the entire Rec. 709 spectrum that's the current broadcast standard. If your main concern is picture quality, the TK850 performs beautifully.
Like the TK850i, the TK850 has a standard throw distance, and you'll need around 8-10 feet of distance to get a 100" image. As long as you have enough space, however, it offers good flexibility, with a bright enough lamp for basically any light level and features like lens shift and keystone correction for fine-tuning.
The main disadvantage of the TK850 (and the reason it's a few hundred dollars cheaper) is that it doesn't have all-in-one operation out of the box. You'll still need to connect a content source to use it—not a huge hassle if you already have a cable box or streaming stick, but something to keep in mind if you're building a home theater set-up from scratch.
Pros
Sharp 4K resolution with HDR dynamic contrast
Automatic enhanced color and tone mapping
Bright lamp works in most light environments
Easy to install and align the image
Excellent value for the picture quality
Cons
No device mirroring or direct streaming
Lag may be too high for even casual gamers
---
The Verdict: BenQ TK850i vs TK850
The main difference between the BenQ TK850i and TK850 comes down to connectivity. If you want the option of device casting or streaming, the TK850i gives you that option right out of the box (>>> Find on Amazon). That said, you'll also pay a bit more for this capability—more than it costs to just buy a streaming stick. It's up to you whether the extra convenience is worth the higher price.
Related Comparisons: