As projector technology improves, 4K resolution is quickly becoming the standard in the mid-range home theater market. Optoma and BenQ are two of the leading brands offering this advanced image production at a price that will fit into most users' budgets. Comparing the Optoma UHD50X vs. BenQ TK850, you'll see both offer true 4K resolution with a wide color gamut and high image contrast thanks to technology like Dynamic Iris and HDR-PRO.
While the BenQ has a slightly sharper picture thanks to its all-glass lens array, the Optoma's superior gaming performance makes it the more versatile choice (>>> Check on Amazon). Let's take a closer look at the main differences so you can decide which one fits your needs.
Optoma UHD50X vs BenQ TK850 Side by Side:
| | Optoma UHD50X | BenQ TK850 |
| --- | --- | --- |
| | | |
| Resolution | 3840x2160 | 3840x2160 |
| Brightness (Lumens) | 3,400 ANSI | 3,000 ANSI |
| Contrast Ratio | 500,000:1 | 30,000:1 |
| Input Lag | 25ms | 83ms |
| Throw Distance | 4.0' - 26.6' | 3.2' - 24.6' |
| Screen size | 34" - 303" | 30" - 300" |
| Speakers | 5.0 Watts Mono | 5.0 Watts × 2 |
| Price | ProjectorScreen.com | BHPhotoVideo.com |
Brightness
The 3,000-lumen lamp on the BenQ TK850 supports lights-on viewing, and is powerful enough for most living rooms and other viewing areas. It may still be prone to wash-out in particularly bright rooms, though, particularly for daytime viewing in spaces with lots of natural light. In these spaces, the brighter 3,400-lumen lamp of the Optoma UHD50X can give you that extra brightness you need to keep the picture vibrant and sharp.
Brighter projector: Optoma UHD50X
Gaming Performance
This is the main functional difference between these projectors, and the one most users will want to make their decision based on. The Optoma UHD50X is equally great for gaming as it is for watching TV and movies, with an Enhanced Gaming Mode that drops its input lag down to 16ms for Full HD (25ms for 4K gaming). That's lower than the 30ms threshold most gamers look for, and is low enough you won't notice any added lag while you're playing.
The input lag of the BenQ TK850 measures around 83ms at its fastest. Casual gamers may still be able to use it for RPGs or other games that don't rely on timing and reflexes to play, but there is a noticeable delay between your input and the on-screen action that makes first-person shooters and similar games unplayable for most.
Better gaming performance: Optoma UHD50X
Sound Quality
The 5-watt speaker on the Optoma UHD50X has a sound quality similar to most laptop speakers. It's functional for TV dialogue, but doesn't do justice to movie sound effects and music. Its output is also relatively weak, so most will want to use external speakers in larger spaces like living rooms.
The BenQ TK850 has two 5-watt speakers, giving it a higher volume output. The sound quality is also better thanks to technology like CinemaMaster Audio, which improves the processing of the audio signal on its way to the speakers. This means you'll get superior sound quality through external speakers, as well as more output and quality from those built in to the projector.
Better sound quality: BenQ TK850
---
Optoma UHD50X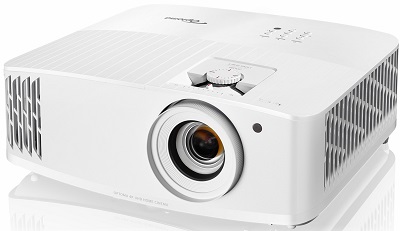 The Optoma UHD50X is an excellent all-around, versatile 4K projector. For home theater use, it offers 4K resolution and a high contrast ratio, along with an enhanced 8-segment color wheel that provides the full range of the DCI-P3 spectrum. Compatibility with video technology like HDR10 ensures the accuracy of your content, too, so you'll see movies and TV shows the way they were intended.
Gamers will find just as much to love about the Optoma UHD50X. Its 240Hz frame refresh rate keeps the on-screen action smooth and blur-free in both gaming and home theater contexts. Turning on Enhanced Gaming Mode drops the input lag down to around 16ms for full HD content, and 25ms for gaming in 4K. That's responsive enough most players won't notice any delay, even during online multiplayer and games from the latest generation consoles.
The Optoma UHD50X has a user-friendly and flexible set-up. It works with both ceiling-mounted and tabletop installations, and includes image adjustment options like a vertical keystone correction, vertical lens shift, and manual 1.3x zoom. The 3,400 lumen lamp is bright enough to keep the picture vibrant in most indoor light environments. Its only limitation from a space standpoint is its standard throw distance, which does need a decent amount of space—around 9-11 feet for a 100" screen.
Pros
Sharp, high-contrast 4K image
Compatible with HDR10 and HLG
Full coverage of DCI-P3 color space
Excellent responsiveness in Enhanced Gaming Mode
Bright lamp suitable for any light environment
Easy set-up and image alignment
Cons
---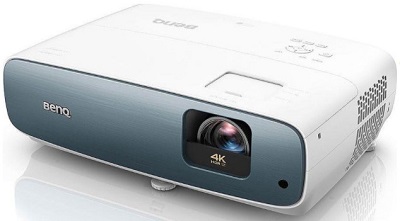 The BenQ TK850 uses a 10-element lens array that dramatically improves the sharpness and contrast of the image, for a truly sharp 4K picture. The Dynamic Iris lens further maximizes the brightness, with HDR-PRO enhancement to make sure you see every detail. Its color production is also pretty broad, with a 4-segment color wheel that's tuned at the factory to cover much of the DCI-P3 color space.
The frame interpolation technology on the BenQ TK850 keeps the on-screen action smooth, limiting the risk of motion blur and other image issues, with a dedicated picture mode for sports and other fast-paced content. Unfortunately, it's not the most responsive projector out there, with an average input lag of around 85ms, which will cause noticeable delays when gaming.
From a set-up perspective, the BenQ TK850 has similar stats to the Optoma above. Its throw distance is a smidge shorter, needing about 8-10 feet for a 100" image, with features like vertical lens shift and keystone correction for aligning the image to the screen. Its sound performance is also superior, with a more powerful speaker and better audio signal processing technology. While you'll still want an external sound system for an immersive surround sound experience, its built-in speakers have good dialogue clarity and are loud enough to use on their own.
Pros
Sharp 4K image with HDR-PRO and Dynamic Iris enhancement
Frame interpolation reduces motion blur
Lamp is bright enough for most indoor spaces
CinemaMaster audio provides decent built-in sound
Flexible installation
Cons
---
What's the Verdict?
The choice between the Optoma UHD50X and BenQ TK850 ultimately comes down to your plans for the projector. If you want the option of gaming, the UHD50X is the obvious best choice (>>> Check on ProjectorScreen). For solely home theater use, the BenQ has a slightly sharper picture thanks to its all-glass lens array as well as better built-in sound. Whichever way you go, you'll get a user-friendly 4K projector at an excellent value.