BenQ and Optoma are two of the top names in home theater projectors, providing cinema-level quality at a price everyday buyers can afford. Comparing the Optoma UHD50X vs. BenQ HT3550, neither model is the clear winner for everyone. The overall image quality of the BenQ is higher, but the Optoma is more versatile in terms of both its use and your space. Let's take a closer look at the main differences so you can choose the best one for your home.
Optoma UHD50X vs BenQ HT3550 Side by Side:
| | Optoma UHD50X | BenQ HT3550 |
| --- | --- | --- |
| | | |
| Resolution | 3840x2160 | 3840x2160 |
| Brightness (Lumens) | 3,400 ANSI | 2,000 ANSI |
| Contrast Ratio | 500,000:1 | 30,000:1 |
| Input lag | 25ms | 50ms |
| Throw Distance | 4.0' - 26.6' | 3.2' - 16.4' |
| Screen size | 34" - 303" | 30" - 200" |
| Speakers | 5.0 Watts Mono | 5.0 Watts × 2 |
| Price | ProjectorScreen.com | BHPhotoVideo.com |
Brightness
The brightness you need from a projector depends on your viewing area. In a fully-dark room, 1,500 lumens is usually plenty to produce a bright picture. A lamp of around 2,000 lumens can compete with a few lamps or other light sources. For well-lit rooms or lots of windows, you'll want a projector that can produce at least 3,000 lumens.
The BenQ HT3550 puts out 2,000 lumens, which will be sufficient if your space has a low light level. For brighter rooms, the 3,400 lumens of the Optoma UHD50X will produce a better picture without the need for light control methods.
Brighter projector: Optoma UHD50X
Throw Distance
Both the BenQ HT3550 and Optoma UHD50X have a standard throw distance and require multiple feet of distance to produce a clear image. There's a lot of variation in the general category of "standard throw" projectors, though, and the BenQ has one that's a bit shorter.
The degree of difference depends on how large you want the image to be. For a 50" image, they're virtually identical (4'8" for the BenQ versus 5' for the Optoma). Once you hit 100", the BenQ's throw distance is about a foot less than the Optoma's. This can be helpful even if you have a big room, giving you more flexibility when you're deciding where to place the ceiling mount.
Shorter Throw Distance: BenQ HT3550
Color and Contrast
The DLP display and color wheel system are similar on the Optoma UHD50X and BenQ HT3550. The Optoma's Enhanced Color Wheel produces the full Rec.709 spectrum, with technology like Rec.2020 HDR tone mapping and Dynamic Black contrast enhancement for a picture quality close to what you'd get in a movie theater.
As good as the Optoma is in this regard, the BenQ HT3550 exceeds it. Its color gamut is wider, covering nearly the entire DCI-P3 spectrum. Dynamic Iris maximizes the lamp's sharpness, increasing contrast and clarity, and its tone mapping system is more sophisticated. The result is a more immersive and realistic overall picture.
Better color and contrast: BenQ HT3550
Gaming Performance
Too much added lag can make video games downright unplayable. This factor is called input lag and is measured in milliseconds (ms). An input lag of around 60ms or less is considered acceptable for casual gaming since most players won't notice enough delay to be distracting.
That said, for online multi-player or games that require quick reactions like first-person shooters, you'll want a lower lag—around 30ms or less, as a rule, and the lower the better.
The BenQ HT3550 is on the upper end of the acceptable range for casual players. It can be used for gaming but it's not the best model for the job. The Optoma UHD50X is a better choice here thanks to its Enhanced Gaming Mode, which gives players an input lag as low as 16ms for HD content (25ms for 4K).
Better gaming performance: Optoma UHD50X
---
Optoma UHD50X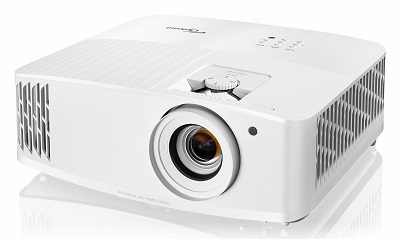 The Optoma UHD50X is a versatile and user-friendly projector for all your home entertainment needs. It's Enhanced Gaming Mode drops the input lag as low as 16ms, pairing it with a fast 240Hz frame refresh rate that ensures blur-free, responsive play across games and systems.
The picture quality of the UHD50X is equally impressive. This starts with its true 4K resolution, which is further enhanced through technology like Dynamic Black contrast and UltraDetail sharpness. The 8-segment color wheel gives it a wider color gamut than many projectors, with support for HLG and HDR10 to ensure you're seeing the colors that were intended.
When it comes to the installation, the Optoma UHD50X is straightforward and relatively flexible. Its 3,400-lumen lamp can compete with any indoor light environment without losing picture quality. There are also a good array of adjustment options, including a 5-15% lens shift and 40% vertical keystone correction. The only thing to keep in mind is that it's a standard throw projector, and as such will need a good amount of space—between 9 and 11 feet on average for a 100" screen.
Pros
True 4K resolution with HLG and HDR10 support
UltraDetail and Dynamic Black enhancement
Bright lamp works in any light level
Low input lag and high refresh rate great for gaming
Flexible installation with good image adjustment features
Cons
---
BenQ HT3550
The picture quality of the BenQ HT3550 is phenomenal at the price. It uses an all-glass 10-element lens array that further sharpens the image, giving it an even crisper display than most 4K projectors. Technology like HDR-Pro tone mapping and Dynamic Iris give it contrast and color to match, and it can produce most of the hues of the DCI-P3 color space used in movie theaters for more accurate, nuanced hues.
The BenQ HT3550 is still a standard throw projector, but it has a slightly shorter throw distance than most (around 8-10 feet for a 100" screen). The 5% vertical lens shift, vertical keystone correction, and 1.3x zoom allow for relatively fast image alignment and set-up, giving users a bit more wiggle room when they're installing the ceiling mount.
There are two main factors that limit the HT3550's versatility compared to the UHD50X above. First, its lamp isn't as bright, putting out about 2,000 lumens. That will produce a vibrant picture in low indoor light levels, but doesn't cope as well with bright environments, especially if there's a lot of natural light. It's also not as good for gaming, with an input lag up to 60ms. Casual players may not be bothered by this but it could be an issue for online play and reflex-based games.
Pros
4K resolution with excellent clarity
Dynamic Iris increases contrast
Colors cover 95% of DCI-P3 spectrum
Shorter throw distance
Flexible and easy to install
Cons
Lag is too high for serious gamers
Lamp isn't ideal for well-lit spaces
---
The Verdict
The BenQ HT3550 is sharper with better contrast and more nuanced and realistic color production. This makes it the better option in a dedicated home theater space, where the lower lamp brightness won't be a concern. (>>> Find on Bhphotovideo)
Those buying a projector for a living room, game room, or other multi-purpose space should instead consider the Optoma UHD50X. It still looks great for watching movies but is better for gaming and can be used in brighter rooms without wash-out.
REFERENCES AND FURTHER READING