The Epson Home Cinema 5050UB and 5050UBe were released in 2019 as an update to their previous Home Cinema 5040 models. Epson built on the LCD imaging and pixel shifting that made the old version so popular, further improving the picture technology to expand the color gamut and dynamic contrast on the Epson 5050UBe and 5050UB.
Comparing the Epson 5050UBe vs 5050UB, it can be difficult to tell just what the difference is between them. Let's take a quick look at the features these projectors share and where they differ so you can decide which one is the better choice for you.
Epson 5050UBe vs 5050UB Side by Side:
| | Epson 5050UBe | Epson 5050UB |
| --- | --- | --- |
| | | |
| Wireless connection | Yes | No |
| Resolution | 1920x1080 | 1920x1080 |
| Brightness (Lumens) | 2,600 | 2,600 |
| Contrast Ratio | 1,000,000:1 | 1,000,000:1 |
| Throw Distance | 10.3' - 29.4' | 10.3' - 29.4' |
| Screen size | 50" - 300" | 30" - 300" |
| Speakers | No | No |
| Price | BHPhotoVideo.com | BHPhotoVideo.com |
Similarities of the Epson 5050UB and 5050UBe
The lens and picture technology are identical on the Epson 5050UBe and 5050UB. Both these projectors use pixel shifting, for a resolution that's about twice as sharp as what you'll get with a full HD projector (although not quite as sharp as true native 4K projectors). Their color performance is strong, as well, and both use technology like frame interpolation, HDR tone mapping, and HLG support.
The set-up and installation process of these two projectors is the same as well. These Epson projectors have a relatively long throw distance, but compensate for it by offering a wide array of image adjustment features. That gives them a good amount of installation flexibility, though you will need a larger space to get a big picture.
So where do these two projectors differ? There are two main areas:
Gaming Performance
Both of these projectors are a great choice for gamers. Their high contrast ratio and powerful 12-bit video processing ensure you'll be able to see what's happening on screen, no matter how dark the area or chaotic the firefight.
The input lag of the Epson 5050UBe measures slightly lower overall than the Epson 5050UB, at 22ms. This means the image is less than one frame behind, responsive enough that there is no noticeable lag when you're playing.
Better gaming projector: Epson 5050UBe
Connectivity
The biggest difference between these projectors is that the Epson 5050UBe comes with a WirelessHD transmitter. Through this, you can connect 4 additional HDMI devices, expanding the connection options over the inputs on the projector itself. This is in addition to the dual HDMI ports and other input and network connections available on the Epson 5050UBe's rear panel.
Better connectivity: Epson 5050UBe
---
Epson 5050UBe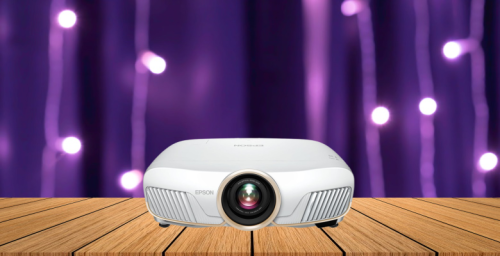 The quality of the image produced by the Epson 5050UBe is its most impressive feature. This starts with crisp 4K resolution, which uses pixel shifting to double the number of on-screen pixels compared to full HD displays. The 3-chip design of the Epson 5050UBe produces full 10-bit HDR color with consistent brightness and no annoying image artifacts. It's one of the only commercial home theater projectors that can show the full DCI-P3 color space, providing a color gamut that's about 50% wider than the Rec. 709 spectrum for truly cinema-level color.
The Epson 5050UBe also offers real time 12-bit video processing. This helps keep the on-screen action smooth, with no compression or motion blur. It's good news for gamers, too. Depending on the picture mode, the input lag on the Epson 5050UBe measures as low as 22ms. While you'll find other projectors that are more responsive, that's within the range for even serious and professional gamers. The result is a lag-free playing experience that lets you really get immersed in the game.
Along with this, the Epson 5050UBe ships with a wirelessHD transmitter. You can use this to connect up to 4 additional devices through HDMI and transmit a wireless signal to the projector, with support for HDR and 4K resolution at 30Hz. That makes it much easier to switch content sources or add new devices, especially if you're using a ceiling-mounted set-up that makes it difficult to access the projector's rear panel. Click here for our more detailed Epson 5050UBe review.
Pros
Comes with wireless HD transmitter
Sharp, detailed picture with 4K resolution and Ultrablack contrast
Impressive color performance (full DCI-P3 color space)
Powerful processing and low lag are ideal for gaming
3D content plays in full HD
Zoom, lens shift, and keystone correction for flexible installation
Cons
Throw distance is too long for small spaces
No speakers built in
---
Epson 5050UB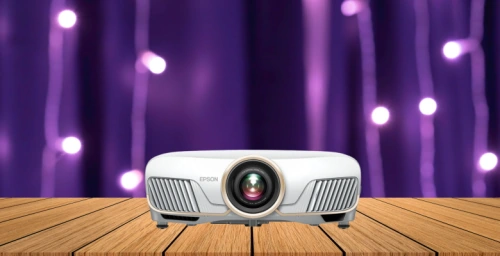 A lot of the great features described for the Epson 5050UBe above are also true of the Epson 5050UB. It also uses a 3LCD design with pixel shifting for 4K resolution with the full DCI-P3 color spectrum. The 16-element powered lens array on the Epson 5050UB uses Dynamic Iris technology for more precise light control, maximizing the contrast and sharpness of the image.
While the Epson 5050UB doesn't come with the wireless transmitter included with the 5050UBe, it does have a robust control panel that can accommodate a wide range of input options.
One of these is a speaker input, which is necessary since it doesn't have any built in. You'll also get 2 HDMI ports and 2 USB inputs, along with a range of network control options for more complex home theater networks.
The high picture quality makes the Epson 5050UB ideal for home theaters. It can also work well in media rooms and living rooms, with a bright enough lamp to use during lights-on viewing or playing, as long as you're able to keep the ambient light at a moderate level. Its throw distance is also relatively long, which can limit its use in smaller spaces. The good news is, so long as you have the space for it the picture is easy to align, with horizontal and vertical lens shift as well as the standard keystone correction and zoom. Click here for our more detailed Epson 5050UB review.
Pros
Dynamic Iris maximizes brightness and contrast
12-bit video processing for smooth on-screen response
Relatively low input lag
Full 3D support in HD
Good variety of input options
Cons
No WirelessHD transmitter
Requires external speakers
---
What's the Verdict?
The wireless transmitter with the Epson 5050UBe can be helpful, but you don't get it for free. The Epson 5050UBe sells for about $300 more than the Epson Home Cinema 5050UB. That makes the Epson 5050UB a better value if the input panel on the projector is enough to suit your needs (>>> Check on ProjectorScreen).
Either way, you'll get a versatile projector that's just as great for gaming as for watching movies and TV. There's a reason the Epson Home Cinema line of projectors are some of the most popular on the current market. We hope this review has helped you decide if one of these models is a fit for your home theater!