Epson projectors have a reputation for performance and reliability that makes them popular with home theater owners. The wireless Epson 5050UBe lives up to this reputation, with a thoughtful design and state-of-the-art technology that deliver a user-friendly, cinema-quality viewing experience. If you're looking for a projector that can perform equally well for movies, TV, and gaming, the Epson 5050UBe is an excellent choice. Having said that, though, it does have some limitations. Let's take a closer look at its features and performance in this Epson 5050UBe review so you can decide if it's the best fit for your home. (>>> Check current price on Amazon)
Epson 5050Ube Review of Main Specs:
| | Epson 5050Ube |
| --- | --- |
| | |
| Resolution | 1920x1200 |
| Brightness (Lumens) | 2,600 |
| Contrast Ratio | 1,000,000:1 |
| Zoom | 2.1x Powered zoom |
| Throw Distance | 10.3' - 29.4' |
| Screen size | 50" - 300" |
| Speakers | No |
| Price | BHPhotoVideo.com |
Picture Quality
The Epson 5050UBe uses a 3-chip design with pixel-shifting technology that allows the high-definition LCD chips to produce millions of on-screen pixels. It also uses Epson's Ultrablack technology, with a proprietary lens filter that suppresses stray light and increases the dynamic contrast of the image. The result in sharp and detailed 4K resolution with rich black levels and excellent picture depth.
We're also impressed by the color production of the Epson 5050UBe. It uses 10-bit HDR processing to reproduce the full-color signal from all content sources and is one of the first commercial home theater projectors to display the full range o the DCI-P3 color space. That expands the color gamut by about 50% compared to projectors that cover the Rec. 709 spectrum for an even more nuanced and realistic picture.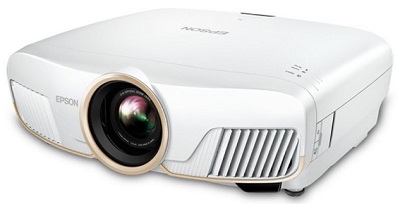 Pros
Detailed 4K picture with Ultrablack dynamic contrast
Displays full DCI-P3 color space
No compression artifacts or rainbow effect
Supports 3D content in full HD
Excellent gaming performance
Flexible image adjustment options
Cons
Long throw distance
No internal speakers
Installation
Here's where the Epson 5050UBe admittedly lets us down a little bit. The throw distance is long even compared to other standard-throw projectors. Depending on how you set the zoom, you'll need between 9 and 20 feet for a 100" picture. That limits its versatility in terms of the requirements of the viewing space, especially since its lamp is on the dimmer side at 2,600 lumens, and will be more susceptible to washout given the distance it needs to travel.
It's also worth noting that there are no built-in speakers on the Epson 5050UBe. Considering the speakers on projectors are often weak, this isn't much of a loss, especially in a home theater where you're already using a surround sound system. Still, it's worth noting if you don't have external speakers on-hand.
On the positive side, the Epson 5050UBe has robust options for aligning the image to the screen. This includes a wide 2.1x zoom and both horizontal and vertical lens shift, along with vertical keystone correction. This makes it flexible in terms of the installation process, provided you have the space to get the screen size you're looking for.
Gaming Performance

The Epson 5050UBe checks all the boxes when it comes to gaming performance. This starts with its low input lag, which measures an impressive 22ms in Dynamic mode. Even in other picture modes, it measures around 28-29ms, still low enough for lag-free and frustration-free gaming.
The high processing speed of the Epson 5050UBe is a plus here, too. It uses real-time 12-bit video processing that prevents choppiness, blocking, and other issues from affecting the picture. You'll enjoy smooth on-screen action for both games and movies, letting you play even competitive reflex-based games without a worry.
The Bottom Line
For larger home theaters, living rooms, and media rooms, the Epson 5050UBe is a great choice. While the lamp is on the dim side, it can be used for lights-on viewing as long as you're able to limit natural light sources. (>>> Check current price on ProjectorScreen)
The long-throw distance of the Epson 5050UBe may be a deal breaker for some buyers. You'll also need to leave space in your budget to buy speakers if you don't have them since it doesn't have any built-in. These limitations aside, the picture quality and overall performance of the Epson 5050UBe are strong. We hope this review has helped you decide if it's the right projector for you!
REFERENCES AND FURTHER READING: