Epson's LS line of home theater projectors are designed to bring home theater owners the ultimate viewing experience. Comparing the Epson LS11000 vs LS12000, you'll see both use advanced image technology and a long-lasting laser light source so you can enjoy that amazing image for years to come. While the Epson LS12000 is the overall better projector by a hair, that doesn't necessarily make it the best buy for everyone (>>> Check on Projectorscreen). Curious which is the better fit for your home and budget? Read on to see the main differences between these two Epson projectors.
Epson LS11000 vs LS12000 Side by Side:
| | Epson LS11000 | Epson LS12000 |
| --- | --- | --- |
| | | |
| Resolution | 3840x2160 | 3840x2160 |
| Contrast | 1,200,000:1 | 2,500,000:1 |
| Brightness (Lumens) | 2,500 ANSI | 2,700 ANSI |
| Input lag | 20ms | 20ms |
| Throw Distance | 10.3' - 29.5' | 10.3' - 29.5' |
| Screen size | 50" - 300" | 50" - 300" |
| Speakers | No | No |
| Today's Best Price | BHPhotoVideo.com | ProjectorScreen.com |
Picture Quality
The picture quality of the Epson LS11000 is impressive, outperforming the majority of home theater projectors. Its combination of 3-chip color, true 4K resolution, and adaptive scene correction produces a lifelike image that lets you get fully immersed into your favorite shows or movies.
While the LS11000 is a strong performer, the Epson LS12000 goes a step further by adding UltraBlack technology. This enhances details in dark screen areas and adds even more sharpness across the image, pushing the high quality of the LS11000 to the next level.
Higher picture quality: Epson LS12000
Brightness
The 2,500 lumens produced by the Epson LS11000 is ideal for a dim space. You can leave a few lights on, but you'll want to cover any windows in the room, and it's not a good choice for bright spaces. The Epson LS12000 isn't much brighter, at 2,700 lumens, but that can make the difference in spaces with over-head lights you want to leave on, especially given the long distance light has to travel to reach the screen from both of these projectors.
Brighter projector: Epson LS12000
Ease of Installation
The Epson LS11000 and LS12000 use the same 3-way motorized lens. Both offer a 2.1x zoom as well as keystone correction and lens shift (+/-47% horizontal, +/-96% vertical). The main difference here isn't in the projector itself but what comes with it. The LS12000 includes a ceiling mount and installation kit, giving it a faster installation right out of the box.
Easier installation: Epson LS12000
Value
The technology used in these projectors is very similar. While the Epson LS12000 does offer a few extra features, like its sharper contrast and included ceiling mount, it also costs about $1,000 more. This makes the LS11000 the better value in our opinion since you can get nearly the same performance for a significantly lower price.
Better value: Epson LS11000
---
Epson LS11000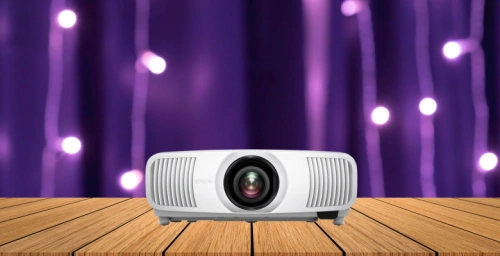 The Epson LS11000 is made to bring cinema-quality entertainment into a home theater. It uses a proprietary 36-bit ZX processor with PRO-UHD pixel shifting to produce the full 8.3 million on-screen pixels of a true 4K display. Its 15-element VRX Cinema Lens maintains a consistent clarity and focus from edge-to-edge, with a high dynamic image contrast and real-time adaptive correction to ensure the content looks the way it was intended. For color, it uses a 3-LCD chip with 10-bit HDR10+ and HLG color processing, producing lifelike hues with no rainbowing.
Along with its impressive image quality, the Epson LS11000 can also be used for gaming. It has a 120Hz frame refresh rate for 4K or full HD content, paired with an input lag low enough for even serious gamers to play without frustration.
The main potential downside of the Epson LS11000 is that its throw distance is long, even compared to other standard-throw projectors. Even using the 2.1x zoom, you'll need at least 10 feet to fill a 100-inch screen. Ambient light may also be a concern. The laser light source is powerful enough to compete with low to moderate light levels, but that long throw distance makes the picture more prone to wash out than other styles. On the plus side, the installation is flexible as long as you have enough space. Its 3-way motorized lens includes both horizontal and vertical lens shift, as well as 2D keystone correction. Click here for our more in-depth Epson LS11000 review.
Pros
True 4K resolution with high dynamic contrast
Accurate and bright colors
Low input lag for gaming
Flexible installation
Low maintenance with long light source lifespan
Lower cost
Cons
---
Epson LS12000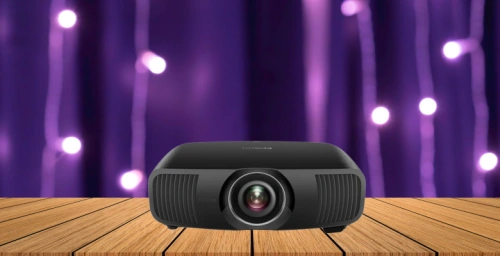 The Epson LS12000 uses similar image technology to the LS11000 above. This includes 3-chip color with support for HLG and HDR10+ and real-time 16-step adjustment for accurate colors frame by frame. It also uses the same VRX lens and ZX picture processor for a sharp, clear 4K resolution. The main improvement from a picture standpoint is that it also uses Epson's UltraBlack technology, with a filter that suppresses stray light and controls the polarization to give it a functionally infinite contrast ratio.
That's good news for gamers as well as movie lovers. A higher contrast means more detail in dark screen areas, making it easier to see enemies, loot, and hidden easter eggs while you're playing. Like the model above, the LS12000 has a low input lag and 120Hz frame refresh rate to prevent lag from interrupting your play. Click here, for the Epson LS12000 review.
The Epson LS12000 has a similarly long throw distance to the LS11000, as well as the same array of 2.1x powered zoom, 2D keystone correction, and lens shift. It's a bit brighter, however, giving you more flexibility when it comes to the room's light level. It also comes with a ceiling mount and installation kit, saving you the hassle of tracking down a suitable mount yourself and giving it a faster installation right out of the box.
Pros
True 4K resolution with 3LCD color
UltraBlack contrast
Great choice for gamers
Bright enough for moderate light levels
Flexible image alignment options
Includes a ceiling mount
Cons
Higher cost
Long throw distance
---
Epson LS11000 vs LS12000: The Bottom Line
There are some things you won't find on either of these projectors. Neither has built-in speakers, for one thing, so you'll need an external sound system for either one. They also both lack wireless networking, streaming, or voice control capability, so if you want a projector you can integrate into home automation routines, you'll want to look elsewhere.
Where they both excel is their picture technology, and on that point either one will deliver a high-quality experience. They're also equally suitable for gaming, and though the higher contrast of the LS12000 gives it a slight edge in that regard, both have the responsiveness you need for reflex-based gaming.
Ultimately, it comes down to a question of your budget and entertainment needs. While the Epson LS12000 is brighter, has higher contrast, and includes a ceiling mount, it's up to you whether those advantages are worth the $1,000 jump in price (>>> Find price on Projectorscreen).
REFERENCES AND FURTHER READING: