Epson home theater projectors are renowned for the colorful, immersive image they produce. The 3-chip design of these models means smoother color transitions and a broader color gamut than you'll get with many 1-chip projectors, with a high contrast thanks to their proprietary UltraBlack technology. You'll get these benefits from both the 6050UB and the LS12000.
So what's the difference between them? Comparing the Epson LS12000 vs 6050UB, the biggest differences come down to their light source and the image processor. The 2022 LS12000 uses a newer and more advanced version of the similar technology found in the 2019 6050UB (>>> Check how much it cost on ProjectorScreen). Because of this, it performs better overall and will be the better buy for most people. Read on to see the main places they differ and how we came to this conclusion.
Epson LS12000 vs 6050UB Side by Side:
| | Epson LS12000 | Epson 6050UB |
| --- | --- | --- |
| | | |
| Resolution | 3840x2160 | 1920x1080 4K w/pixel shifting |
| Contrast | 2,500,000:1 | 1,200,000:1 |
| Brightness (Lumens) | 2,700 ANSI | 2,600 ANSI |
| Input lag | 20ms | 22.5ms |
| Throw Distance | 10.3' - 29.5' | 10.3' - 29.4' |
| Screen size | 50" - 300" | 50" - 300" |
| Speakers | No | No |
| Today's Best Price | ProjectorScreen.com | ProjectorScreen.com |
Light Source Longevity
The UHE bulb in the Epson 6050UB has a maximum expected lifespan of around 5,000 hours in Eco mode, and that drops to as little as 3,500 hours if you're using it at full brightness. Comparatively, the expected lifespan of the laser phosphor array in the LS12000 is around 20,000 hours, more than four times that of the 6050UB and long enough to last the entire life of the projector.
Longer Light Source Lifespan: Epson LS12000
Resolution and Contrast
The Epson 6050UB has a native 1080p display with an S2 picture-shifting processor. This gives it more detail than a standard Full HD display but it still can't quite match the full 4K resolution of the more advanced PRO-UHD pixel shifter in the LS12000.
It's not just the resolution that's better with the LS12000, either. It has a sharper image contrast with better light control, and includes a real-time adaptive correction feature that further optimizes the image. These features combine for an overall clearer and more colorful image with the Epson LS12000.
Sharper Image: Epson LS12000
Gaming
Both the Epson 6050UB and LS12000 can be used for most games, with an input lag under 30ms for both full HD and 4K games. For fast-paced first-person shooters and other reflex-based games, though, the Epson LS12000 will give a slighlty faster response, with a measured input lag under 20ms for 4K gaming. The sharper contrast mentioned above is also a benefit for gamers, bringing more clarity to dark areas of the screen.
Better for Gaming: Epson LS12000
---
Epson LS12000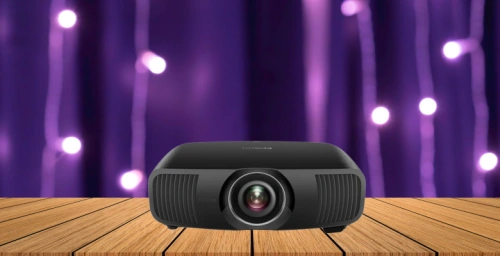 The Epson LS12000 uses advanced PRO-UHD pixel shifting technology and a 36-bit Epson ZX picture processor to generate a true 4K resolution. The laser array light source helps here, too, combining with the all-glass VRX lens for a bright image that's consistently crisp and focused from edge to edge. The LS12000 also utilizes Epson UltraBlack technology, with a compensation filter that suppresses stray light to enhance the on-screen contrast.
One unique feature of the Epson ZX processor is its real-time adaptive scene correction. Turn on this feature and the picture will be automatically calibrated on a scene-by-scene basis, giving you the absolute best color and contrast for all your content. It also supports HLG and HDR10+ with real-time HDR adjustment for fine-tuning the picture. With professional calibration from an ISF Certified Technician, you can count on every LS12000 to deliver an immersive image at all screen sizes.
Now, the Epson LS12000 does have a fairly long throw distance and most people will want to ceiling-mount it for the best results. On the plus side, it comes with a Ceiling Installation Kit, saving buyers the hassle of finding and buying the right mount. The 3-axis motorized lens helps here, too, with a wide horizontal and veritcal lens shift along with a wide zoom and 2D keystone correction, giving users lots of options for making the projector fit with their space. Discover how it compares to the BenQ HT4550i
Pros
4K resolution with adaptive scene correction
Excellent color and contrast
Includes a ceiling mount
Flexible to install
Responsive enough for most gamers
Cons
Long throw distance
Higher cost
Full review: Epson LS12000
---
Epson 6050UB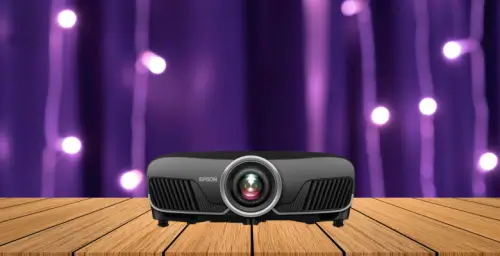 Like the Epson LS12000, the 6050UB uses a 3LCD display that gives it coverage for the full DCI-P3 color gamut, with consistent brightness and no distracting on-screen artifacts. Combined with a 12-bit ZX processor and S2 pixel-shift engine, this produces a resolution that's sharper than a typical 1080p display. That said, it doesn't quite match the full 4K detail you'll get from the more advanced technology in the LS12000.
While the Epson 6050UB uses a UHE bulb instead of a laser array, it has a comparable brightness and uses a similar lens to the LS12000. At 2,600 lumens, it's bright enough for most indoor spaces, though you may still need blackout curtains for large windows. That said, the lamp won't last very long if you use it at its full brightness, and while it comes with a spare included, changing the bulbs can be a hassle.
Another thing the Epson 6050UB shares with the LS12000 is its flexible installation. While it does have a long throw distance, it also has a wide powered zoom and lens shift, and can be used for front, rear, and ceiling-mounted installations. The included mount and Quick Setup Guide help you get it up and running quickly without needing to buy any extra hardware. You also get a few more input options from the 6050UB, with 3 USB ports and a VGA input along with dual HDMI inputs. Read our more in-depth review of the 6050UB.
Pros
Pixel-shifted Ultra HD resolution
Wide color gamut and good image contrast
Includes a ceiling mount and spare bulb
Flexible and easy to install
Wide variety of input options
Cons
Lower image contrast and detail
Short lamp lifespan
---
Epson LS12000 vs 6050UB: Which Is Better?
With its sharper picture and more durable laser light source, the Epson LS12000 will be the better option for most (>>> Find on ProjectorScreen). However, the Epson 6050UB does have a lower MSRP by about $1,000. It's also a few years older so you're more likely to find it at a discount, which can make it a better choice for those on a budget.
One last thing to keep in mind is that the Epson 6050UB has been discontinued as of June 2022. While it's not difficult to find replacement parts and get it serviced yet, that could be a concern in the future, especially since it is a lamp-based projector and more likely to need maintenance than newer laser designs. This is another reason buyers may want to go with the Epson LS12000, though it could also drive the price of the 6050UB down further as stores clear out their discontinued inventory.