With built-in streaming interfaces and hi-fi sound, many of today's projectors offer true all-in-one performance. Looking at the Epson LS300 vs. VAVA 4K, you'll see both have this capability but each excels in its own area. Let's take a closer look at their stats side-by-side so you can see what we mean.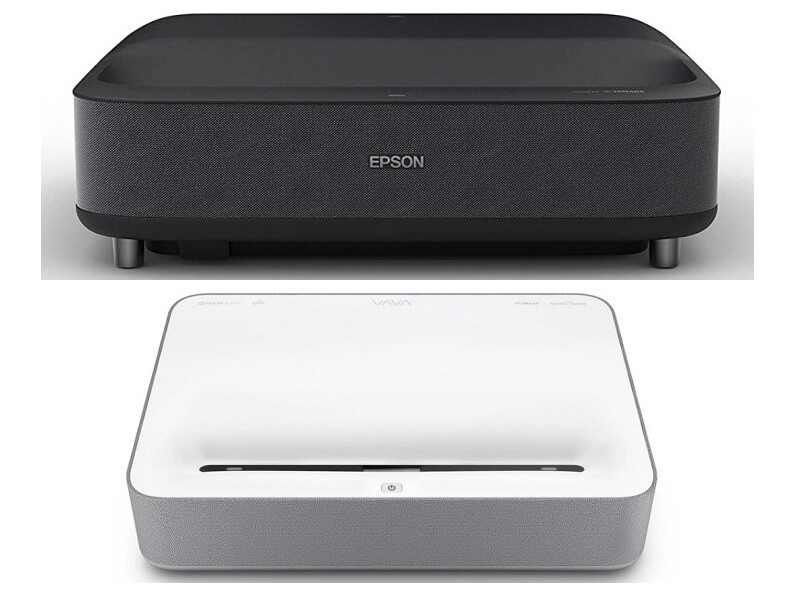 Epson LS300 vs VAVA Side by Side:
| | Epson LS300 | VAVA |
| --- | --- | --- |
| | | |
| Resolution | 1920x1080 | 3840x2160 |
| Brightness (Lumens) | 3,600 ANSI | 2500 ANSI |
| Contrast Ratio | 1,500,000:1 | 1,500,000:1 |
| Input lag | No data | 98ms |
| Throw Distance | 0.1' - 1.3' | 1.4' - 2.5' |
| Screen size | 61" - 120" | 80" - 150" |
| Speakers | 5.0 Watts × 2 | 30.0 Watts × 2 |
| Price | BHPhotoVideo.com | |
Picture Quality
The Epson LS300 is a solid full HD projector, with a high contrast and wide color gamut that gives the picture good depth and realism. However, the 4K resolution of the VAVA gives it a leg up in this category, giving the picture more detail than what you'll get with the LS300.
Better picture quality: VAVA
Brightness
The 2,500 ANSI lumens produced by the VAVA are plenty for most indoor environments, but won't perform as well in bright spaces and you'll want to wait until full dark to use it outdoors. The Epson LS300 puts out 3,600 ANSI lumens. That's bright enough for any space, especially once you factor in the ultra-short throw distance that limits the diffusion of the light source.
Brighter projector: Epson LS300
Portability
While the ultra-short throw of the VAVA makes it relatively easy to move from place to place, it's designed to primarily stay put once you've set it up. The Epson LS300 has a more compact and sturdy build that's better-suited to traveling. You can also use it without a screen, expanding the options for where it can be used.
More portable projector: Epson LS300
Sound
Both of these projectors have better sound than the majority of models on the market. The Yamaha sound system in the Epson LS300 has Dolby Audio support, and its sound quality is on par with most Bluetooth speakers. The VAVA goes a step further with an integrated Harman Kardon soundbar. With 60 watts of power, it's equal in performance to a high-end soundbar.
Better sound: VAVA
---
Epson LS300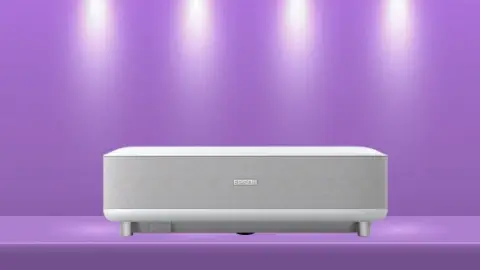 The Epson EpiqVision Ultra LS300 is like having a whole home theater in one convenient device. Its Android TV interface streams content directly from services like Hulu and Disney+. While the built-in speakers aren't the most powerful, the custom enclosure for the 2.1 Yamaha speaker system maximizes the sound quality and output, so you don't necessarily need to use external speakers.
The Epson LS300 uses a 3LCD display with a multi-array laser diode for a bright, crisp image. Not only does it stay fully-saturated in bright ambient light, it maintains its integrity even without a screen, giving you big-screen entertainment anywhere you have a flat white surface. This also gives it a remarkably short throw distance even by laser projector standards, producing a focused, clear image as close as 1" from the wall. For our more in-depth review of Epson LS300 click here.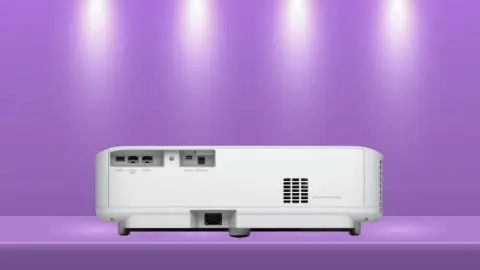 Pros
3LCD display produces sharp, vibrant picture
Can be used without a screen
Streams content through most popular services
Supports Google Assistant voice search
Ultra-short throw (less than 1 foot for 100" image)
Decent sound through Yamaha 2.1 speaker system
Cons
---
VAVA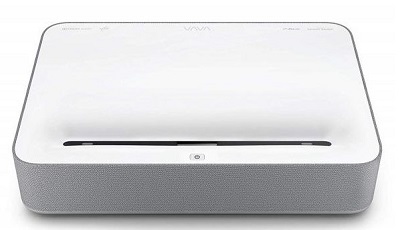 The VAVA 4K home theater projector is one of the few on the market with a sound quality that lives up to its visual performance. Its built-in Harman Kardon soundbar produces powerful, lossless audio. On the visual side, it uses a laser phosphor light source and DLP display for Ultra HD detail with strong color and contrast. The only caveat from a picture quality standpoint is that it does use a color wheel, which can cause the annoying flickering known as the rainbow effect.
While the VAVA isn't quite as portable as the Epson LS300, it's still a very convenient choice. It has a smart Android interface and an ultra-short throw ratio that together give it a fast, easy set-up. The lamp brightness is sufficient for most indoor spaces, if not ideal for especially bright rooms, so it's relatively flexible in terms of where you use it.
Pros
True 4K resolution with high native contrast
Vibrant, realistic colors
Smart Android system with 2GB of RAM
Ultra-short throw with easy set-up
High audio quality and output
Cons
Sensitive viewers may experiencing rainbowing
May get washed out in bright rooms
---
The Verdict
Choosing between the Epson LS300 and VAVA 4K comes down to what you need in a projector. For dedicated home theaters, the VAVA is a better choice, with a higher picture and sound quality. That said, the screen-free operation and compact build of the LS300 are ideal for indoor/outdoor use (>>> Check on ProjectorScreen). Hopefully this comparison has helped you figure out the right fit for you!