Your home theater needs a great projector if you want a stellar picture that will immerse you in the movie like never before. One brand you may look towards if you want to have a high-quality experience is Optoma, mainly their UHD lineup.
Today, we're looking at two of their projectors, the Optoma UHD35, and the Optoma UHD35x (>>> Check on Amazon). Of course, with such similar names, it begs the question: what is the difference? This Oproma UHD35 vs UHD35x comparison will answer that.
Optoma UHD35 vs UHD35x Side by Side:
| | Optoma UHD35 | Optoma UHD35x |
| --- | --- | --- |
| | | |
| Resolution | 3840x2160 | 3840x2160 |
| Contrast | 1,000,000:1 | 1,000,000:1 |
| Brightness (Lumens) | 3,600 ANSI | 3,600 ANSI |
| Input lag | 4.2ms | 4.2ms |
| Throw Distance | 4.0' - 32.7' | 4.0' - 32.7' |
| Screen size | 33" - 300" | 33" - 300" |
| Speakers | 10.0 Watts Mono | 10.0 Watts Mono |
| Today's Best Price | Check on Amazon | BHPhotoVideo.com |
Optoma UHD35 Features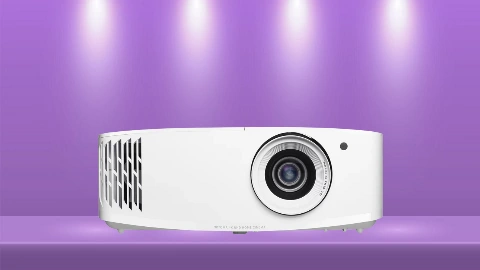 Pros
Amazing picture
Lagless gaming mode
Lots of lumens for bright rooms
Easy setup
Cons
Adjustment features are a little lacking
The UHD35 is a 4K, Ultra HD projector with 8.3 million pixels and 3,600 lumens. It delivers a gorgeous picture that employs HDR10 and HLG tech and a 1000000:1 contrast ratio to give scenes as much detail as possible.
The UHD35 makes it simple to connect your devices, or your streaming services, to it. So whether you're watching a movie or gaming, the UHD35 delivers. Its Enhanced Gaming Mode even lets you have lag-free gaming at 16ms at 4K or 4.2ms at 1080p.
With its easy setup, 15,000 hours of lamp life, and gorgeous picture, this projector is excellent for those on a mid-range budget looking for a lasting projector.
>>> Our full review of the Optoma UHD35
---
Optoma UHD35x Features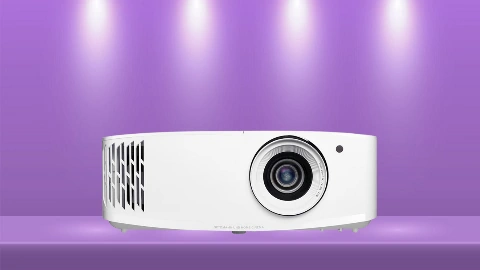 Pros
Great picture
Excellent for bigger or smaller rooms
Bright lamps for bright rooms
Cons
Weaker in the UHD35 in some aspects
It can be difficult for you to know the difference between these two, especially since the specs for the UHD35x are sometimes mistaken for the UHD35. In general, the UHD35x offers similar features to its UHD35 counterpart. Both are 4K, offering beautiful pictures. However, the UHD50X has a wider lens, which is ideal for smaller rooms.
In addition, it offers a 500,000:1 contrast ratio with 3,400 lumens. So it still offers a fantastic picture, but as you'll soon find out, it may not be our preferred choice.
>>> Our full review of the Optoma UHD35x
---
Optoma UHD35 vs UHD35x Comparison
Video Quality
Both deliver 4K video, but the UHD35 has double the contrast ratio for a much sharper picture and more lumens to make your movie look brighter in a bright room. In addition, the UHD35 does have video upscaling. This means you can turn a 1080p movie into 4K. We tried it and were impressed by how sharp the picture still looked.
However, the UHD35x does have a wider lens, making video look better if you are in a smaller room, giving it some versatility. By and large, however, the UHD35 wins.
Gaming
Both work well for gaming, but the UHD35 has a better gaming mode. You can play games with only 4.2 ms of lag by sacrificing the resolution. Meanwhile, the UHD35x is around 15.7. Fifteen milliseconds is still good, but you need game lag as low as possible if you're a competitive gamer. Even a millisecond more lag can make the difference between winning and losing the game. For that, the UHD35 is more versatile.
Price
The UHD35 and UHD35x are around the same price. This price can differ depending on what site you're visiting or what time of the year you're purchasing your projector. However, there is usually no significant difference between the two, meaning those on a smaller budget are not limited to one due to a significant price difference.
The Verdict
Overall, there's not much reason to buy the UHD35x over the UHD35. The naming scheme is confusing; the x would signify an enhanced version, but this is false. It's a nerfed version of the UHD35 with a price tag that does not justify it. You may benefit from the UHD35x more if you have a small room. However, the UHD35 still works well in those rooms. With half the contrast ratio, fewer lumens, and a more lag-filled experience, we have to choose the UHD35 (>>> Find on Amazon).
We hope this article was helpful to you. With that said, many other projectors are out there, meaning that you may want to check our other comparisons if you feel these two did not meet your requirements.
Related Guides: