If you need an ultra-short throw projector in your home theater, the ViewSonic X2000B-4K could be a great option. Its high-quality Ultra HD image is matched by impressive sound and robust wireless connectivity, and it has the set-up flexibility to work well in nearly any indoor space. This ViewSonic X2000B-4K review will go through its full features so you can decide if it's the right way to bring big-screen entertainment to your home (>>> Check on Amazon).
ViewSonic X2000B-4K Review of Main Specs:
| | ViewSonic X2000B-4K |
| --- | --- |
| | |
| Resolution | 3840x2160 |
| Contrast | 3,000,000:1 |
| Brightness (Lumens) | 2,000 ANSI |
| Input lag | 40ms |
| Throw Distance | 1.0' - 2.4' |
| Screen size | 65" - 150" |
| Speakers | 50 Watts |
| Today's Best Price | BHPhotoVideo.com |
Space and Setup
The ultra-short throw lens of the ViewSonic X2000B-4K lets it produce a 100-inch image with 19 inches between the lens and screen. It also has 4-corner correction to square the geometry and eliminate skew or warping. Together, these features make it very easy to set up this projector in any viewing area.
The ViewSonic X2000B-4K uses a laser phosphor light source with a brightness of 2,000 ANSI lumens. (Check our laser projectors buyer's guide) Now, on a standard throw projector, that would be on the low side for lights-on viewing. Thanks to its ultra-short throw, though, the X2000B-4K can compete with low to moderate levels of ambient light. It may still suffer from washout in well-lit spaces but it can be used with the lights on in most indoor spaces.
Picture Quality
With a true 4K resolution and high dynamic contrast through HDR10, the picture of the ViewSonic X2000B-4K is sharp, detailed, and realistic. (Click here for our best 4K projector picks) It maintains this high image quality even in screenless setups, or on curved or angled walls.
We're especially impressed by the color of the X2000B-4K. Its SuperColor+ technology gives it a color gamut that's wider than the Rec.709 spectrum. This means more nuanced and accurate colors that couple with the sharp detail for a lifelike viewing experience. The Frame Interpolation Technology helps here, too, minimizing blur during fast sequences.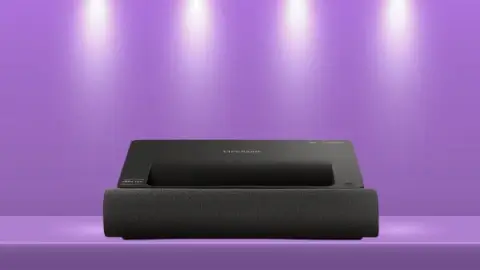 Pros
True 4K resolution
Accurate and realistic color
Ultra-short throw distance
60-point anti-warp produces square image even on curved walls
Excellent sound from internal speakers
Embedded wireless and Bluetooth
Cons
No built-in voice control or streaming
Input lag is high for serious gamers
Gaming Performance
The high contrast and sharp on-screen details of the ViewSonic X2000B-4K are a plus for gamers, but its responsiveness may be an issue for some. Its measured input lag is around 40ms. That's low enough for many RPGs or other games that don't rely on fast reflexes, and casual players of sports games or FPSs likely won't notice a delay. Serious or competitive players may feel the lag, though, especially in online multi-player contexts. While it's functional for most gaming, we wouldn't call this a gaming projector, so if gaming is your main intended use you'll want to look at other options.
Wireless Capability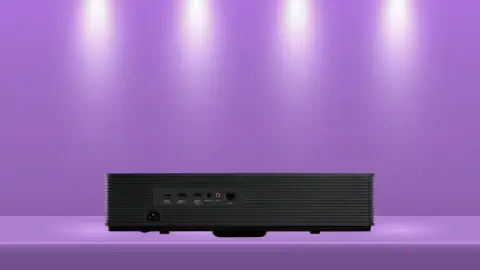 With embedded 5GHz Wi-Fi and stable Bluetooth connectivity, the ViewSonic X3000B-4K can wirelessly connect easily to phones, tablets, speakers, headphones, or whatever other devices you want to use with it. However, it doesn't have integrated voice control or streaming capability directly to the projector, so whether it lives up to its advertising as a "smart" projector depends on how you define that term.
Sound
The internal speakers of the ViewSonic X2000B-4K are nearly as impressive as its display technology. It has a stereo pair of Harman Kardon speakers, custom made to bring room-filling sound to a home theater space. Each speaker has a dedicated 10-watt tweeter and 15-watt woofer, giving you the detailed and balanced sound you need for clear dialogue and powerful sound effects.
ViewSonic X2000B-4K Reivew: The Bottom Line
The installation flexibility of the ViewSonic X2000B-4K is its main strength (>>> Find on ProjectorScreen.com). Not only will it produce a beautiful picture on a flat screen, but it can also bring that same clarity and realism to trickier spaces that have limited room for projection or curved or angled walls. It's also a great choice for home theater beginners since you won't need to invest in external speakers before using it. While it's a bit of a stretch to call it a "smart projector" in our opinion, it does have full wireless connectivity. Overall, it's a great option for anyone who wants a high image and sound quality from a user-friendly projector.