For people who are serious about gaming, not just any projector will do. You need something that's responsive enough to keep you in the game, with the same strong picture quality, flexible installation, and bright lamp most look for in a home theater context. Finding all of that without spending your whole year's entertainment budget can be a challenge.
Enter the Optoma UHD line. These projectors combine user-friendly operation with next-level performance, and that includes the ultra-low input lag that gamers need. The question is, which is the best all-around option comparing the Optoma UHD35 vs UHD55? That's what we'll answer in this comparison (>>> Check on Amazon).
Optoma UHD35 vs UHD55 Side by Side:
| | Optoma UHD35 | Optoma UHD55 |
| --- | --- | --- |
| | | |
| Resolution | 3840x2160 | 3840x2160 |
| Contrast | 1,000,000:1 | 1,200,000:1 |
| Brightness (Lumens) | 3,600 ANSI | 3,600 ANSI |
| Input lag | 4.2ms | 4ms |
| Throw Distance | 4.0' - 32.7' | 3.9' - 26.6' |
| Screen size | 33" - 300" | 34" - 302" |
| Speakers | 10.0 Watts Mono | 10.0 Watts Mono |
| Today's Best Price | BHPhotoVideo.com | ProjectorScreen.com |
Image Quality
Both the Optoma UHD35 and UHD55 produce a true 4K resolution, with upscaling for lower-resolution content. Along with this, both support technology like HDR10 and HLG, and have a 240Hz frame refresh rate to keep the action smooth during fast-paced scenes.
The Optoma UHD55 takes a slight edge here thanks to its improved color and contrast. It covers most of the DCI-P3 spectrum, producing more colors than the Rec.709 spectrum covered by the UHD35.
Better image quality: Optoma UHD55
Installation Flexibility
With a 3,600-lumen brightness, either the Optoma UHD35 or UHD55 can work well in bright spaces. These projectors are also evenly matched when it comes to their throw distance. However, the Optoma UHD55 gives you more flexibility within that space. Along with a wider zoom and more manual alignment options, its Geometric Correction and Wall Color Adjustment tools let you adjust the picture for angled, curved, or colored surfaces, so you can truly turn any space into a home theater.
More flexible installation: Optoma UHD55
Smart Features
This one's a no brainer. There is no wireless connectivity on the Optoma UHD35. The built in 2.4GHz Wi-Fi on the Optoma UHD55 lets it connect to the Optoma app, and this expands its wireless options tremendously. You can stream content right on the projector using any app on the Optoma Marketplace, cast content from a phone or tablet, or use the built-in media player to play content from drives and devices. It even supports voice control and IFTTT automation routines, so users have lots of options for accessing content and controlling the projector wirelessly.
Better smart features: Optoma UHD55
---
Optoma UHD35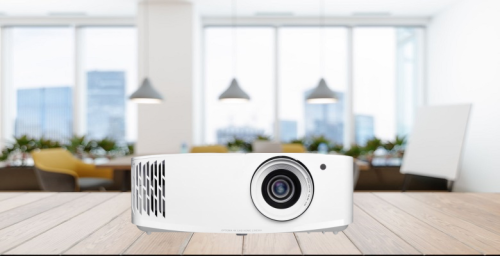 The Optoma UHD35 is one of the best gaming projectors in the under-$2,000 price range. In Enhanced Gaming Mode, it has a single-digit input lag for 1080p content and also supports 4K gaming, with a low latency for Ultra HD content than most projectors give for Full HD.
You'll get equally impressive performance when you're watching movies through the Optoma UHD35. Its 4K DLP display supports the latest high-definition image formats, and can also upscale Full HD and lower content nearly to 4K quality, ensuring a sharp, accurate picture for all content. It uses an 8-segment color wheel for the color, combined with UltraDetail technology for richer hues and Dynamic Black contrast that enhances depth and detail in dark screen areas.
With a 3,600-lumen lamp, the Optoma UHD35 can produce a clear picture in nearly any light environment. While it may still struggle in direct sunlight, you don't need to turn the lights off indoors to use it. That said, you will need to have a fairly large space for a big image. It has a standard throw distance, and while there are manual alignment options like zoom and keystone correction, they're fairly limited.
Pros
Responsive enough for professional gamers
True 4K resolution with HDR and HLG support
UltraDetail and Dynamic Black image enhancement
Upscaling for lower-resolution content
Ideal light brightness for lights-on viewing
Great value at the price
Cons
Installation can be tricky in some spaces
No wireless connectivity or smart features
Full review: Optoma UHD35
---
Optoma UHD55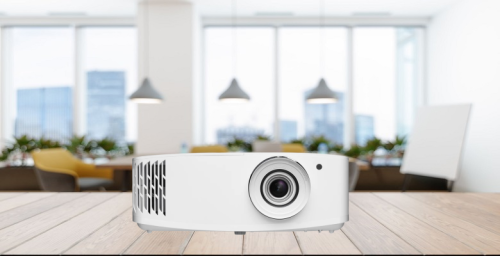 The Optoma UHD55 starts with similar strengths to the UHD35. It's equally responsive, with a single-digit input lag and 240Hz refresh rate for full HD gaming. It also matches the UHD35 for brightness and resolution, producing a lifelike and clear Ultra HD picture in any indoor light level.
The first advantage of the Optoma UHD55 is its color and contrast. It uses a wide color gamut with coverage for 97% of the DCI-P3 color space, the current cinema standard. You can fine tune the color performance using the Color Management System, or use the day and night ISF modes to perfectly match the projector's brightness to your space.
The Optoma UHD55 is also a bit smarter than many projectors in this price range. It pairs with the Optoma app to add Alexa or Google Assistant voice control, and is also compatible with IFTTT, allowing you to create custom automation routines. There is also a built-in media player and streaming through the apps in the Optoma Marketplace. The UHD55 also works with the Creative Cast app for wireless screen mirroring, expanding your content options.
While the Optoma UHD55 still has a standard throw distance and will need a fairly large space to produce a big image, it offers more installation flexibility than the UHD35. This includes a wider 1.3x zoom and vertical lens shift, along with an advanced geometric correction tool that can produce a square image even on uneven surfaces. It also includes a Wall Color Adjustment option, letting you use it screen-free even if the walls in your home aren't white.
Pros
Excellent choice for gaming
4K resolution with HDR and HLG
Wide color gamut (97% of DCI-P3 color space)
Bright lamp for lights-on viewing
Flexible installation
Works with voice control and IFTTT through Optoma app
Full 3D support
Cons
Standard throw distance
Higher cost
---
Optoma UHD35 vs UHD55 In Summary
Looking just at their performance, the Optoma UHD55 is a pretty clear winner (>>> Find on ProjectorScreen). It matches or exceeds the Optoma UHD35 on just about every point. The only place the UHD35 is the clear winner is the price. If you're on a budget, the UHD35 will give you the same responsive gaming performance and Ultra HD picture, but for a few hundred dollars less. We hope this side-by-side has helped you decide which one to buy!