The Optoma UHD35 and UHD38 were built with gamers in mind. These two projectors offer a lower input lag than other gaming projectors, pairing it with a high processing speed and frame rate that keep the action moving smoothly on screen.
Comparing the Optoma UHD35 vs. UHD38, you'll see they're very similar in most respects. The main difference between them is the power of the lamp. Let's take a closer look at what sets these two projectors apart from each other before we dig into the full reviews. (>>> Find on Amazon)
Optoma UHD35 vs UHD38 Side by Side:
| | Optoma UHD35 | Optoma UHD38 |
| --- | --- | --- |
| | | |
| Resolution | 3840x2160 | 3840x2160 |
| Brightness (Lumens) | 3,600 ANSI | 4,000 ANSI |
| Contrast Ratio | 1,000,000:1 | 1,000,000:1 |
| Input lag | 4.2ms | 4.2ms |
| Throw Distance | 4.0' - 32.7' | 4.0' - 32.7' |
| Screen size | 33" - 300" | 33" - 300" |
| Speakers | 10.0 Watts Mono | 10.0 Watts Mono |
| Price | Check on Amazon | |
Brightness
The Optoma UHD35 is relatively bright, with a lamp that's rated for 3,600 lumens. That's bright enough to use in moderate light conditions and supports lights-on play or viewing.
With the Optoma UHD38, you'll get an even brighter 4,000-lumen lamp. This makes it the ideal choice for well-lit rooms with big windows or other natural light sources. It's also great for those who want to use their projector outdoors since you won't have to wait for nightfall to do so.
Brighter projector: Optoma UHD38
Image Quality
Both the Optoma UHD35 and UHD38 support the latest in home theater technology. They can produce a true 4K resolution with 8.3 million on-screen pixels and have a high dynamic contrast ratio to further enhance that sharpness. Their color performance is strong, as well, supporting both the Rec. 709 and DCI-P3 color spectrums so you can count on the hues to be accurate and realistic.
While the image quality of the Optoma UHD35 is high, the UHD38 edges it out slightly thanks to its more powerful lamp. This gives it a more vibrant and saturated picture, even in lower light levels where the UHD35 still performs well.
Better image quality: Optoma UHD38
Value
As we've said a few times, the difference between these projectors is subtle. For most homes and viewers, the Optoma UHD35 will perform equally well to the UHD38 in both movie watching and gaming contexts. Since the UHD35 is typically priced a few hundred dollars lower than the UHD38, this makes it a better value, especially in homes where you don't need a super-bright projector.
Better value: Optoma UHD35
---
Optoma UHD35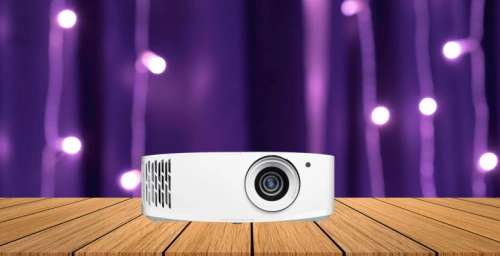 The Optoma UHD35 lives up to its reputation as a gaming projector. This starts with its high 240Hz refresh rate, which keeps the frame-by-frame action smooth for both games and movies. It also has an incredibly low input lag in Enhanced Gaming Mode, as low as 4.2ms at full HD and a still-low 16ms when you switch to 4K resolutions.
This is a great choice for watch TV and movies, too. The UHD35 has native true 4K resolution and a high dynamic contrast ratio for a sharp, detailed image with excellent depth and texture.
You can count on that image to be accurate to the source material thanks to the support for image technology like HDR10 and HLG. Its 8-segment color wheel produces more colors than other projectors, with UltraDetail enhancement to further optimize the image.
With a 3,600-lumen lamp, the Optoma UHD35 is relatively flexible in terms of the viewing space since you won't need a completely dark room to use it. While it does have a long throw distance, you'll get good installation flexibility, with both horizontal and vertical keystone correction along with manual focus and zoom controls. This makes it a great user-friendly option for multi-use spaces. For our more in-depth review of this projector click here.
Pros
Exceptional input lag in Enhanced Gaming Mode
Supports HLG and HDR10
Sharp resolution with high Dynamic Black contrast
8-segment color wheel with UltraDetail technology
Wide keystone correction for flexible setup
Bright enough for lights-on viewing
Cons
Long throw distance
Use of color wheel may cause rainbowing
---
Optoma UHD38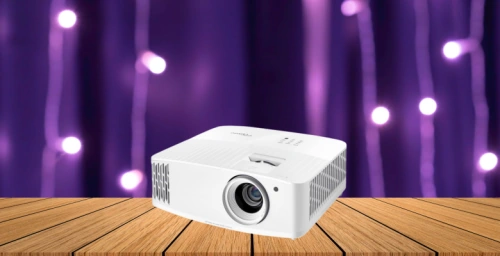 The Optoma UHD38 is just as great for gaming as the UHD35 above, with the same super-low 4.2ms lag and high 240Hz refresh rate. You can play reflex-based games from the latest consoles or PC set-ups without any noticeable delay. The high contrast ratio is helpful here, too, giving more detail and depth in dark screen areas so you can see everything happening on-screen.
Since the Optoma UHD38 has a brighter lamp, it has even more placement flexibility than the UHD35. Its 4,000 lumens give a bright, saturated image even used in rooms with bright natural light, so you won't need to worry about blackout curtains or other light control measures.
Wide horizontal and vertical keystone correction add to its flexibility, giving you more options for fine-tuning the picture if you can't install it head-on to the screen.
Like the UHD35, the Optoma UHD38 is just as suitable for watching movies and TV shows as it is for playing games. It supports the DCI-P3 spectrum for color, as well as image technology like HDR10 and HLG. You can use it to watch 3D movies, too, with full HD 3D support. Click here for our more in-depth review of the Optoma UHD38
Pros
Bright lamp suitable for even well-lit rooms
Highly responsive and ideal for gaming
Full 3D compatibility
Supports DCI-P3 color space
Sharp, high-contrast image
Cons
Weak built-in sound
Long throw distance
---
The Verdict
The Optoma UHD35 and UHD38 are among the best gaming projectors for home theater on the current market, with a high picture quality and a flexible installation that make them an excellent choice for mixed-use spaces. Deciding between them comes down to how bright you need your projector to be.
In most homes, the more affordable Optoma UHD35 will be plenty bright enough. You can use the money you save to invest in a good sound system (you'll want external speakers for both of these models). Whichever one you buy, you'll get a highly-responsive projector that can handle all of your media needs. (>>>Find Current Price on Amazon)
REFERENCES AND FURTHER READING: