Optoma's UHD line of home theater projectors strike the ideal balance between performance and affordability. Looking at the Optoma UHD55 vs. UHD38, you'll see both have a true 4K resolution, are suitable for any style of gaming, and have the brightness to support lights-on use. That's a rare combination of features to find in the under-$2,000 price range both sell for on the current market.
While these two projectors are similar, they're not identical. The easier setup and added features of the Optoma UHD55 will make it the better choice for many (>>> Check on Amazon).
However, the UHD38 typically sells for a bit less, making it the better value for those who don't need the shorter throw and other setup options of the UHD55. Let's take a closer look at the details so you can choose your ideal projector!
Optoma UHD55 vs UHD38 Side by Side:
| | Optoma UHD55 | Optoma UHD38 |
| --- | --- | --- |
| | | |
| Resolution | 3840x2160 | 3840x2160 |
| Contrast | 1,200,000:1 | 1,000,000:1 |
| Brightness (Lumens) | 3,600 ANSI | 4,000 ANSI |
| Input lag | 4-16.9ms | 4.2-16.7ms |
| Throw Distance | 3.9' - 26.6' | 4.0' - 32.7' |
| Screen size | 34" - 302" | 33" - 300" |
| Speakers | 10.0 Watts Mono | 10.0 Watts Mono |
| Today's Best Price | | |
Contrast and Color
The Optoma UHD38 produces an overall realistic and vibrant 4K image, with full coverage of the Rec.709 spectrum that's the broadcast TV standard and Dynamic Black contrast. However, the UHD55 goes a step further, covering the majority of the broader DCI-P3 spectrum and using an advanced color management system to ensure the accuracy of hues. Its contrast is also a bit higher, bringing more image texture and richer black levels.
Better contrast and color: Optoma UHD55
Throw Distance and Installation Ease
Neither of these projectors uses a short-throw lens, so you'll need a relatively large space if you want a truly big image. You will save a bit of distance with the UHD55, though. It produces a 100-inch image with around 9-10 feet between the lens and screen (or wall), compared to the 11-12 feet you'll need with the UHD38.
The Optoma UHD55 also has helpful features like 3X3 anti-warp correction and wall color adjustment, giving it a faster, easier overall installation.
Easier to install: Optoma UHD55
Wireless and Streaming
Neither of these projectors is what you would call a "smart" projector. The Optoma UHD38 has no wireless or streaming capability. In contrast, the Optoma UHD55 at least does have a built-in media player that makes it easy to play content from a thumb drive.
It also includes a wireless adapter so you can connect it into a smart home system or wireless network.
Better wireless connectivity: Optoma UHD55
Brightness
Here is one area where the UHD38 takes the prize. Its 4,000-lumen lamp is powerful enough for any indoor environment, and can even be used outdoors without sacrificing picture quality.
The Optoma UHD55 has a 3,600-lumen lamp, which is plenty for the majority of viewing areas but will still be prone to washout in strong natural light.
Brighter projector: Optoma UHD38
---
Optoma UHD55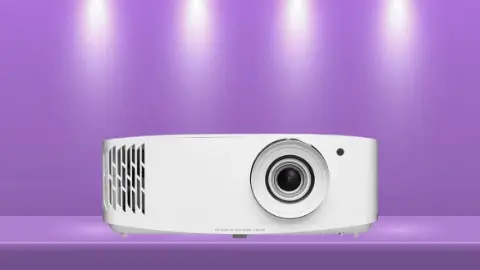 The Optoma UHD55 uses XPR technology to produce a 4K display. This type of pixel shifting displays more detail than other designs, with the full 8.3 million on-screen pixels of a native Ultra HD resolution.
This is paired with an advanced color management system and wide color gamut, exceeding the Rec.709 spectrum to cover 97% of the broader DCI-P3 color space. Add in the sharp dynamic contrast and PureMotion anti-blur technology and you have a realistic, stunning picture for all types of content.
Along with this excellent picture quality, the Optoma UHD55 is responsive enough for gaming on any system. Its input lag measures as low as 4ms for full HD games, with a fast 240Hz refresh rate for smooth on-screen movements.
We also appreciate the flexibility of the Optoma UHD55. Its lamp is bright enough to maintain the picture clarity and saturation even in relatively bright spaces and while it's a standard throw projector, its throw distance isn't too long for most spaces (9-10 feet for a 100-inch screen).
Along with standard alignment features like lens shift, geometric correction, and zoom, the wall color adjustment setting is perfect for screenless home theaters, maintaining the image's true color even when it's projected on a non-white surface. The built-in media player and included wireless capability also give it good flexibility from a connectivity standpoint. For our more in-depth review of this projector, click here.
Pros
True 4K resolution with high image contrast
Wide color gamut with support for HDR10 and HLG
Powerful lamp bright enough for any indoor light environment
Good array of screen alignment features
Responsive with a low input lag for gaming
Built-in media player and included wireless adapter
Full 3D support
Cons
Higher cost
May not be bright enough for outdoor spaces
---
Optoma UHD38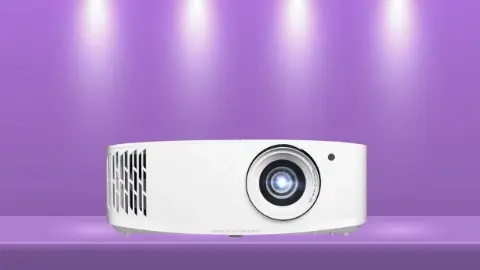 The Optoma UHD38 matches many of the strengths of the UHD55. It also uses a true 4K resolution approved by the Consumer Technology Association with a high contrast and support for technology like HDR10 and HLG to ensure the image accuracy.
While its color gamut is a bit smaller than the UHD55's, it still covers the full Rec.709 spectrum and produces an immersive, realistic picture.
Gamers will also find the Optoma UHD38 meets their needs beautifully. Like the projector above, it has a single-digit input lag with a 240Hz refresh rate for full HD content, and while the lag is slightly higher for 4K content it's still fast enough to be unnoticeable for the player. (Check out this roundup review if you're looking for the best 4k projector under $2000)
One advantage of the Optoma UHD38 is that its lamp is more powerful, putting out an impressive 4,000 lumens. This makes it an ideal choice for indoor/outdoor use since you won't need to wait until full dark for backyard movies or DIY drive-ins.
That said, it is a bit more of a hassle to install and set up. Its throw distance is longer and it has fewer alignment features, limited to a narrow zoom and 2D keystone correction. It also doesn't have a media player or wireless adapter, limiting its connectivity in modern setups. Relevant comparison: Optoma UHZ45 vs UHD38
Pros
True 4K image with strong contrast and realism
Powerful lamp suitable for outdoor or indoor use
Ideal for gamers
Full 3D support
Excellent value
Cons
Longer throw distance
Weaker color performance
No media player or wireless capability
---
The Bottom Line: Optoma UHD55 vs UHD38
By their MSRP, the Optoma UHD38 costs significantly less than the UHD55. The street price of the two projectors is more similar, but you'll still typically pay a few hundred dollars less for the UHD38. This could make it a better choice for budget-conscious buyers, especially since you won't have to sacrifice much in terms of picture quality or responsiveness.
That said, the Optoma UHD55 is the better option going purely on performance and will be the best option for most buyers (>>> Find on Amazon). We hope this comparison has helped you decide which is right for you!