You'll find plenty of home theater projectors that can give you a cinema-quality 4K image, and another slew that have a low lag ideal for gaming. If you're looking for a model that can do both to the same high standard, it's likely your decision will come down to the BenQ TK700STi vs. Optoma UHD38.
It's hard to pick a clear winner between these two projectors. In a pinch, we'd say the BenQ TK700STi is the winner for convenience and gaming performance (>>> Check on Amazon), while the picture quality of the Optoma UHD38 makes it better for purely home theater applications. Really, though, it comes down to your space and needs. Let's take a closer look to help you make your decision.
BenQ TK700STi vs Optoma UHD38 Side by Side:
| | BenQ TK700STi | Optoma UHD38 |
| --- | --- | --- |
| | | |
| Resolution | 3840x2160 | 3840x2160 |
| Brightness (Lumens) | 3,000 ANSI | 4,000 ANSI |
| Contrast Ratio | 10,000:1 | 1,000,000:1 |
| Input Lag | 16ms | 4ms |
| Throw Distance | 2.4' - 19.6' | 4.0' - 32.7' |
| Screen size | 30" - 300" | 33" - 300" |
| Speakers | 5.0 Watts Mono | 10.0 Watts Mono |
| Price | BHPhotoVideo.com | BHPhotoVideo.com |
Brightness
How bright of a projector you need depends on the light level in your viewing area. For most indoor viewing areas, a brightness of around 2,500 to 3,000 lumens is ideal, preventing the picture from washing out without being so bright it hurts your eyes to watch. Spaces that are well-lit or have a lot of windows need a more powerful lamp, ideally around 3,500 lumens or higher.
The 3,000-lumen lamp of the BenQ TK700STi is right in the ideal range for most homes. For outdoor use and brighter rooms, though, the 4,000 lumens of the Optoma UHD38 will be a better choice.
Brighter projector: Optoma UHD38
Throw Distance
The Optoma UHD38 uses a standard throw distance, meaning you'll need a decent amount of space if you want a big screen. For a 100" image, you'll need around 10-12 feet between the lens and screen, depending on the zoom and other settings.
The short throw distance of the BenQ TK700STi saves you some space, and gives it more versatility for smaller or oddly-shaped rooms. It can produce a 100" image with as little as 6.5 feet of distance. Depending on your space, this could mean the difference between putting the projector on a shelf or table and the hassle of mounting it on the ceiling.
Shorter throw distance: BenQ TK700STi
Picture Quality
Both the BenQ TK700STi and Optoma UHD38 have true 4K resolution and a wide color gamut, with coverage for most of the Rec. 709 spectrum. The Optoma takes the lead on picture quality by a hair thanks to its more robust image enhancement technology and higher dynamic contrast. Looking at them side by side, the UHD38 looks sharper, with more vibrant colors and better picture depth,
Better picture quality: Optoma UHD38
Gaming Performance
Here's another place where these projectors are neck-and-neck. Both the BenQ TK700STi and Optoma UHD38 have a lag as low as 4.2ms, with a fast frame refresh rate that keeps the action smooth while you're playing.
The multiple gaming modes of the BenQ TK700STi give it the slight edge on this front. These presets automatically adjust the picture to match the game style, with options for popular games like sports, RPGs, and first-person shooters.
Better gaming projector: BenQ TK700STi
Connectivity
The connection panel on the Optoma UHD38 is fairly robust, with dual HDMI inputs along with USB and network hook-ups. What the Optoma lacks is wireless capability. If you want to use it wirelessly, you'll need an accessory like a Wi-Fi dongle.
The BenQ has a built-in Android interface that connects to the Google Play store, letting you download thousands of apps directly on the projector. It also supports screen sharing through Chromecast and AirPlay without any extra apps, so you may not even need to use its dual HDMI ports.
Better connectivity: BenQ TK700STi
---
BenQ TK700STi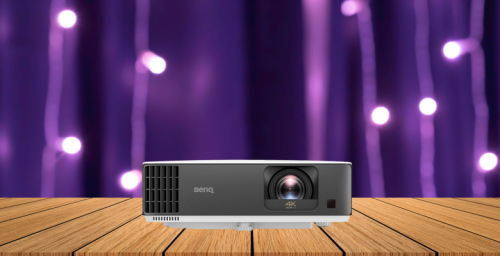 With the BenQ TK700STi, you get a lot in a compact package. This impressive little projector has a slim 4.3" profile and is light enough to fit on any ceiling mount, so you can install it easily and unobtrusively. Its Corner Fit Correction automatically corrects the picture rotation, with a 2D keystone correction to ensure a square image. All told, this gives it a lot of installation flexibility and makes it easier to set up than most models, especially for projector models. Its built in Android streaming interface helps here, too, letting user easily download streaming apps right to the projector.
The BenQ TK700STi is an exceptional projector for gamers. It's compatible with all the latest generation consoles, playing 4K content with an impressively low 16ms of lag. It's even more responsive for full HD content, with a single-digit input lag and a fast 240Hz frame refresh rate. That's fast enough you won't miss a beat even when you're playing fast-paced, online games. Preset game modes optimize the picture for the gameplay, enhancing the detail in dark screen areas.
Home theater users will be equally impressed by the performance of the BenQ TK700STi. Its DLP display covers almost the entire Rec.709 color spectrum, and the 3,000-lumen lamp keeps the colors saturated even when you leave the lights on. Its fast frame rate is good news here, too, reducing the risk of motion blur for a smoother, more immersive viewing experience. Click here for our more in-depth BenQ TK700STi review.
Pros
Sharp, detailed 4K picture
Low lag with multiple gaming modes
Lamp is bright enough for most indoor lighting
Built in Android TV interface
Flexible, easy installation
Short throw distance
Cons
May still need black-out curtains for daytime use
---
Optoma UHD38
With its 4,000-lumen lamp, the Optoma UHD38 will produce a fully-saturated, high-contrast image day or night, no matter where you're using it. This is ideal for spaces with lots of natural light, or outdoor uses like backyard movie nights.
The Optoma UHD38 isn't overly bulky, and most users find it easy to install. You will need to use the wired inputs for your content, though, since it doesn't support screen mirroring or direct streaming app downloads like the BenQ above.
Home theater users will be especially impressed by the Optoma UHD38, which has one of the best overall image qualities you'll find in the under-$2,000 price point. It has full 3D compatibility, along with support for image technology like HDR and HLG, ensuring movies look just like they would in the theater. Its Dynamic Black contrast gives the image rich blacks and better picture depth, with UltraDetail enhancement that further sharpens the 4K resolution.
For gaming, the Optoma UHD38 has a similarly low lag to the BenQ above, along with a fast refresh rate to prevent blur and other image issues. This makes it ideal for media rooms, gaming rooms, and other multi-use spaces.
Pros
4K resolution with exceptional color and contrast
Super powerful lamp works in any light level
Compatible with HLG and HDR10
Full 3D compatibility
Smooth, lag-free gaming
Cons
No built-in streaming
Long throw distance
---
The Verdict
Both the BenQ TK700STi and Optoma UHD38 are high performing, versatile projectors . Choosing the right one comes down to your needs. The wireless streaming and short throw distance of the BenQ are its main advantages (>>> Check on ProjectorScreen). With the Optoma, you'll get a better overall image quality, with a brighter lamp that keeps that image saturated in any light conditions. Either way you go, you'll get a projector that can handle both games and movies with ease.
REFERENCES AND FURTHER READING: