Are you looking for a compact and user-friendly 4K projector? BenQ and Optoma both have models that will meet your needs—without breaking your budget. Comparing the BenQ TK700STi vs. Optoma UHD50X, you'll see they have a lot in common, with a high picture quality, quick set-up, and a low enough input lag for gaming. While the BenQ TK700STi will be the better choice for most (>>> Check on Amazon), the Optoma UHD50X also has its strengths. Let's take a closer look at the key differences so you can see what we mean.
BenQ TK700STi vs Optoma UHD50X Side by Side:
| | BenQ TK700STi | Optoma UHD50X |
| --- | --- | --- |
| | | |
| Resolution | 3840x2160 | 3840x2160 |
| Brightness (Lumens) | 3,000 ANSI | 3,400 ANSI |
| Contrast Ratio | 10,000:1 | 500,000:1 |
| Input Lag | 16ms | 25ms |
| Throw Distance | 2.4' - 19.6' | 4.0' - 26.6' |
| Screen size | 30" - 300" | 34" - 303" |
| Speakers | 5.0 Watts Mono | 5.0 Watts Mono |
| Price | BHPhotoVideo.com | ProjectorScreen.com |
Streaming and Voice Control
This is the most significant difference between these projectors. The Optoma UHD50X has a good array of wired inputs, but that's your only option for viewing content. It lacks a built-in wireless connection or direct streaming interface to give it all-in-one operation.
Then BenQ TK700STi uses an Android TV interface that's connected to the Google Play store. This gives you access to thousands of apps, including streaming services like Prime Video, Hulu, and Sling. It also has the Google Assistant built in so you can search for and play content hands-free. Wireless capability also lets it mirror devices through Chromecast or AirPlay, so you'll get lots of ways to watch your favorite movies and TV shows.
Better streaming: BenQ TK700STi
Brightness
The 3,000 lumen lamp on the BenQ TK700STi will produce a bright and vibrant picture in most indoor spaces. While you may still need black-out curtains if you have a lot of windows, it's suitable for daytime viewing, and you won't need to turn the lights off for a great picture.
If your space is on the bright side, the 3,400 lumens of the Optoma UHD50X gives it a bit more power, good news for semi-outdoor spaces or rooms where you can't control the light.
Brighter projector: Optoma UHD50X
Throw Distance
With its standard throw distance, the Optoma UHD50X will need about 9-11 feet of space to produce a 100" image. It does have a wide array of image adjustment features, including a 10% vertical lens shift, but there's no getting around the throw distance limitation in smaller spaces.
The BenQ TK700STi produces a 100" image with 6-7 feet of distance, putting it on the upper end of the short throw distance category. That gives it more installation flexibility in larger spaces, along with letting it work well in more room sizes.
Shorter throw distance: BenQ TK700STi
Gaming Performance
Either of these projectors can be used for gaming, and that versatility is a definite strength. The Optoma UHD50X has an input lag of around 16ms in full HD (25ms in 4K), which is within the ideal 30ms or under range for serious gamers. In practice, that means no noticeable delay, even if you're playing graphic-intensive, reflex-based games on the latest consoles.
The BenQ TK700STi matches this impressively low input lag. Where it stands out from the Optoma is its array of preset Game Modes, including dedicated modes for first-person shooters, role playing games, and sports games, which optimize the display for the style of game you're playing.
Better gaming performance: BenQ TK700STi
---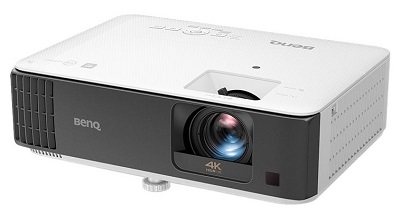 The BenQ TK700STi uses an advanced DLP display, with HDR support and 10-bit color processing. That translates to a sharp, detailed display with a fairly wide color gamut, covering most of the Rec. 709 spectrum that's the current broadcast standard.
While its home theater performance is strong, BenQ advertises the TK700STi mostly as a gaming projector, and it lives up to this billing. It's a low-lag projector, with a minimal 16ms input lag. The dedicated game picture modes are helpful, too, ensuring you see every on-screen detail whatever type of game you favor. Its dedicated Game Sound Mode does fine-tune the audio, though you'll need to use external speakers to notice the difference. The 5-watt speaker built in to the TK700STi won't sound great no matter what settings you use.
The option of built-in streaming on the BenQ TK700STi makes it a great choice for mixed-use spaces like living rooms or media rooms. It's easy to set up and navigate, whether you use the included remote or the voice control option, and lets you save the 2 HDMI ports for game systems.
The 700STi is as flexible from an installation standpoint as it is for content. First, its relatively short throw distance maximizes space in your viewing area. It also has a Corner Fit Correction to rotate the picture if the projector isn't on a flat surface, with keystone correction to square the screen geometry.
Pros
True 4K resolution
Low input lag with multiple gaming modes
Built-in streaming interface with Google Assistant
Supports screen mirroring
Bright enough for lights on viewing
Shorter throw distance
Corner Fit Correction expands placement options
Cons
No lens shift
Weak built-in sound
---
Optoma UHD50X
The picture quality of the Optoma UHD50X is impressive at the price point. Along with true 4K resolution, it supports HLG and HDR10, further enhanced by Dynamic Black and UltraDetail technology. This gives the picture impressive depth, clarity, and realism, with a bright 3,400 lumen lamp that maintains this color and contrast even when there's lots of ambient light.
Using Enhanced Gaming Mode drops the input lag of the UHD50X as low as 16ms, giving it good multi-use performance. Its only limitation here is connectivity. Since it lacks any wireless connectivity, your only options are the wired inputs. It does include VGA and network connections along with dual HDMI ports, but this can still get tricky if you need to plug in multiple gaming systems as well as a streaming stick or cable box.
The Optoma UHD50X needs a fairly large space to perform at its best, but it doesn't require a dedicated home theater. Its lamp is bright enough for any indoor light conditions, and it has a good amount of installation flexibility despite its long throw distance. The zoom, keystone correction, and vertical lens shift make it easy to fine-tune the screen alignment, even if you can't install the projector head-on to the screen. For our more in-depth review of this projector click here.
Pros
Sharp 4K resolution
HDR10 and Dynamic Black for great contrast and color
Bright lamp works even in well-lit spaces
Low input lag
Flexible installation features
More robust inputs and connectivity
Cons
Needs more space for a big screen
No integrated streaming
---
What's the Verdict?
The BenQ TK700STi has two prominent advantages over the Optoma UHD50X: its shorter throw distance and its built-in streaming (>>> Find on ProjectorScreen). Combined with its impressive gaming performance, this makes it one of the most versatile 4K projectors around. That said, the overall picture quality of the Optoma UHD50X is a bit better, and its brighter lamp can be helpful in some spaces. It all comes down to what you need out of your projector.
REFERENCES AND FURTHER READING: